+ What's Next for
dimples on my WHAT?
No-Buy July (and August) is over and the warm weather of summer is about to give way to cooler temps and falling leaves. But as we enter this transitional fashion season I've been doing a little shopping and a bit of styling and a whole lot of planning for what's next for my closet and the blog.
I'm styling a new, lace blouse from Madewell with items I shopped from my closet. Grab yourself a cup of cider and slice of pumpkin bread and let's chat about closets, clothes, Jesus, and joggers. It all goes together, I promise!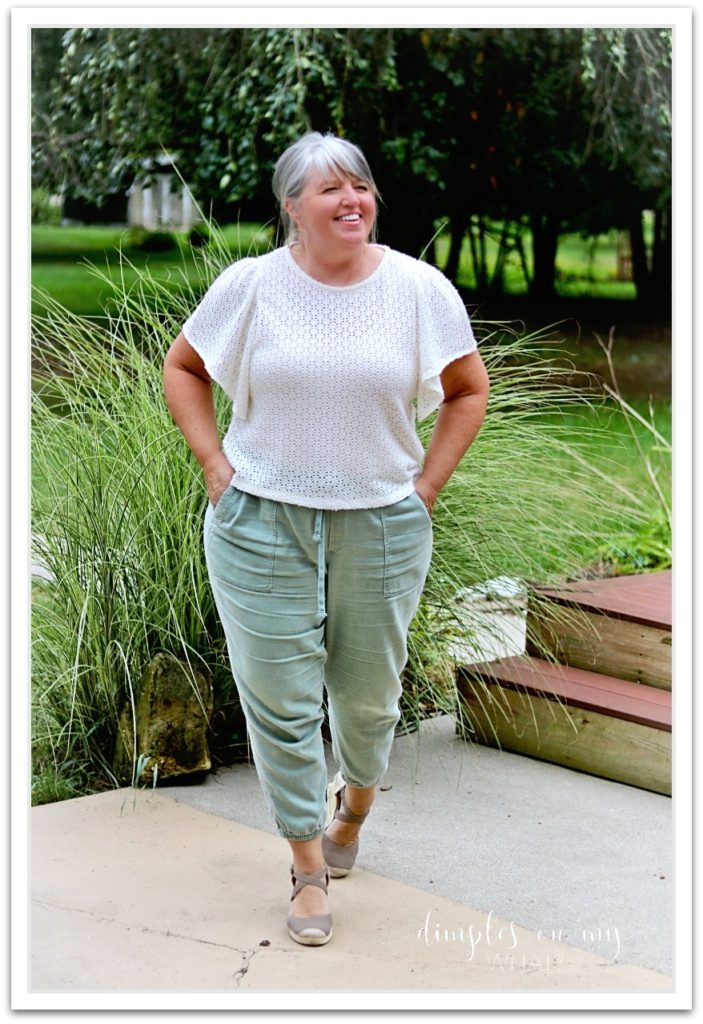 ---
Affiliate links are used here and help to keep this blog on the internet. However, my main purpose is to inspire you! If you purchase through one of these links, I'll make a commission but you won't pay more for the product. Thanks for supporting me with your purchases and words of encouragement!
Let's Add Four More (Fashion) Seasons to the Calendar
Summer's winding down and with it, summer style is slowly melding into cooler weather outfits for fall. I think in fashion there should officially be another season that happens four times every year, the Transitional Fashion Season. It's that little bit of time between each season when we're trying to stretch the previous season's clothes into the next one.
Out of all the transitional fashion seasons, summer to fall is my favorite!
I love dressing for the season between summer and fall because all it really requires is a basic pair of pants, a top and a sweater or jacket to throw on in the morning and again in the evening. It's pretty much my uniform. I also love the addition of lightweight but cozy fabrics and clothes that cover more of the fleshy bits. 😉 And oh yeah, all the heart-eyes for BOOTIES!
---
Jesus, Blogging & Clothes
I mentioned in a previous post that I've been praying for God to lead me in the direction He wants me to go, not just with the blog, but with my life.
In life, there are things we want to do, things we have to do, things we get to do, and others we're called to do. But in this age of social media and information overload (a.k.a. reading and hearing about all. the. things) it's easy to get our direction all jumbled up. We get overloaded by constantly comparing ourselves to highlight reels and success-stories and new and better ways to do EVERYTHING.
I've been so very inconsistent with blogging from the very beginning. But, with this change of season of both life and weather, I'm trying to be more disciplined and make more time each week for blogging and writing. I figure since I've been praying about it, if I write more and write about the things that are on my heart and mind, I'll likely see some answers to those prayers flesh out on the page.
---
Blogging About Right Now and Comfy Clothes
And right now, I've been thinking lots about clothes. More precisely, I've been thinking about getting a handle on the number of clothes I have and actually wear, the over "consumption" of clothes, the organization of clothes, and the inordinate amount of time most of us spend thinking about clothes! Sheesh.
So to that end, I've been doing a lot of work in my heart, mind, and closet as well as on the blog to share with you my journey and some lessons and tips I've learned along the way. I'm pretty excited about it!
Fall Blog Preview
No-Buy July Follow-up
If you followed my No-Buy July post and wondered how it went, what I learned, and what the benefits of a No-Buy season are, my next post will lay it all out for you. Hint, I'm not crying about it. 😉 And if you want to get a handle on your own wardrobe, I will encourage you with tips for starting the process, with or without a shopping fast.
A Strategic Plan
Following that, we'll continue that discussion by talking very specifically about my plan to shop for clothes more strategically and what I'll be buying. I'm even going to share what my clothing budget is. I know! I just had to use the "B-word". 😉
Back In the Closet
And then, if that weren't enough to be excited about, I'm going back to the place this entire journey began – MY CLOSET. If you follow me on social media you may have seen me get emotional while cleaning out my closet. But it was actually a good day because it showed me I was ready to make a few changes in this area. The work hasn't been easy, but it's been eye-opening.
I'll be sharing some really good organizational tips to implement for not only a more organized closet but a closet that will almost purge itself. BOOM! My system will help you switch from transitional fashion season straight into the next with less headache. You won't want to miss it.
Also, look for posts about boots, athleisure for the "fluffy & 50+" animal prints, everyday fashion, a potential "Funny Girl" series, as well as more inspirational posts.
---
Speaking of Clothes – My First Post-Shopping Fast Purchase
The Top
Now, back to this beautiful Madewell blouse. This was one of my first purchases after No-Buy July was over. I saw it on another blogger and kept thinking about it. It was pretty, feminine and had these flutter sleeves that won't squeeze my arms like a sausage casing. I also like that it's a piece that will go with most bottoms in my wardrobe.
A jean jacket is a great transitional fashion season item whether it's summer to fall or winter to spring. I added this denim jacket when I went into an air-conditioned diner for lunch.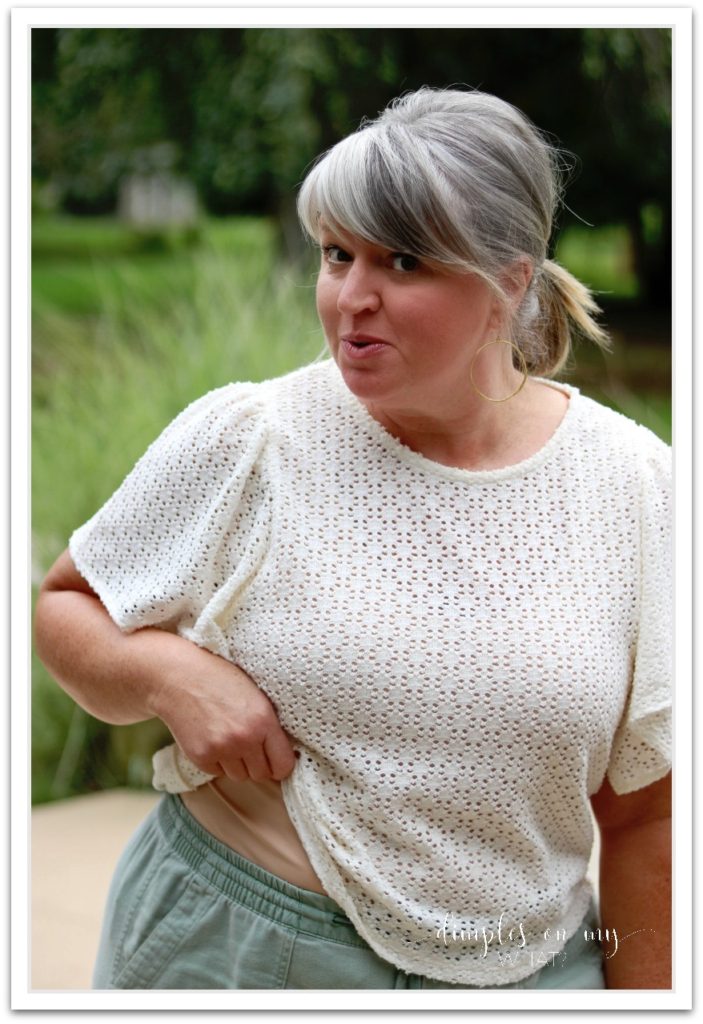 Underpinnings
Because this top is lace with no lining, I added this tank-bra top from Knix by Knixwear underneath. Ladies, this top gives my girls plenty of support! It's perfect for the cooler weather but since I'm in that certain "sweaty season" of life it's too hot to wear in the summer. I'm wearing an XXL and my bra size is 40D.
Fluffy Girl Fit Tip: When buying a bra-top or a fitted/shaping/compression tank top, we fluffy girls have to keep our hip measurement in mind because the bottom will roll up. It's annoying! Although I generally avoid them, this bra-top is just loose enough at the bottom that it only slides up a little but doesn't roll at all.
For the rest of my outfit, I shopped the closet.
---
Pants
I love these lightweight joggers (old), they're perfect for this transitional fashion season. They are a couple of years old from Gap but I wear them a lot. It just proves, if you buy things you love and are nearly timeless, you can wear them for years to come.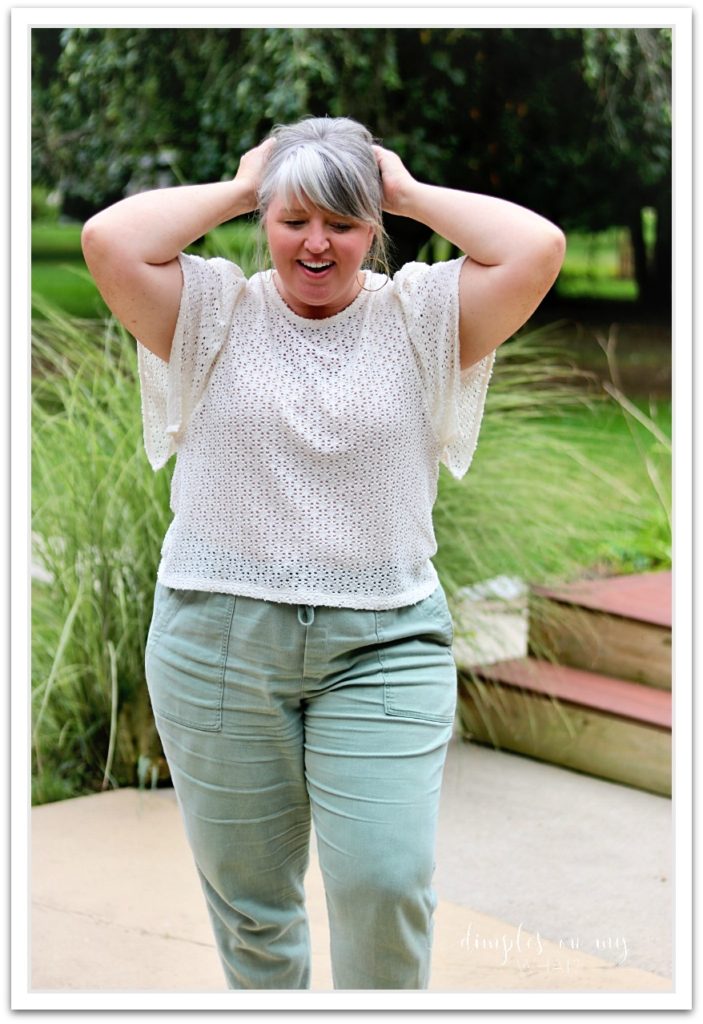 Shoes
Sadly, this may have been the last outing for these shoes. I wore this to have lunch with Mr. Dimples and felt one of the straps coming loose from the base. They have already been repaired at least twice and re-heeled once. Whaaaa! The Hubs is going to bring a super strong epoxy home from work, but I might need to arrange a memorial service anyway. I once thought of doing that for a pair of underwear and even called to invite The Mister, but that's a story for another day. 😉
*Espadrilles and booties are both perfectly appropriate for the fall transitional season.
---
Please Join Me (don't make me beg)
Are you needing some inspiration in your personal style, to purge or organize your closet, or to cut your shopping habit down to a manageable size? If you're not already a subscriber, I'll hope you'll subscribe to the blog so you don't miss one of the upcoming posts.
---
Subscribe here
Processing…
Success! You're on the list.
Whoops! There was an error and we couldn't process your subscription. Please reload the page and try again.
---
I'd also love to know what other topics you would like to see covered (with my special spin on it of course). Workwear, gift guides, favorites, parenting adult children, more recipes, pet peeves, more underwear stories…?
Until next time stay comfy, cute & confident,
Paula
---
Shop This Style