Do you have old concrete that looks horrible? Maybe it has an old coating or paint that has seen better days? We did, too! The cost of having it replaced or even resurfaced with concrete or another popular coating material was astronomical and well beyond our budget. But after some research and a week of DIYing, here's what we did and how you can transform old concrete on a budget.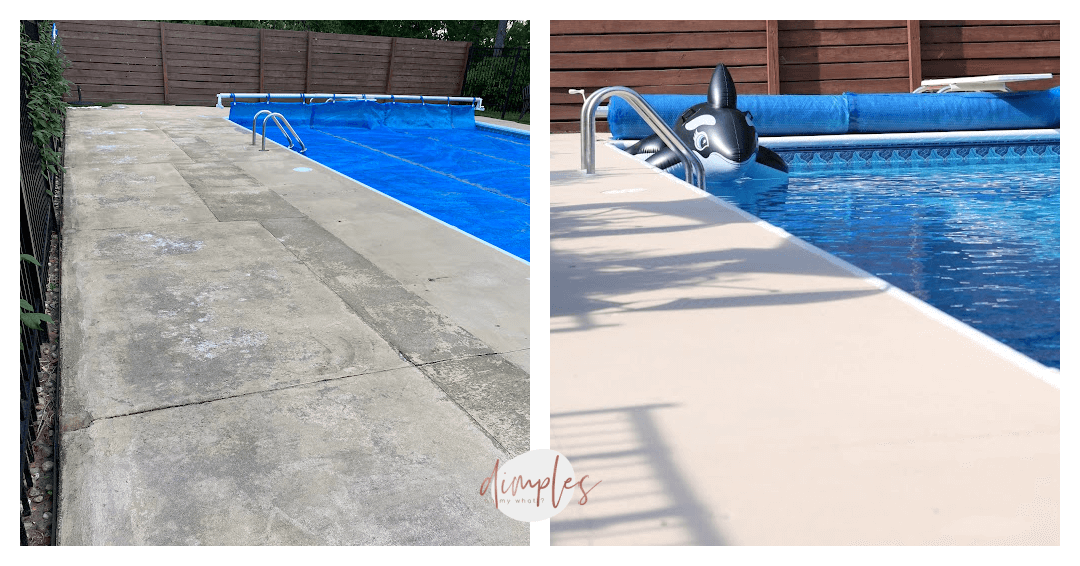 **This post may contain affiliate links that may result in me making a commission from your purchase at no extra cost to you.
WHY AM I SHARING THIS WITH YOU?
I know we don't all have a massive budget for home renovations, and hiring contractors for every upgrade or fix can be cost-prohibitive. But, I want to encourage you, if you're willing and healthy enough to put some effort in, even at our age (57 & 61 when we did this project), it can be done.
However, in this post, I want to give you a few tips on what we used to transform old concrete around our pool and what I'd do differently if we did it again.
AND WHY NOW?
Yes, yes, I know, it's the end of summer, and the pool season has ended in lots of areas around the country. So why am I just now sharing this with you? Well, the pool isn't being used as much, but even if you're not doing pool concrete, the temperatures are dropping. This is the perfect time to fix up that old concrete and get it ready for the next spring and summer seasons.
LET'S START AT THE BEGINNING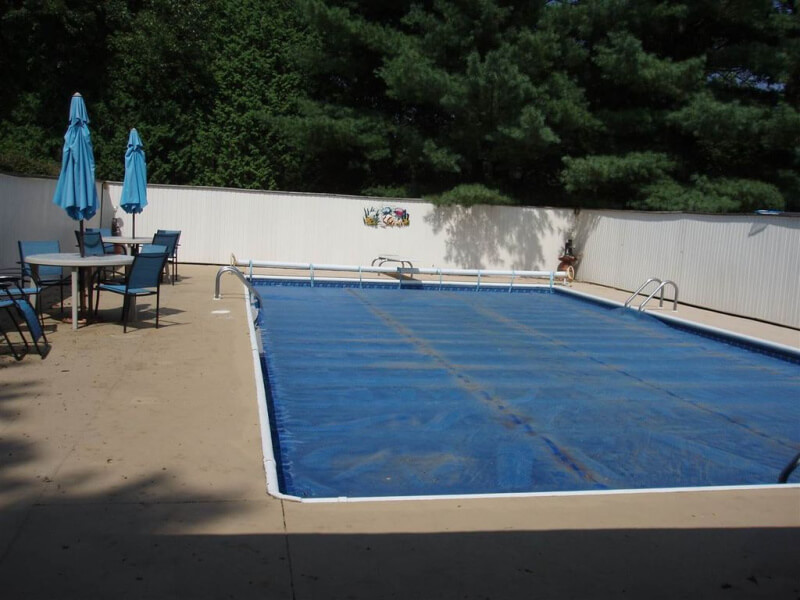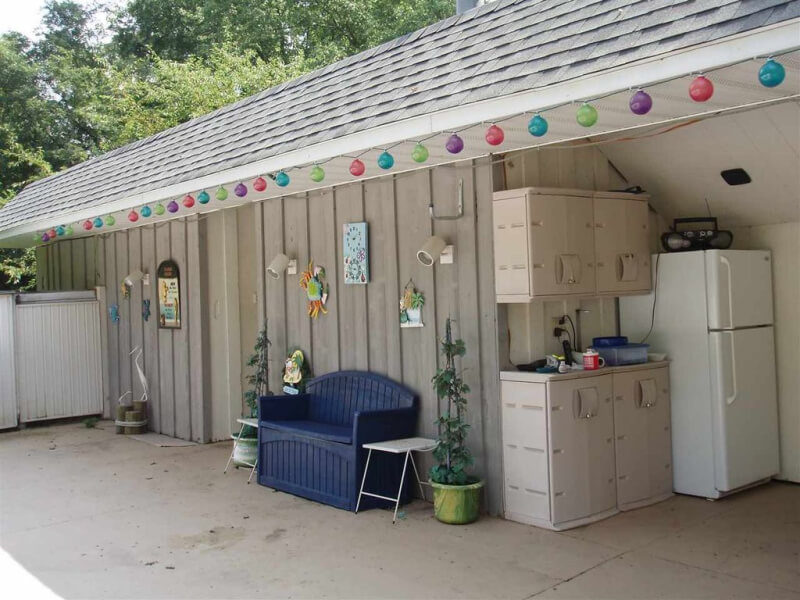 We bought a house in the fall of 2016. Since it was more of a dream location than a dream home, the old 1950s bungalow-style house underwent an extensive remodel, and we moved into our fixer-upper, which I call The Cedar Palace, in May of 2017.
If you love to look at house transformations, I've previously shared the kitchen, the master bath, and the basement bathroom.
The house was now lovely, but the old 40-year-old swimming pool area still needed lots of help. Surprisingly, the pool itself was quite nice, but we set out to improve upon the overall outdoor space.
It was immediately improved simply by removing the previous owner's "bling," but the old, dilapidated fencing, which had become a condominium for chipmunks and bees, was the first change. We extended the sunning area along the far side, and instead of connecting more concrete, we added an artificial turf area. By the way… turf gets crazy hot! I don't know if I'd do it again.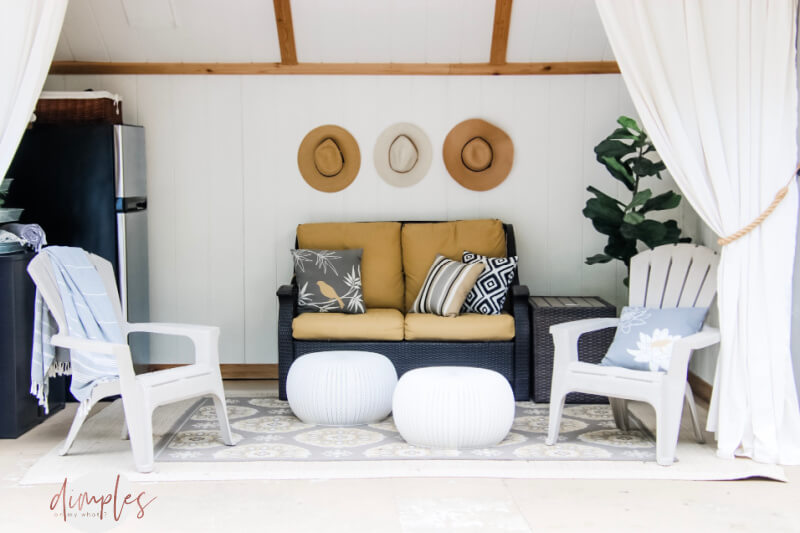 Things came along nicely, and the pool house gussied up well with canvas dropcloth curtains, rugs, a small RV-sized refrigerator, and plenty of outdoor cushions. Have I told you how much I love throw pillows, indoors and out?
But over the next couple of years, the previous concrete coating began to look worse and worse. The Hub's efforts to power wash and grind away the grime and peeling surfaces only exacerbated the issues. Take a look at the "before" photos.
BEFORE CONCRETE REPAIR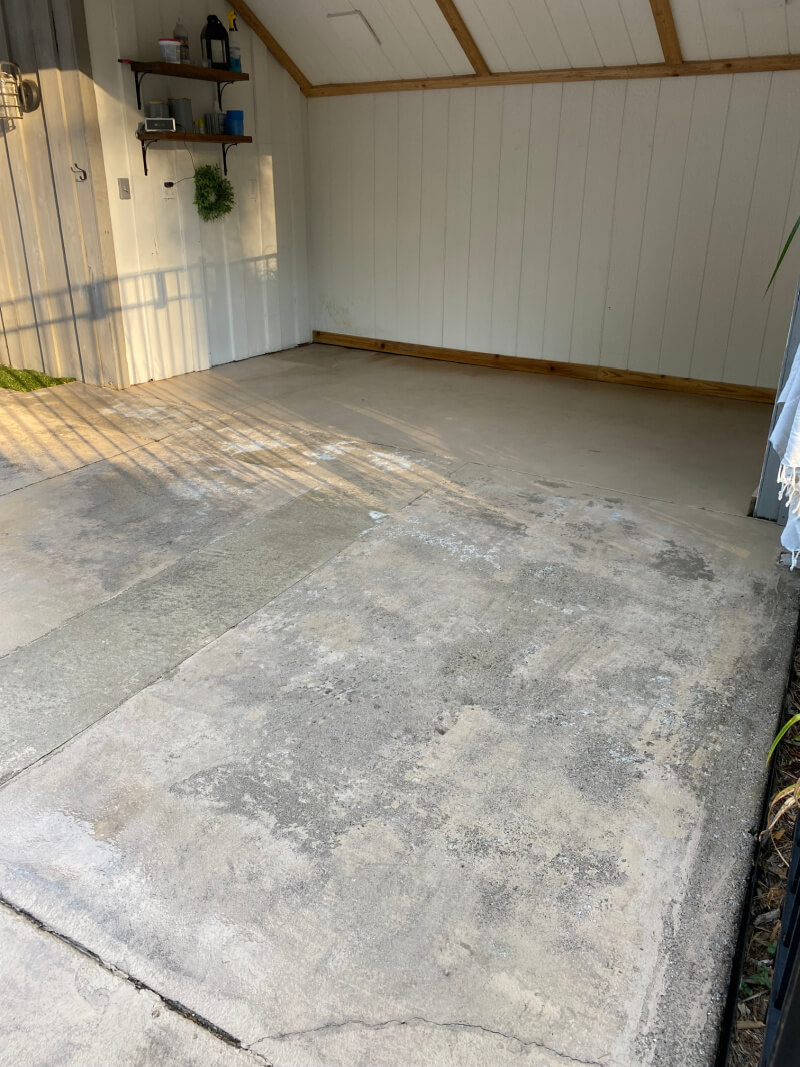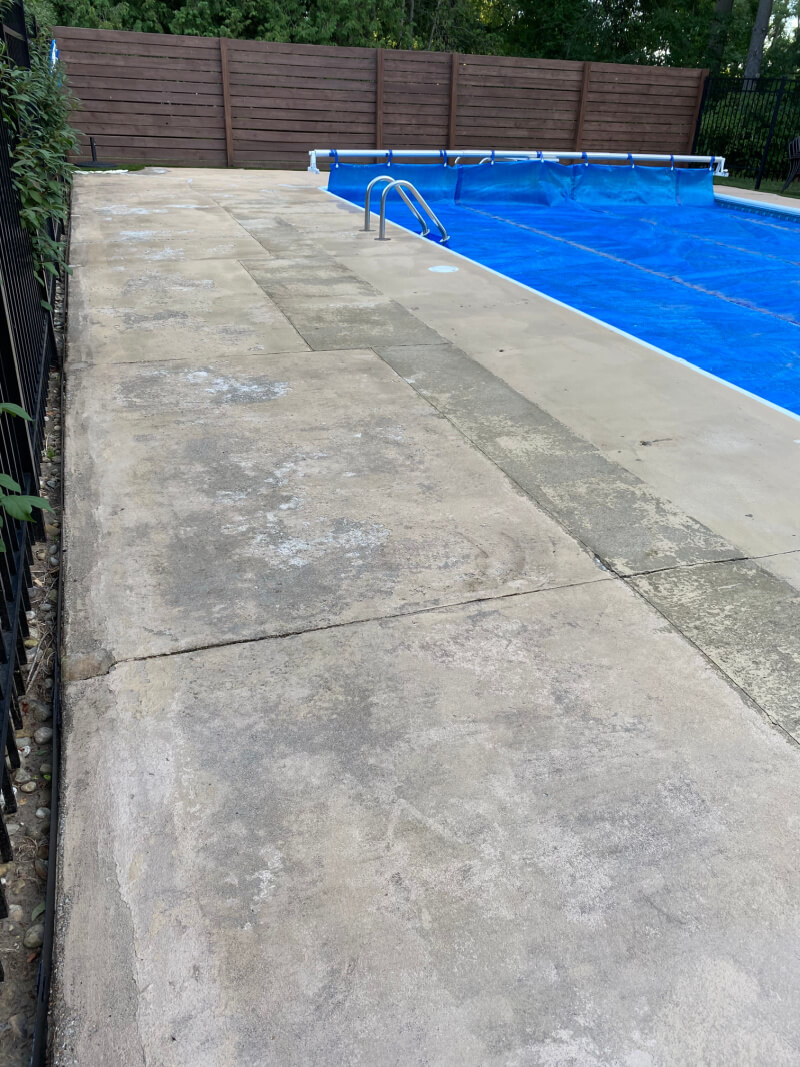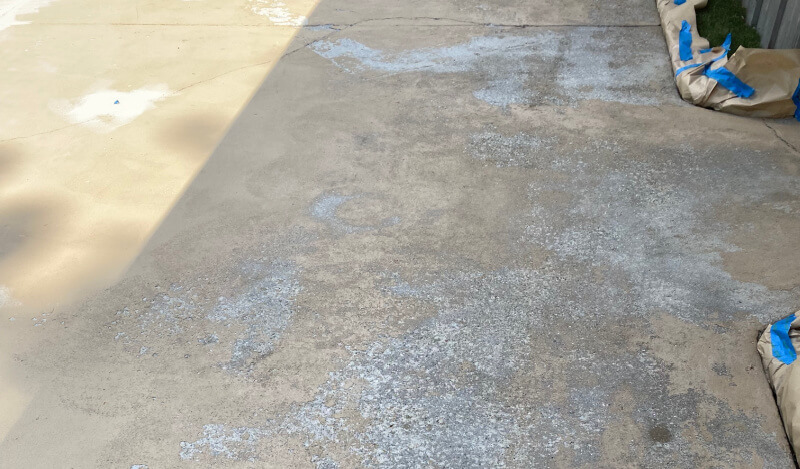 WHAT TO USE TO TRANSFORM YOUR OLD POOL CONCRETE ON A BUDGET
By this time, I was thoroughly embarrassed by the state of the concrete, plus it got so hot we played the "floor is lava" just to get in the pool. After a few estimates from local contractors and lots of online research and YouTube tutorials, we decided to use Cool Pool Deck Coating by Encore Coatings to spiffy up the nasty concrete and to cool the surface down in the hot sun.
Here's why we chose Cool Pool Deck Coating over other concrete paint:
You can do it yourself.
Cost-effective. It's a fraction of the price of other coatings.
You can choose any color you want by adding semi-gloss paint to the coating mixture.
It reduces heat buildup by as much as 38%.
Creates a more slip-resistant surface. (I don't remember any of our Littles falling this year.)
It is used in commercial settings like water parks.
It can repair small cracks and concrete imperfections. (See my review on this in the questions section below.)
THE FINAL RESULT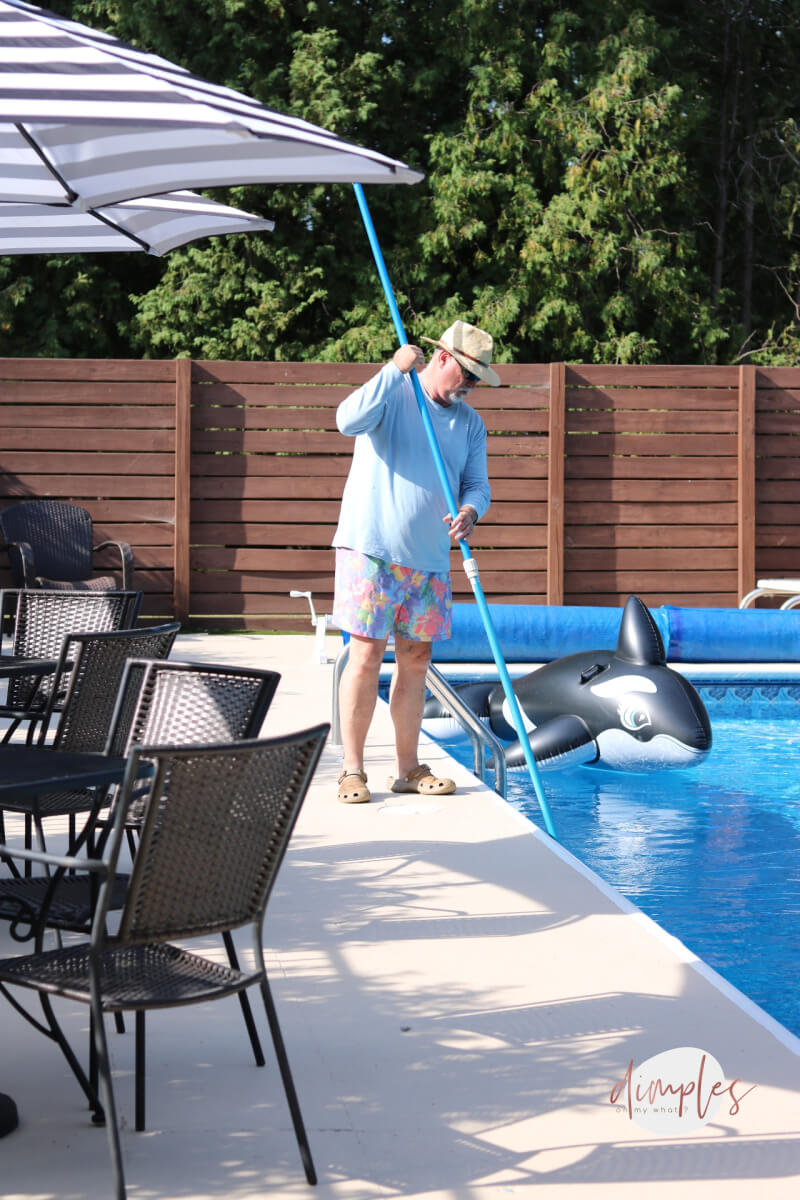 Let's all say WOW together! "WOW!"
Is it perfect? Noo. But honestly, we were putting lipstick on a pig, an old pig with a ruddy, pitted complexion. 😉
However, the transformation is like night and day. And even in the pitted areas, where dirt likes to collect, it cleans up very well with little effort.
It makes me happy to sit out there and watch my Littles cannonball and dive, and devour ice cream all day long.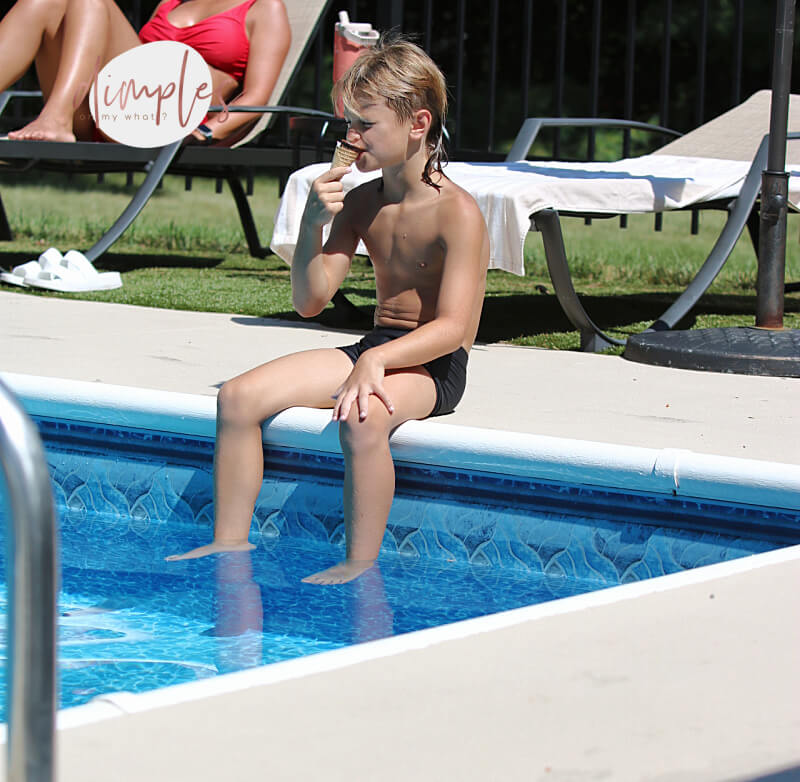 HOW TO USE COOL POOL DECK COATING
The Encore Coatings website and YouTube Channel have a lot of good tutorials (they call it Cool School) on how to use the Cool Pool Deck Coating. However, here's the basic process:
After determining if your existing concrete will accept Cool Pool, measure the area and order the appropriate amount of Cool Pool Deck coating kits. Each complete kit covers 200 square feet with two coats, including the prewash and topcoat. You'd need five kits if you have 1000 square feet.
Prepare concrete by patching large cracks or chips and scrapping the previous coating, if necessary. Remove any furniture or rugs.
Clean the entire surface with the Triple Crown cleaner as directed (included if you buy the Cool Pool kit.)
Tape off around the pool coping, structures, and any other areas you want to be protected. Our artificial turf was quite the challenge!
Apply two coats of the coating using rollers, waiting the recommended time between coats. The product is very thick, and brushing proved difficult. (We switched out paint rollers often and threw away any brush or roller we used.)
Now, you might have a few more questions, and I want to give you my honest opinion.
HOW MUCH DID IT COST?
Let's get right to the nitty-gritty. We purchased seven Cool Pool Kits plus seven gallons of latex paint to cover approximately 1,300 square feet of old concrete (2 coats). The hubs gets a military discount at Lowes, so we saved 10%. By my estimates, we spent around $2,400 when you factor in all the extra supplies like concrete repair, rollers, tape, etc.
Yes, that's still a lot of money, but, it comes out to around $1.85 a square foot! Compared to estimates of approximately $8,000 to well over $10,000 for other solutions, this is the best way to transform your old pool concrete on a budget.
WHAT COLOR DID I USE?
I have honestly forgotten, but by my best estimate and paint swatch test, we had Valspar Season Flex Semigloss Paint tinted to the color Sandbar (7547) by Sherwin Williams or Pavillion Beige (7512)- I'm leaning toward the Pavillion. It went on quite a bit lighter than the paint swatch, as we did not consider that one gallon of paint was mixed into the white Cool Pool Deck product.
YES! The concrete still gets warm, but even on really hot days this first summer of use, we could stand still in an area without hopping around.
DOES IT REALLY REPAIR CONCRETE?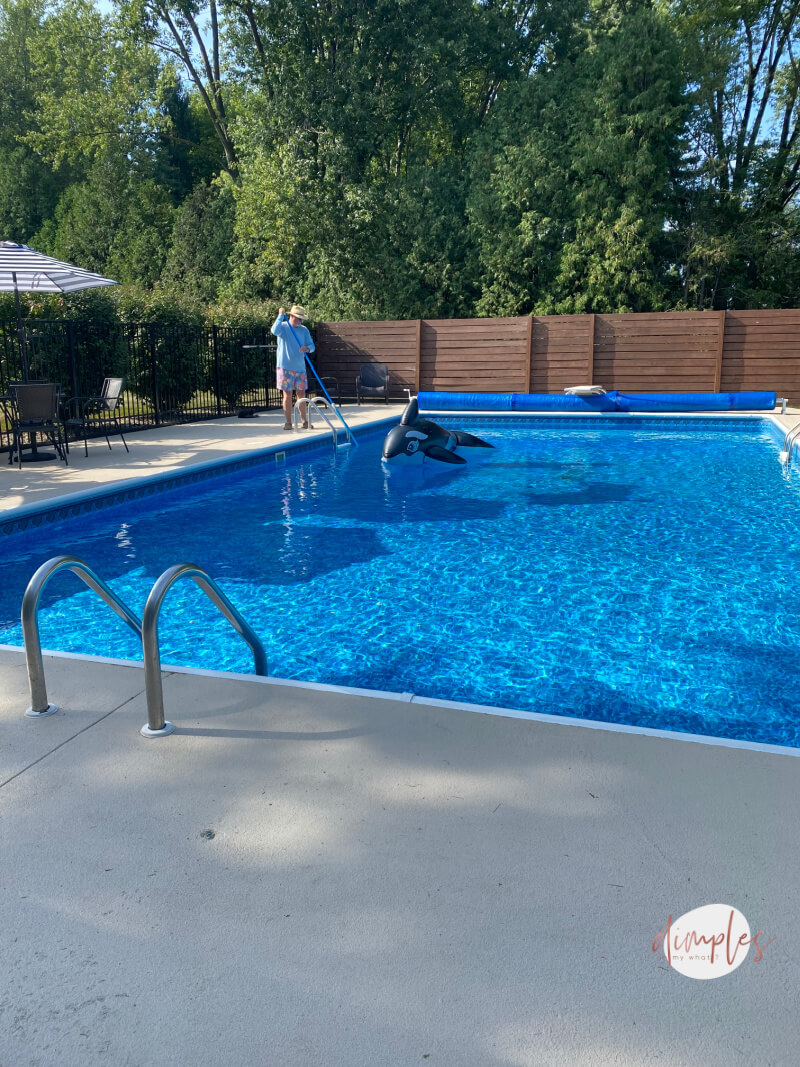 Not exactly. Notice the etched areas in the lower left corner of the photos; they're covered but still noticeable. It may fill in hairline cracks and minor imperfections, but you'll have to do more preliminary concrete repair if you want to create a better-finished result. We did some repairs, but we were working with 40-year-old concrete with large areas of deep etching, old repairs, larger crackers, and uneven areas left by the peeling of the previous coating. Like I said, lipstick on a pig. But she sure looks a ton better!
WHEN IS THE BEST TIME TO TRANSFORM YOUR OLD POOL CONCRETE?
The best time to apply the Cool Pool Deck is when temps are mild, not too hot or cold. We should have waited for cooler temperatures, but we did this last August, and while we started application during a short cool down, it was still pretty warm. The temperature makes a difference in how you feel while you're working and how much working time you have with the product.
WHAT WOULD I DO DIFFERENTLY?
First, I would have chosen a darker color. They say darker colors get warmer, and since we wanted to take advantage of the cooling benefits of this product, I didn't want to go too dark. But even though it has cleaned up well so far, this light color shows every leaf stain (and we have a lot of surrounding trees that drop leaves, seeds, pine needles, and green pollen), and, of course, ice cream drips. 😉 Somehow, I would have hoped we could have split the difference between aesthetics and temperatures.
Second, we should have waited until we were both healthy. Yes, this is a DIY-friendly project, but since we had so much concrete to cover and lots of "edging," it was helpful to have the two of us working together on this project. However, I was working with a torn meniscus, which made it excruciating for me at times. Which brings me to my last idea…
Lastly, if you live closer to the Encore Coatings manufacturing area, in Georgia, you can find Cool Pool Deck Coating Contractors. There are none in Northern Indiana. 😑 However, I should have gotten some estimates from painting contractors to see if they would have applied the product for us. I have no idea what that would have cost, but let's say we could have gotten it done for around $1,000, bringing our total up to $ 3,500; that's still a fraction of the price of other estimates.
All said and done, I love the transformation. I will definitely use it again on some old concrete steps leading down to our basement. I hope this has shown you that crusty old concrete doesn't have to stay crusty. Because now you know how to transform old concrete on a budget, too!
Have an amazing day.