I've heard many curvy women say they "can't" wear the wide-leg jeans trend, fearing it will make them look larger. I think that's hogwash! It's all a matter of good fit and styling. So, I started pulling pieces out of my closet to show you how to style plus-size cropped wide-leg jeans.
It didn't take long, and I had six rather cute outfits. I could have kept going had I not been sweating so badly trying to get these pictures.
In my previous try-on haul for plus-size wide-leg jeans, someone mentioned it would have been helpful to see a side and back view of each pair of jeans. I agree. But since I took these photos simultaneously and the sweat factor was HIGH, there is only the front view. I'll try to remember this in the future.
MADEWELL PLUS-SIZE CROPPED WIDE-LEG JEANS
Do you remember these Madewell Cropped Wide Leg Jeans from my wide-leg jeans try-on haul? I love their fit and feel but was vacillating back and forth about the color and whether or not they were too light-colored to be versatile year-round. It's one of the reasons I chose them to create these outfits.
And since cropped pants can be a little tricky to style, I thought it was a good place to start this outfit inspiration.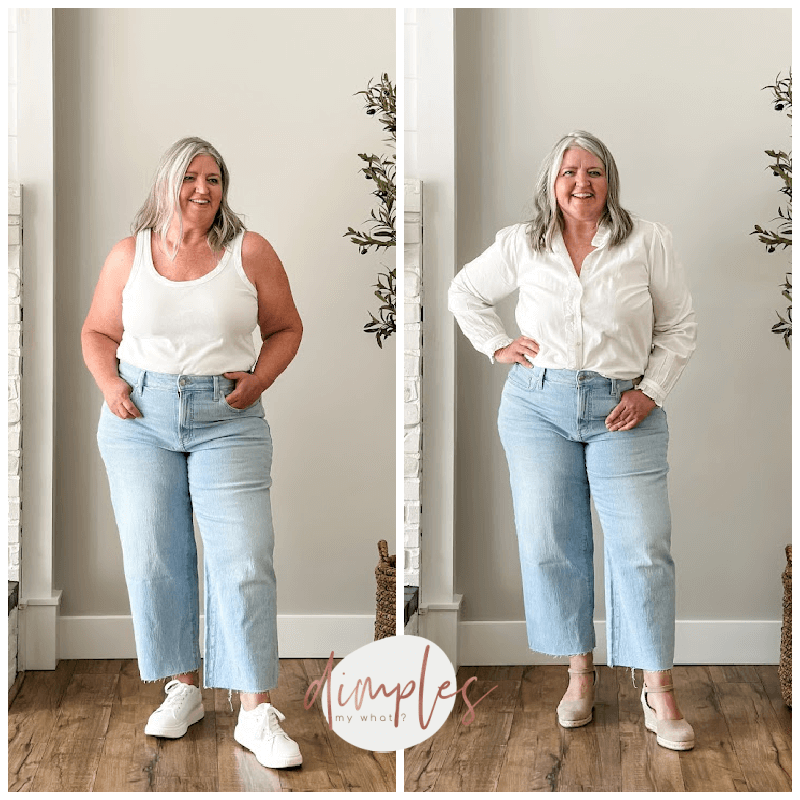 THE PERFECT LENGTH FOR CROPPED PANTS?
Cropped pants are NOT capris and should hang around the ankle area. In fact, cropped pants and ankle-length pants are synonymous with each other. (Also, in my opinion, capri pants, those hitting between just below the knee to anywhere in the calf region, can be the most aging styles to wear.)
Most fashion stylists will tell you cropped pants should be no more than an inch or two above the ankle. But I don't like to give a measurement because we are each proportionally unique, including the ratio and size of our ankles, feet, and legs.
I like my cropped pants to be just above my ankle but no higher than where my leg gets wider leading up to my calf. Does that make sense?
Let me know if it doesn't, and perhaps I can film a video showing the difference.
SHOES MATTER
Shoe choice is extra important when it comes to styling wide-leg crops, especially on a curvy or plus-size woman. We still have lots of choices, but pay attention to color, strap widths, and how high or wide the shaft of a bootie is.
I'll touch on this a little more in each outfit description. But as a general rule, if you're a larger woman, find the middle ground when choosing a shoe. Lean toward shoes with a slight heel or enough visual weight to balance you out while avoiding extremely thick and chunky shoes and dainty ballet-style flats.
As for color, I prefer a lighter-colored shoe or one that is close to your skin tone. When wearing cropped pants, a shoe that is too opposite your skin tone will create too many visual "stopping points" in this look.
GENERAL STYLING TIP
One last thing before we jump into the outfits. Generally, outfits that are the most visually cohesive have at least two pieces in similar colors; Color-Buddies, if you will. See if you can find the color buddies in each outfit. A couple of them might be a little tricky, so here's a hint: the color match doesn't have to be to another clothing item. 😉
Now that we've settled that let's quickly look at each outfit.
KICKING IT CASUAL
I love each of these outfits, but if my arms were skinnier, this one would be my favorite. 😉 First of all, any outfit with sneakers is a major plus for me because it makes it oh, so comfortable. Then the color of the graphic tee works with these jeans, and the white sneakers pull in the white guitar.
I'm sorry, for my life, I can't remember where I got the exact graphic tee. 🙃
Curvy girls can wear belts too, so, do not be afraid to wear a belt and tuck your shirt in, at least a little, because that belt can pull your entire outfit together and make you look finished.
SHOP THIS LOOK

KEEP IT CLASSIC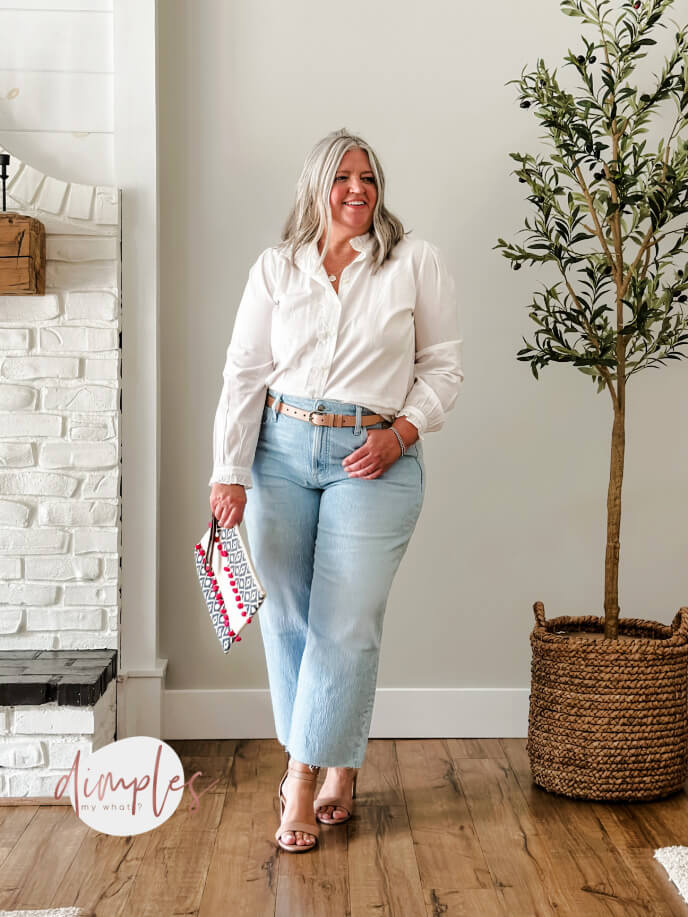 You can never go wrong with a white button-down shirt or even a pretty white blouse. As a curvy woman, choose one with a softer fabric and a little feminine detail instead of something stiff and overly structured. It will follow the lines of your body better.
Adding a comfortable low heel and a fun clutch makes this outfit a little dressy and would be great for church or a date night.
SHOP THE LOOK

DRESS UP A GRAPHIC TEE AND CROPPED WIDE-LEG JEANS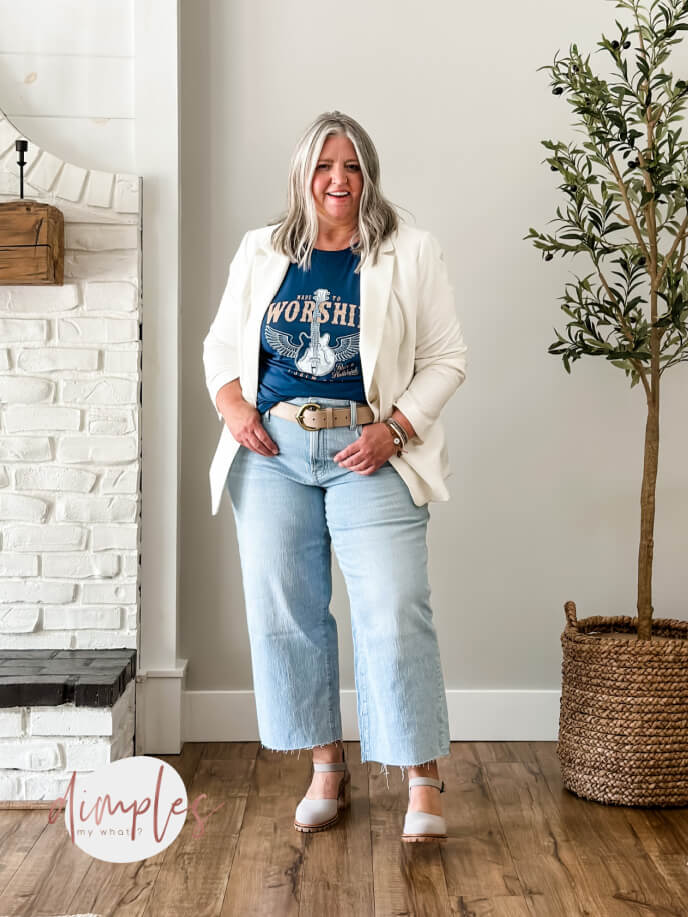 Once again, a white blazer ups the chic factor, and this time it is over a graphic tee and jeans. Add a wrap bracelet, a chunky belt, and some trendy lug-sole block-heel Mary Janes, and you are ready to head out the door to a concert, casual church, or even a date night.
SHOP THIS LOOK

You might also be interested in, WHY EVERY WOMAN NEEDS A WHITE BLAZER
CASUAL CHIC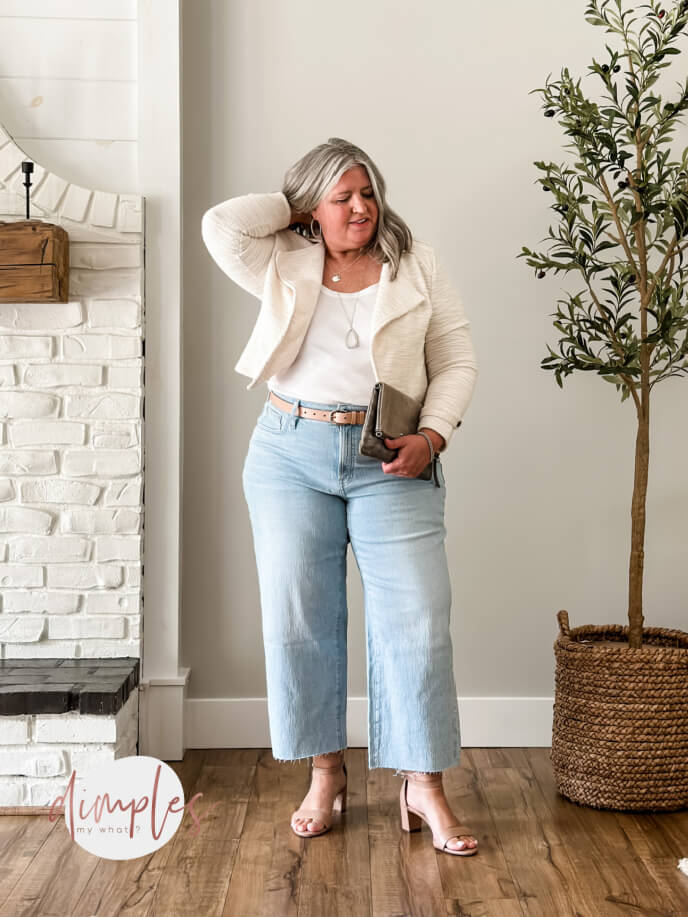 I've had this cropped knit jacket forever. It pulled me out of some fashion quandaries when I needed a jacket with a dress, but a denim jacket was too casual. In this case, it definitely ups the chic factor of the jeans.
Outfit inspiration is only good if you have a place to wear it. I would wear this to church for sure and maybe dinner with friends. Where would you wear it?
SHOP THIS LOOK

FALLING FOR SWEATERS & JEANS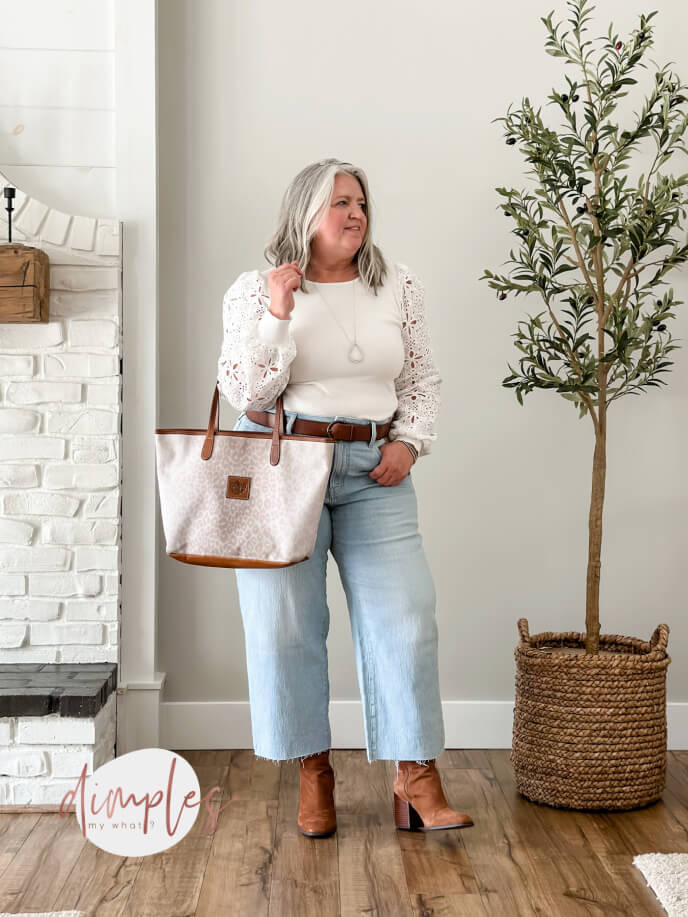 You can't go wrong with jeans, sweaters, and booties. Unfortunately, this pretty eyelet sleeve sweater is sold out, but I'm hoping Avara will bring it back. Notice that the puff sleeves help add width to my shoulder to balance out the fuller bottom.
I'm not in love with the color of these booties with these jeans, but I didn't want to dig out a pair of lighter ones, so I threw on the darker belt to help them make more sense. See what I did there? Color Buddies!
SHOP THIS LOOK

MOTO MAGIC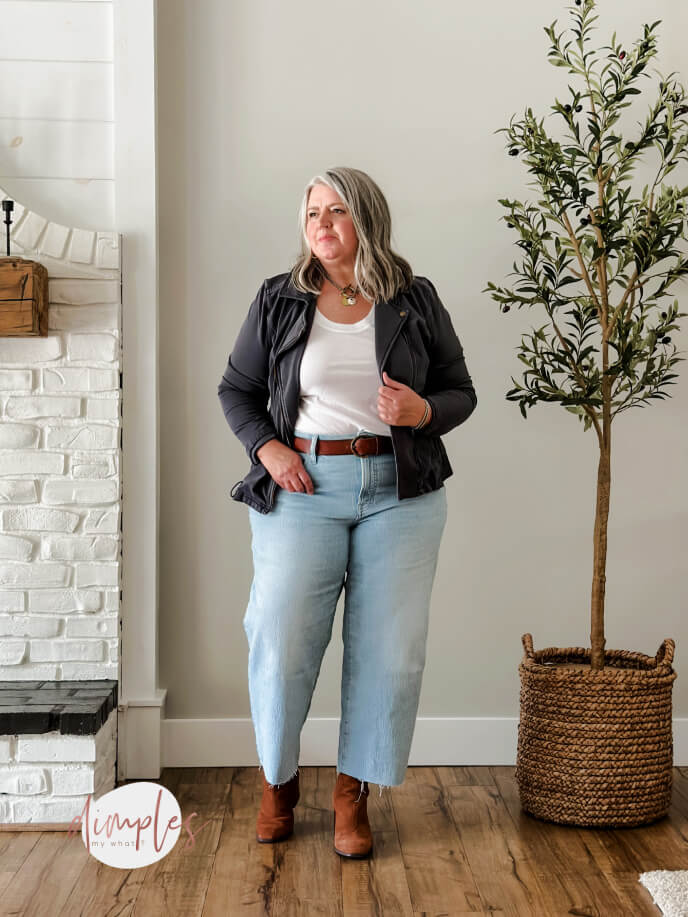 First, let's clear something up; PLUS-SIZE WOMEN CAN DRESS COOL TOO!
A slim tee and soft-structured moto jacket create a pretty cool outfit with the wide-leg cropped jeans if you ask me. Wear booties that have a slim-fitting shaft keep so they ease up under the wide-leg jeans.
And lastly, choose accessories with a little edge and leave the dainty stuff for later.
SHOP THE LOOK

WHICH IS YOUR FAVORITE?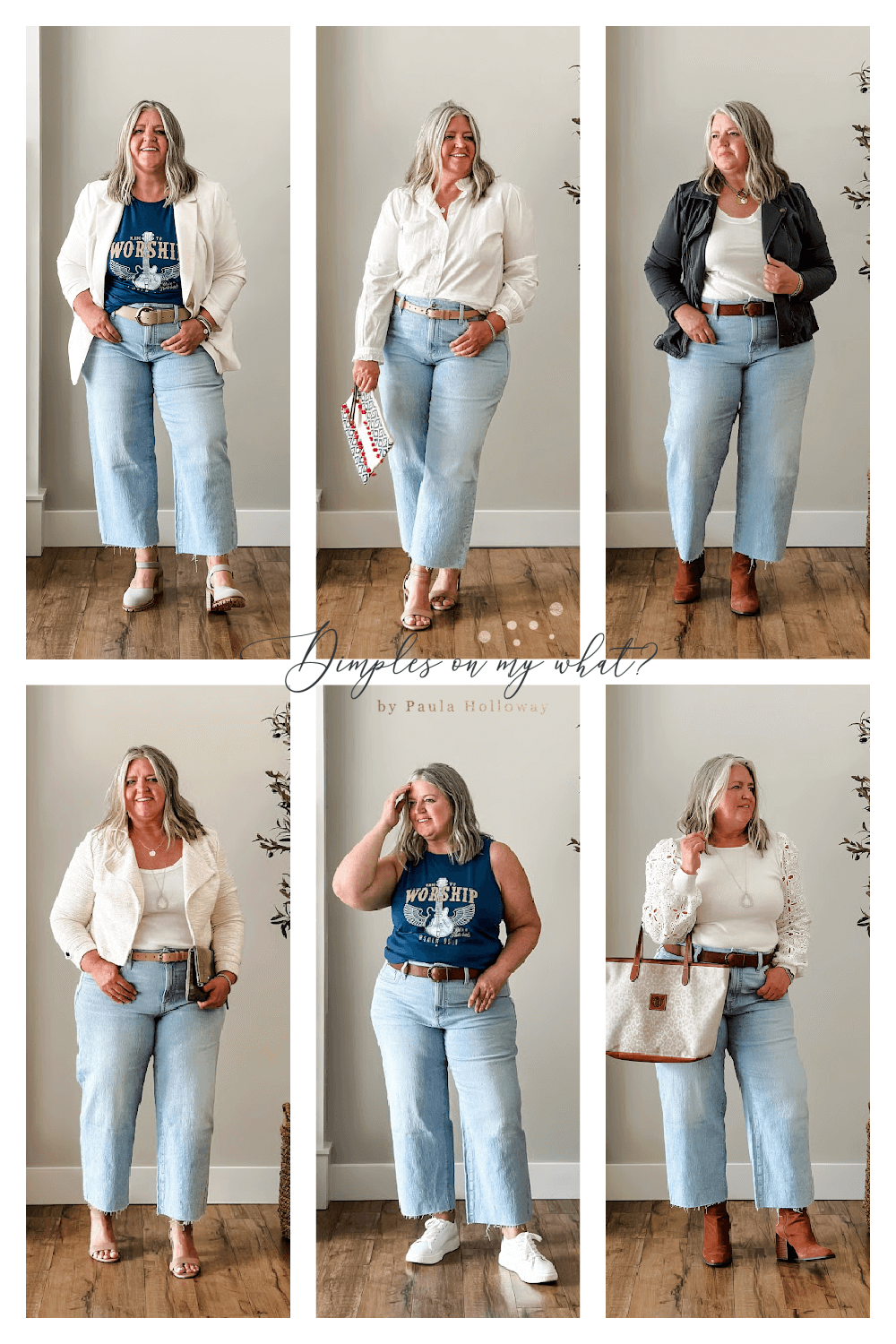 As you can see, cropped wide-leg jeans can be very versatile. Hopefully, these six outfits get your creative juices flowing for how-to style plus-size cropped wide-leg jeans.
These are just some of the ways I'd wear these jeans. They'd also be fun with a pretty printed blouse and booties or heels. I'll likely pair them with a lightweight blouse and my favorite flip-flops to finish out summer.
I don't think I can pick a favorite. Can you?
COLOR BUDDIES
Did you notice that sometimes the Color Buddies in my outfit were an accessory and my hair? I love this styling trick because it cohesively makes you part of the outfit instead of just wearing it!