A black blazer might get second-most attention after the LBD for the most needed staple in our wardrobes. But I'm saying, hold up, because white blazer can be the star of almost any outfit and today I'm going to tell you Why You Need a White Blazer in Your Closet.
Your Favorite Outfits of Mine Have Included a White Blazer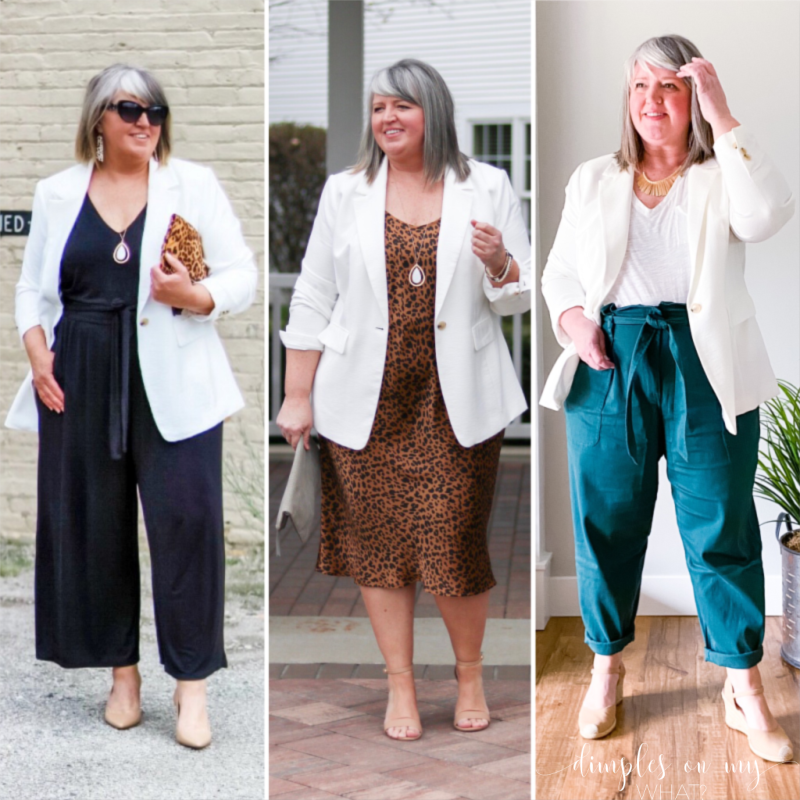 I have done a couple of posts in the last several months where I showed you how I styled a pair of high-waisted green pants and a leopard print dress multiple ways. Both times, your favorites were the ones styled with the white blazer.
This Look
SHOES (old) Similar || CLUTCH || NECKLACE (sold out) Similar || SUNGLASSES, Similar || EARRING
Black Jumpsuits You Might Like

This chic blazer was featured in another favorite look way back when I styled a black jumpsuit. And even though it wasn't a "who wore it better" contest, it was again a favorite in this Style Inclusive post with my friend Angie.
Unlike a black blazer, a white one just pops with almost anything. It looks chic and cool and I could see it styled in so many ways. In fact, I don't even own a black blazer at the moment but my trusty white boyfriend blazer has served me well. As you can see, a casual date-night outfit can be created out of jeans and a pocket tee by throwing on a blazer.
Blazer Style Tips for the Plus-Size Woman
As a curvy or plus-size woman, it is often more flattering to have a bit of structure to our clothes. The structured seams counter-balance our already soft edges. 😉 So when you want to look a bit more polished, choose a blazer or structured jacket over a sweater or cardigan.
This Look
BOYFRIEND JEANS (old); Similar; Similar || WHITE TEE; Similar || BOOTIES (old) Similar; Closed Toe || BELT Similar; Similar ; Splurge || EARRINGS || TOTE BAG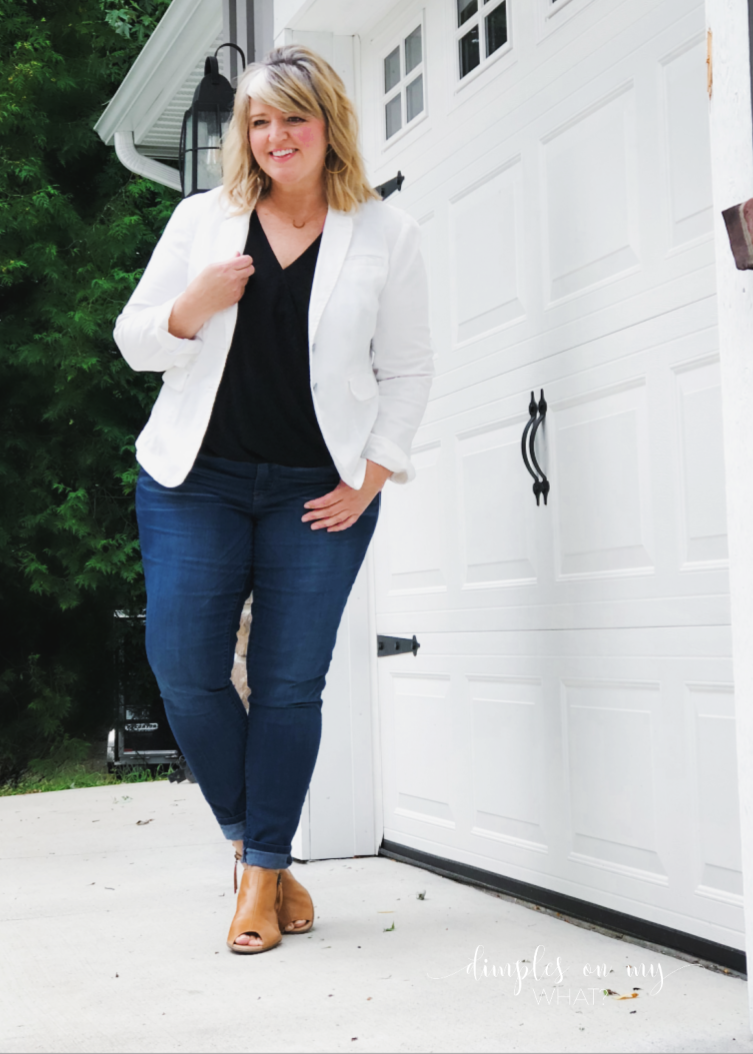 This Look
JEANS (in ankle-length) || BLACK V-NECK TEE, Similar || BOOTIES Similar; Closed-Toe || SHORTER WHITE BLAZER; Similar || NECKLACE Similar
I also like a shorter blazer as I think it adds even more polish to a curvalicious body. But there's something so effortless and chic about a white boyfriend blazer.
So if you're looking to add a plus-size white blazer to your wardrobe, I've done some searching and have come up with some that show promise and which might be tempting me big time. Like this cozy SWEATER BLAZER!
Oh, and for you, skinny ladies or those who are "sometimes" plus-size, lots of these come in misses sizes as well.
---
Plus-Size White Boyfriend Blazers You Might Like

Stay comfortable and chic my curvy friends!

---