Plus-Size Style Inspiration | Target Slip-Dress
Hey, my Curvy Friends, have you ever been in a style-rut and you just need a few ideas for how to put together pieces already in your closet? Me too! And I love fashion inspiration in the way of complete outfit suggestions like Alexa Webb offers for plus size women. If you don't follow her, you should! So with that in mind, I'm bringing you seven fun and fashionable ways to style a plus-size leopard print slip-dress.
While I'm featuring plus-size (or size-inclusive) pieces today, these are outfits slimmer women can wear too.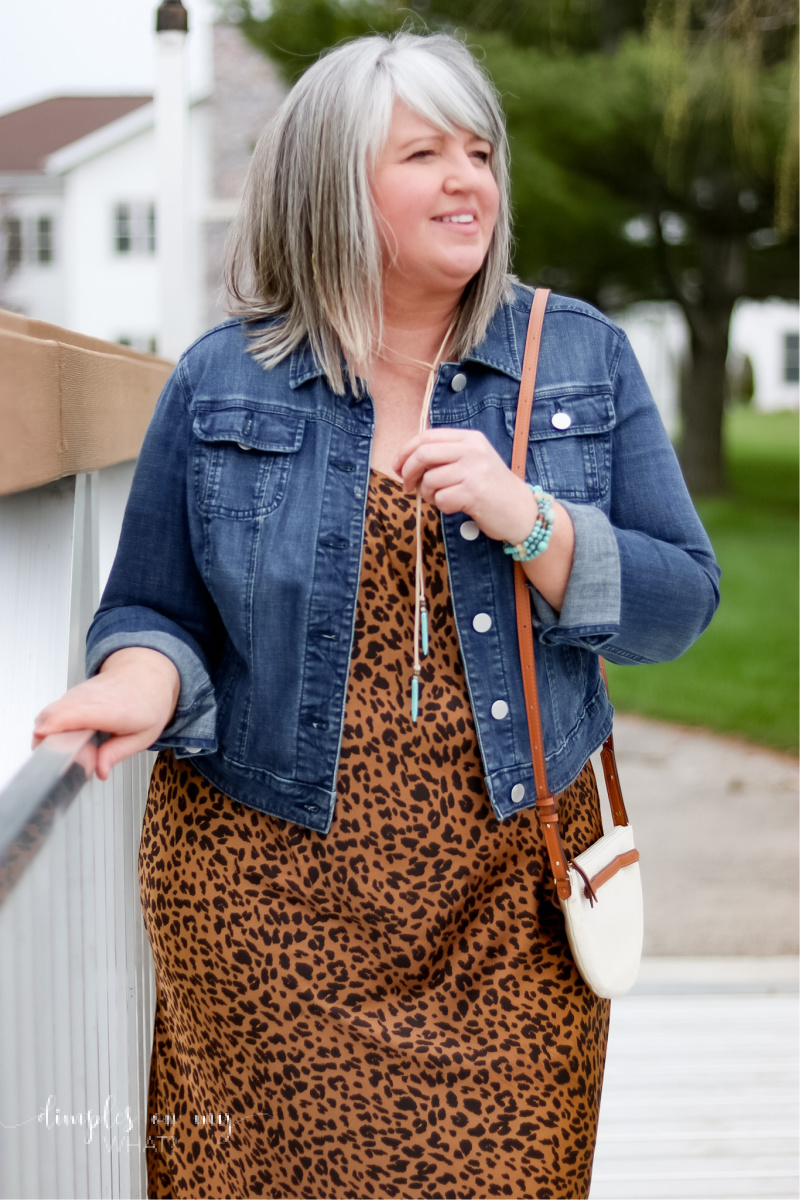 A Plus-Size Slip Dress Goes Wild and Grows Up
You might remember this leopard print slip dress from this Style Inclusive post in which my straight-sized friend Angie and I styled it in our respective sizes. I see no reason for us curvy ladies who are over 40 (or 50 in my case) to be left out of the trends. And we still want a great return for our clothing dollar by having multiple ways to wear the clothes we have. You know, we don't want to just wear mu-mus! Okay, maybe I do, but that's a personal issue. 😉
You gals really seemed to love the post on 8-ways to style high-waisted pants so I thought it would be fun to pick another piece and create multiple looks to get your style-juices flowing. This time, not only did I pull pieces from my own closet, but I put together a few outfit collages to give you more ways to style an inexpensive leopard print slip-dress.
I could have kept right on creating outfits but I think you could take the pieces I've included in these looks and mix and match to your heart's content. And don't forget, a little white tee shirt under a slip-dress is not only classic, but it makes a slip-dress more modest.
I already had the leopard print dress but I think you could easily use any strappy sheath dress to create similar looks.
A FEW PLUS-SIZE LEOPARD PRINT SLIP DRESSES AND MORE

---
Dress Up a Plus-Size Slip Dress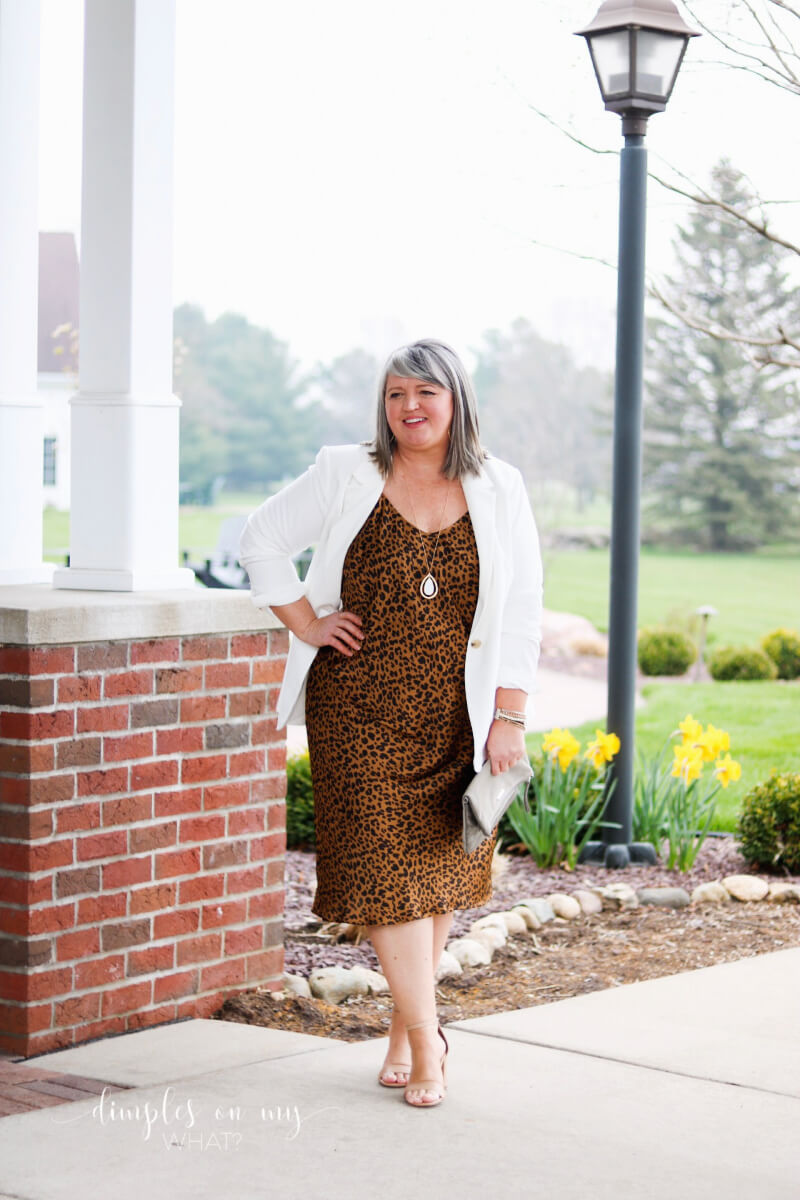 This is a classy look that you might remember from the Style Inclusive post. The white blazer pops and looks fresh but it could easily be switched out for a black one for winter. Ooo, a bright pink blazer would be fun too!
SHOP THIS LOOK

Take Your Slip-Dress on Vacation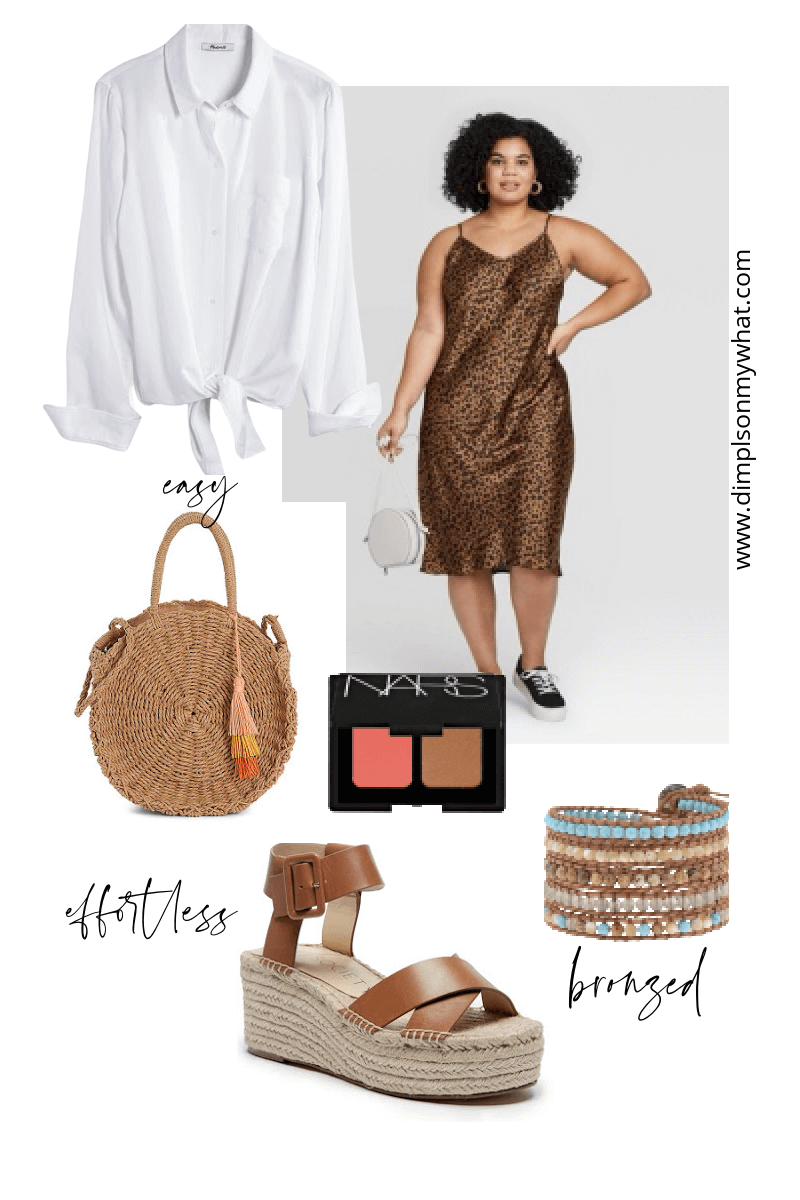 In normal times we'd be in the heart of vacation season but even in the midst of a pandemic, this plus-size slip dress will work closer to home. Think, backyard barbeque with your closest family.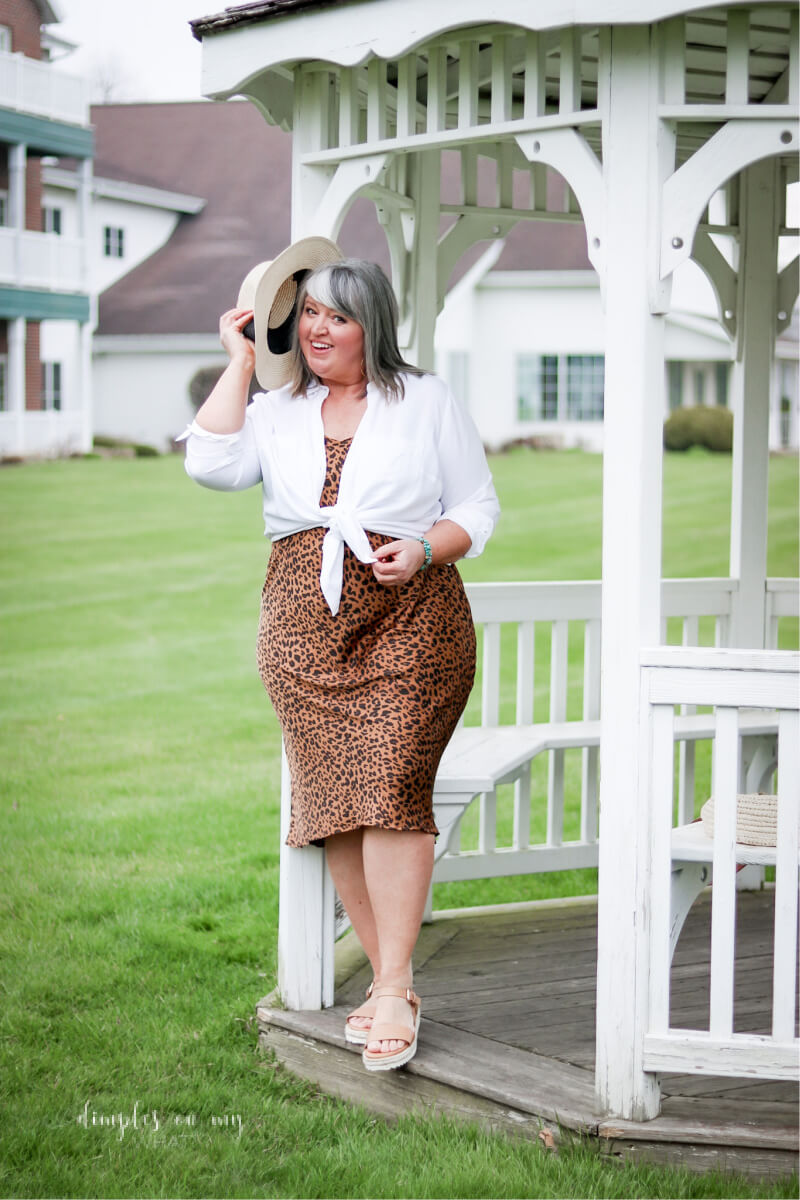 SHOP THIS LOOK

Two Edgy Plus-Size Looks with One Graphic Tee and One Plus-Size Slip Dress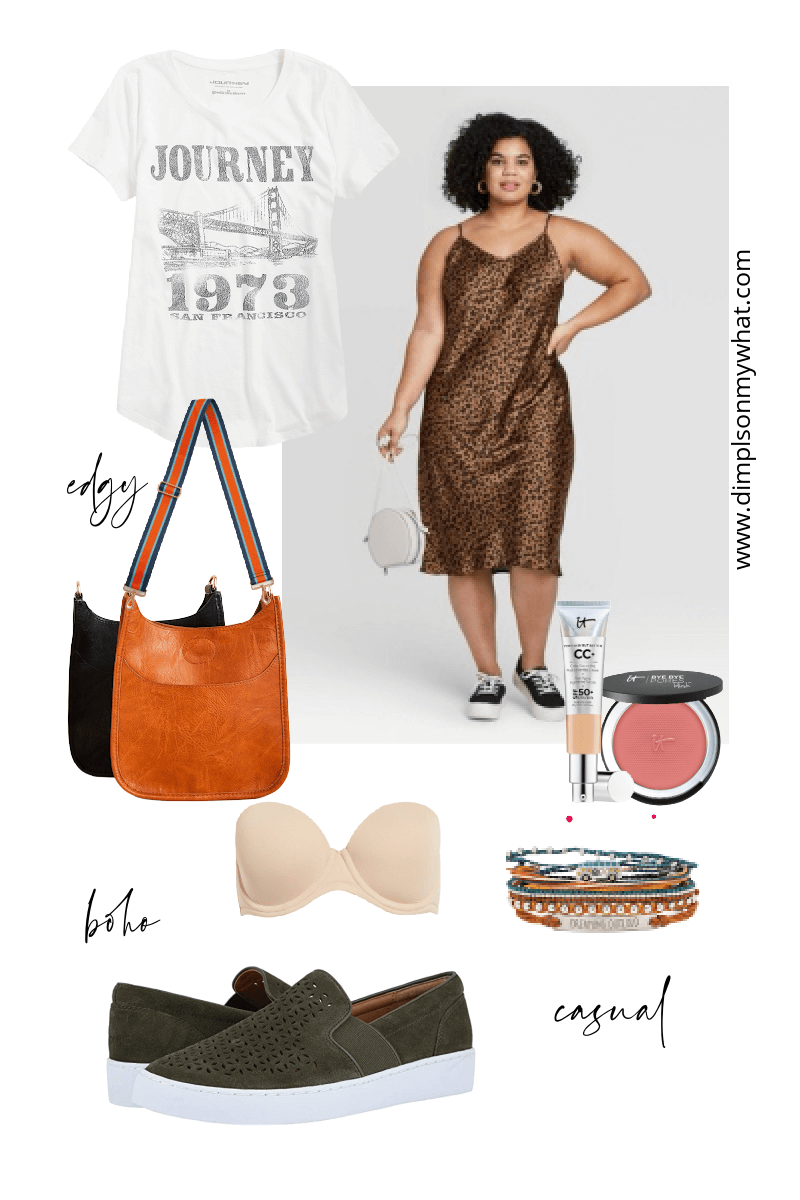 Don't think because you're older and plus-size you can't be a little edgy and wear trends like graphic tees. We're not going for teenie-bopper (oops, I'm showing my age) but I don't see why we can't push the envelope a little. I say wear what makes you comfortable!
I have those Vionic sneakers in white and they are made for old finicky feet. Or add even more edge with combat boots like I have below. I also have those lower profile combat booties and they are pretty cozy.
Just Add Combat Boots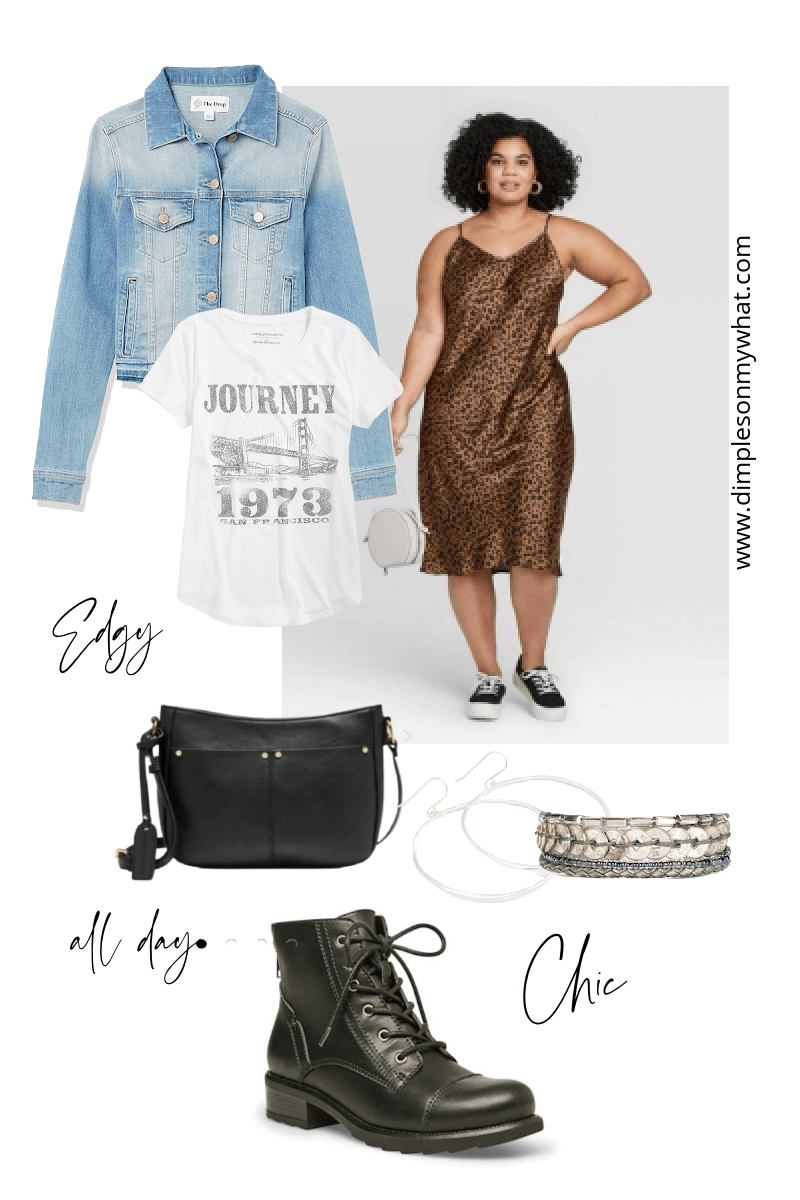 SHOP THESE LOOKS

Simple & Chic
A cozy t-shirt knotted at the waist and some cool and comfy sneakers will take you all over town.
Wear Your Slip Dress into Fall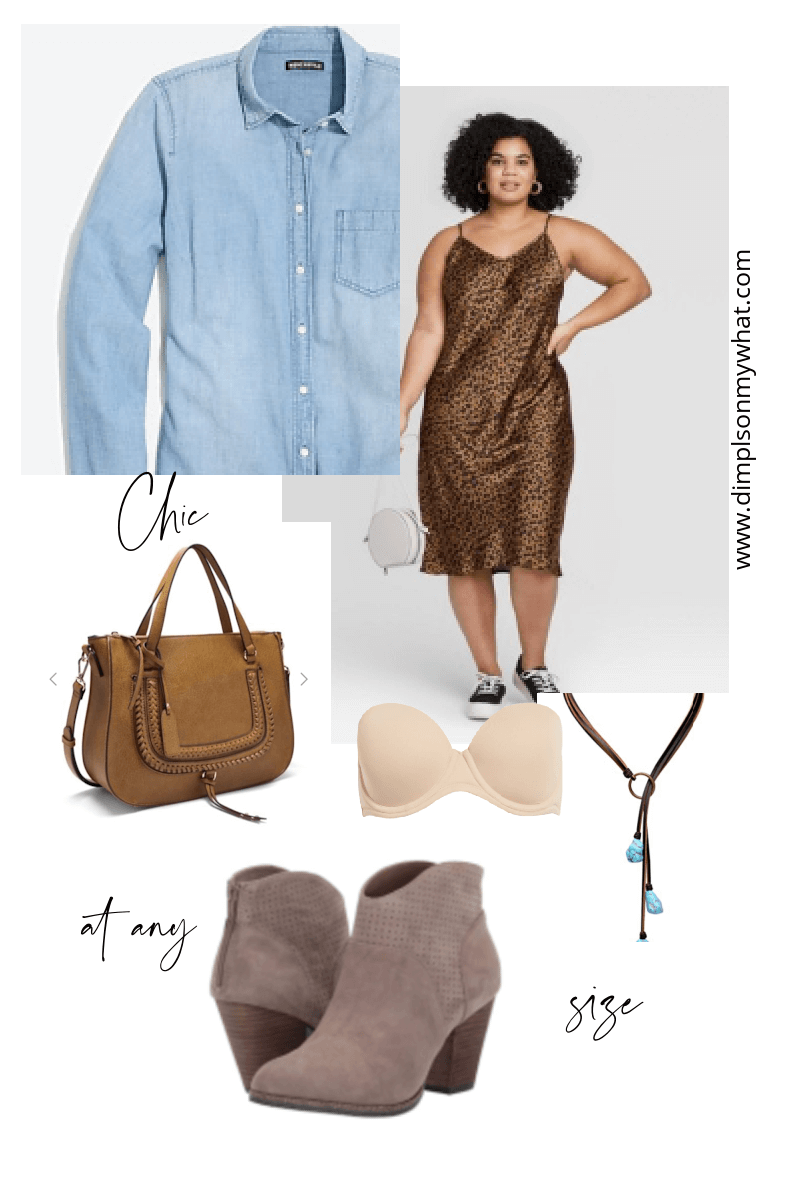 Create the perfect fall outfit with a denim shirt knotted over a plus-size slip dress and booties. These are classic looks that span age and weight limits.
You might also enjoy, The Best Booties for Curvy Girls & Short Chicks too!
SHOP THIS LOOK

…curvy women should opt for a slightly cropped denim jacket so that it hits nearer our waistlines and not our wide-hips.
A Plus-Size Slip Dress, Denim Jacket & Espadrilles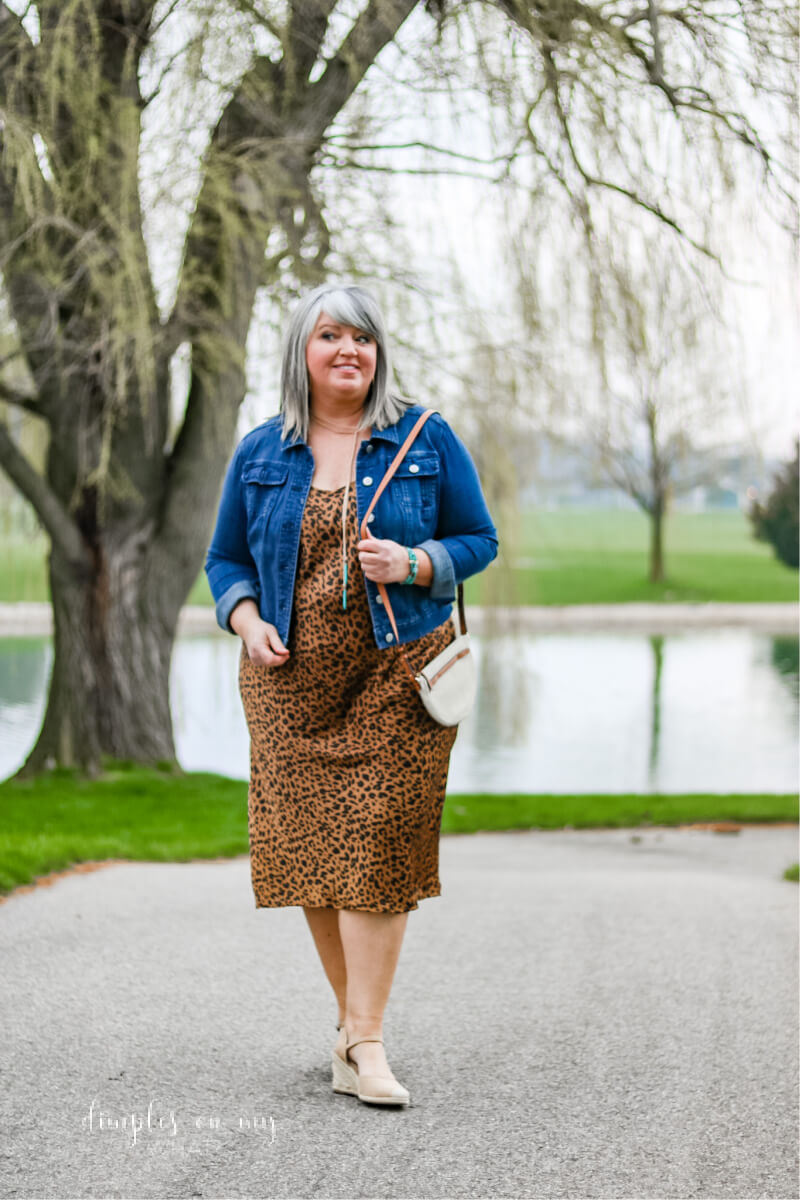 Lastly, what can't a denim jacket make better? But in my opinion, curvy women should opt for a slightly cropped denim jacket so that it hits nearer our waist-lines and not our wide-hips. Mine is old but I found this one on Amazon and the size XXL fits me well.
SHOP THIS LOOK

Whew… now that's a lot of inspiration with just one dress! I know you all love the first one with the white blazer and I do too. But for every day casual fashion, I pick anything with sneakers. So I'm going to say one of the edgy looks is my favorite.
Which one could you see yourself wearing the most?
Until next time, stay positive and think cute (and skinny) thoughts. 😉