UPDATED FEBRUARY 2021
Can you be "in love" with a pair of pants? If so, I think I found "the one." 😉 Seriously, jeans might just be relegated to my backup plan, and you'll find me in the Eloquii Green High-Waisted Pants all summer long. (This season's version.) But can green high-waisted pants be that versatile? I think so, and today I'm showing you How to Style Green High-Waisted Pants 8 Ways with pieces I already owned.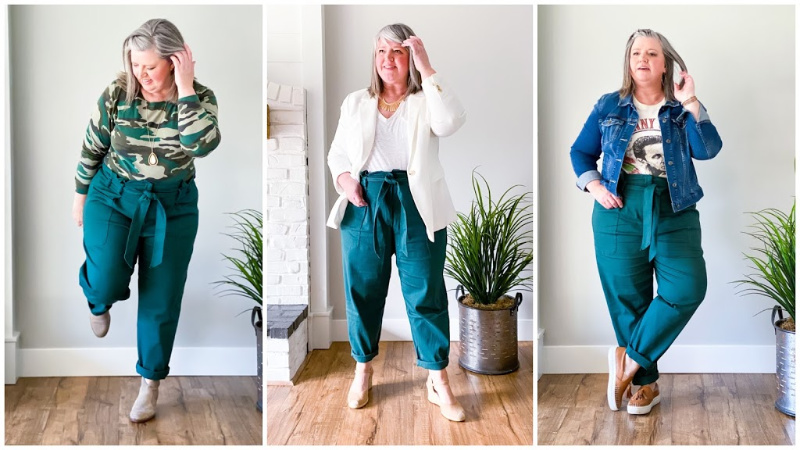 I know Eloquii is a plus-size only brand, so I've included similar high-waisted pants in misses sizes in the shopping links below.
If you saw my Favorite Things in April post, you already know I LOVE these green high-waisted pants. Instead of showing you just one outfit with them, I've decided to create multiple outfits with them, including options for dressing them up and dressing them down.
2021'S VERSIONS (I bought the pink Eloquii ones! Still size 14)

Put on Your Pants and Say, Ahhh
Ever since I did my two-month No-Buy shopping season last summer, I've been compelled to have fewer clothes but wear what I have more often; but it doesn't mean I don't buy new clothes. My spending gets out of control at times (more on that in the coming weeks), but I've created some firmer guidelines for the items that I decide to keep.
After trying on these green pants from Eloquii, I told Mr. Dimples that I think my newest self-imposed guideline is: If I immediately say "ahh," when I put on a garment, it's a definite YES! 😉 And these were a big ol' AHHHH!
Fit
These pants have plenty of stretch which is what makes them feel extra good to me. You could easily change out the tie-belt that came with these trousers with another belt in your wardrobe. How cute would they be with a leopard print belt? But wait, I'm getting ahead of myself.
I initially ordered them in size 16, and they were a bit large, so I exchanged for the 14 for a much better fit. The smaller size still might be a tiny bit big once stretched out, but I love me a loose fit, especially with summer coming on. Reminder, you can find my measurements for a more accurate size referencing here.
Note: I didn't want to retake the photos, so in three of these outfits, I'm wearing the larger size.
How to Style High-waisted Pants 8 Different Ways
Dress it Up with a Blazer and Heels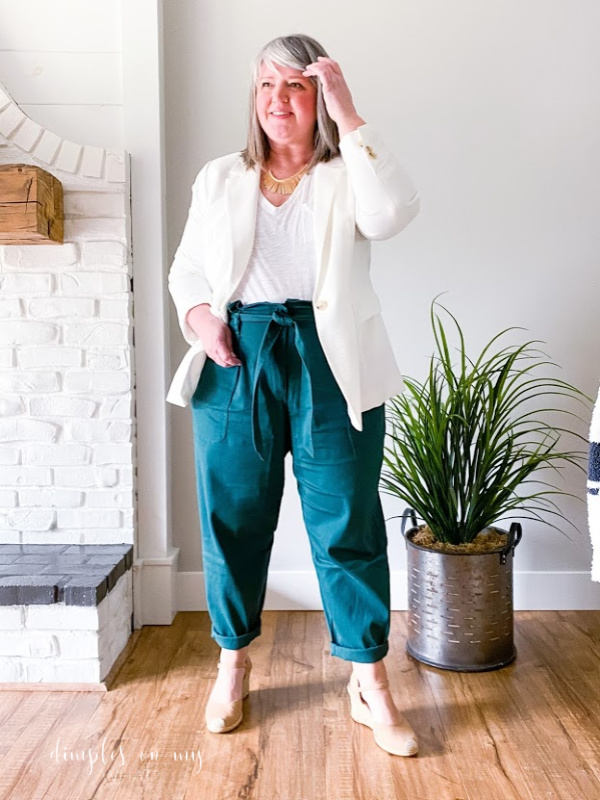 A white blazer can be super versatile. I have yet to find a black one I love, but this white boyfriend jacket keeps even a casual to the core girl like me looking chic. And look, I wore it with a pocket tee too. Check out my favorite white t-shirts.

Style Your High-Waisted Pants with a Pretty Blouse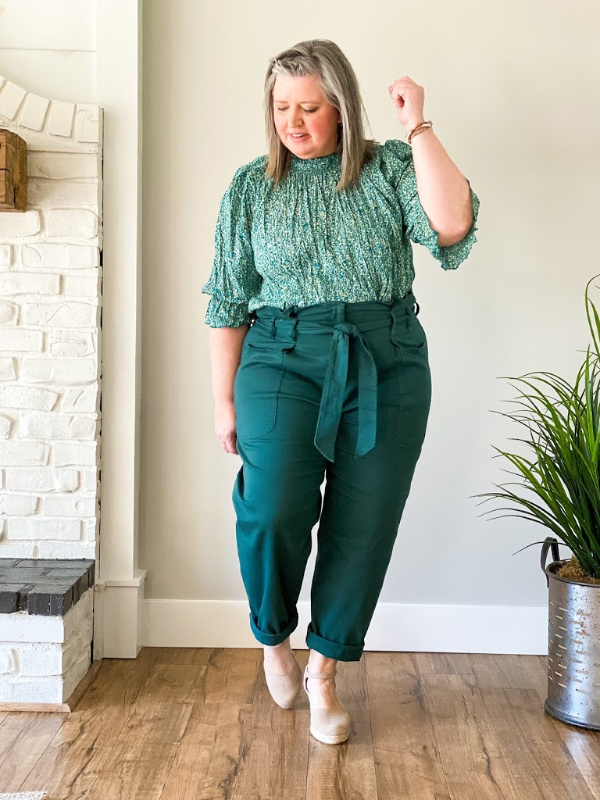 Feminine blouses! They go with anything. That is all.

Untucked High-Waisted Pants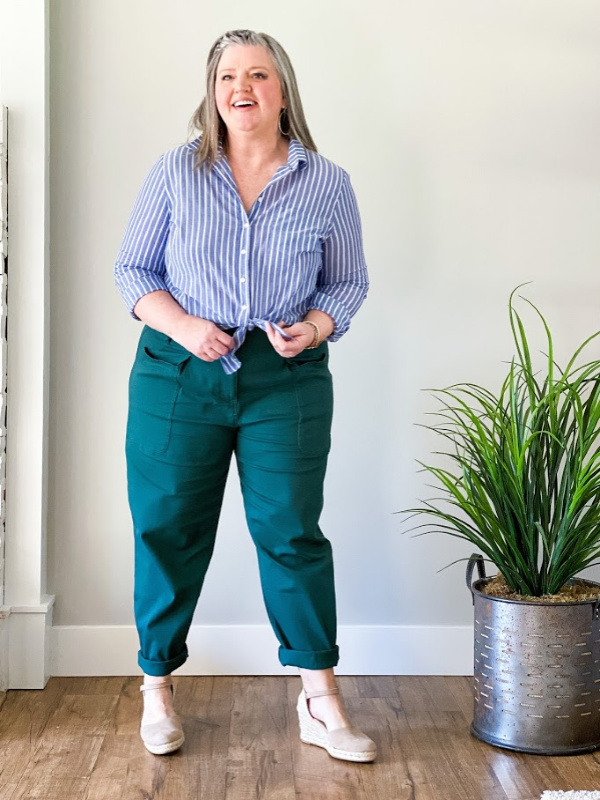 Add a button-down shirt tied at the bottom. If your high-waisted trousers don't have a ruffle at the top, you can certainly leave your top untucked. However, for the curvy ladies out there, I would still bring the bottom in at the waist since the pants are loose-fitting.

Just Add a Sweater and Booties (Or Sneakers)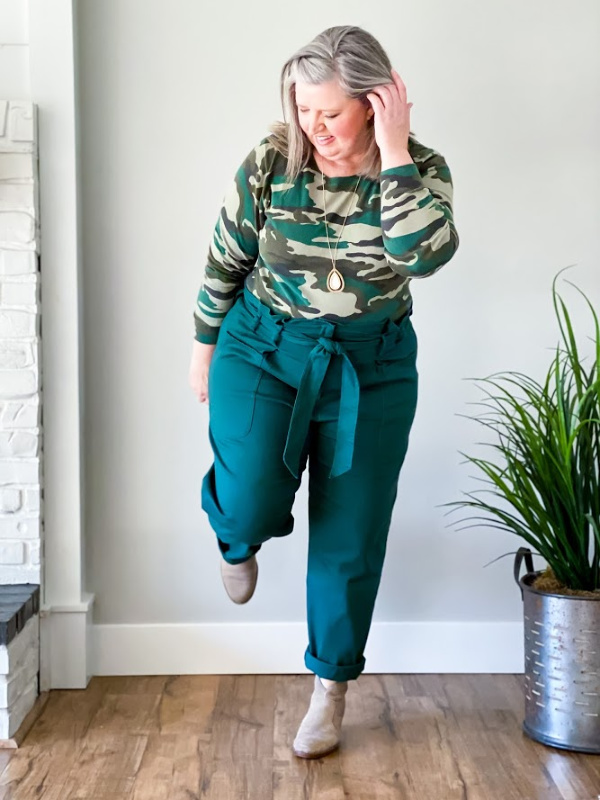 A thin knit sweater bridges the gap between dressed up and dressed down in my book. And depending on your shoe choice, it can take an outfit from fall to spring. I've styled it with booties for this photo, but last week, I wore this exact outfit with a pair of slip-on sneakers and a jean jacket.

Plaid Button Up Shirts and High-waisted Pants, Ummm, YEAH!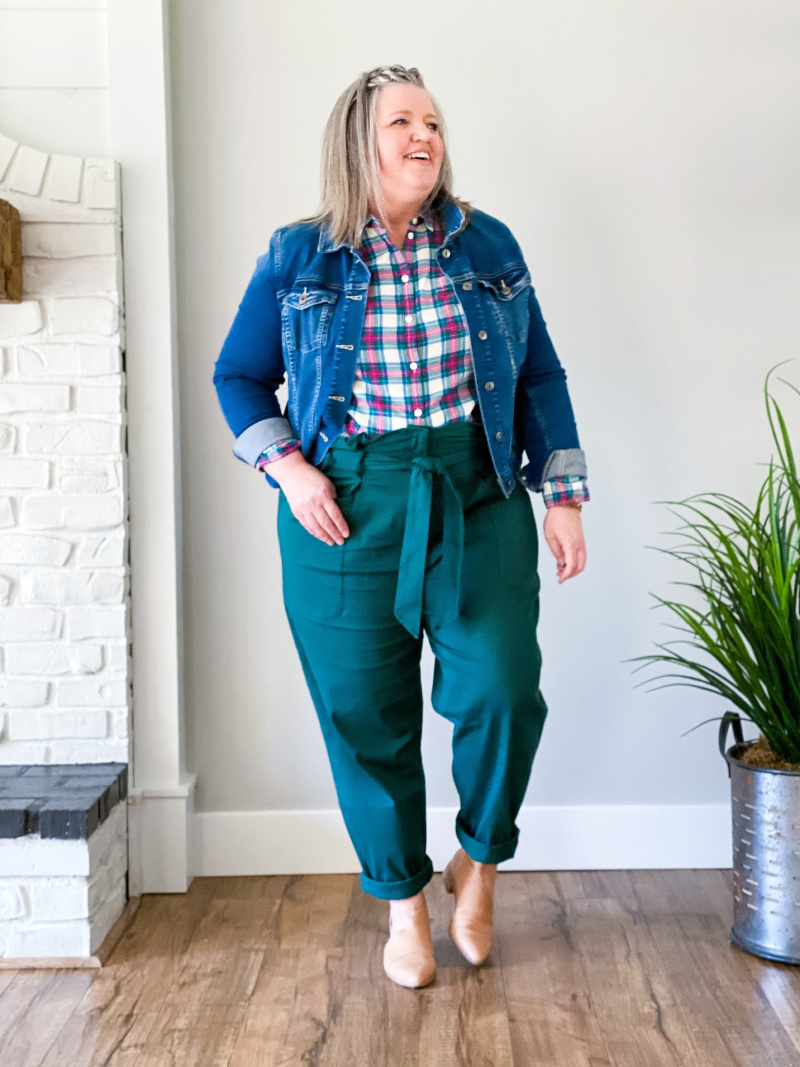 Plaid shirts are for more than lumberjacks, and I love getting more use out of my flannel ones. But Gap has a couple of cute linen ones right now too. I buttoned the placket higher and added a pointed toe flat to keep the look more polished.

White V-Neck Tee and Sweater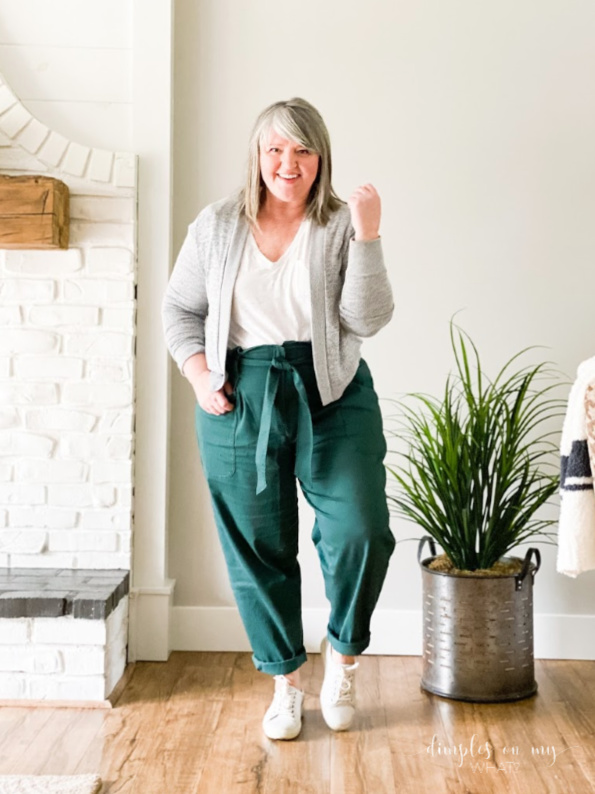 Is there anything a white v-neck tee can't do? Not much that I can think of, a wedding dress maybe. 😉 Just add a light cardi and white sneakers and BAM…good to go!

Graphic Tees and High-waisted Pants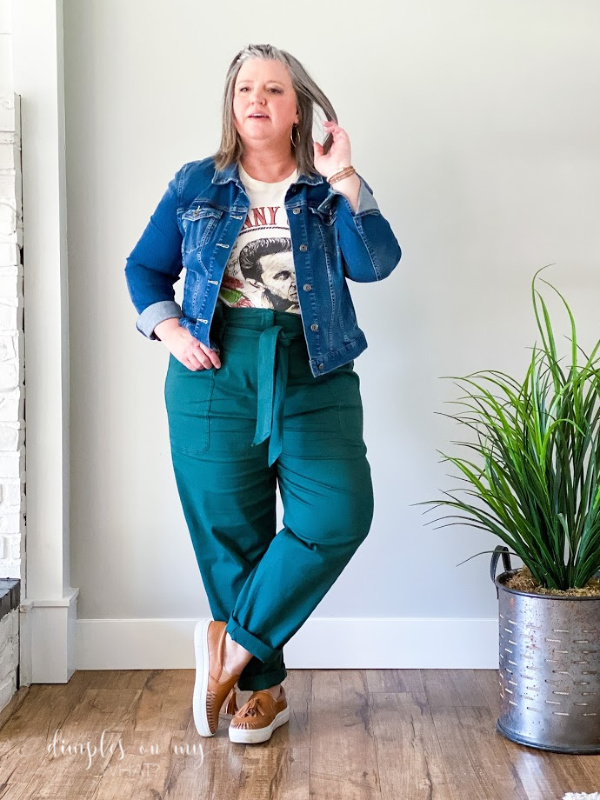 Johnny Cash just went chic with these green high-waisted pants. Don't be scared to dress up those graphic t-shirts. Honestly, how cool would this look with the white blazer? See? VERSATILE!

A Simple Tank-Top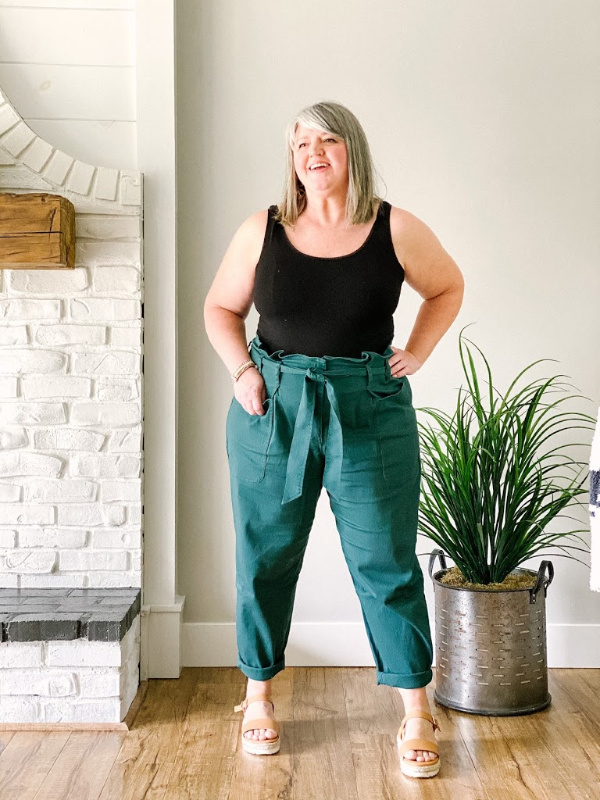 This simple tank top is not my favorite way I've styled it. I was trying to copy the look on the model. But my imperfect white arms and lumpy middle left me feeling less-than. Maybe once a tan kicks in. 😉 However, I still think this gives you an idea of how you can dress it down with sandals and a tank for a warm summer day.

Style Inspiration
I hope these looks have inspired you to look inside your closet and create multiple outfits with the pieces you love. We don't always have to buy an entire outfit we see on an influencer but use them to get your creative juices flowing.
I've recently heard the saying that limitation sparks creativity. Man, that will preach! I could write a blog post all about that. But for today, it sums up my objective here. Give yourself one garment, whether it's a skirt or dress or a pair of fab green high-waisted pants, and see how many outfits you can create with only what you have in your closet.
Want to See More Posts Like This One?
I have two or three more of these type of posts already photographed. Do you find them helpful? Let me know in the comments below.
Hugs,

PIN-SPIRATION