Are you having trouble keeping your silver, white, or gray hair (or even blonde hair) from getting dull and or brassy? I know it can be a challenge. In this post, I'm sharing how to remove brassiness from gray hair with Quicksilver Hair Clay.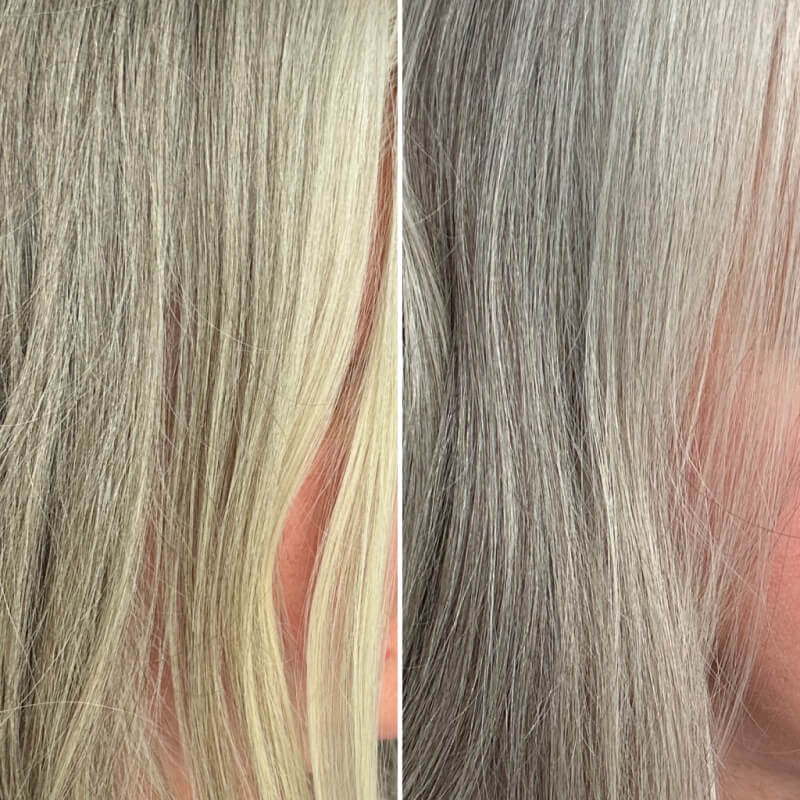 **Since I share shoppable links with awesome peeps like you, this content may contain affiliate links for products I use and love. If you take action and purchase from one of these links, I'll make a little money to help keep this blog afloat. As an Amazon associate, I also earn from qualifying purchases.
I've never regretted growing out my natural gray hair. It's freeing in many ways, and I don't miss those expensive salon visits! But I occasionally struggle with brassiness, causing my lightest gray and white strands to dull and yellow.
Sometimes, I use a clarifying shampoo or an apple cider vinegar rinse. They both do just an okay job of brightening my hair up.
But when I really want to get the yellow out, shine things up, and get amazing volume, I reach for Quicksilver Hair Clay.
This is not a sponsored post, and I don't make any money from the sale of Quicksilver Hair Clay. But Joli, Quicksilver's creator, has been kind enough to give 10% off your purchase until October 31, 2023, when you use the code QSHINE10.
WHAT CAUSES GRAY HAIR TO YELLOW?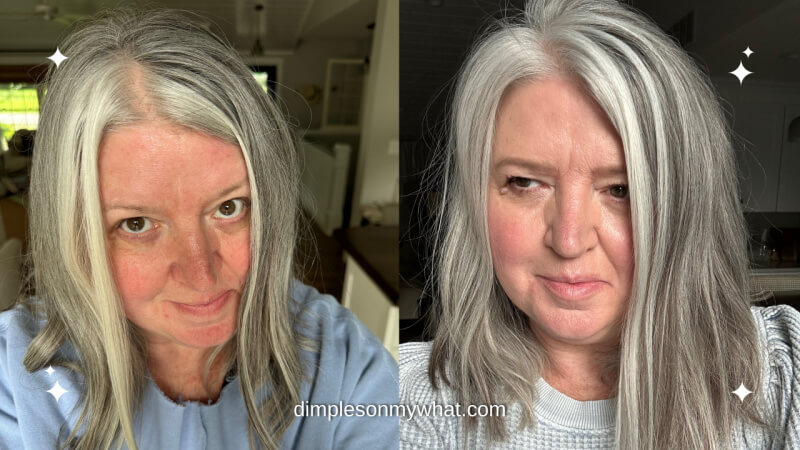 But first, why does our gray hair yellow in the first place? I can dive deeper into this subject in another post. But for today, let's quickly review the four main culprits of brassy locks.
The environment, like pollution and smoke.
Mineral buildup from your water.
Damage from heat styling.
Unfortunately, if your hair is heat-damaged, nothing will remove it. However, you may be able to tone it a bit with a purple depositing product until you grow it out. I like this mask called Bold Unique.
The good news is, if your hair is brassy for any other reason, you will benefit greatly from using Quick Silver Hair Clay Mask!
WHAT IS QUICKSILVER HAIR CLAY?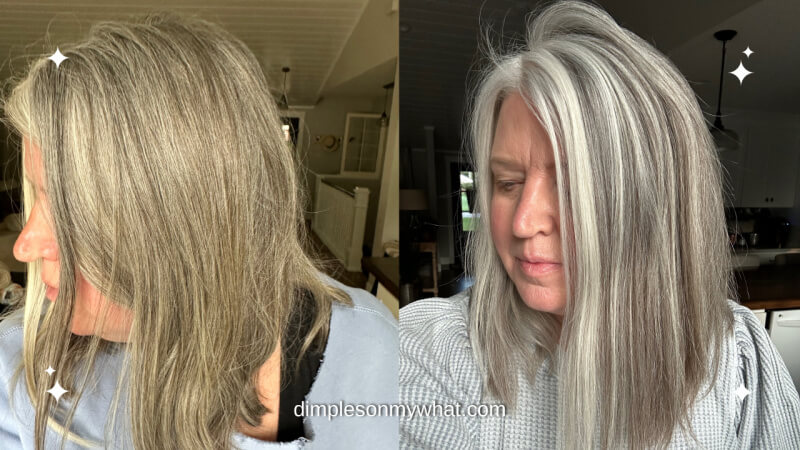 Quick Silver Hair Clay Mask is all-natural and doesn't strip the hair but detoxifies it. The ingredient list is short: Kaolin White Clay, Organic Cornstarch, Lavender, and Ginger Essential Oils. Together, they remove impurities, toxins, and dirt that have built up and yellowed on the surface of my hair.
It leaves my hair clean, soft, bright and voluminous. It's like a deep conditioning and clarifying treatment at the same time.
HOW TO REMOVE BRASSINESS FROM GRAY HAIR USING QUICKSILVER HAIR CLAY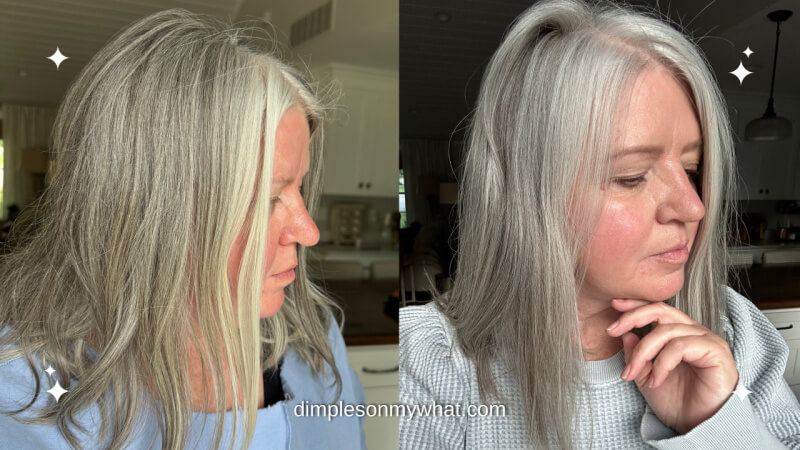 I've included a detailed video below. But if you want to jump right in, here's how to use the Quicksilver Hair Mask.
What you'll need:
Mix
Add clay, oil, and enough silicone-free conditioner in a small bowl to make a smooth mix; it should feel like frosting.
Apply
After washing with clarifying shampoo, apply the clay mask gently and evenly to wet hair. I concentrate more where I'm most yellow.
Cover
Cover with a shower cap. Leave on for a deeper brightening and clarifying for up to 40 minutes. DO NOT apply heat!
Rinse
Rinse the mask from the hair thoroughly. You can wash again and experiment depending on your hair moisture needs. Some need another wash and condition afterward, and some enjoy leaving it until the next wash. I use this gentle shampoo.
HOW OFTEN CAN YOU USE QUICKSILVER HAIR CLAY?
Use the mask up to 2 times a week for extra clarifying or every 10-30 days for maintenance. My usage varies depending on what and how much I've used on my hair. I usually only use the hair clay when my hair starts to look dull and yellow.
SEE IT: QUICKSILVER HAIR CLAY IN ACTION
GREAT READY FOR YOUR CLOSEUP!
If you've been wondering how to remove brassiness from gray hair and you decide to try Quicksilver Hair Clay, take before and after photos, too. By using this hair mask and taking steps to limit the things that might cause gray hair to turn yellow, you'll have brighter, more beautiful gray hair!
Let me know if you try it, and don't forget to use the code QSHINE10.