In a recent Dimples Diary "What I Bought" post, I shared four pairs of what I think are some of the best plus-size wide-leg jeans I've tried on. I promised I would do a little try-on session because I think some women think that plus-size or curvy women shouldn't wear wide-leg jeans. I'm here to tell you why I think they work and can help balance curvy figures.
*I apologize for the quality of these photos. They do not look like this until I put them in the post. However, I think you can still see the quality and fit of the jeans so by putting this disclaimer out there, I'm going to take it off my worry list. 😉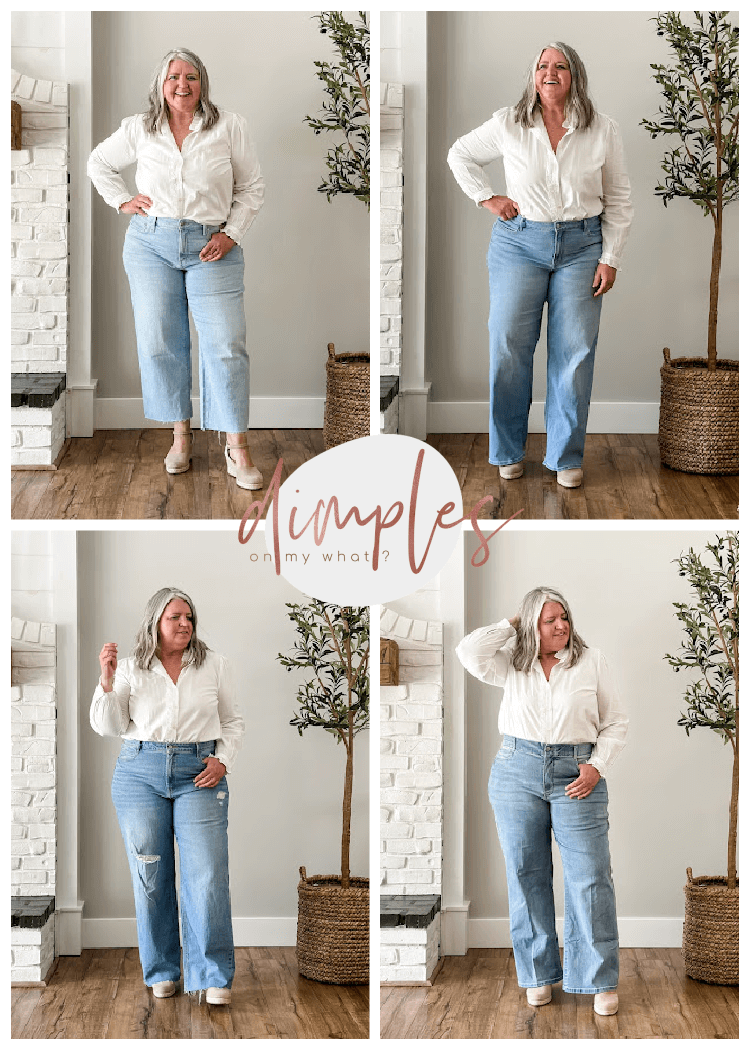 *DO NOT click away if you're not plus-size. Three of these jeans are also available in "skinny" sizes (anything under a size 14 is "skinny" to me 😉 )
BEING EXTRA CURVY IS EXTRA CHALLENGING
I have always been blessed with larger thighs and an ample booty at any size I've been. Those proportions make finding well-fitting pants a challenge. Now that menopause has provided me with a full tummy, I've got curves coming and going in all directions.
If you're in your upper 50's, you might remember when Levi's (light blue) corduroys were mega popular. They were sold in student sizes, which to my dad meant "boy's jeans." He always said, "A girl shouldn't be cramming her body into boys' jeans."
He was right; they never fit right or felt comfortable on me, and even though he said it in his own blunt, hillbilly way, his view was correct. We honor our curves when we choose fits that don't contort our feminine frame.
**Since I share shoppable links with awesome peeps like you, this content may contain affiliate links for products I use and love. If you take action and purchase from one of these links, I'll make a little money to help keep this blog afloat. As an Amazon associate, I also earn from qualifying purchases.
STYLING TIPS FOR PLUS-SIZE WIDE-LEG JEANS
I love wide-leg pants and jeans and find them so much more comfortable than skinny jeans. Perhaps that's because I've also been blessed with extra curvy calves. 😉
If styled correctly, wide-leg jeans help balance wider hips, unlike skinny jeans, which highlight our curves.
Contrary to what some may think, wide-leg jeans and pants can make us look slimmer. And if not slimmer, they can be very flattering if we keep a few styling tips in mind.
FIT
Make sure the jeans fit very well – Not too big and sloppy but also not tight. I find I like a happy medium so that they fit slim at the waist and tummy and wide enough at the hips to skim over the bum and not do not dip in under the booty. Skip the pleats, especially on jeans, as they add only bulk.
LENGTH
Be mindful of the length. You want plus-size wide-leg jeans that are either cropped right to the ankle or long enough to either touch the floor or hover just above when wearing with shoes.
TOPS FOR BALANCE
As my favorite personal stylist says, "Try to re-create an hourglass figure" with your outfit.
You may have heard this tip already, if wearing wide-leg pants, wear a slim-fitting top. However, as you can see in the photos, if your shoulders are slimmer than your hips, a slim tank top is not the most balanced look.
You can see the wide-leg jeans are the bottom of the hourglass, so if we add a top that widens the shoulder a bit and comes in at the waist, we've created a balanced look. Try something with a puff sleeve or a small shoulder pad.
That does not mean our tops must be cropped or tight, but be mindful that they come in at the waist.
NOTE – I only wore a basic tank (which I loathe myself in) and a white button-down for this try-on so that I would highlight the fit of each of these jeans.
SHOES
Shoe choice also plays in styling plus-size wide-leg jeans to our best advantage. I personally love the casual vibe of white platform sneakers or a square or pointed-toe bootie. However, as long as you avoid anything too delicate or too flat, we can pull it off.
Here's the most comprehensive article I've found on the best shoes to wear with wide-leg jeans. Most of the tips will apply to plus-size wide-leg jeans too.
*You might also be interested in Big Leg Girl in Wide Leg Jeans, YES You Can!
THE BEST PLUS-SIZE WIDE-LEG JEANS
I know this article is titled The Best Plus-size Wide-leg Jeans, but in full transparency, I haven't tried on every pair out there. Who has the time or money to do that?
In the blogging biz, if we want our content to be found, we have to choose titles that rank well with Google, so there you have the title.
But I do think of those I tried on; these all have their merits, and I'm struggling to decide on which to keep. Although, taking these photos is helping me narrow it down. I also chose light washes in each pair because, first, I love light-colored denim. And second, they are good for someone who has been analyzed as a cool summer.
You will find these jeans range in non-sale prices from $37 to $128. And all but the NYDJ jeans, which I have only found in plus-sizes, are available in sizes ranging from size 0 to size 30.
It's been a while since I reminded you that for better size reference, you can find my measurement here.
THE JEANS & REVIEWS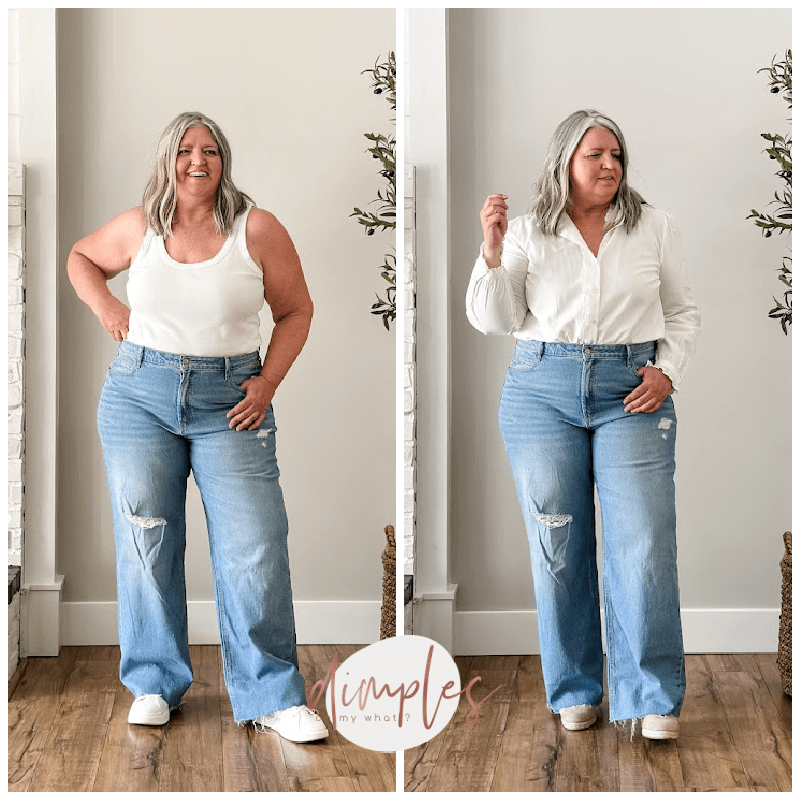 I first saw these jeans on the straight-sized influencer Anna Mae Groves. She has impeccable style, and she created a look-for-less wearing these affordable Old Navy wide-leg jeans.
I honestly love how they feel and how the wide-leg floats over my thighs. Every time I try them on, I think they simply look cool; that's Fonzi Cool. They have enough stretch to be comfortable but are also structured enough to hold the tummy in a bit.
There are two big question marks for me with these: One is the distressing. It's minimal as far as distressing goes, but am I too old and fat for it? And the second is that slight sag and line right at the crotch, which will likely worsen as I wear them. But I tried the next size down, and they just don't fit.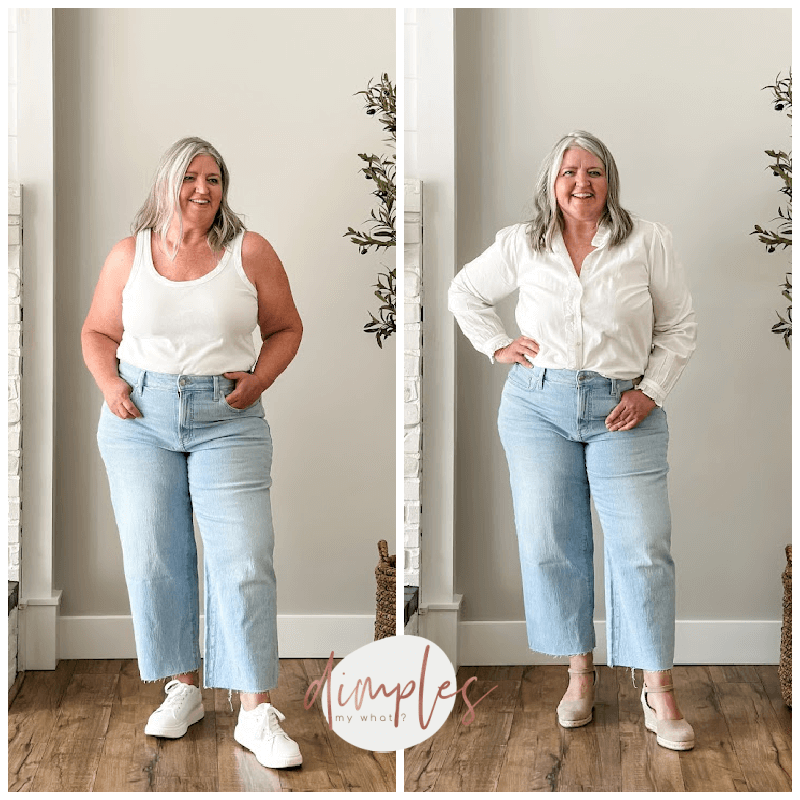 These Madewell, The Plus Vintage Cropped Wide-Leg Jeans were another wow feeling when I slipped them on despite feeling very heavy in the bag. I first ordered the 18W, and they were the perfect amount of loose right out of the box. Since the fit didn't account for stretching, I tried the 16W, and they will be perfect with wear.
My only question with these is, Are they too light-colored? They have them in white as well, but not a medium wash which would be more versatile.
However, look for a post in a couple of days where I've styled these several different ways, and that may help us me, make up my mind. 😉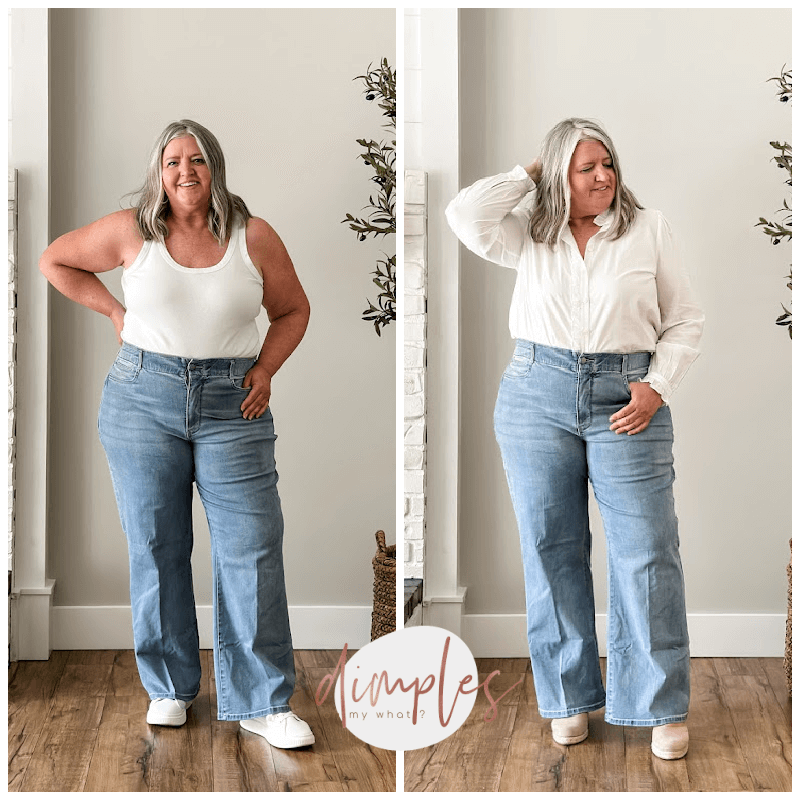 Oh em, gee guys, these Waist-Match Jeans from NYDJ are crazy soft, light-weight, and comfortable. However, I actually already had the return label printed on them before I took these photos, but now that I see them, I'm questioning that. They are the only jeans in this group that don't dip into that underwear line at the hip.
The only issue is the length; they run slightly short, and if you compare that with the other long-length jeans here, you can see they don't elongate the leg as well.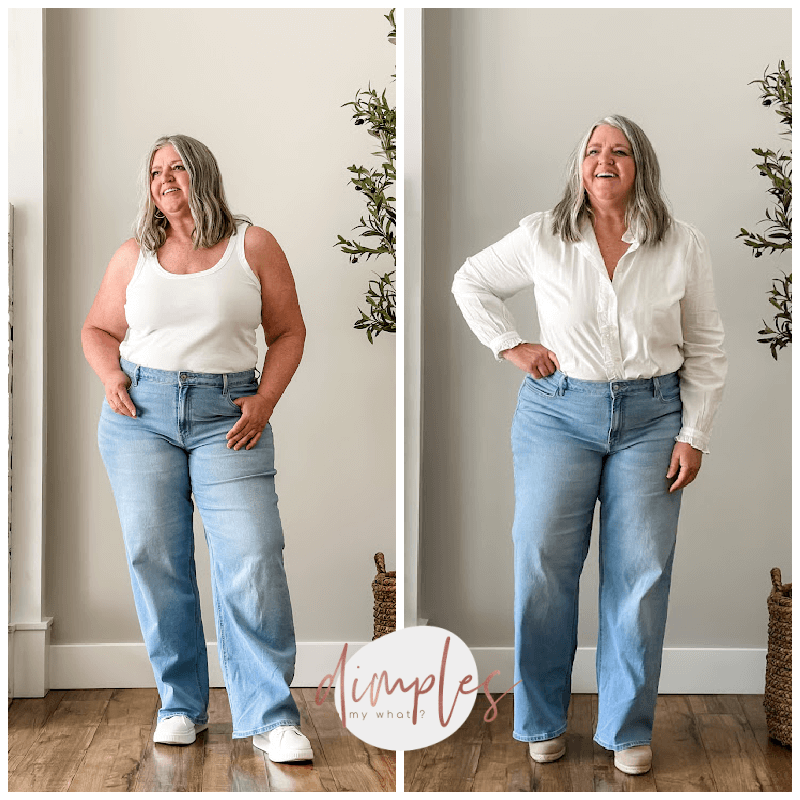 WOW, that is the exact word I said when I tried these Old Navy WOW wide-leg Jeans on in the store, I kid you not. I think I might have actually said, "No wonder they call these 'WOW' jeans."
They feel great, fit great, are the perfect mid-weight denim, and are the perfect level of light wash for me. The tags are off, and when the weather hasn't been scorching, Ie wore them a few times. (I don't even wear denim shorts when it's crazy hot outside. Menopause! Remember?)
I'm short-waisted, and some high-waisted pants can be too high, but these are just right, so if you're not short-waisted, they may be more mid-rise on you.
COULD ONE OF THESE BE THE BEST PLUS-SIZE WIDE-LEG JEANS FOR YOU?
There are so many great plus-size wide-leg denim options out there now that these are just a small sampling. If you're ready to slip into this look, I think any of four of these are a great place to start, especially the two Old Navy options if you want to try the wide-leg denim trend on a budget.
Have you tried this trend, or have you already found the best plus-size wide-leg jeans? If so, do tell!
Happy Try-Ons!

---
SHOP THIS POST