It's an Unexpected Fashion Choice for The Ageless Style Linkup
If you think big girls can't wear big-leg jeans, think again. Styling wide-leg jeans with a shirtdress have me drawing inspiration from my childhood in the '70s for an UNEXPECTED fashion choice for this month's Ageless Style Linkup. And best of all, it's full-figure friendly and incredibly groovy!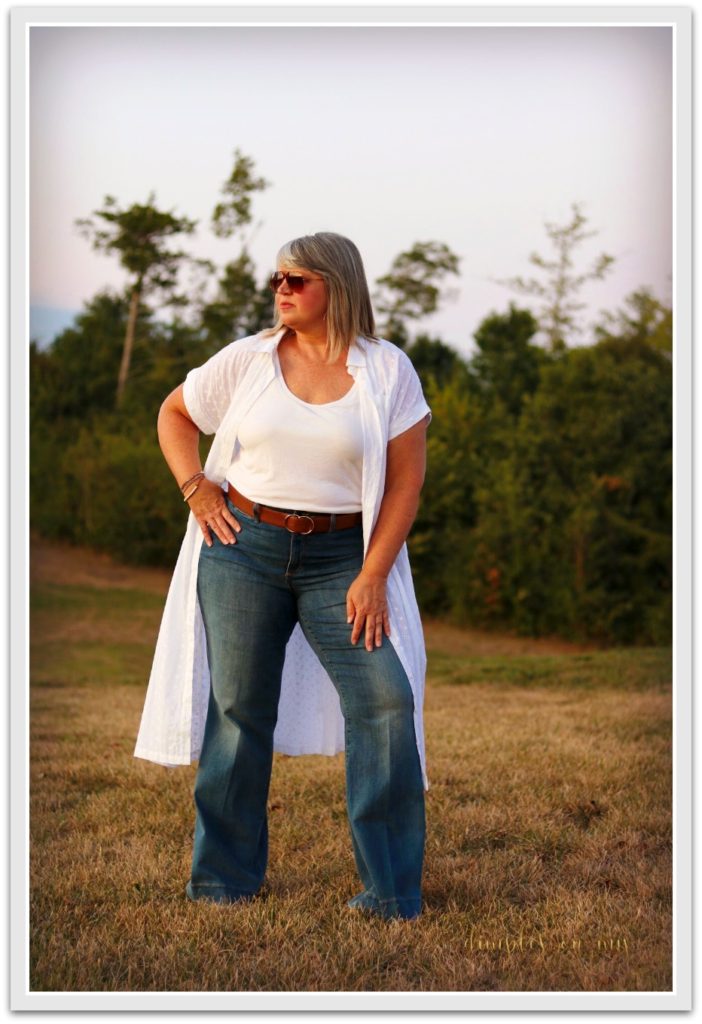 Ageless Style Linkup
The Ageless Style Linkup is a group of 10 fashion bloggers over the age of 40. We take one fashion theme on the first Tuesday of each month and style it in our own unique way, proving that style has no age limit. Style is as unique as the woman wearing it! Keep scrolling and visit my co-hosts for some more UNEXPECTED Fashion Choices.
This month, Daenel from Living Outside the Stacks chose the theme, UNEXPECTED for our Ageless Style Linkup. She's a creative girl and gave us a challenge which I had to really think about. In all honesty, I pretty quickly thought of an outfit I could style and I implemented and photographed it, only to find out, I hated it!
I Had to Get Creative or Cry About It
But by the time I decided I couldn't bring myself to post the photos outside of a "What Not To Wear" or "Before & After" fashion post, I was in Tennessee with my parents and only had the contents of my suitcase to work with. I was still in my NO BUY July fashion spending freeze window as well, which I had extended into August, so buying new was not an option. (I'm going to work on a post for those photos so keep watching!)
What's a girl to do if she wants to put her best foot forward on these here interwebs? I mean, this was quite the challenge even with a closet full of clothes.
A $12 Dress & Wide-Leg Jeans to the Rescue
But then I remembered I had packed a pair of wide-leg jeans and an inexpensive (under $12!) eyelet shirtdress, both of which I hadn't yet worn and had intended to style in other ways. I decided to style them together and channel a '70's vibe. Take a look, but first, see how I styled it for church.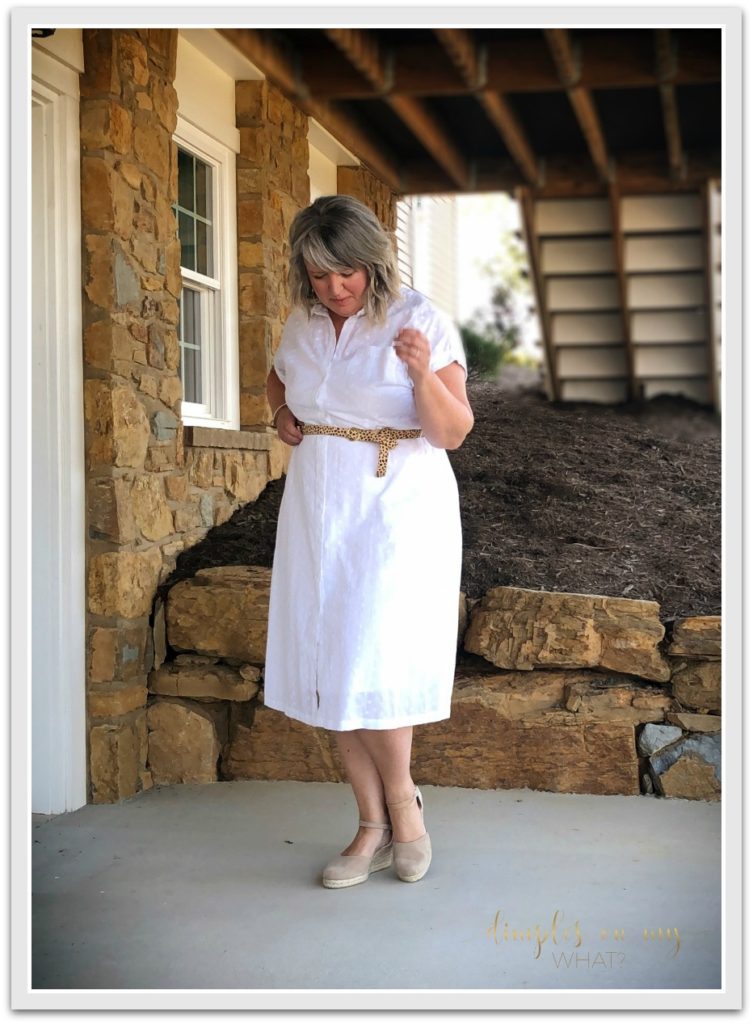 This post contains affiliate links and I'll make a commission if you purchase through one of these links, however, the product doesn't cost you more. Thank you for supporting this blog through your words of encouragement and your purchases.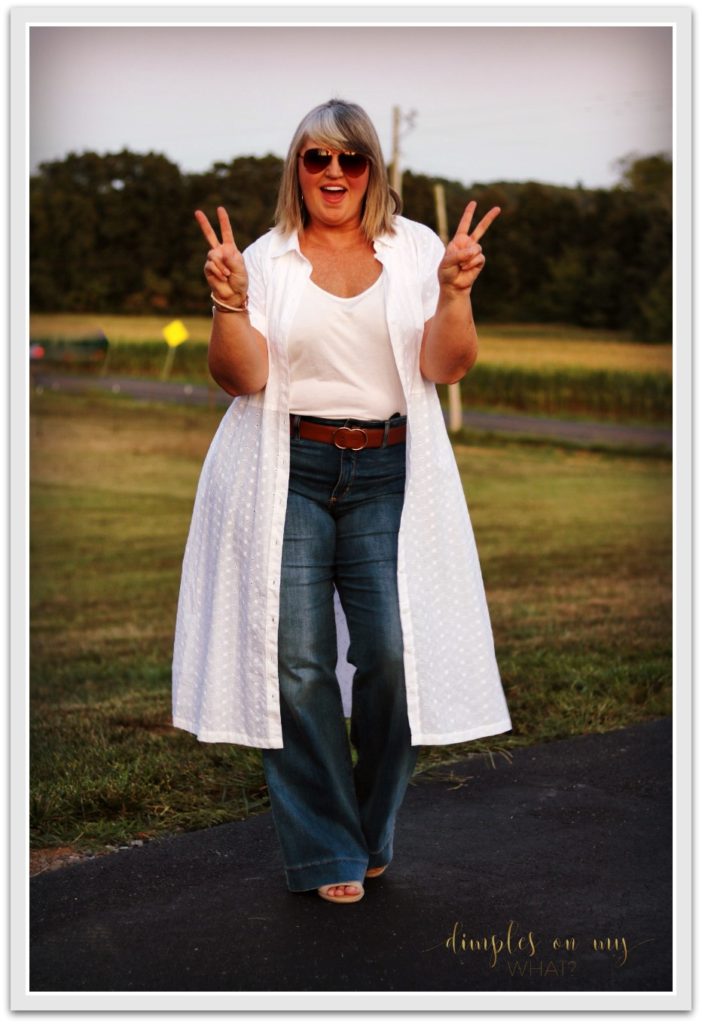 What's so unexpected about this outfit you might ask.
Wide-Legs Jeans for Wide-Leg Women
There may be a few fashion guru's out there who say, "wide-load chicks" shouldn't wear wide-leg pants but I beg to differ. If the fit is correct, this cool, retro silhouette can elongate a full figure and offer us an alternative to skinny jeans.
Adding a shirt dress with a slightly flared shape from waist to hem and a below the knee length really ups the 70's funk. The white eyelet is an unexpected substitute for a long crocheted, granny-square vest or a pimped-out purple velvet top-coat and hat with a feather in it. 😉 Maybe I'm getting a little too Good Times or Starsky and Hutch for the younger peeps but, come on, if you were a child in the 70's you probably get the idea.
Notice, I also wore a belt with my wide-leg jeans. Because remember, big girls can wear belts too.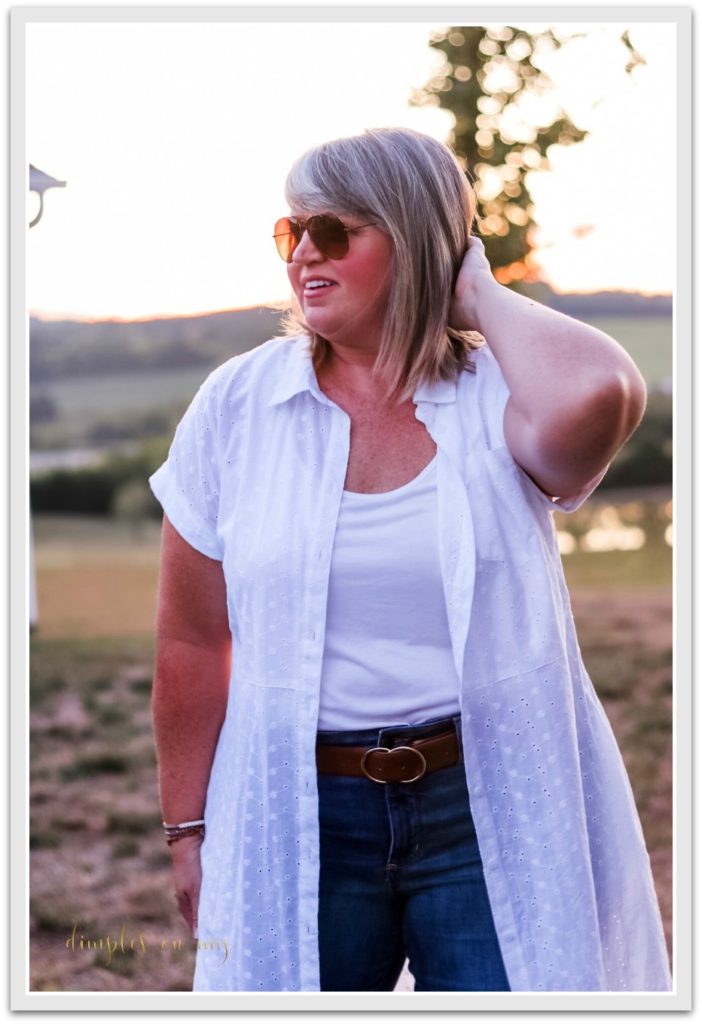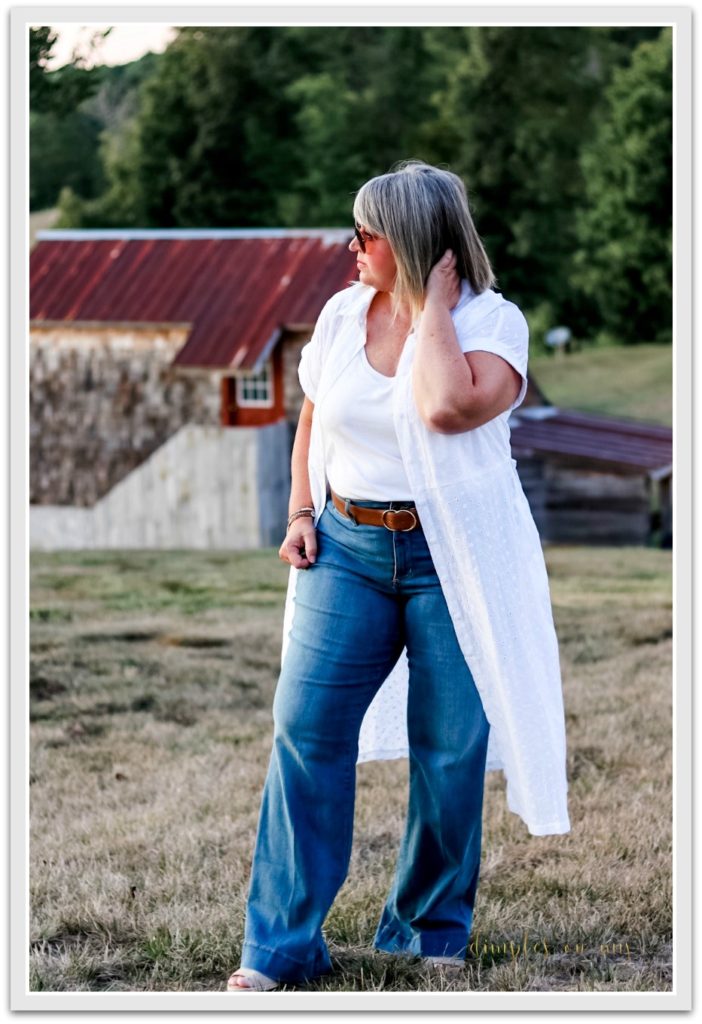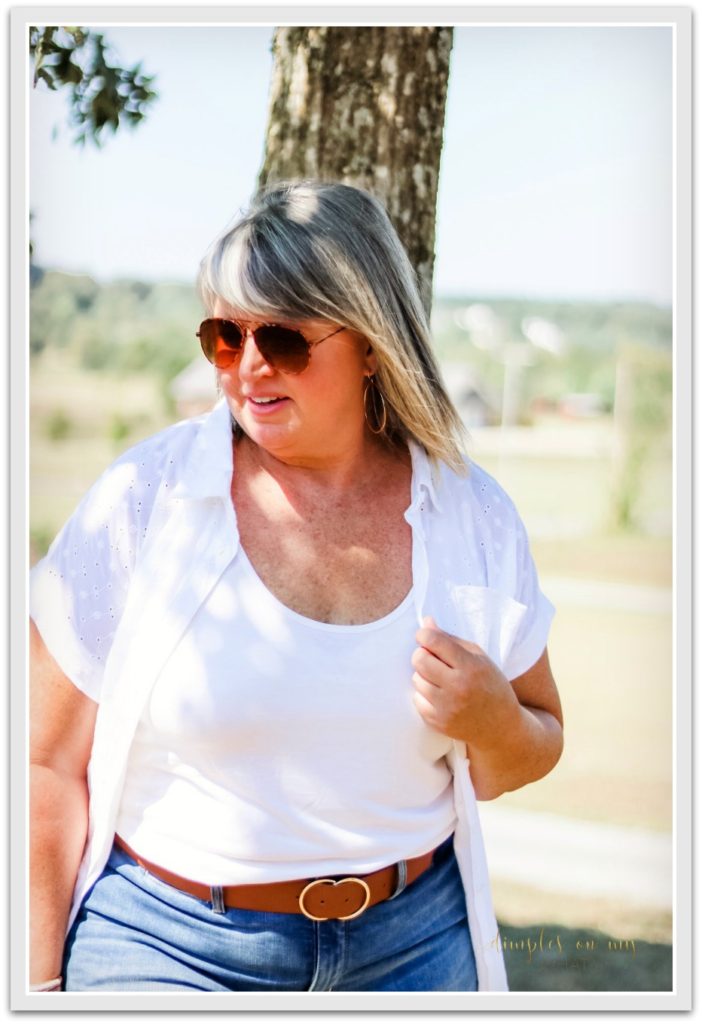 Even a Tiny Wardrobe Is More Versatile Than You Think
I'll be adding a few new specific pieces to my closet in the coming months but shopping my closet has given me a fun challenge these 8 weeks. This outfit proves that having only a couple of versatile pieces in our wardrobe allows us to piece together multiple looks with fewer items and still look stylish.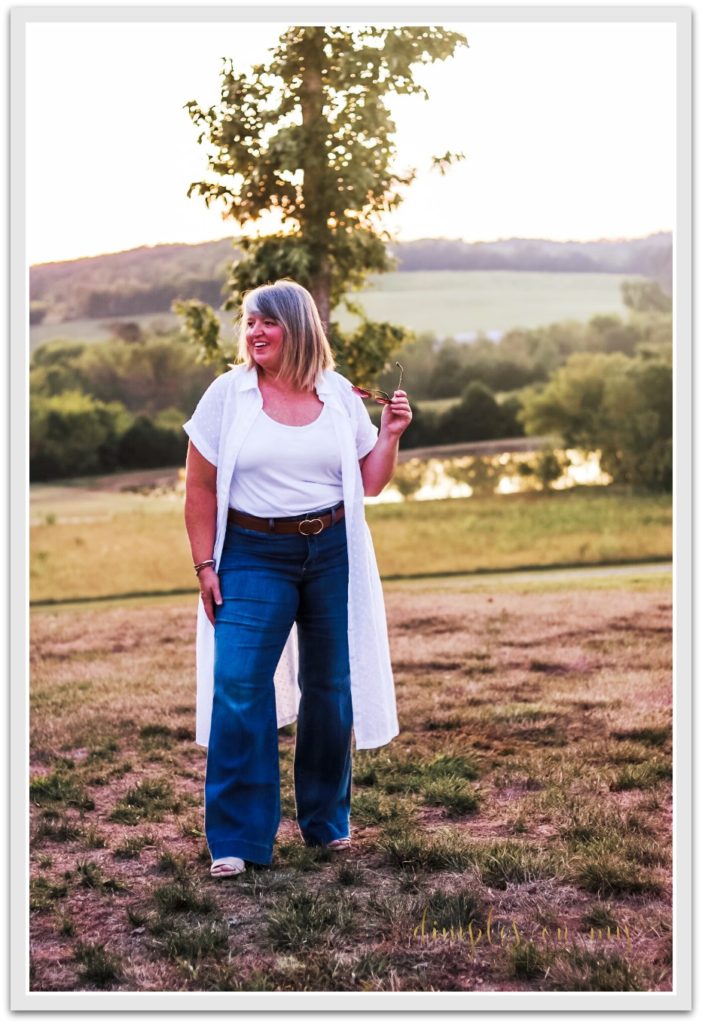 Unexpected Fashion Doesn't Mean Weird
My mom kept saying how "elegant and striking" my outfit was. Thinking outside of the box and getting creative with fashion doesn't mean we have to look like we're grasping at straws to put an outfit together. Take a minute and think it through. Take one piece and ask yourself, "How many different ways can I style this?" You'll likely think of several unexpected ways to style ONE PIECE.
I could easily wear this shirt dress buttoned up with sneakers or as a swimsuit coverup.
In a day when lots of fashion looks like we walked in and bought the mannequin or are mimicking our favorite blogger, although there's nothing wrong with either, pairing unexpected wardrobe pieces makes us unique.
How would you style wide-leg jeans or a shirt-dress in an unexpected way?
---
Shop My Style

                
                


                    
                    
                


            
---
The Linkup
This Party Has a Few Guidelines:
Please visit at least 2 other links.
Please link to your actual post and not your blog's homepage.
Please link back to the Ageless Style Link Up in your linked post.
Feel free to use #AgelessStyleBloggers in all of your social media posts
Please follow each of your hosts on at least one social media channel via the links below.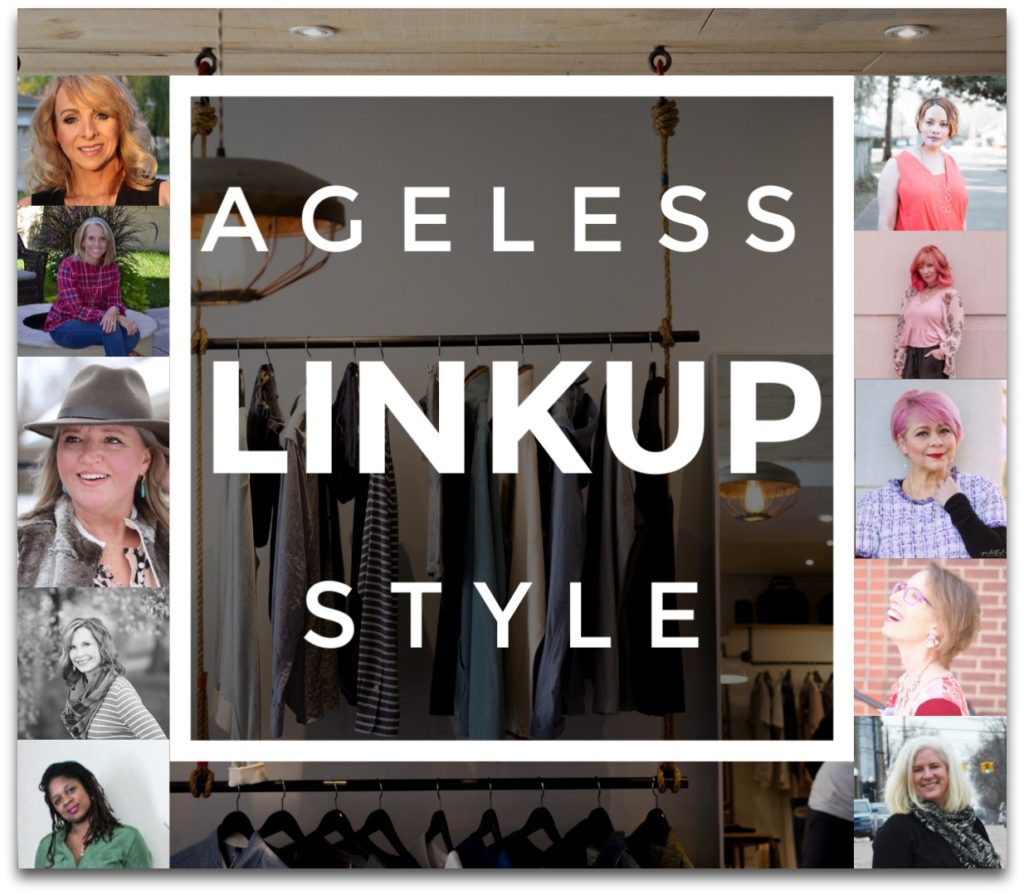 Daenel ~ Living outside the stacks blog, instagram, pinterest, twitter
Debbie ~ Fashion Fairy Dust bloglovin, blog, instagram, pinterest, facebook, twitter
Jennie ~ A Pocketful of Polka Dots blog, instagram, facebook, pinterest, twitter, bloglovin
Jodie ~ Jodie's Touch of Style blog, facebook, instagram, pinterest, bloglovin, twitter
Julia ~ When the Girls Rule blog, facebook, instagram, pinterest,
Kellyann ~ This Blonde's Shopping Bag blog, instagram, bloglovin, twitter
Lisa ~ Coast to Coast blog, facebook, instagram, twitter, pinterest
Shelly ~ The Queen in Between blog, instagram, bloglovin, pinterest, facebook
Shugunna~ Nzuri N* Simplicity blog, instagram, pinterest
---
Link Your Fashion Post
You are invited to the Inlinkz link party!