A Warm and Classic Master Bathroom with Snazzy Decals
This post has been a long time coming. We've only lived here for three years you know! 😉 And of course, the girl who named her blog dimples on my WHAT? would choose to reveal her remodeled master bathroom first. But, even though there are still tweaks I'd like to make to this room, I've partnered with Snazzy Decals to give our master bath remodel just the right finishing touch, allowing me to fall even more in love with this space and share it with you. Keep reading or scroll down to see the before and afters of my beautiful master bathroom.
It's not exactly fair to call this a before and after makeover because our remodel wasn't simply cosmetic updating. We (and by we, I mean contractors) gutted the house to the studs, completely tweaked the layout, turned the old garage into bedrooms and added a three-car garage with attic space above it.
This post contains affiliate links and if you purchase from one of these links I may a commission but you won't pay any more for the products. Thanks for continuing to support me through your purchases and encouragement. You keep this blog going!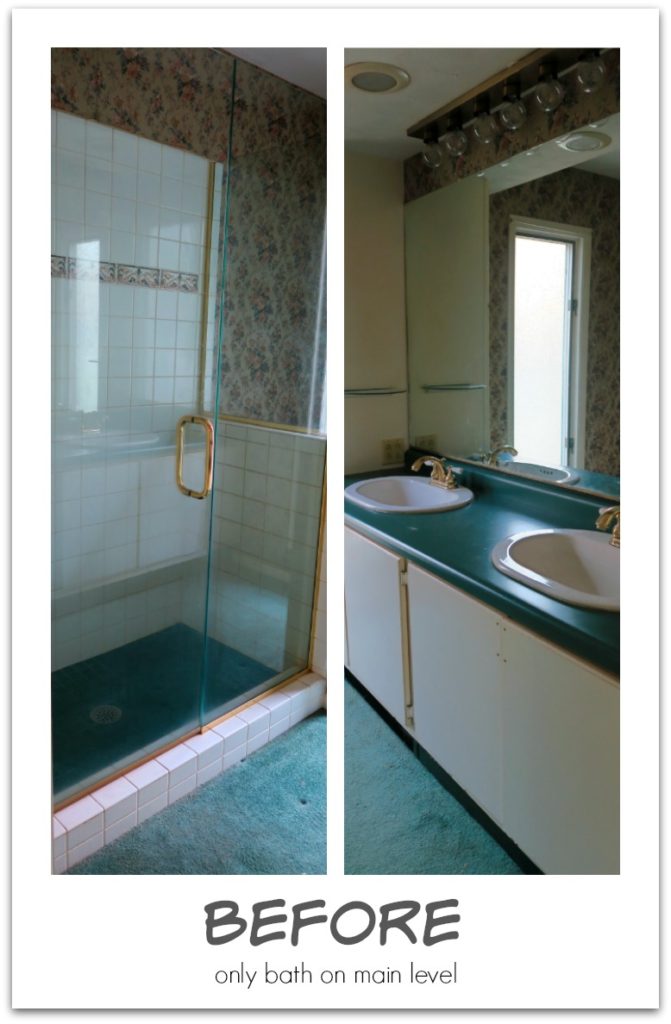 See more about the Cedar Palace Before
One of our UPS guys asked me, "Can you call this, a remodel? Because at one point I could see all the way through it." But whether you're remodeling/rebuilding like we did, or you are wanting to make some cosmetic updates, I hope you find something to inspire you here.
His Wishlist of Must-Haves
Years ago when we started making a wishlist for our next house, Mr. Dimples wanted three main things; a flat yard and driveway, something our previous home of 19 years lacked, a three-car garage and a large walk-in shower. *I'm not sure what he needs to do in there requiring so much room, but he's got it now.
*Well, actually I do know what he does and I have an entire comedy routine about it which my mom thinks I can go around and tell at church women's events. While it might be hilarious, I may no longer have a husband and I might not get into heaven. 😉
The $500 Change-Order That Makes the Space But Almost Broke My Marriage
If you've ever built a house you know the word "change-order" means money! This little bit of vaulted, ceiling with shiplap was a last-minute decision that the builder needed me to make immediately. So on the spot, I said "okay". The day we signed the change-order papers Mr. Dimples held it together until we got into the car and then boy did I hear it!
Now, he agrees that the bathroom wouldn't be the same without it! When will he learn to trust my vision? 😉 He'll say my vision usually costs a lot, but truthfully, I always keep costs in mind.
Budgeting Tip: When building or remodeling and the budget is getting tight, spend those precious dollars on things that can't easily be changed later. For example, cheap light fixtures can easily be switched out, but knocking a wall down, adding bigger windows or vaulting a ceiling will cost much more once the project is finished.
Wood, Whites, and Gray
I've loved white cabinets for so long. We put them in our previous home from the beginning and I never grew tired of them so it was a no-brainer to choose white cabinets everywhere in my Cedar Palace.
I chose classic white subway tile and marble hexagon tiles for the shower with a medium gray grout. If I was doing it again, I would go with a darker gray or black grout.
The statement shower glass gives a shower pizzazz even though it doesn't go all the way to the floor. I didn't want it all the way to the floor for two reasons. One, I don't want to have that much glass to clean and two, I don't always want to see what Mr. Dimples is doing in there and vice versa. After 35 years of marriage, we need a little mystery, or maybe just privacy. 😉
The warm-toned luxury vinyl plank flooring from Shaw Flooring warms up all the black, white and gray. I eventually want to find some wood framed mirrors for over the vanity.
Using Every Space
Instead of closing in corners with drywall, we wanted to use every square inch for storage.
Snazzy Decals to the Rescue
For the three years we've lived here, the small space where we "do our business" has looked like this:
Plain and BORING Before!
I wasn't sure what to do behind the toilet. I thought about shiplap or faux brick, but to be honest, I wanted something I could do myself and not have to wait on my personal handyman, a.k.a. The Hubs, to bring my vision to life. 😉 And this isn't permanent so if I get tired of it, it peels right off.
Enter Snazzy Decals! These temporary, removable, and waterproof vinyl wallpaper tiles are available in packs of individual 4"x4", 4.25", 6"x6", 8"x8", or custom size tiles and they are also available in wallpaper rolls. They will cover outdated tile, even on the floor or drywall like did here.
After my initial measurement and set up, my 12" square peel and stick tiles were fairly easy to install. I did have to remove about nine tiles when I realized my measurements were off and they went right back on the wall with no problem.
And tada! Now every time I turn the corner to do my business I smile at my pretty little private place. The cost to do this 3' x 8' wall was less the $100 and took less than two hours even with my mistakes.
My friends over at Snazzy Decals are giving you 10% off your purchase at this link. Or, use code MYCEDARPALACE10 at www.SnazzyDecal.etsy.com
What's Your Favorite Thing About This Space
It's hard for me to name my favorite aspect of my master bathroom. The ceiling. The shower glass. It's all so good. The character of all the classic components work in perfect harmony and creates a place that makes getting ready feel like a treat.
What's your favorite part?
---
Shop My Home Style

                
                


                    
                    
                


            
---
Snazzy Decals provided me the vinyl tiles for a discounted price in return for advertising. All opinions are my own.