Do you have a bottom freezer refrigerator that's a hot mess? Oh, boy, me too. But I finally figured it out, and I'm sharing how to organize freezer drawers. It's EASY! Pop on your pearls, Girl, because you're gonna feel like June Cleaver. And there's a video with a bonus tip too!
Oh, and if you have an upright freezer, this organization can be modified for that freezer too!
**This post may contain affiliate links that may result in me making a commission from your purchase at no extra cost to you.
THE DREADED CHEST FREEZER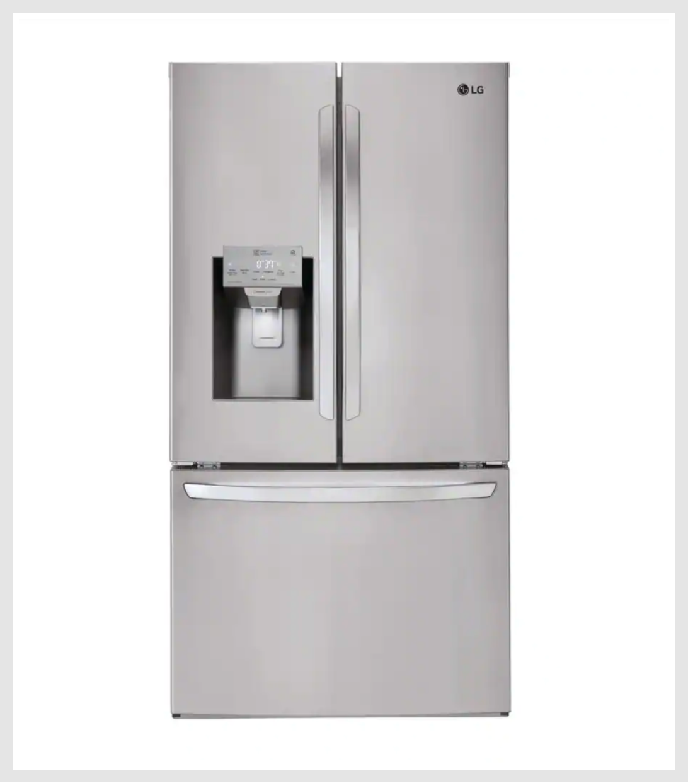 When we remodeled the Cedar Palace, I chose one of those "fancy" french door refrigerators with the freezer on the bottom for the kitchen remodel. I thought, why not? It gives me broader fridge storage than my previous side-by-side model.
But wait a minute, I didn't think it through, and by choosing a bottom freezer, I just put the appliance I hate the most right in my kitchen… a chest freezer! While not as deep as even the smallest chest-style deep freeze, it's still just a deep box where food goes to get lost. And no matter how neat you are, things get messy during everyday use.
I don't know about you, but I need even my utilitarian spaces to be esthetically pleasing. You'd never know it by looking in my refrigerator or nightstand drawer, but I function better when things are in order. 😉 Last year, I set out to find a solution that made the pull-out freezer drawer more functional and pleasing to the eye.
I couldn't believe how simple and inexpensive it was to fix it once I found the correct storage bins for the job.
WHAT YOU'LL NEED TO ORGANIZE FREEZER DRAWERS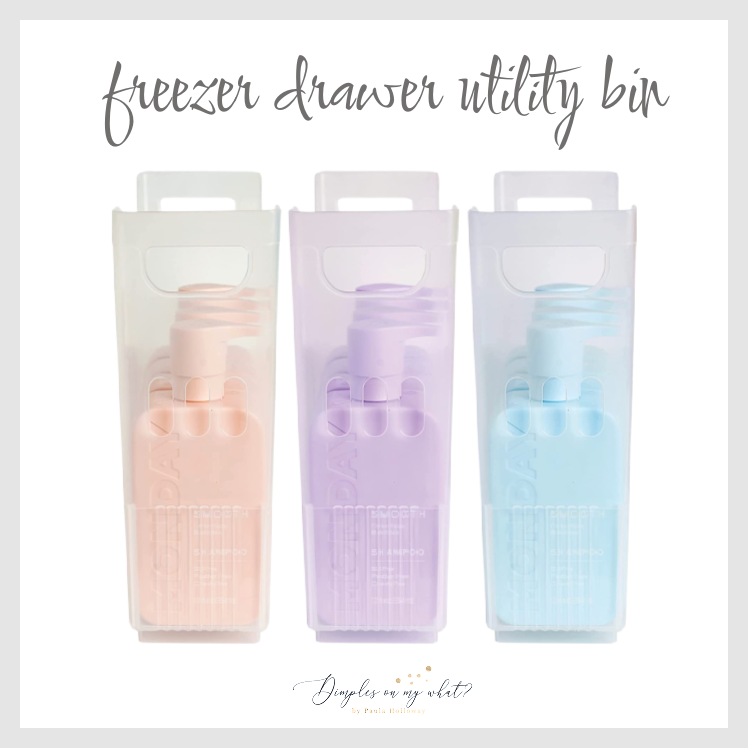 UTILITY BINS IN A VARIETY OF SIZES
So let's not waste any more of your time; here's what you'll need:
These bins! Cue angels singing – Aahhh!
I purchased mine in two widths; one is 5.5″ wide, and the other is 6.75 inches wide. In hindsight, I might have only used the wider ones. However, even still, they are the perfect fit for a bottom freezer drawer and leave a little room around the edges for sliding other items in.
I also use smaller refrigerator bins for the top freezer drawer. For reasonable prices, you can also find loads of these storage bins sold individually at Homegoods, Marshalls, and TJ Maxx.
HOW TO GET STARTED – EXPERT TIP
Be sure to empty your freezer, measure the entire space and know what you're putting away before purchasing the product. A good rule for me is to overbuy and return what wasn't used/didn't fit. It's helpful to have everything on hand when doing your project, so you only have to do it once!
HOW LONG WILL THIS PROJECT TAKE?
After you decide on the right size bin for your space, the entire project will likely take around 30 minutes, depending on how much sorting of frozen food and cleaning the freezer you need to do. But my guess is less than an hour, even if your freezer is a huge mess.
HOW TO ORGANIZE FREEZER DRAWERS
I keep nuts for baking in the top drawer and frozen treats for the kids. And I keep one area open for items I only buy occasionally, like ice cream or novelty items I may have purchased at Costco… so I don't forget I have them.
In the bottom freezer drawer, I try to store similar items together. Breakfast foods in one. Convenience foods (a.k.a. grandkid food) in another. Bread and potato items in the next. Fruits etc.
You will typically get more storage space if you take things out of their boxes and store them in bags.
TADA!
This may not look exactly Pinterest-worthy, but you can see that it's a far cry from what it was, and besides being able to find things quickly, it makes me so happy!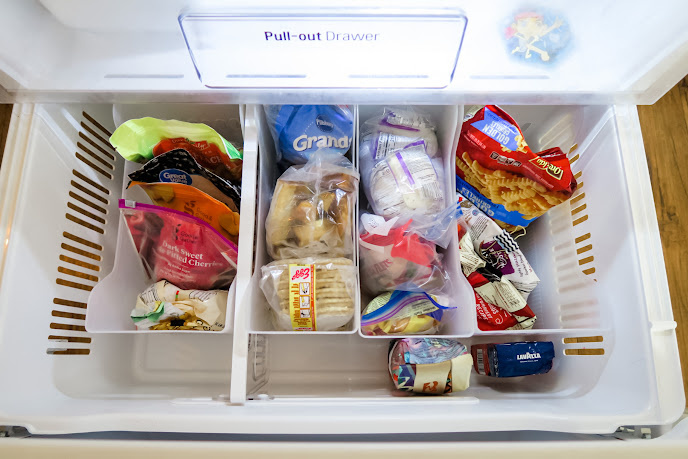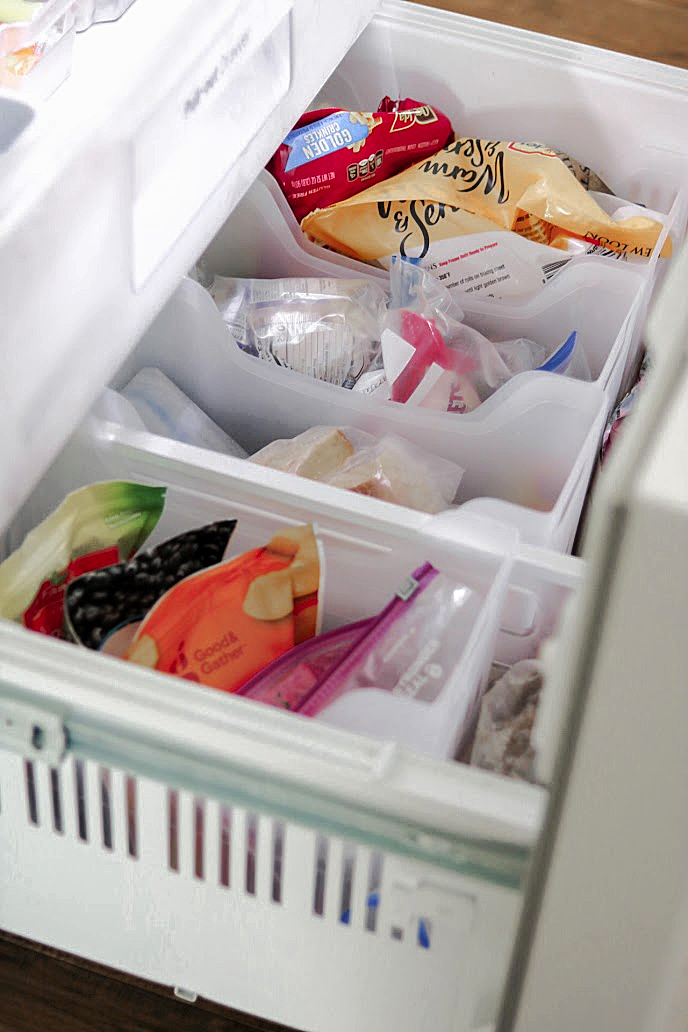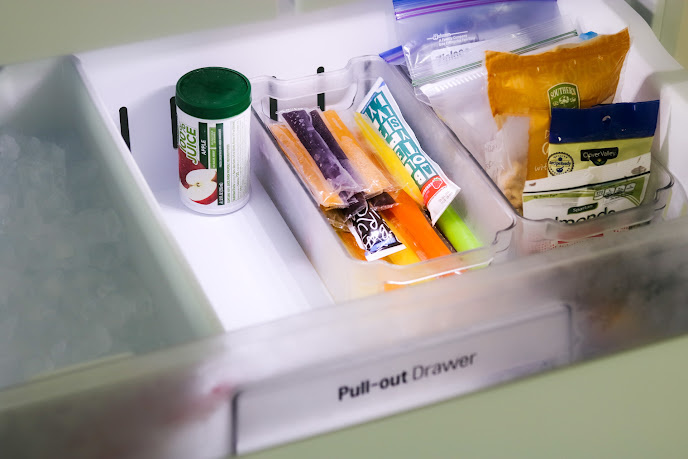 TIP – Because a refrigerator freezer doesn't get as cold as a deep freezer and gets opened more often, it's best only to keep the food you often use in there unless you don't have a freezer somewhere else.
WATCH HOW I ORGANIZE A FREEZER DRAWER
I've made a short video showing you how I organize freezer drawers, and I have a bonus tip for you on how to EASILY CLEAN and sanitize the inside of your freezer. Check it out here:
Happy Freezer Cleaning!