Hello there, my Friend; grab a cuppa and come on in! Winter finally arrived in Indiana, with one of those picture-perfect snowfalls that stick to the trees and makes you feel like you're living inside a snow globe. I LOVE IT!
View from my back door
I used to hate winter, but as I've gotten older and the hot flashes have kicked in, I've come to enjoy it. We can always put more clothes on, but in the hot summer, you can't take more off. 😉 Plus, if it's going to be cold anyway, why not have a layer of white cover the brown grass?
I decided to take advantage of our "snow day" and finish an organizing project in one of my pantry cabinets, and I'm so excited to share the results with you next week.
As I look back on the week and wonder where it went, I mentally listed all the things we did and realize why my head is spinning. I'm also now realizing why I need a nap… or a vacation. 😉
Here's the rest of the story…
**This post may contain affiliate links that may result in me making a commission from your purchase at no extra cost to you.
HOLLOWAY HAPPENINGS
It's been a week of many grandkid happenings, including a sleepover with each set of three Littles and keeping one of the sets all day. Then Thursday, I picked up a couple of grandkids after school while their parents went directly from work to an away sporting event for the oldest, and then we had weekend and midweek wrestling meets. Add in regular household tasks, and it's a lot to keep track of.
Our oldest grandson (in green) is now a middle school wrestler and had his first all-day tournament last Saturday. He did well and wasn't tentative; we thought he might be. But oh my word, I forgot how horrible it was to sit on bleachers all day, even when you have plenty of natural padding. 😉
Our little Henry is seven weeks old already! He's a whopping 12 pounds, 9 ounces and we're pretty sure his mom is producing straight cream. 😉 However, he seemed underwhelmed by his first wrestling meet. Before he was born, we weren't sure how the then baby of the family, Luke, would take not being the baby anymore, but he's so sweet and can't stop kissing his new brother.
WHAT I BOUGHT
That leads me to what I bought – after last Saturday and with six, now seven grandsons who play or will play sports, and recently sore butts and backs, the reality of spending lots more time on bleachers is fresh in our minds. So we just ordered these bleacher seats. Hoping they do the trick. Do you have some that you love?
I bought one of those magnetic wireless phone chargers for my new phone, which I did not have to buy because my old phone wasn't actually broken. You read that right; I spent a lot of money because the power strip behind the dresser wasn't on. UGH! But the charger is cool.
These cord keepers stick to the back of your desk or dresser and keep the cord from slipping to the floor.
WHAT I WORE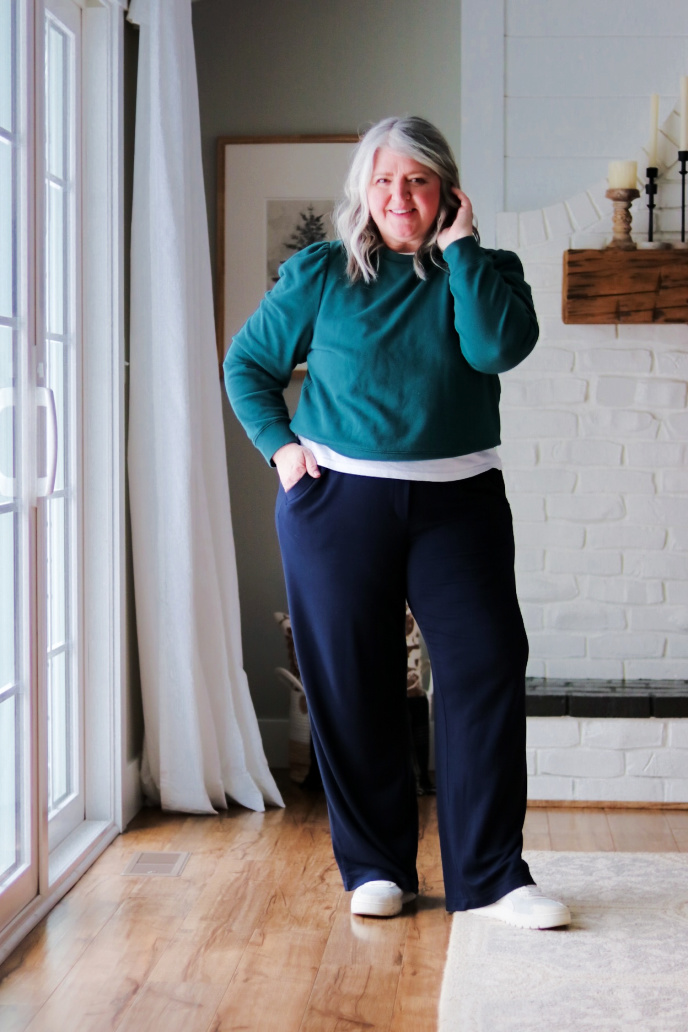 pants wearing XL || sweatshirt (sold out) wearing XL; similar; similar; plus size || sneakers || t-shirt wearing XXL
Before the January Spending Freeze, I order a few things from J. Jill, including these pants. And taking a cue from this video from Melissa from MM Styling (I shared her in last week's Dairy), I wore this outfit to that all-day wrestling tourney.
Next week I'll share a post about how I styled them for a day of running errands.
WHAT'S ON MY TO-BUY LIST
Okay, speaking of that spending freeze, one of my tips for being successful at not buying clothes for a while was to use the time to hone in on your personal style so you can shop more strategically when you start shopping again. I love the casual style of the outfit above but realize it would be more in balance if I wore chunkier sneakers, or as Melissa calls them, "trainers." So I'll be looking for comfortable platform sneakers or chunkier "dad" sneakers, like the ones below, starting next month.

WHAT I FINALLY DID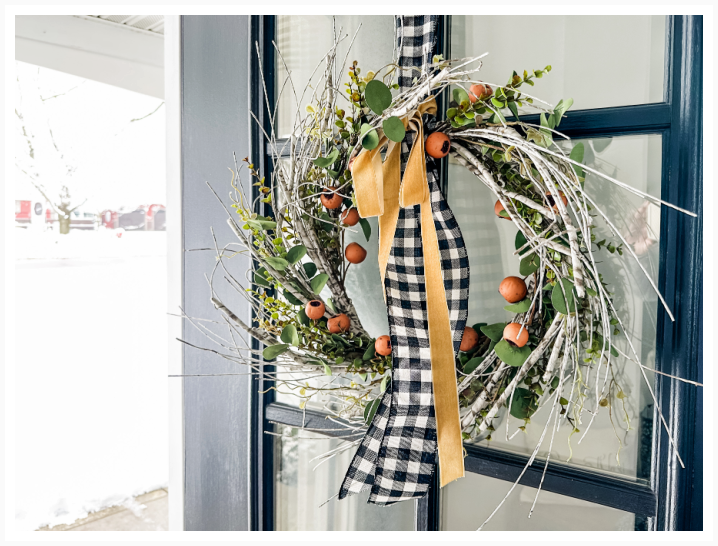 I finally changed out my Christmas wreath for this one. Perhaps it's more fall-like, but I love the subtle color for this strange season between Christmas and spring. And I prefer not to do kitschy wreaths for Valentine's Day, St. Paddy's Day, etc.
*See my trick for hanging a wreath without damaging your front door.
WHO INSPIRED ME
I could and probably should write an entire post on this subject, but I've been so overwhelmed with stuff, both mentally and physically, that I'm craving some level of minimalism in my life. So I've been binging YouTube content from Dawn, The Minimal Mom. She is so genuine and down-to-earth in her approach to minimalism that she makes me feel like I could do it, at least to some degree.
Her saying that everything we bring into our home is inventory we have to manage is one that keeps rolling around in my head. When we have so much, managing it becomes a job that we likely don't have time for, and therefore, we become overwhelmed.
The key is to start, even if small, and let it snowball. Even if I never become a minimalist, I'll be paring way down over time. Could you be a minimalist?
WHAT I ATE
I've done more than a fair share of cooking this week amidst having all the kids, and I'm over it. That's probably because I did a bunch of cooking and baking on the day I kept my grandsons all day, and by the end of the day, I could barely stand. Will I ever learn to pace myself?
But I wanted to have them help me bake a cake (similar to this one) from an E-cookbook The Minimal Mom put together to raise money for a mission organization. It was super moist and delicious.
I also made this Turmeric Lentil Soup, and it was just okay, in my opinion. The ingredients are clean and healthy, but I'd prefer a lentil soup with potatoes and maybe some meat. I love beans (try this quick and tasty cheesy chicken chili), and lentils are supposed to be one of the best legumes. Let me know in the comments if you have a good lentil recipe.
THIS WEEK'S THOUGHTS
Back to minimalism for a minute, being overwhelmed with stuff, whether it's emotional or physical stuff, when we're overstuffed, overscheduled, over-committed, or overwhelmed, we have to ask ourselves what it's a symptom of. Yes, I believe our too-muchness is a symptom of something more profound.
I'd probably have to go to therapy to figure out the why of my mess entirely, but I do know that, in some ways, it's a form of procrastination for me. Seriously, most days, I have so much going on in my brain with all the to-do's and shoulda-coulda-woulda's – I walk in circles and get little to nothing done.
I won't go into details, but I believe it also has a lot to do with things, let's call them mini-traumas, that I've experienced in the last 10-15 years. (Before that, I wasn't a keeper of all the things.)
Here's the thing: instead of getting to the crux of the matter, releasing those emotional things to God, and realizing that He's our ultimate treasure and THE elixir for whatever we're dealing with, I self-medicate with physical treasures. This is the gateway to overwhelm, poor choices, stress, decision fatigue, and so much more!
Anyone else? You don't have to answer that! Just know that you're not alone. God can be our complete treasure and fix it all!
But we have this treasure in jars of clay, to show that the surpassing power belongs to God and not to us."

2 Corinthians 4:7
Have a great week!