Cheesy, creamy White Chicken Chili with just 4 – 5 ingredients? CHECK! Ready in just 15 – 20 minutes? CHECK! You don't cook you say? No worries! You can do THIS!
When the weather gets cold and snow is expected, who doesn't love a bowl of warm, creamy comfort food? That's exactly the forecast here in the Midwest tonight and I decided at the last minute that white chicken chili sounded good. By last minute, I mean like 5 p.m. last minute! I wasn't put off at by the late hour because I had this SUPER easy, SUPER fast, and SUPER delicious recipe at the ready. It's a SUPER supper!
I usually keep the ingredients on hand for recipes like this, but I didn't have them all this time. So, I took off for our local grocer's to pick up the few things I didn't have and still had that yummy bowl of cheesy, white chicken chili in front of me by 6! I told you it was fast.
It's simply chicken, cheese, salsa, and beans. A little chicken broth to thin it – so that's where the 5th ingredient comes into play. It's not enough that you couldn't do the same thing with water in a pinch, so I'm not counting it. 😉
I try to keep some shredded, cooked chicken breast in the freezer (try this easy recipe) and I happened to have one bag left in the freezer. If you don't have any on hand, you can just as easily use canned chicken. I prefer my own but I don't think the canned stuff affects the taste that much.
It's so simple that a detailed explanation is hardly necessary, so I won't bore you with a bunch of fluff.
Assemble the players. You could easily add corn if you'd like. If you like more kick, you could add a can of diced green chilies or just a spicier salsa. I'm pretty much a spice weenie and sometimes even the pepper jack is too much for me.
Cube the cheese for faster melting.
Combine the main 4 ingredients in a large saucepan or small stockpot. Heat until the cheese melts and ingredients are combined. Stirring occasionally.
The 5th Ingredient: Thin it out to the consistency you prefer. I like mine thicker. So, I might use about a ½ to 1 cup of chicken broth to thin it. If you prefer more of a soup texture, use more.
Fritos, guys! Fritos! Need I say more? The perfect garnish!
It was delicious and just what I needed to help knock out the chill that has been present in my bones for about 3 days. Shoveling snow off the driveway today and the prospects of another 2-4 inches to shovel tomorrow makes me glad I have leftovers.
I served mine with a kale chopped salad. This may have been a risky combination! Beans, kale, Brussel sprouts, and dried cranberries could prove to be a painful and odorous situation tomorrow. However, it may mean that I will be "self-propelled" with just a simple snow shovel and I can give the snowblower a day off! ;p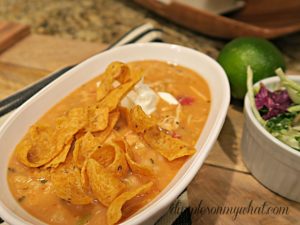 4 Ingredient Cheesy Chicken Chili
2017-02-02 16:46:50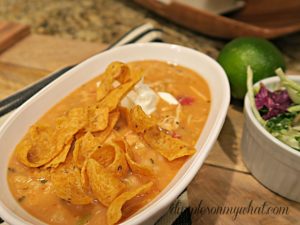 Fast! Easy! Warm! Creamy! Comfort! A delicious version of white chicken chili that the entire family is sure to love. There are a few approximations in this recipe. Make it yours by adding corn, spicier salsa and different cheese. Even a smoked chicken would add a different layer of flavor.
Ingredients
2 cups (approx.) cooked chicken (fresh or canned)
48 oz. jar or can of Great Northern Beans (such as Randall's)
12 oz. jar black bean and corn salsa
1/2 block or 4 oz. each of pepper jack cheese and colby jack cheese (or to heat preference)
* Chicken broth for thinning
Instructions
Cube cheese for faster melting.
Combine all ingredients (except chicken broth) in a soup pot.
Heat until cheese melts. Stirring occasionally.
Once cheese melts, thin to desired consistency with chicken broth. 1/2 - 1 cup is usually sufficient.
Enjoy with tortilla chips, Fritos (my favorite) and even sour cream for extra creaminess.
dimplesonmywhat https://dimplesonmywhat.com/
Let me know if you try it and what you think. And if you care to share this recipe on social media, my heart might do a little pitter-patter. And let's just hope it's only my heart!
Enjoy!
Paula