One of the toughest weeks in the life of an aging woman is the one before your hair color appointment. Since it's not always hat season, a temporary root concealer is a good alternative. I've tried many different brands and forms of a temporary root concealer for my gray roots and have found one that I'll buy again and again. I've linked a video below for how I use it. Please pardon the wreck that the rest of my hair is in the video, tomorrow is hair color and cut day, so YAY! And since it's your lucky day, you get to see even more of my gray hair.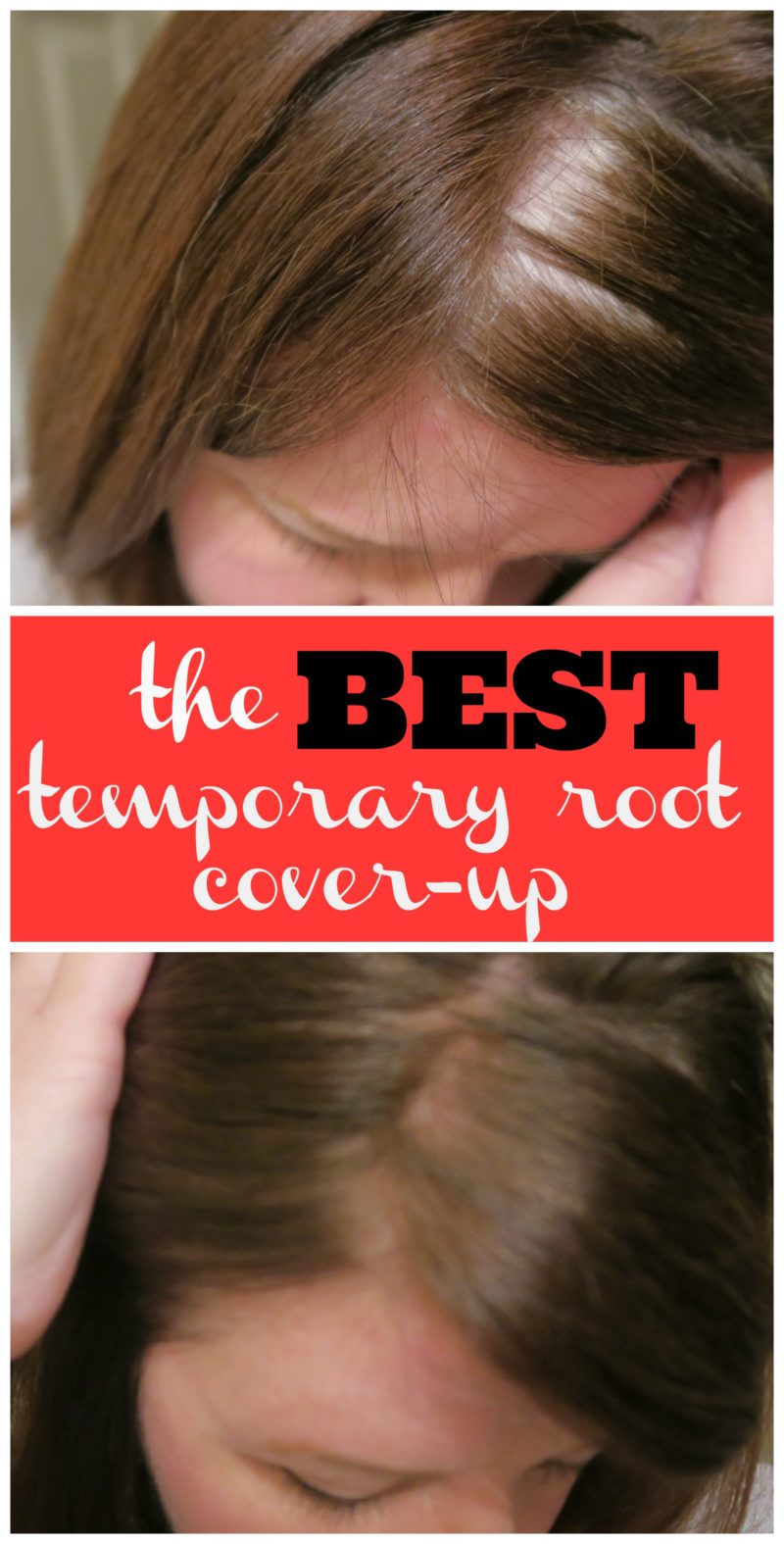 I'm revealing a big shiny secret to the world today. Well, it's no real secret. I'm pretty open about the fact that I color my hair. What I don't do, is show you how much gray I actually have. Like most people the amount of gray is worse in some areas than others and for the sake of a good photo, I'm showing my worst gray patch. It made for good before and after photos and gives you a better idea how this product covers. It's where I started to gray in my early twenties and I call it my skunk streak. I could grow it out and wear it as a chic stripe should I choose to –but I don't want to. 😉
I color my hair for me and no one else. Do what is comfortable for you. I've seen women, including my own mother, who have embraced their gray from early on and wear it beautifully. I think that natural gray hair is much like a pixie hair cut; you have to have the attitude to pull it off. I'm not sure I'm there…. YET! But I'd like to be eventually.
more than you might want to know about root concealer
Root concealers come in many forms and they each have their own benefit and drawback.
FYI: Every one of these products will give you dirty fingernails if you scratch your head too much.
Powder
The powder version comes with a brush, much like a blush compact. This gives you more control in applying. The downsides are that it takes a while if you have large areas to cover up. And while all root covers give your hair that "dry shampoo" texture, I found the powder to have an extra heavy feel. This might be due to the fact that you're kind of "painting" it on with a dense brush in order to get the coverage.
Liquid
There are several application methods for the liquid temporary root concealers. There are two that come with wands. One is like a mascara wand and the other is more like the sponge tip of lip gloss. I used another that was sort of like a big marker with a shoe polish sponge on the end. (Told you I've tried a bunch.) Once again, what you gain in control, you lose in application time. And because you're "painting" them on, they feel thick and sticky.
Spray
Spray versions of the root concealers have been my favorite and go to choice. These root concealers are quick, easy and good for covering large areas fast. That being said, they do have their own drawbacks. They lack application control, especially around the hairline and temples. However, over spray can easily be wiped off the skin with a wet cotton pad or Q-tip. As with all aerosols the nozzle can clogged, sputter and spit. I used one high end brand that would always spit out a big blob of color. I lost a favorite Victoria's Secret robe to a particularly big spew of brown over spray.
Note: None of these products wash out of clothing well, so be careful no matter the application you choose.
That one little glitch was enough to scare me straight of the sprays for a while. But, I've got quite a bit a gray to cover and the others just weren't cutting it. So draped in an old towel, the aerosol root concealer trials began again. After a few lack luster products, I found this one from Tressa Water Colors! No sputters, spits or massive gray roots showing. It still has that dry shampoo feel (not my favorite), but it's not overpowering, like others I've used. However, it buys me a little more time before I have to move my every 5 week root touch up to an every 4 week appointment. Winning!
I don't cover my roots every day the week before my hair color appointment. But on the days that I have something going on, it's perfect. If you'd like to try out this great product that doesn't break the bank you'll find some links below.
Happy Hair Coloring,
Paula
Also, here are a few of Tressa's color depositing shampoos if you're interested. I haven't tried any yet, but I'm thinking they could really freshen me up when my crown and glory begins to fade. Or at the very least, the violet could help kick out those brassy ends you see in the video. ;o

Disclaimer: By clicking on the links above I may make a couple of cents. However, you won't pay any more for the product by doing so.