Personal Thoughts About Transitioning to Gray Hair
I'm having a love affair with gray hair right now. I think of little else. Except of course, for a million other anxiety inducing thoughts. 😉 Based on recent searches, my Pinterest feed is fully loaded with every shade and style of gray hair – Transitioning to Gray Hair. How to Go Gray Gracefully. Transition to Gray Hair. Growing Out Gray Hair. Best Hair Styles for Gray Hair.
But so far, it's only an affair. I've made no commitment to transition to gray hair myself. My own hair is still colored while I continue to vacillate about letting my own gray locks grow wild. So besides being envious of so many beautiful women who have already embraced their naturally graying hair, what has me thinking about growing out my natural gray hair?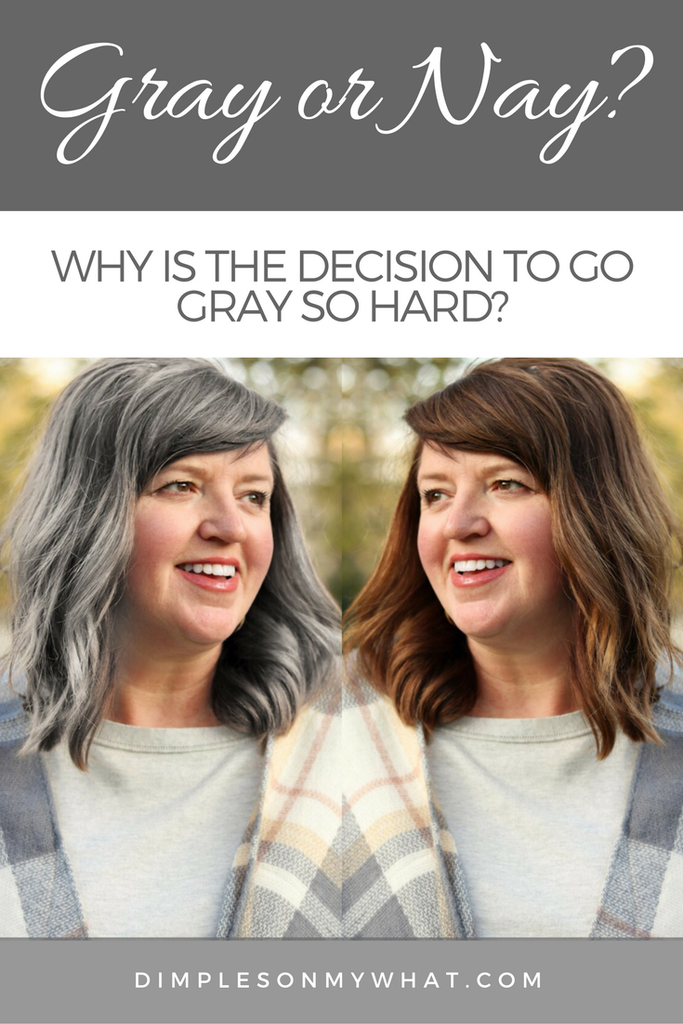 Over It!
♥ I don't love the actual hair coloring process. Those hours I spend in the salon chair every 5 weeks always come too soon and feel too long. And, I'm getting close to needing to bump my color back to every four weeks.
Note: I LOVE my Colorist to pieces. She's educated and creative, and even teaches color. None of these factors have anything to do with her. SHE will be the KEY element to a smooth transition to gray once I finally decide to make the leap.
♥ Gray roots. Brown Hair. Need I say more?
♥ I'm not gaga over the actual dyed color! My hair tends to pull up warm (read – brassy). The combination of my pink, ruddy complexion from rosacea (here) and orange-ish hair is not the most flattering combination.
♥ If beauty is pain, then I'm a super model! I not only have rosacea, but I have seborrheic dermatitis (SD) on my scalp. SD can sometimes cause open sores on my scalp. Add hair color to that and you can just imagine how that feels during the hair coloring process. OUCH!
♥ Oh, the money I've spent on coloring my hair! Ugh! I would love to remove that line item on the monthly budget and use it toward something else. When I think of the cumulative amount I spend a year on my hair… well, I try NOT to think about it. It's my vice… after Dr. Pepper of course. 😉
But maybe, like my beloved Dr. Pepper, my life would be just as good without hair color. Maybe even better. I read something Lauren from howbourgeois.com, a woman transitioning to gray hair, quoted and it keeps coming back to me: "What If The Gray Was Your Best Feature"?
Why is this such a HUGE decision?
It's Personal
The decision to color or not color our hair is a totally personal choice. By letting you into my thought process about whether or not to grow out my gray hair, I'm not trying to influence you to stop coloring your hair. But if you're teetering like I am, you may find some of this interesting.
I've already told you WHY I'm thinking about growing out my gray hair. But to answer the question about why this is such a HUGE decision I'm going to tell you WHAT some of the fears holding me back are.
Vanity and Beyond
♥ What if it gray hair makes me look….. OLD?
I've always look younger than I am. I get told quite regularly that I don't look 52. When I tell people that I have 6 grandsons, they always say, "NO WAY". I'm not going to lie, it's flattering! However, recently when someone said that I didn't look like a grandmother, I thought to myself, "But I am." And honestly, it's one of the greatest gigs going.
I think people say this because we culturally have a picture of a stereotypical granny in a rocking chair figure as a grandmother. To think the fact that we might have already changed that visual says we've come a long way baby. But have we gone too far to avoid looking at grandmother at all? Hmm… Just a thought.
♥ Can I be fat AND gray?!?!
I've said many times and even once here on the blog, that I didn't think my ego could stand to be fat AND Gray. But the "fluff" isn't going anywhere right now. And what if I never loose weight? I've also said that I don't want to be a really old lady with dark hair. That's just too unnatural for me!
♥ Will I look like a hag?
Okay, before you go crazy – I don't think women with gray hair look like hags. Some of the most beautiful Midlife Style Influencers I know have embraced their gray hair. That's why I'm featuring a few of my beautiful, inspirational friends today.
But, we all know those women who don't do much, or do too much (hello helmet hair) with their gray hair and it just misses the mark. And let's face it, I'm not styled for photos every day of the week. Many days, my hair is in a ponytail, I have no makeup on and I'm shvitzing something fierce. Now, I'm a hot mess with brown hair, but will this ALL natural version of Paula be too much of a kick in the proverbial nuts for me to handle?
There are of course other questions I won't elaborate on: What if it's not flattering? What if I hate it? What if it's kinky (and not in the fun way ;-P) AND still brassy? Can I handle the grow out stage without being locked in a rubber room?
However, I wanted to save some space for two BIG, BIG thoughts.
Big thought ONE:
What if it's not "sexy"?
First, let me tell you that looking sexy isn't a huge goal for me. Not that I don't want The Hubs to find me attractive. But, I think sexy is something we are, not something we show. I have an entire post I'm going to write about that, but back to the hair.
We, women, have a ton of "sexuality" wrapped up in our hair. The sheer quantity of women walking around with long hair whether it's flattering for them or not, is proof enough of that. For lots of us, it's almost a genetic idea.
We must have this idea that as we get older, we're only sexy if we look YOUNGER. Which is kind of funny, because do you remember being young and piling on the makeup and dressing "older" to either get in with the older crowd or because you thought guys would think it was attractive?
I'll admit that my hair is important to me. Hair is our "glory" after all. The emotional energy that I put into it can be exhausting. You don't think you do that? Have you ever cried over a bad haircut?
I have a theory that one day I will find THE perfect swimsuit. It will be the one that I put on that will miraculously transform me into a Christie Brinkley-esque babe (then or now… they are both awesome). But just like even a great swimsuit won't work like that, having the hair of a supermodel won't make me one.
It would seem that gray hair is the one area we can't stop associating with age… OLD age, to be specific.
BIG thought TWO
What if I'm no longer considered relevant because my hair is gray?
As women in midlife, we have crossed lots of boundaries and are making waves in more areas than ever before. There are actresses in Hollywood who have remained marketable even though choosing not to alter themselves (think Helen Mirren) for roles. In fact, they actually work more than those actresses who have so contorted their looks with surgeries, that they have "weirded" themselves out of being able to play normal roles. However, there are lots of celebrities, that despite forgoing facial surgeries still color their hair.
It would seem that gray hair is the one area we can't stop associating with age… OLD age, to be specific. In turn, are we saying the gray hair is unacceptable because it makes us look too old? Does gray hair make us look irrelevant unless we're women of the boardroom, the courtroom or exam room?
But what if I grow out my gray hair and want to go back into say, leading worship in a church? If you're at all familiar with charismatic worship in today's larger churches, the platforms are full of cool hipster musicians. And many of the parishioners are their peers. Even with a solid voice, would I be considered relevant in that genre with gray hair? (Oh wow! I could go on forever about this and might feel a part II coming on) 😉
But let's wrap this up…
Anti-Anti-aging Movement
The Aging Trend
We are living in a decade when embracing the diversity of our bodies and each person's natural beauty is in vogue. Terms like Healthy Aging, Ageism, Age Disruptor, and Anti-Anti-Aging are seen in articles scattered around the web. As Midlifers and beyond, we want to be accepted for our knowledge, experience, poise, and wisdom. "Relevance be thy name." We are finally being encouraged to embrace our birthdays yet, it would seem, at least where hair color is concerned, we are still having trouble embracing those gray hairs as an indicator that we've earned another candle on the cake.
Will I or won't I?
I'm not sure. If I can get my colorist on board and my scalp condition under control, I'd love to go all in and go gray in a day. It wouldn't be my exact natural hair color, but the out-growth would be more subtle. I even have a video saved from Pinterest that has already been sent to my "professional glam team" as a guide.
What if gray hair is my glory?
The truth is, I'm scared. But I'm also super excited. I'm anxious (in a good way) to see what I REALLY look like. I started graying in my 20's, so it's been a LONG time.
And if it doesn't work out, or if my 6 grandsons are scared of me, they're still making brown hair color.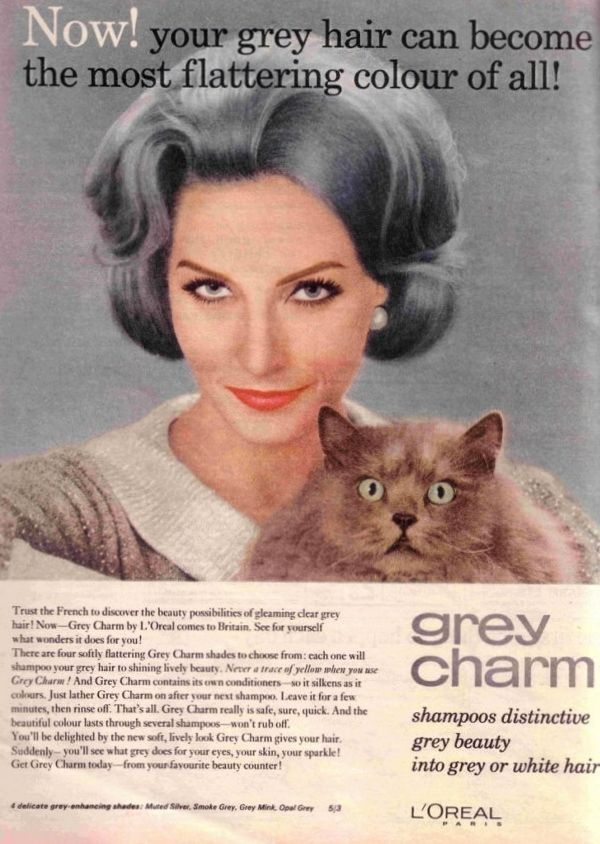 BUT…..
But, what if… just what if, gray hair is my glory? THAT could be awesome!