Kickin' A Blogging Rule to the Curb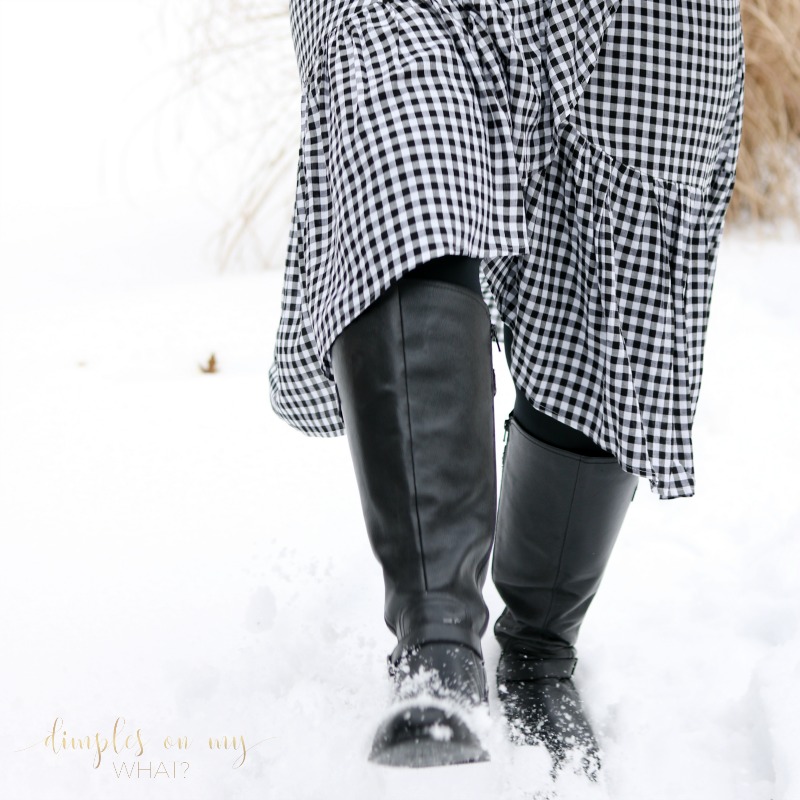 Or am I?
Hello 2018! I'm calling this look: Curvy Hipster Biker Chick on the Prairie. When I styled this cute gingham wrap skirt from the Australian boutique, Bohemian Traders for running errands on a cold day, I had intended to use the photos in a blog post specifically about the wrap skirt itself. But, I decided to use it to "tie into" my plans to find direction for dimples on my WHAT? in 2018. This entire look actually fits this topic perfectly and here's why.
I Don't Fit a Mold
Since I started blogging I've been searching for my voice. I've researched and read endless articles on the proper way to blog. How to build a following on social media to grow my numbers. How to drive more readers to the blog. And here I am, in my second full year of blogging and I'm still kind of confused. I feel like I have to scratch and beg for every "like" and "follow" I've gained even though I think I'm putting out quality work.
Almost every blogging expert will tell you to find ONE NICHE and stick with it! I think I'd love for someone to tell me what my niche is. But when I really think about it, do I really want that?
One of a Kind and Kind of All Over
There are plenty of over 50 bloggers. Numerous bloggers who are confidently curvy. However, I am one of a minority of bloggers who are over 50 AND curvy. And I really do love being able to inspire women to dress confidently and accept their bodies no matter the size or age. So shouldn't that be my blog niche?
When I think back to why I started blogging, it was never my intent for dimples on my WHAT? to be exclusively about that. It was going to be a part of it, but the blog was to be an outlet for my thoughts, opinions and stories.
See, I've never fit ONE particular niche. Even in high school, I didn't fit any one group or clique. I wasn't popular, but I wasn't exactly a nerd. I wasn't an academic, but I wasn't dumb. I was musical, but I wasn't a band or choir geek. And let's just say, sports were NOT my thing. I can't run without tooting and then laughing and then it's all mayhem and tinkles. 😉 So, it's not just my age. Ha! I'm completely average and trying to fit into one group has always been an exercise in futility for me.
Carving My Own Niche
I'm here to tell you that I'm going to stop trying to fit a mold. If that means that this blog will never be successful and will never become a source of income for me, so be it. But, that doesn't mean I'm going to hang it up.
New Year, New Plan
I have always been an over sharer. I can keep a secret if you tell me one, but I don't keep secret recipes or style tips. And in that same vein, I love helping peeps out by sharing or over sharing from my own experiences. So, here are some of the things you're going to find on this little block of the web this year. Some of them are BIG. Some are small and trivial. And others are VERY personal to me. So keep reading to find out the BIGS…..
What's On Tap
Style tips. The curvy, cozy-chic style isn't going anywhere. I'm still searching for great jeans, underwear and THE PERFECT BRA. When I find them – you will know. And, my body positive message will still be present.
Makeup and style tutorials. I plan to add more videos to my YouTube channel. Mascara for non-existent lashes. How to create beach waves in hair that resist curls. Maybe even some DIY home projects.
Product Reviews. I love new products. But, I also stick with tried and true staples that I love. And I don't keep secrets, remember? I'm going to telling you the products that I have tested and I don't like and why that is.
Up close and Personal
Okay, these next two things are the BIGGIES!
Going gray. I've already started the conversation about this here, but I'm really close to starting the process to stop coloring my hair and grow out the gray. As that happens, I'll be sharing the emotional and physical journey of the change. But here's the rub, I'm not certain that I can handle two major emotional changes to my appearance at once and the next one is one of the scariest to think about.
Keeping you a-BREAST of changes. In the coming weeks, I will be having surgery to have my 17 year old breast implants removed. Dun, Dun, Dun! Yes, a portion of the "G(H)-sisters" are silicone. The procedure is called an explant and I have struggled a little with sharing this. However, if my intent is to help others through my own experiences, this will be the perfect opportunity to help other women who could be dealing with some of the same health issues I have.
So from start to finish, and including everything that led me to make this decision will be chronicled for the express purpose of educating other women before, during and after the decision to place or remove breast implants. I'm so ready to get my health back, but to be quite honest, I'm freaked out beyond measure. Your support and prayer will be a necessary elixir to my fragile emotions.
The Funny Side of Life
Laugh it up. As always, I love to find the funny in the mundane stuff of life. I'll still try to lace everything I say with a little bit of humor. Some faithful followers have given me the idea to write a book of humorous short stories. It certainly has me thinking and wondering if I can find the diligence and discipline it would take to make that happen. But the seed has been planted, so we'll see where that goes this year. What would you think about that? Would you read it?
Tying It Back to the Wrap Skirt
Get it? 😉
Who says a woman over 50 can't dress like a hipster or biker chick? Not everybody would pair a moto jacket with a "prairie" style skirt. Today I might wear this and dress in athleisure tomorrow. But we all march to the beat of our own drum. Like this outfit that doesn't fit a single style or trend, this blog is going to bust the single niche rule right in the face!
But….
I'm scared about it. There's a place in each of us that wants to fit in and be liked by absolutely everyone. We bloggers all dream of waking up and checking our stats to find a post has gone viral and we've grown by thousands in one night. But I'm going to try to buck that trend too and stay true to myself even if that means I build it and nobody comes.
But Then Came You
But, YOU are already here! And you're important! You're my tribe. My community. My territory. If I can help even ONE woman feel better about herself then I'll count this endeavor a success. If I can help you find a great pair of panties, have courage to do what you need to do to take control of your health, or simply make you giggle a little, then this is not for naught.
Thanks for hanging with me this far. Stick around, I'm just getting started!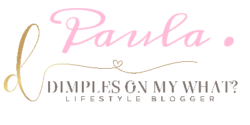 Head on over to the sidebar and sign up for post updates…. it's under "Don't Miss a Post".
---
Shop this Post

This post contains affiliate links, which means I receive a commission at no additional cost to you, if you purchase through these links.