How to Wear Plaid Pants if You Are Full-Figured
Women with large bottoms or who are plus sized, often shy away from wearing prints on their bottom halves fearing it will make them look larger. Linear prints like stripes, plaids, and checks can be particularly problematic on full-figured women. But I'm going to show you how I wore a pair menswear-inspired plaid pants with these gadonkadonk thighs of mine. I'm sharing five simple style tips you need to keep in mind for if you want to add a pair of plaid pants to your fall wardrobe and a pair, I think fit the bill. They are also available in petite and in plus-size. "Slap-hands!"
Disclaimer: I have been provided some of the items in this post at no charge to me in exchange for a review. This does not reflect my review as all opinions are my own.
I earn a commission if you purchase through the links in this post. This does not affect the price you pay. And as always, it's free to look. 😉
J. Jill Style
J Jill, a brand known for bringing relaxed and comfortable clothing for the everyday woman, recently reached out to me to collaborate with them on their fall collection. Their fall collection is all about menswear, only with feminine silhouettes, this look has been perfected for women. These pieces can transition from one season to the next. And you can create versatile pairings that make more traditional styles look fresh.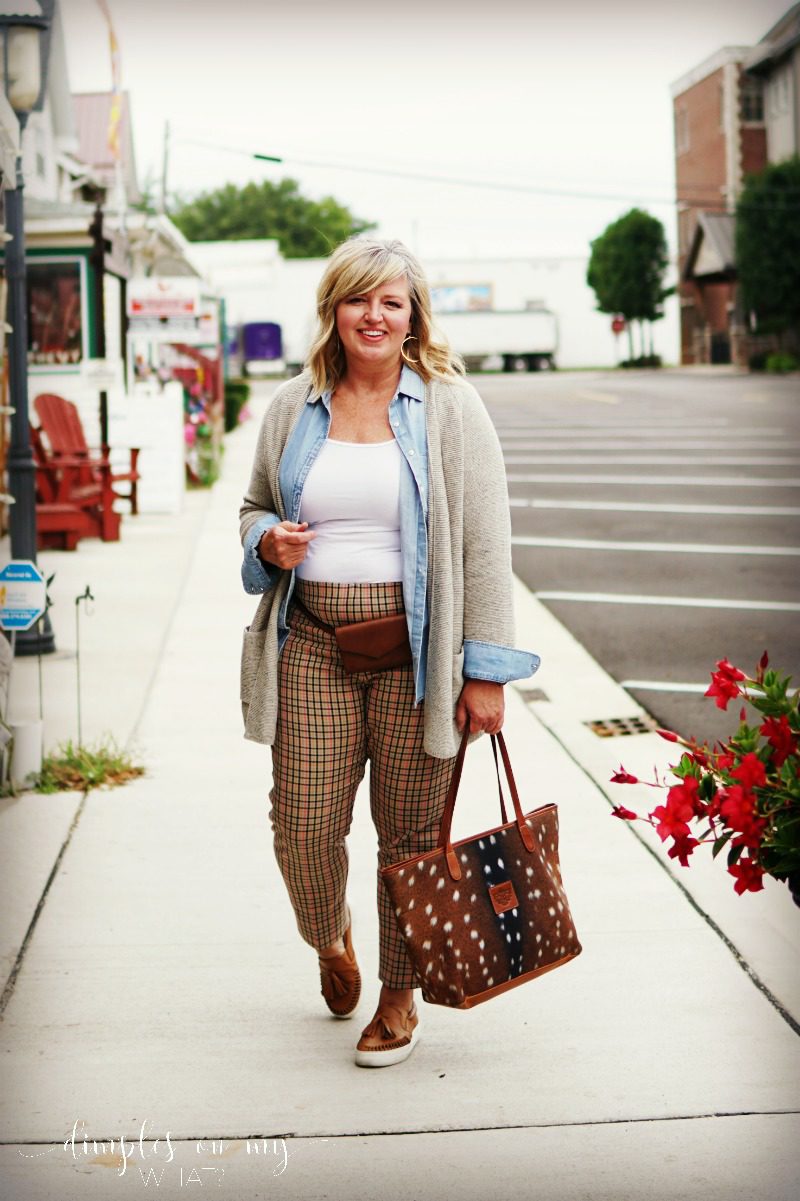 Plaid Pants on Curvy Women? – Oh, yes we CAN!
When I first saw these plaid pants, I was tempted to pick a safe, neutral color. Honestly, the olive green is my safety color in pants. I've also taken note as of late that I have an unusually large collection of olive utility jackets. I may honestly need help. I'm drowning in camo and fatigue green over here.
However, I kept coming back these camel plaid trousers. The inner dialogue went something like this: "Uhhhh… do I dare? No. Maybe. Okay, I'll get the green. But….that plaid! Ugh! Sigh. Just do it, Paula. Seriously!"
So naturally, I picked them. And peeps, they did not disappoint!
I opened the box and saw that against a camel backdrop the black and pink lines just popped. Yeah, I said "pink"! And not only are they pretty, but they are also incredibly comfortable. The bi-stretch fabric and pull-on style can be dressed up or down with the versatile feminine take on a men's trousers.
Alteration Note:
The plaid pants are actually a cuffed style. However, based on other J Jill ankle pants I tried on I ordered the petite so that they would be a true ankle length on me. However, they ended up being way too short. So I un-cuffed them at the four tack points with a seam ripper.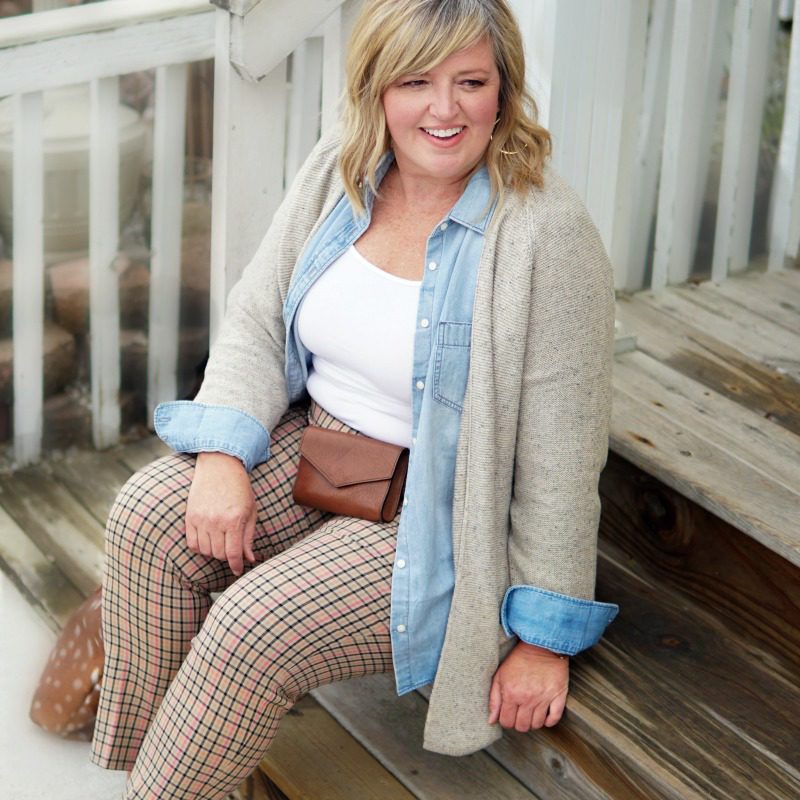 4 Tips for Wearing Plaid Pants as a Curvy Woman
1. Size of the Plaid
Look for a plaid that is smaller in size. A plaid print like I'm wearing creates an all-over pattern with the same size lines and less variation in color versus one that incorporates wide lines and bold colors. It's perfect for a full figured woman because there is not one color or horizontal line that is more prominent than another. A too bold plaid pattern would create a widening effect on our delicious curves.
2. The Shape of the Pants
Choose a feminine trouser shaped pant. Something like the pull-on styling of the J. Jill pants or possibly even those with a side zipper will work. I'm not saying we couldn't wear a wide leg pant in subtle plaid but keeping the fit closer to our body is the most slimming line when we're wearing any linear print on our curvy lower half.
3. Stretch Fabric
I like a little stretch in almost every garment I wear. But it's particularly important when wearing plaid. We don't want any horizontal print to be pulling across the widest part of our body.
4. Size Matters
Speaking of "pulling"; this is not the time to worry about the size number you're wearing. Buy the plaid pants that fit the best at every point. The size 16 was kind of tight in the knee area on me. I sized up to the 18, so I wouldn't have any weirdness there. I could have always had them altered should they have been big elsewhere.
5. Underwear
Wear smoothing underwear under plaid pants!
Okay, I seriously don't just try to find places to talk about my underwear. And had I only styled these plaid pants with longer sweaters like this poncho and the beloved Mr. Rogers Sweater, I wouldn't have seen that I most definitely wore the wrong underwear underneath. Oh, my word! Am I really posting my VPL for all to see?
You all know my great love of cotton underwear, well sometimes I have to deviate from those for style and fit reasons. This is one of those times I should have.
I like a style of smoothing panties that don't have elastic leg openings. My thighs are too large for most boy-short style shapers, but if you don't have super thick thighs, you may be able to find some you like. I prefer panties with smoothing panels and lace at the top of the thigh like these.

JavaScript is currently disabled in this browser. Reactivate it to view this content.
If you buy the pants that fit well, you won't have to worry about your underwear having compression. You will only need a panty to smooth out the moguls a bit.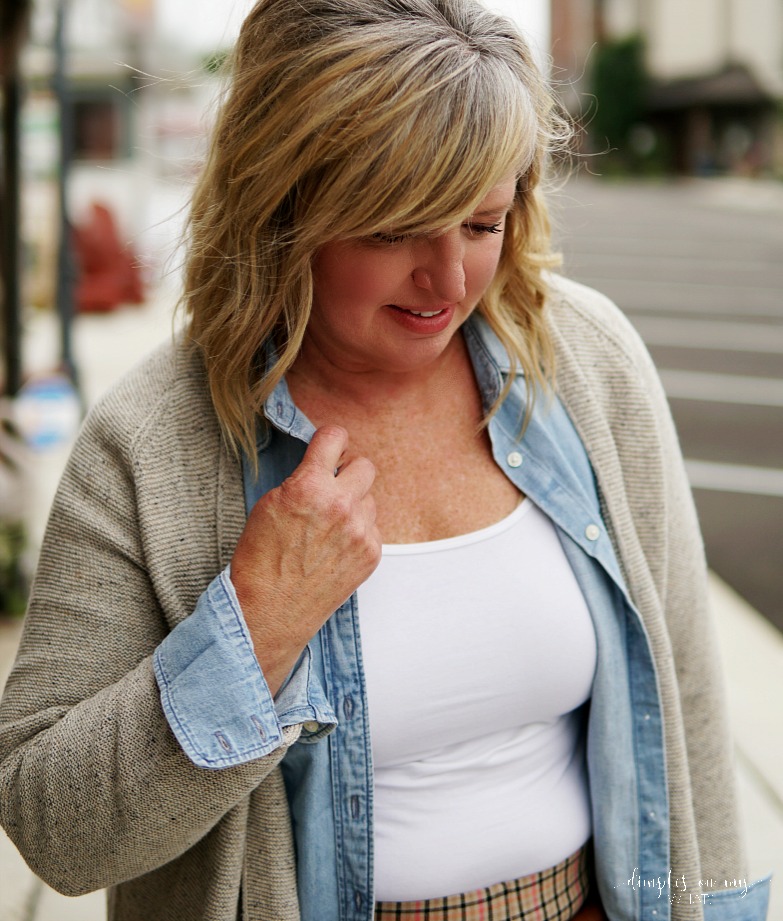 The Rest of the Story
The Sweaters
I will be incorporating all of the pieces I received from J. Jill's fall collection throughout the season. They are all so soft and cozy. I actually wore the Mr. Rogers Sweater (they totally should have called it that) over my PJ's last night to take the chill off.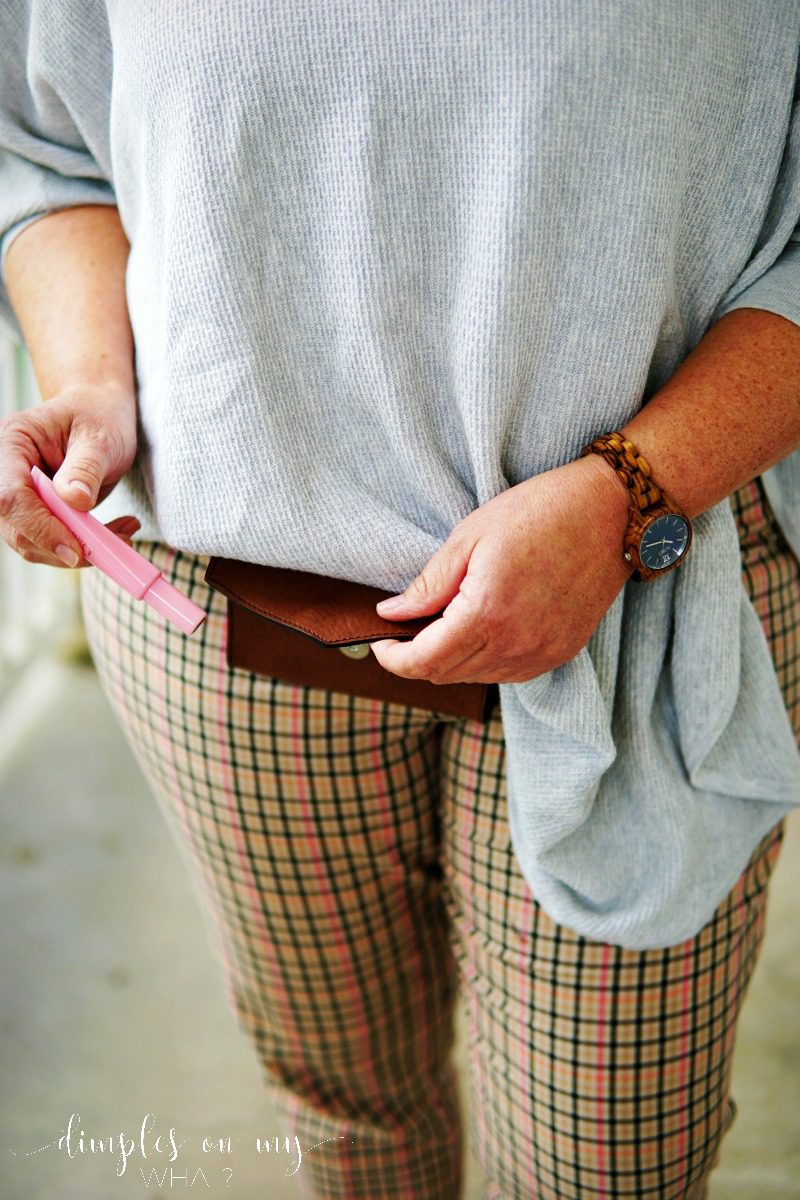 The Belt Bag
The fanny pack may be making a comeback ladies! But fear not, it's not the 80's version you're still cringing over. This belt bag from J. Jill's fall collection is beautiful with her rich look and supple leather (smells and all). HOWEVER, it falls short in the size of the pouch. It's not big enough to hold the larger versions of the iPhone. (I'm crying a little bit.) But if you have anything below the iPhone 7, it should fit.
But Those Plaid Pants!
I'm most excited to keep styling these menswear-inspired plaid pants! I'm thinking about a graphic tee and denim jacket. A black blazer, white button down and pumps for a dressier look. You can follow me over on Instagram to see more of the looks as I come up with them.
Keeping the five style and fit tips in mind, I'm confident curvy girls CAN wear plaid pants and look AWESOME! Will you? Let me know in the comments.
Be Cozy. Be Confident. Be Curvalicious.
Paula
Shop This Post

JavaScript is currently disabled in this browser. Reactivate it to view this content.
---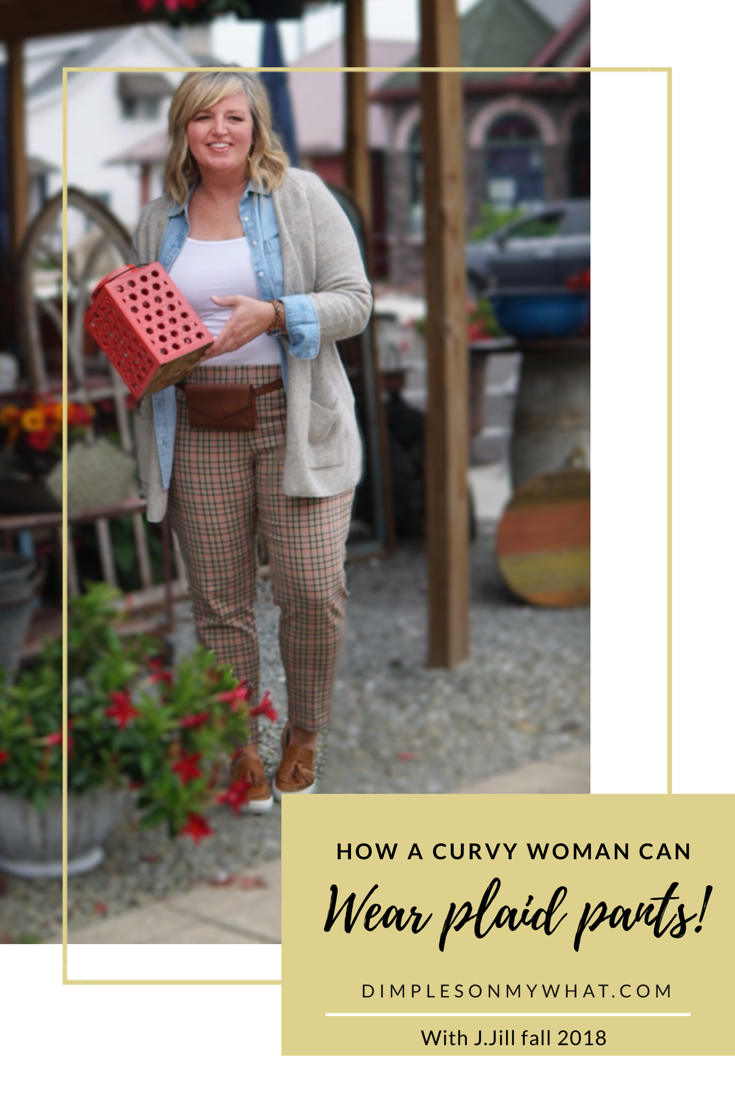 Other Posts You Might Like
A Curvy Girls Guide for Wearing Chunky Sweater