Ageless Style Linkup October Edition
The Ageless Style ladies are going bonkers for fall cardigans at this month's Ageless Style Linkup party. It might still be too hot for bonfires and hot cider, but call us crazy because we busted out our cameras and cozy cardigans to snap some photos to inspire you for cozy times ahead of us.
I'm also spewing my opinions, shocking I know, about wearing distressed denim after the age of 40.
The Ladies of Ageless Style are a group of 10 bloggers over 40. On the first Tuesday of each month, we take one fashion theme and interpret it in our own unique way. We are proving that style has no age limit.
This month we welcome Andrea of Living on Cloud Nine as our co-host. She's a fellow Hoosier and boy mom (I might be partial, but we're a special breed). She's loving God, her family and living her best life over 40.
---
Where did August go? It happened in a hot minute. BLINK, and it's gone! We had a glorious Labor Day weekend around here. The Cedar Palace was brimming with the Littles and my sister and her family enjoying the pool and playing together. Although we are hoping that God smiles at us a bit longer because we have a certain 8-year-old hoping for a birthday pool party later this month, it was a perfect "farewell to summer" weekend.
The Cardigan
It was so good in fact; I'm quite ready for one of my favorite seasons. "Fall, you're my boo." Honestly, I can't stand it when someone uses boo as an endearment. What in the world does it even mean? But I digress.
Fall is my fave for a couple of reasons. Booties. Apple cider. Open Windows. And, cardigans.
This month I'm featuring this gorgeous Caslon cardigan from Nordstrom. It was love at first try on and it's under $60. The texture is almost a waffle knit. It's made with sweater yarn yet still light enough to wear now and in the spring too.
The full arms give this "sweater" a kimono vibe. Because if this, I also ordered one for my mom, who struggles with lymphedema in her arm following her mastectomy. Because it's light enough and wide enough she won't be constricted or hot.

Distressed Denim After 40
"Keep it Classy San Diego."
I paired the cardigan with a simple tank for the photo shoot day because it was over 70°. I chose to wear it with a pair of distressed jeans. Let's talk for a minute about wearing distressed denim when you're over 40 years old.
I'm on the fence about the age appropriateness of distressed denim. Don't go nuts yet. Hear me out. I wonder if it makes us look like we're trying too hard to look young by jumping on a trend that is mainly worn by young people?
You must admit that a simple, clean pair of jeans with little to no whiskering or distressing and no standout pocket stitching look the most "classy."
However, I always say, wear what makes you feel good and I think that goes for trends as well. The amount of wear and tear on this pair of Old Navy jeans is the limit of what I feel comfortable wearing. If I were making all the style rules, I would say, keep it classy and don't go crazy with distressing.
Confidence Trumps Style Rules
I want you to walk away from these posts feeling inspired, encouraged and having more confidence in your body and style. All style rules can be, if not broken, personalized to what works for you.
I love hoop earrings. I once read one of those "don't after 40" lists that said hoop earrings were a big NO after 40. But I think they flatter me, and I feel great in them thus I wear them almost exclusively. So, if distressed or even destroyed denim is your confidence booster, strut your stuff!
I already know you're pro-cardigan, but where do you stand on distressed denim after 40? Yes, no, or like me, somewhere in between?
Let me know in the comments,
Paula
Shop this Look
---


The Linkup
---
This Party Has a Few Guidelines:
Have fun and make some new friends! Please visit at least two other links.
Please link to your actual post and not your blog's homepage.
Please link back to the Ageless Style Link Up in your linked post.
Feel free to use #AgelessStyleBloggers in all of your social media posts
Please follow each of your hosts on at least one social media channel via the links below.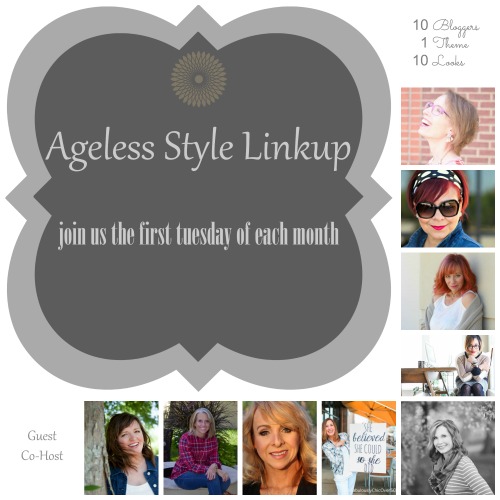 Daenel ~ Living Outside the Stacks blog, Instagram, Pinterest, Twitter
Debbie ~ Fashion Fairy Dust bloglovin, blog, Instagram, Pinterest, facebook, twitter
Jennie ~ A Pocketful of Polka Dots blog, Instagram, Facebook, Pinterest, Twitter, bloglovin
Jodie ~ Jodie's Touch of Style blog, Facebook, Instagram, Pinterest, bloglovin, twitter
Jonet ~ Fabulously Chic Over 50 blog, Facebook, Instagram, Pinterest, Twitter
Kellyann ~ This Blonde's Shopping Bag blog, Instagram, bloglovin, twitter
Lisa ~ Coast to Coast blog, Facebook, Instagram, Twitter, Pinterest
Paula ~ Dimples on my What blog, Facebook, Pinterest, Instagram, Twitter
Shelly ~ The Queen in Between blog, Instagram, bloglovin, Pinterest, Facebook
---
Meet Andrea
Link Your Post
---