5 Simple Rules for Wearing a Chunky Sweater
(without looking like Sasquatch)
---
The big, chunky sweater trend is always in vogue. And this year is no exception. I keep falling for a big, chunky knit sweater but it's usually on a skinny girl and just doesn't seem to translate as well on my curvy figure. Today, I'm going to show you how I think a girl with a curvy silhouette (a.k.a. – big boobs and all kinds of bootie-liciousness) can pull off this cozy trend without looking like we just threw a thick wool tent over a redwood stump.
I'm keeping today's post short and sweet. I'm cozied up (or not so cozy) on the couch with a sore throat and aches. And I'm definitely not looking like the lady you see in these photos. But what a perfect time to be talking about lazing about in loose, comfy, chunky knit sweaters and sipping hot chocolate or cider.
You already know I can't wear wool (here) and I didn't think I could pull off this winter trend without appearing 50 times larger than I am. While this look isn't slimming, with a few key guidelines in mind, I think we curvalicious ones can break a few rules in the name of warmth and comfort.
The Wide and Curvy of It
I will generally tell you that the most flattering fit for clothes on a curvy girl are garments that fit close to the body but that are not too tight. But let's be real here – I don't want my wobbly stomach and sausage rolls created by my bra band to always ever be in site. I like flowing lines in clothing. But what looks chic and easy on a slender frame can widen me out in a heartbeat.
Rules of the Wools
So here are my top 5 tips for keeping this chunky trend from going too chunky on a curvy body:
1. Choose a thick knit, but not TOO thick.
This sweater has some bulk, but is extremely lightweight. It's also got a nice hand to it, making it flow nicely. Don't get too giant with knits, shape or collar. Speaking of collars…
2. Keep the neckline open and simple.
I am not a long-necked Audrey, so I usually prefer a more open neck on most tops, and mostly V-necks. But, since I love look and feel of this sweater so much, I've kept it simple, with just a white button down. I added the "pop" of white because this color next to my skin could wash me out without the white to break it up. This is NOT the time to add a big statement necklace or chunky scarf. That will only add bulk. If you'd like to wear a necklace, make it a long pendant. The long, lean line will draw the eye vertical rather than horizontal.
If you have thick, big or long hair, try a style that keeps your hair up and away from your neck on days that you wear a chunky sweater.
3. Change the horizon.
Speaking of horizontal, we are already adding bulk with the visual weight of the sweater alone. Don't let the horizontal line of the hem settle on your widest part. Had I worn this sweater alone, it would have done just that. Instead, the white button-down tunic serves its second and maybe most important role – to move the horizon line of this outfit down to a more slender portion of my leg. Also, keep the line of your under layer lean and long. A long knit tee that hugs the body would work well here too.
4. Keep the rest skinny.
Let me just say that skinny jeans are a curvy girls friend. If you haven't yet embraced the skinny trend, please try it. If you don't wear them with anything else, they are a match made in style heaven for a chunky sweater on a curvy girl. In fact, these NYDJ Ami jeans are actually the "leggings" cut. I wear them to death! I personally don't think that I could pull this chunky sweater trend off without a skinny bottom. Actual leggings would be a great alternative, but ONLY IF the top covers your asset completely. 😉
Come on now. Not even a peek of what I call my "Second Butt". You know, those slices of flesh sitting just at the top of our rear thigh. Right under each check. I suspect this is how my rear is actually being held up. I know gravity has not been my friend anywhere else. 😉
5. Be well heeled.
Consider wearing some sort of heel. It doesn't have to be high. Just a little elevation to keep the entire look elevated and lean. If you are more of an apple or "barrel" shape with skinny legs, you can get away with less heel.
And tall equestrian boots would be absolutely fabulous with the leggings version of this look. Just make sure if you choose an over the knee boot, that you keep it classy, not trashy. Be a Pretty Woman, not a Vivian before Edward.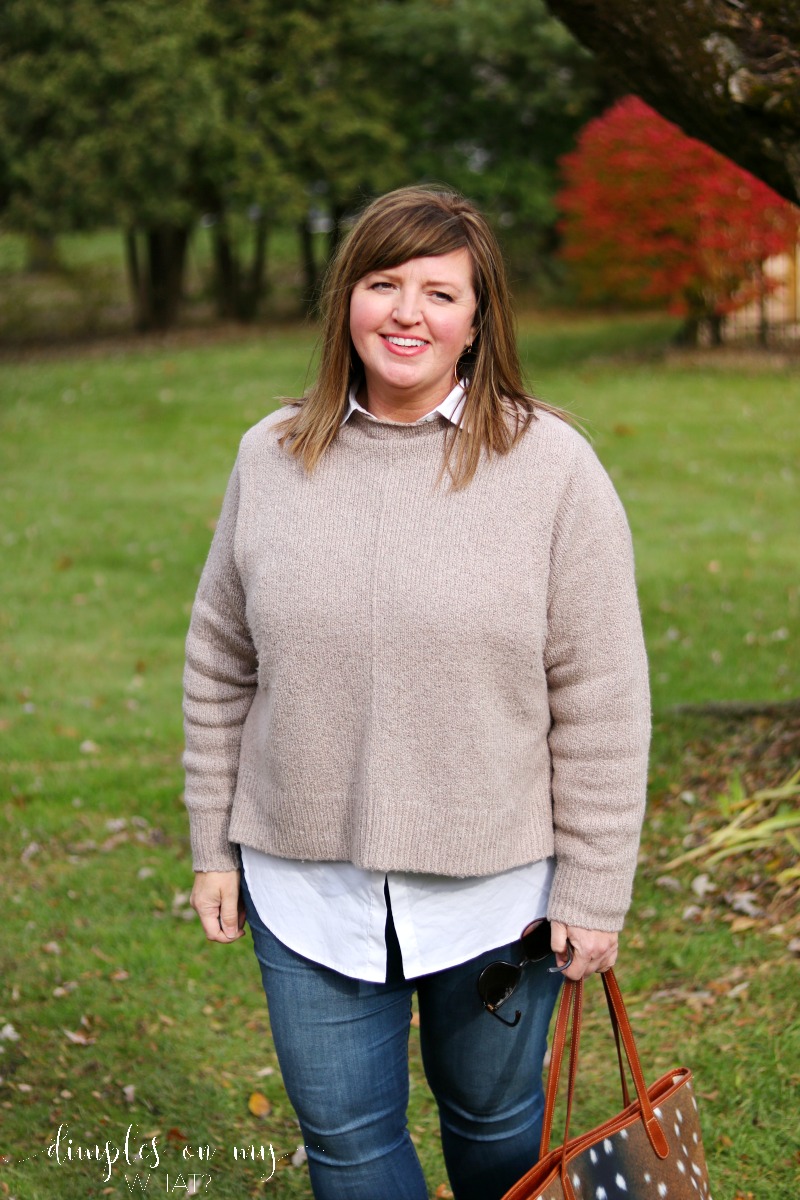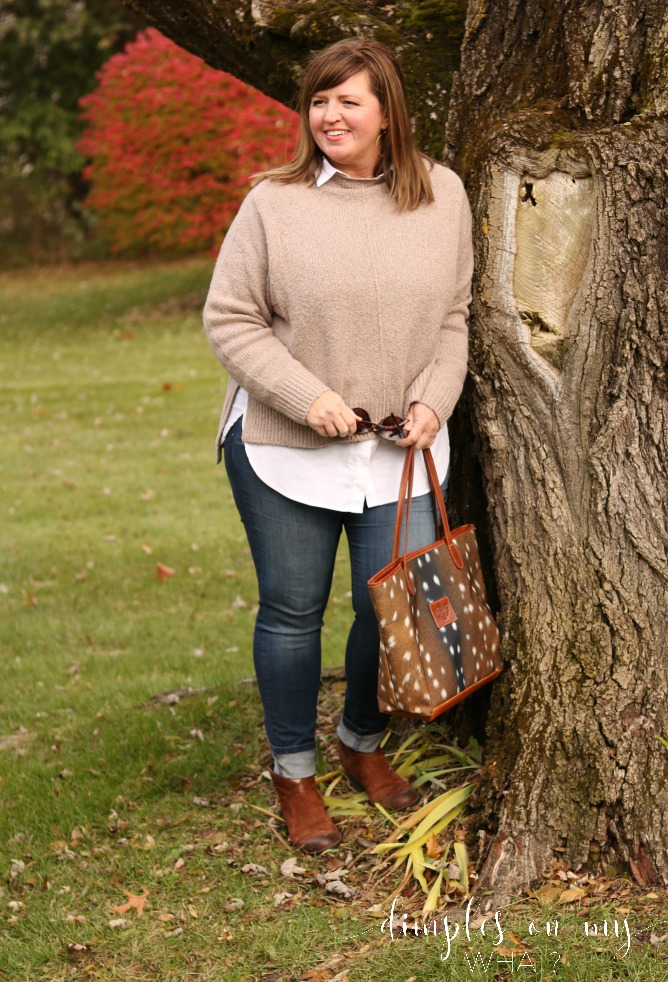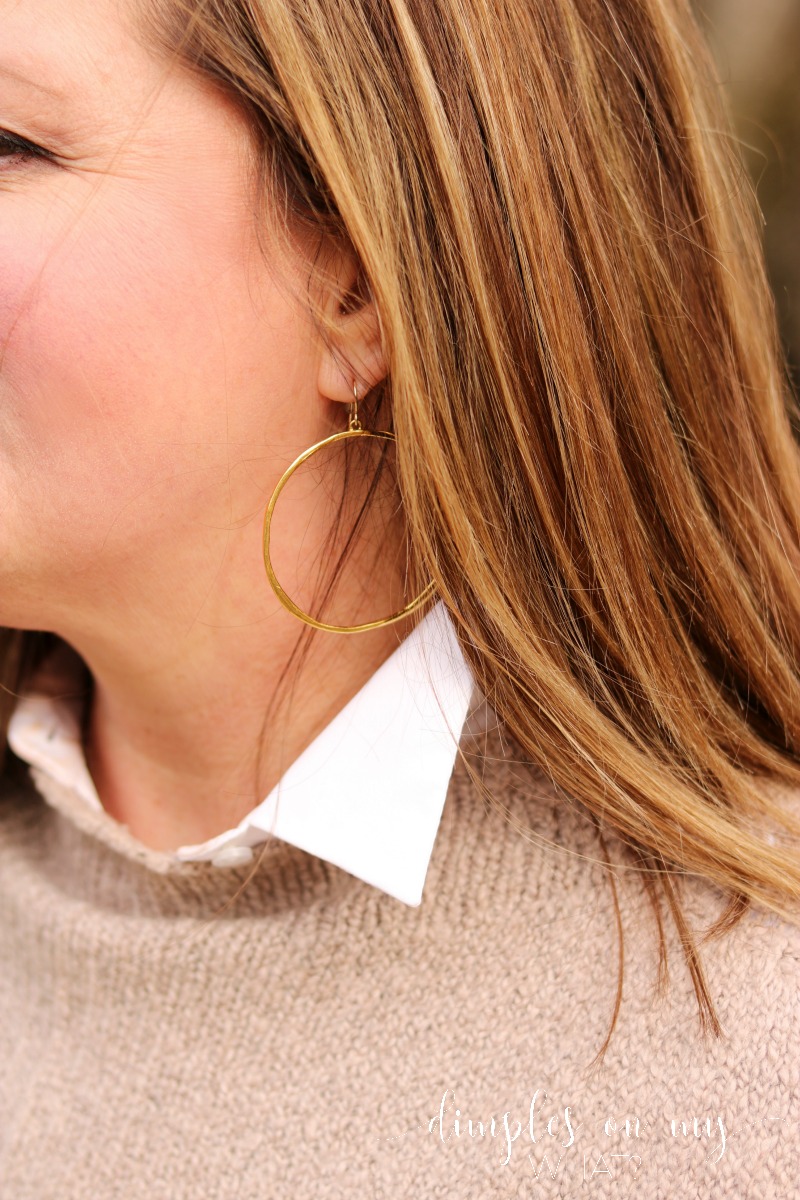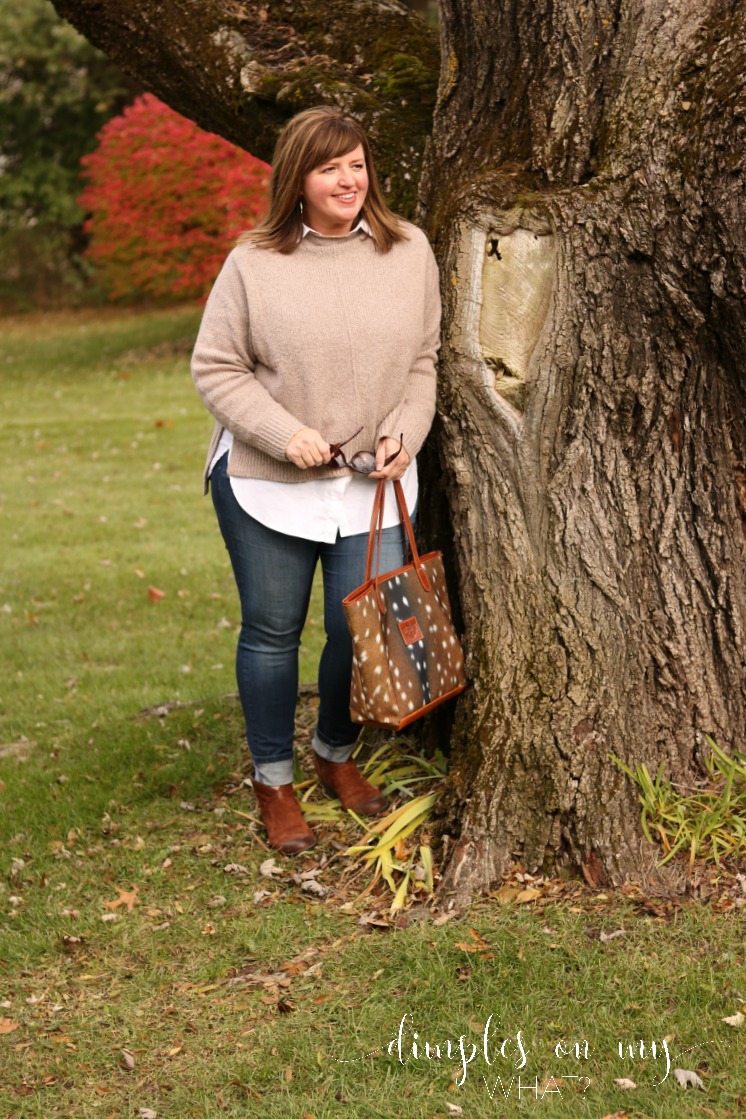 So there you have it. This may not have been short, but quite honesty the warmth and ease of this loose, chunky sweater will be feeling sweet all winter long.
Is this a trend you'll incorporate into your fall look, whether you're big boobed, big boned or you have a bootie that has it's own zip code? I hope so.
It's okay to break the rules a tiny bit and wear what makes you feel good.
Your BBBBBFF
(Best Big Boned,Boob and Bootie Friend Forever) 😉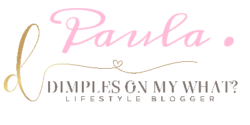 Shop this look
---
---
This post contains affiliate links. Purchasing made through these links may result in dimples on my WHAT? making a commission. You pay no more for the products purchased. And as always, it's free to look.