+ The Final Ageless Style Linkup of 2017
It's absolutely crazy that we are already in December! The first Tuesday of December at that! You know that means it's time for another month of our Ageless Style Linkup. We are short a few of our style bloggers this month and will be regrouping after the holidays. But that doesn't mean we're short on style. We're closing out 2017 showing you our individual take on Holiday Style.
Don't forget to keep scrolling to the bottom and link up your own fashion post. As well as stop by and take a look at some of my co-hosts holiday style looks.
Christmas Just Got Crazy
I am so NOT ready for Christmas. I'm not just saying that either. If you follow me on Instagram, you may have read that I'm in near panic mode. I have done little to no shopping. No big deal, except I have 6 Grand-Littles who might like a gift from MomMom! Our house is still in disorder because of final basement reconstruction. Decor is not even at "bare minimum" stage. AND I just got summoned for jury duty the week before Christmas!!!! Giant meltdown is being suppressed as we speak, but the heavy sweating has already begun. Because whether or not I'm chosen as a juror or if the trial is canceled, I have to be prepared for the commitment.
What all this means is that Christmas will have to be super simple and casual. It's not too different from any other year except that I'll really be forced to not go overboard with anything. Easier said than done.
Casual Holiday Style
What does this do for my holiday style? Not much considering that my style is generally pretty casual. I have no fancy events to attend this holiday season, so my holiday style will also be casual. And when I saw this super cute flannel baby doll blouse from Lane Bryant, I knew she would be mine – IF she fit right.
Fit to Flatter or Not
If you saw my last post, you know I like me some fashion guidelines, even if those guidelines help me break my own self-imposed style rules. This blouse is beautiful, but it's a ton of fabric and with a bodacious bust and bountiful boo-tay, there's no way to make this blouse "slimming". But once again, I don't really care.
I may try to belt this beauty at some point. But quite honestly, the concept that the slimmest part of a woman's body is just below her bust, is a moot point when that bust is headin' south and breaking speed records doing it. If I belt the skinniest part of my body, I'd be wearing a choker. 😉
Baby doll styling aside, what's not to love about this blouse? It's flannel. Soft. Plaid. It's a festive red. POCKETS! The empire-waist is a unique take on a flannel shirt. And bonus: Any food babies are MY secret!
Speaking of food babies: these NYDJ ponte zip leggings are a baby doll top's partner in cookie eating crimes this holiday season. They are thick enough to keep you warm and smooth out any lumps you might have.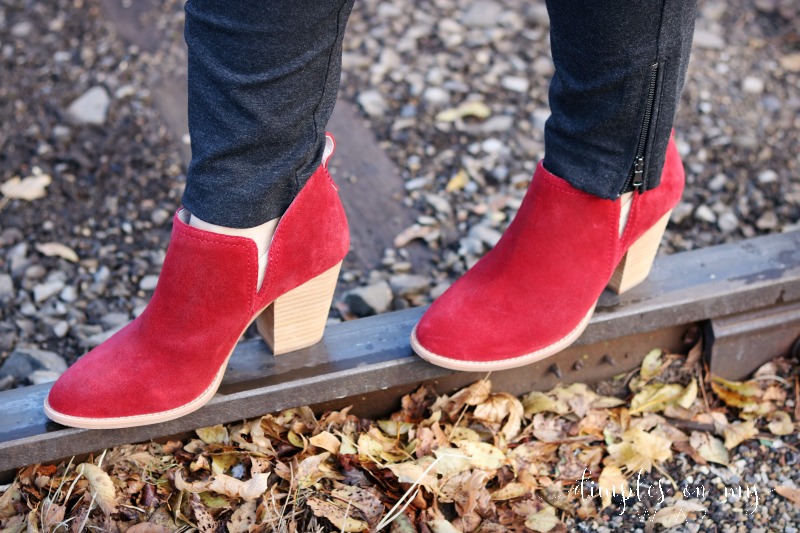 Red Shoe Diaries
I have been looking for a pair of red booties this season and these cuties did not disappoint. I think a red shoe will go with SO many things. I have already put them on with jeans and a cream sweater and they made a simple outfit look festive. Holiday style or not, these booties may have caused me to be looking for other colorful shoes. And for a girl who LOVES a neutral taupe shoe, that's saying a lot.


Have a Holly Jolly Christmas
Casual holiday style would be perfect for a tree trimming party. A casual dinner with friends or family. Even if you're just out holiday shopping, wearing something that looks or feels festive might help you get in the holiday spirit. Throw on a cute little beanie and some mittens and pretend you're in a Hallmark Channel Christmas movie.
Whether your holiday style has you dressed up in red flannel, sequins, velvet or Christmas jammies, I'm wishing you a Christmas happier than any Christmas movie.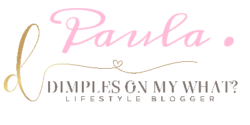 And remember that wearing a smile is the fastest way to spread cheer any time of year.
---
Shop the Look

---
Link It Up
This Party Has a Few Guidelines:
Have fun and make some new friends! Please visit at least 2 other links.
Please link to your actual post and not your blog's homepage.
Please link back to the Ageless Style Link Up in your linked post.
Feel free to use #AgelessStyleBloggers in all of your social media posts
Please follow each of your hosts on at least one social media channel via the links below.
Cathy ~ Cathy V Style blog, instagram, facebook, pinterest, twitter
Daenel ~ Living outside the stacks blog, instagram, pinterest, twitter
Debbie ~ Fashion Fairy Dust bloglovin, blog, instagram, pinterest, facebook, twitter
Jennie ~ A Pocketful of Polka Dots blog, instagram, twitter, bloglovin
Jodie ~ Jodie's Touch of Style blog, facebook, instagram, pinterest, bloglovin, twitter
Paula ~ Dimples on my What blog, facebook, Pinterest, Instagram, twitter
Shelly ~ The Queen in Between blog, instagram, bloglovin, Pinterest, facebook
============================================================================================
Link Up Your Own Fashion Post