This Color Shoe Will Match Anything You Wear
Have you ever asked, "What color shoes do I wear with this?"? There's one color shoe that will look good with almost any outfit you wear. That's a big statement to make, I know. But, finding the best color shoe for your outfit might only require you to look in the mirror.
*This post contains affiliate links. I will earn a commission should you make a purchase.
What Color Shoes Do I Wear With…?
Some outfits are EASY to match with shoes. You can pull one of the colors out of your gorgeous floral dress or printed blouse and add that same color shoes for a pop of color. You know you want to wear a black dress and tights with your black block heel pumps to create a long, lean monochromatic look.
We also know that nude shoes, whatever nude is for your skin tone, is a wardrobe staple. And who can resist a pair of leopard print shoes? They're almost a neutral now.
But we've all had that dress, blouse or pair of pants that have left us asking, "But, what color shoes do I wear with this?" The answer isn't complicated, so I won't bore you any longer with ALL THE WORDS…
THIS Color Shoes Will Match Any Outfit
Shoes the same color or tone as your hair will match almost anything you wear!
I'm serious! I can't remember where I learned this, but it would explain why some of my past favorites were a rusty brown cognac color from when my hair was brassy, brown. And why I'm currently amassing an extensive collection of taupe and camel colored shoes. I'm also starting to become attracted to more ashy, gray-toned shoes. Hmmm. Hello, salt and pepper new growth. 😉
Your feet and your head are the bookends for your outfit.
Why It Works
Wearing shoes the same color as your hair works because it creates balance to the entire look. Your hair and your head are like bookends for your outfit. So, when they are same shade, it just works. There's no need to get super matchy, matchy. Shoes in the same general color family will work. Still not sure what I mean?
My friend Cathy from The Middle Page provides a perfect example of how this works with her rusty red hair.
This Color Shoe Will Match Anything You Wear
No need to get crazy matching your hair color exactly. If you get the tone and level of color close, it will work. I've put together these color collections to help get you started.
Blondes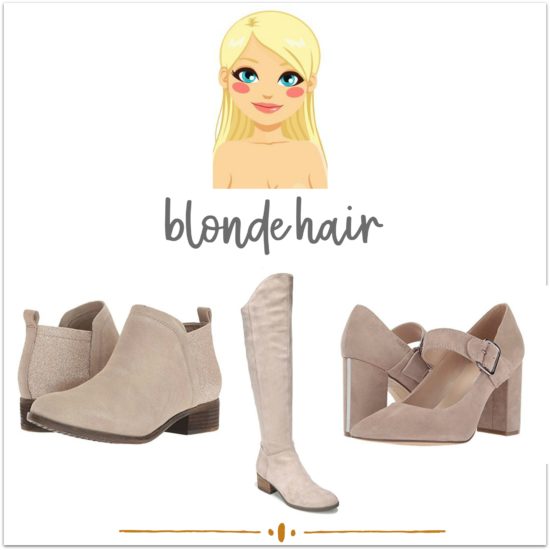 Blondes can wear shoes in the white color family. That would include bone, tan and champagne. You may be able to cross into light grays if the color level is similar to your hair color.
Strawberry Blondes, could your hue possibly be rose gold? Lucky ducks!!!
Shop Shoes for Blonde Hair
---

JavaScript is currently disabled in this browser. Reactivate it to view this content.
Light Brown Hair
Those with light brown hair can search for shoes labeled as cognac, caramel, and light brown. Camel might be an option if you tend to have yellow undertones and the color level is close. Remember, BOOKENDS! 😉
Shop Shoes for Light Brown Hair
---

JavaScript is currently disabled in this browser. Reactivate it to view this content.
Dark Brown Hair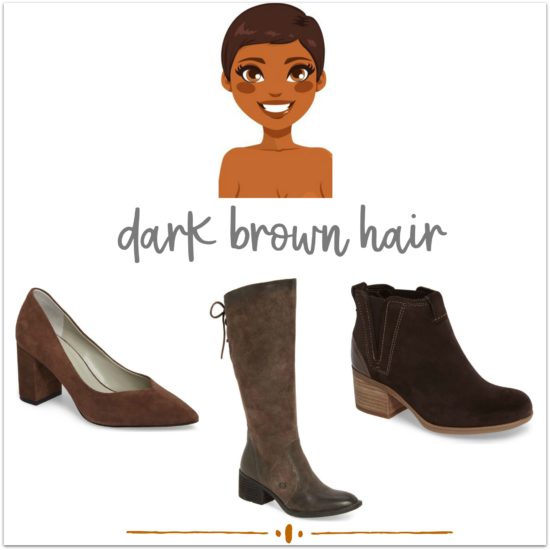 Dark brown haired beauties can wear rich brown shades on their feet. Cocoa, Java, and chestnut. They look as delicious as they sound. If your hair is nearly black, black shoes can be your signature color. The rest of us can obviously pull off black shoes, but they will not create the head/toe balance they do on YOU.
Shop Shoes for Dark Brown Hair
---

JavaScript is currently disabled in this browser. Reactivate it to view this content.
Red Hair
Okay, you feisty redheads, you have lots of choices that aren't really red. Most natural redheads have brown undertones so some of the colors you look good in cross over into the light brown hair category. Cognac shoes are my favorite, and they look GREAT on YOU!
If you dye your hair red or have special red-ish tints put in it, your color choices will differ… obviously.
Shop Shoes for Red Hair
---

JavaScript is currently disabled in this browser. Reactivate it to view this content.
---
Gray Hair
Gray-haired Lovelies, you have lots of options based on the individual tones in your natural hair color. You are another color that has tones that could cross into the blonde hair shoe colors too. Taupe, silver, gray and champagne could be great on you depending on your hair colors. Look at the overall tone of your hair when choosing your ashy colored shoes keeping to mind you want to create the bookend balance we talked about earlier.
Shop Shoes for Gray Hair
---

JavaScript is currently disabled in this browser. Reactivate it to view this content.
---
Did You Find Any New Shoes?
You can obviously wear any color shoes you want with whatever you want to wear them with. But when you're stuck, this is an excellent place to start.
Have you ever heard this tip? And do you already have a closet full of shoes the same color as your hair or do you need to go shopping?
Shoe shopping is the best shopping!
Enjoy!
Paula
SHARING IS CARING
If you enjoyed this post, please share it on Pinterest or your social media pages. Thanks!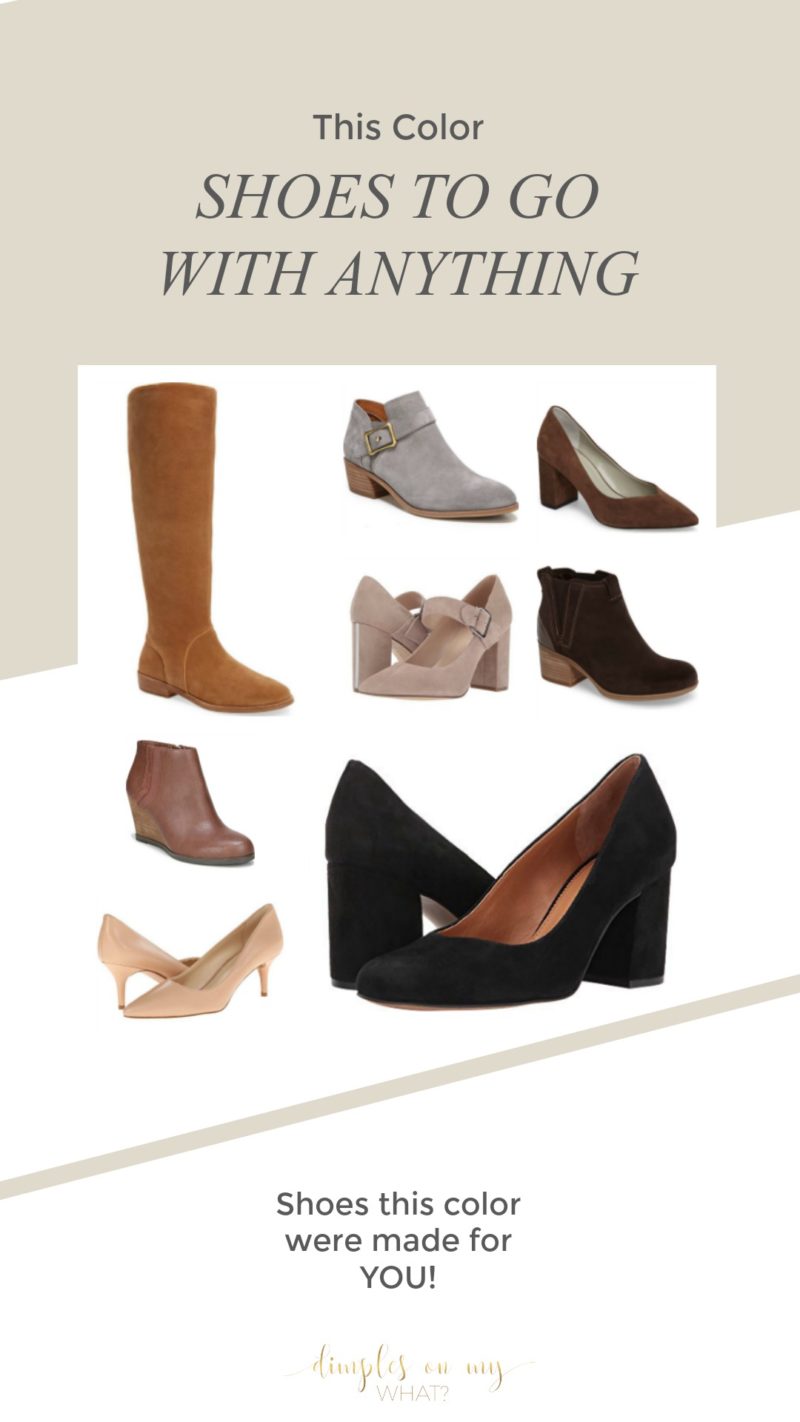 ---
Other Posts You Might Enjoy
6-Month Going Gray Hair Update
The Best Booties For Full Figures
---
This post contains affiliate links. This means if you buy products through these links I make a small commission. All opinions are my own. For more details about what these means see here.