It's a Birthday Party the Ageless Style (Linkup) Way
I love plaid! And I especially love buffalo plaid. While it may be unconventional, I believe a buffalo plaid flannel shirt can even be dressed up to the point you can wear it to a fancy party. And to that point, I've come up with not just one, but three (or more) ways to wear a buffalo plaid flannel shirt to a holiday cocktail party.
(Cocktail) Party in Ageless Style
The Ageless Style Linkup is a group of 10 fashion bloggers over the age of 40. We take one fashion theme on the first Tuesday of each month and style it in our own unique way, proving that style has no age limit. Style is as unique as the woman wearing it!
This month's AGELESS STYLE THEME was chosen by Jodie of J's Touch of Style, and because it's her birthday month, she decided the Birthday Cocktail Party as our fashion theme. She wanted us all to dress up fancy-schmancy like.
But since I don't have any real-life fancy parties to attend and in keeping with my resolve to buy fewer clothes and wear more of what I already own, I'm keeping it R.E.A.L.
When I started planning this holiday party look and mentally going through my closet, I came up with an idea or two using this lace top I wore here. I also thought about styling an inexpensive black knit dress. There's absolutely nothing wrong or even dull about that. It's a classic.
But then I decided to get deeper into my wheelhouse and create a look that represents my most genuine sense of style.
---
Mad for Plaid
I'm a sucker for plaid, and buffalo plaid is one of my favorite plaid prints. My mind went nuts, thinking of all the ways I wanted to wear this classic J. Crew red and black buffalo plaid flannel shirt (wearing an XXL, click on photo for link) for my party style. Yes, I would definitely wear a flannel shirt to a cocktail party!

Mixing Plain and Fancy Style
I love mixing textures and prints. But more than that, I'm a sucker for pairing casual and fancy pieces with each other. The juxtaposition just works to my eye. I think it represents who I am on the inside, as well.
Style That's an Outward Reflection of Who You Are
I share style tips for curvy women, and I have ideas for what works and what doesn't. But in the end, our style is unique to us, and I tend to think fashion is how what we wear outwardly represents the woman we are on the inside. It's probably why I have such a strong opinion about women who wear mini-skirts with thigh-high boots. Who are they, Vivian, before she met Edward? But, I digress.
I'm that girl who can adapt to her situation, be it the "work-wife" making small-talk and laughing at the appropriate times at the company Christmas party and my "12-year-old-boy humor loving self" is perfectly at home around a pot-luck buffet. So I think these looks represent all sides of Paula.
---
One Buffalo Plaid Flannel Shirt – Three Party Looks
Black Pants & Blue Pumps
This is my least favorite look out of the bunch, but I think it's because the pants are ill-fitting. They are too large in the waist, and to cinch them at a flattering place on my waist, I had to hike them up pretty high, which made them a bit too short.
However, use this look as inspiration and consider a better fitting pair of paper-bag waist black dress pants in either ankle length or longer. The paper-bag waist works well as the feminine counterpart to the more masculine buffalo plaid flannel top. It's like the Brawny Man intersected with Audrey Hepburn.
Accessories
You can rarely go wrong with a leopard print belt, and it did an excellent job holding my pants up. 😉
The necklace is a unique yet timeless addition to a jewelry capsule wardrobe if there is such a thing. It really makes a statement but doesn't compete with the plaid shirt or the leopard belt.
I kept the bag very neutral, but it's not out of place because it actually matches my hair. It's a similar concept to the one I mentioned in this post.
The Shoes
Not long ago, I did a major purge of dress shoes and kept only those shoes I could keep on for over an hour before I was in pain. It left me with very few formal shoes. I don't even have the necessary black pumps right now. So, to keep this look more festive, I added a pair of royal blue pumps. Holiday attire doesn't have to be just red or green. 😉
Shop this look

---
White Lace Skirt and Black Suede Boots
Okay, I added this look like an afterthought, but it might be my favorite one. Not only does the white lace skirt pop against the red and black plaid, but the contrast of the buffalo plaid flannel and lace makes me happy. Is that weird?
I also chose to knot the hem of the button front flannel shirt. This styling allows me to manipulate where the waist-line is.
The Boots
If I had had black dress pumps or "shooties" (not quite booties), I would have worn them with tights. But I bought these wide-calf suede boots (also linked in regular calf) early this season, and they actually work well. You can't see it in the photos, but they have a patent leather block heel.
Accessories
Again I kept the bag neutral as to not compete with the lace and plaid. But for the necklace, I went for a bit of sparkle with bright gems and gold statement pieces. I think I longer pendant could work here also.
Shop this Look

---
Black Sequin Skirt and Those Blue Pumps
If you have followed me for a while, you might remember this sequin skirt styled three ways last winter. And one style was very similar to today's look. I guess I've been concerned about getting the biggest bang for my fashion dollar for longer than I thought. Once again, this is the perfect example of opposites attracting.
Instead of buttoning the placket of the buffalo plaid shirt, as usual, I left it unbuttoned and wore it like a wrap top. I didn't pin it for these photos, but if I were going out, I would add one or two hidden safety pins for modesty and security. A decorative broach could also make the style even more unique.
I also added a black lace bralette just in case of a "wardrobe malfunction." There's not much sexy about a peek of "industrial strength" bra.
Accessories
Keeping with the blue heels but popping out the leopard print again with the clutch. If you live in warmer climates, a strappy sandal will look swanky with any of these outfits.
Shop this Look

---
Unlimited Pairing Options
I thought of a bunch of other pairings to fancy up the buffalo plaid flannel shirt. It would be STUNNING with a tulle skirt, a pair of tights and sequin shorts, or a flared leather skirt or pants.
Check these out

---
How Would You Wear It?
I think the buffalo plaid flannel shirt paired with a fancier bottom is fun and shows creativity and my personality. It also pushes the fashion envelope a little. Would you wear a flannel shirt to a cocktail party? And if so, what would you pair it with?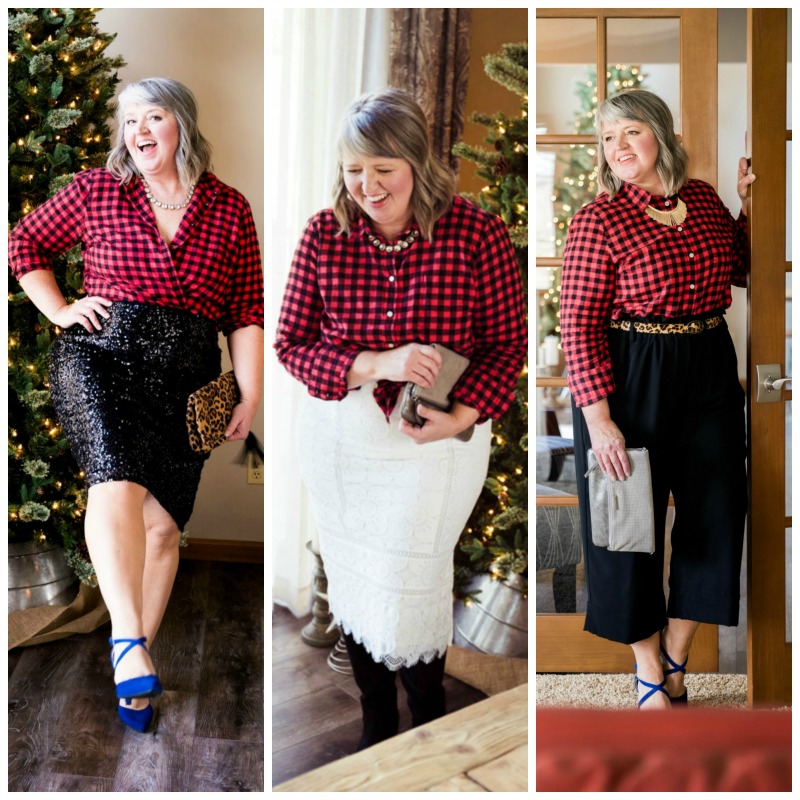 ---
SECRET WEAPON
Ashy, pasty legs are the bane of those of us who don't live in perpetual warmth and sunshine, or just those of us who avoid tanning. Spray tanning is a treat, but if that's not in the budget, I've got you.

My new favorite camouflage for winter legs or just leg imperfections is Sally Hansen's Airbrushed Legs Body Makeup. I'm wearing the medium color in these photos and also here.
Initially, it looks a little like "coffin-makeup," but once it "settles down," your skin will look extra creamy and smooth. Self-tanners make your legs look darker, but this acts as a long-lasting foundation and blurs out the veins and imperfections. It will last a couple of days if you pat your legs dry after showering and avoid oily moisturizers. I even wore it swimming.
---
The Linkup
Feel free to link your fashion post below.
Please link to the actual post and not to the homepage.
Link back to this linkup in your post.
And please visit at least two of my cohost's pages.