Heat Things Up In a Tropical Midi Skirt from Asos Curve
Have you fallen into the date night rut of going to the home improvement store and burger joint? Don't get me wrong, I love me some home improvement shopping, but after being married for 35 years, a girl still likes to dress up occasionally and head out for a special evening. But what do you wear on a date night that doesn't end in the lumber department? Or, if you're lucky, it does… Get it? "Wood" you think about it? ;-P
A Tropical Midi Skirt Heats Up Date Night
I might be obsessed with skirts right now and I don't care to admit it one bit. When I saw this pretty high-waisted, palm print column midi skirt (available in misses & plus sizes) on the Asos Curve website it just called to me. "Date night!" (No worries, I bought it before No Buy July.)
This post contains affiliate links. If you purchase through a link I will make a commission with no additional cost to you.
See this link for my current body measurement for a more exact sizing reference.
Bare Arms but Not Much Else
I'm one of those weirdos who like rules. Although I don't follow all fashion rules (because style is unique to YOU), I think the one that should be followed by all of us concerned about modesty is the one that says, only bare one area at a time. Basically, it means, if you're showing cleavage or lots of chest and arm skin, don't reveal too much leg and vice versa.
I'm coming to terms with all my midlife fluffiness but I still don't love showing my arms. However, while I've got my summer tan on (even if it's a little "farmerish"), I'll take a little risk and bare my shoulders and arms.
Subtly Sexy
While I don't usually wear "string" straps (it still feels kind of naked to me), I love the look of this cami with the longer, slim-line, tropical skirt.
The slit in the skirt is sexy but not in an overt way. I had to try to expose this much leg by doing the awkward but infamous blogger "stanky leg" pose. 😉 At least that's what I call it.
It's much more classy to be subtly sexy, in my opinion.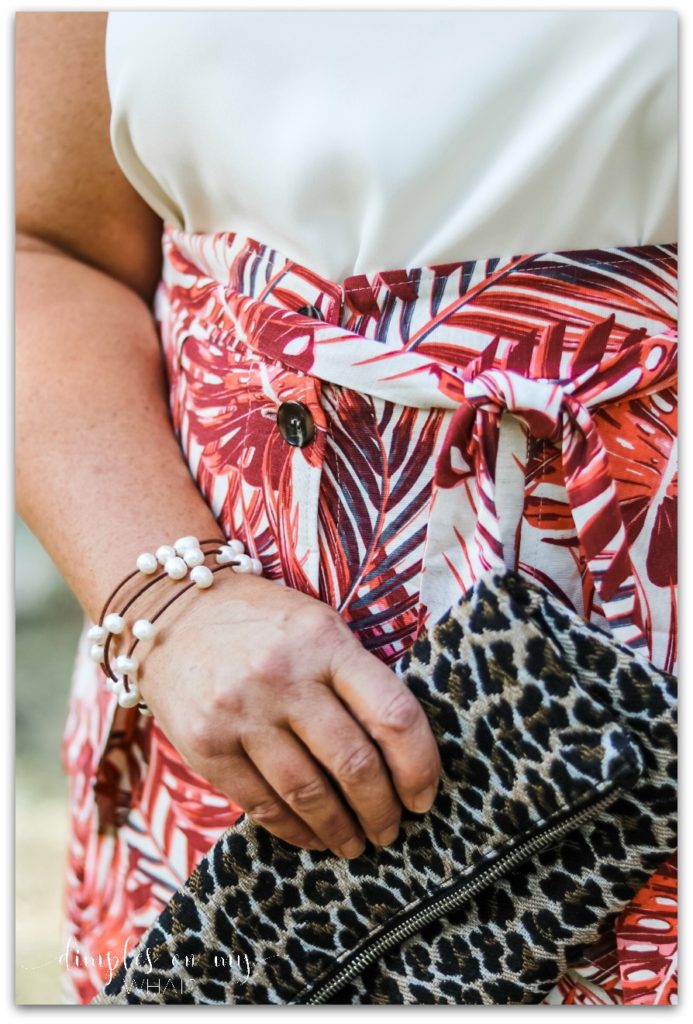 Simple Accessories
I generally keep my accessories simple but especially in the summer because – This certain sweaty stage of life, ugh.
I Chose Only One Statement Piece Near My Face
I generally prefer a bracelet over a necklace in the summer. And the scalloped detail of this cami already makes the neckline special so I chose to keep it simple wear a bracelet alone and earrings only near my face.
Hair and Earrings
It's been hotter than the devil's butt crack here so a simple ponytail in my short hair got the hair up off my neck. Pulling a few pieces out around my temples and adding a dangly earring softens the look. I also think a longer earring slims a fuller face and neck by drawing the eye vertically. Double chin and neck fat, I'm talking about you!
Shoes
Of course, my beloved espadrilles go with everything, to my mind. These are old, but there are so many pretty espadrilles out there right now. If you don't already have some, get yourself a pair in a neutral color and your summer "fancy" shoe needs will be complete!
Need a low heeled, supportive espadrille? Try these. I wore them here.
Curvy Girl Date Night Outfit for Home Depot?
Now, back to that date night. We'll probably have to go someplace other than our usual "date night" haunt of the home improvement store when I wear this gorgeous midi skirt. (True story.) We're super romantic. But, acts of service or more specifically "DIY me something Honey", is my love language. 😉 But Italian food will be okay for one night.
Where do you usually go on date night? I hope it's more exciting than mine. Although a Netflix marathon and frozen pizza are close to my heart too. 😉
Be cute, comfortable & confident,
Paula
---
Shop This Look