July's Ageless Style Blog Linkup
Why is a baboon's butt red? Because it helps attract the opposite sex. Well, that bootylicious theory has been disproven but I made you look. 😉 And even though it has nothing to do with effortless summer fashion, it was the perfect lead into this month's Ageless Style Linkup. The theme Shelly of The Queen In Between has given us is perfectly timed with this 4th of July week – Red, White, and Shoes.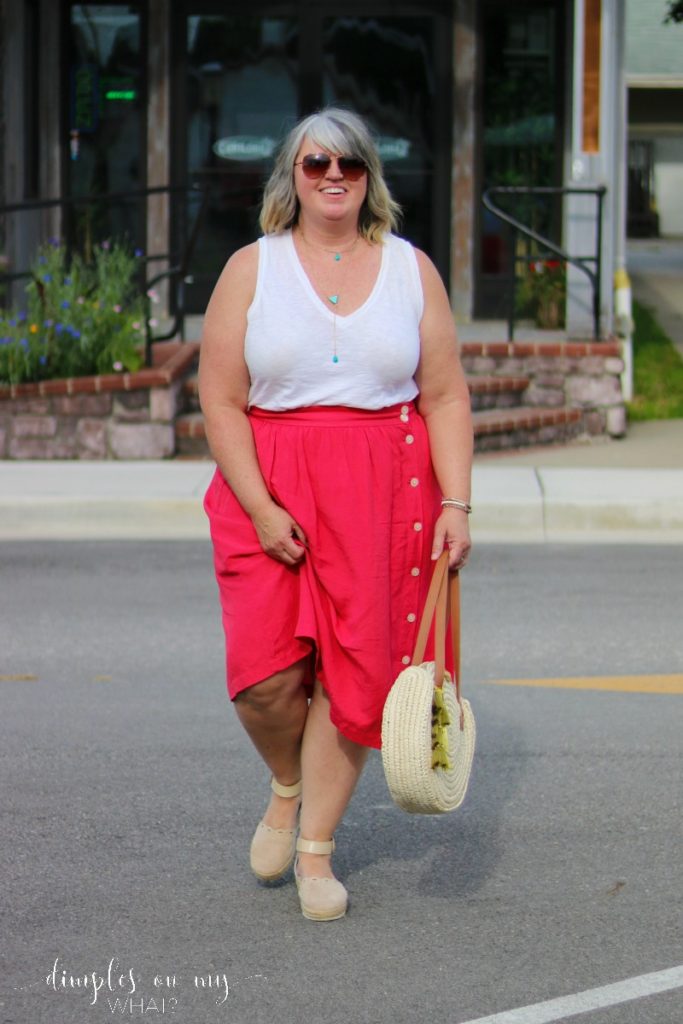 What's a Linkup?
The Ageless Style Linkup is a group of 10 fashion bloggers over the age of 40. We take one fashion theme on the first Tuesday of each month and style it in our own unique way, proving that style has no age limit. Style is as unique as the woman wearing it!
If you're a blogger, join the party and link your own fashion posts at the end of this post. And if you're looking for style inspiration, visits any or all of my co-hosts linked below.
Shopping My Closet
Whether wearing red helps attract our mates or not, red is a great color and it makes me feel pretty. You might want to add to your wardrobe. When Shelly first gave us this theme, I thought it was going to be the perfect opportunity to buy a pair of red shoes and pair them with a white dress I've been wanting to style.
But, if you've seen my Instagram Stories recently you know I've been in a state of major "stuff overwhelm" and I've embarked on a semi-epic closet purge and reorganization. While I don't think I'm quite ready to create a full-out capsule wardrobe (I'm baby-steppin' here), I'm joining the less-is-more movement by participating in an event in the slow fashion community called, No Buy July. I'll be talking more about it in the coming weeks, but I first read about it on Emily Lightly's blog.
But old habits die hard and I did go shopping for this post, but in the end, I decided that would only add to my "problem". I want my style to look pulled together and effortless. But I also want it to BE effortless. So, I shopped my own closet for this look. Baby-step – shop my closet. (10,000 points if you get this movie reference – tell me in the comments and your points will be awarded thereafter.) ;-P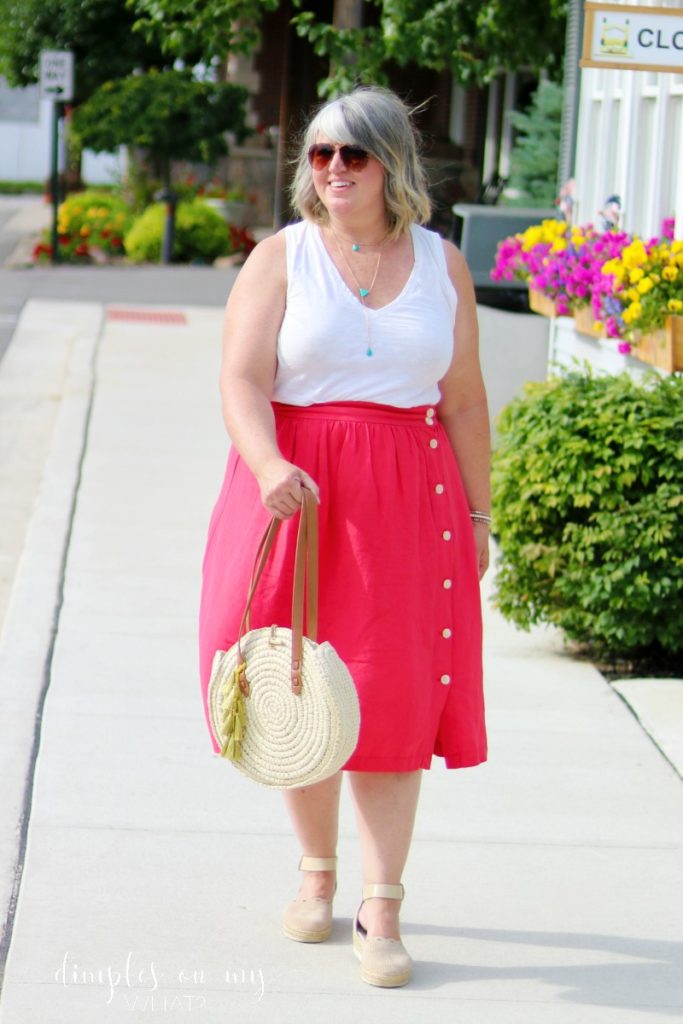 Components of Effortless Summer Fashion
But if I were buying a new red, skirt, you can find a bunch linked below. And there are some REALLY CUTE ones!
This post contains affiliate links. See the full disclosure here.
I find that if we have well-fitting pieces we love to wear because they are comfortable and flattering, we can pull off an easy-breezy vibe without having to think much about it. A pretty red skirt with a tank top and comfy shoes fits that bill.
Bad Backs & Going Commando
On top of my closet problems, I've been dealing with a recurring back issue. I'm feeling a bit better now, but I was experiencing a particularly bad flare-up, to the point I couldn't always pull-on pants or underwear, or even fasten my shoes.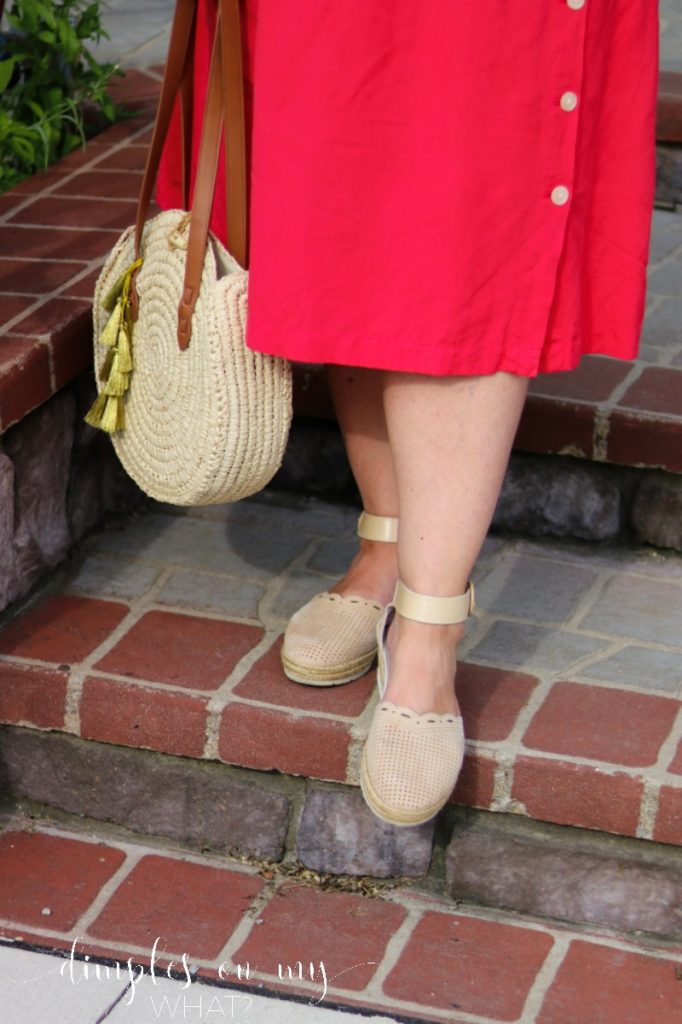 These super comfortable espadrilles from Earth Shoes are a new edition to my summer shoe wardrobe and they have Velcro fasteners. So, even if I can't bend over to secure it, it's easy for The Hubs to help me (and he has had to). Luckily, I'm still able to take care of other personal business.
You might also like, What Color Shoes Do I Wear with This?
Effortless summer fashion is currently not just a style issue for me and it's imperative for me to wear pieces that can be put on over my head. They must also be long enough to go commando with less risk of flashing my own "hindquarters" to just any baboon out there. I've already attracted my mate with that super sexy pickup line – "Help me put my shoes on Babe!" 😉
---
CURVY GIRL STYLE TIP – I would normally wear my favorite long leg cotton undies with dresses to avoid chaffing. (I've written about it before.) However, if I can't, this is my favorite anti-chaffing gel to powder product out there. I keep at home and one in my purse. I'll be sharing another use for it soon.
---
I hope you have a wonderful holiday week and that you'll take more time doing all the fun stuff than fussing over what you'll wear.
Be cute, confident, comfortable… and SAFE!
Paula
---
Shop This Look
---
---
The Link Up
Party Guidelines:
Have fun and make some new friends! Please visit at least 2 other links.
Please link to your actual post and not your blog's homepage.
Please link back to the Ageless Style Link Up in your linked post.
Feel free to use #AgelessStyleBloggers in all of your social media posts
Please follow each of your hosts on at least one social media channel via the links below.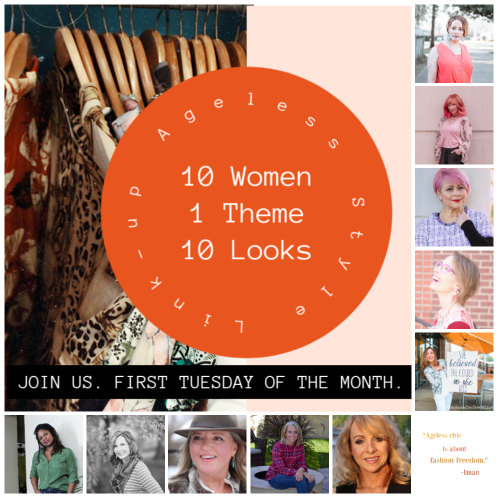 Debbie ~ Fashion Fairy Dust bloglovin, blog, Instagram, Pinterest, facebook, twitter
Jennie ~ A Pocketful of Polka Dots blog, Instagram, Facebook, Pinterest, Twitter, bloglovin
Jodie ~ Jodie's Touch of Style blog, Facebook, Instagram, Pinterest, bloglovin, twitter
Jonet ~ Fabulously Chic Over 50 blog, Facebook, Instagram, Pinterest, Twitter
Kellyann ~ This Blonde's Shopping Bag blog, Instagram, bloglovin, twitter
Lisa ~ Coast to Coast blog, Facebook, Instagram, Twitter, Pinterest
Paula ~ Dimples on my What blog, Facebook, Pinterest, Instagram, Twitter
Shelly ~ The Queen in Between blog, Instagram, bloglovin, Pinterest, Facebook
Link Your Post Here