How to Wear a Belt if You're Curvy
Belts and the big woman. That sounds like a 70's cop show. The only police who will arrest a curvy woman wearing a belt is the fashion police.
Okay, it's a corny opener, but if you're a curvy or bigger woman, you understand that even though belts can be tricky, the right belt worn in the right way will take your outfit from mumu to whit-whew! (that's a written whistle in case you were wondering. 😉 ) Here are my best tips for how to wear a belt if you're a curvy woman.
Also, although I've got the belt thing figured out, I'm still figuring out this blogging thing. So if you're interested in helping a sister out read the end of this post. I'm looking for your opinion!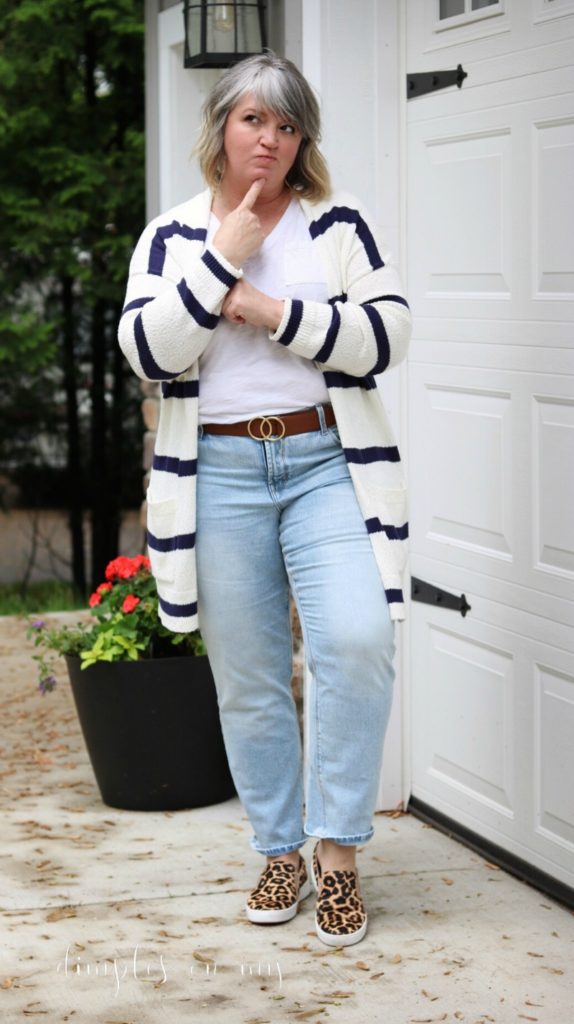 A woman's belt is for more than holding up her pants. It's a fashion accessory and can expand your wardrobe without purchasing anything new. Win! We can belt almost anything; dresses, kimonos, sweaters, tunics, dresses, and blazers to start. You could also belt a jumpsuit, but that will create a disadvantage if you have to scoot to the bathroom in a hurry. 😉
This post contains affiliate links. I'll make a commission if you purchase through these links but you don't pay any extra.. Full details here.
Best Belt Placement for a Curvy Woman
Tunics, sheaths and swing dresses may look breezy and effortless, especially on the skinny peeps, but belting them can create a slimmer silhouette for the full-figured woman. It will also help create a shape for someone with a straight body type.
I think the best belt placement if you're belting anything besides pants is to go high on your waist at or near the smallest place on your torso. This means the belt will most likely sit above your navel.
My navel area is rather like a donut right now because of a hernia above it. Cinching in the area above the hernia protrusion creates a nice little gather of fabric to help camouflage the bump while the belt sits at a most flattering curve of my waist. Here's a perfect example.
If the dress or blouse has a natural break or seam, belt it there.
Note: Some dresses don't belt well regardless of where the belt is placed or how wide or thin the belt is. This is especially true for us big booty girls, but it also depends on the fabric and the volume of the dress. I will often get a big poof of fabric between the belt and my buns. Don't be discouraged, simply move on to another dress.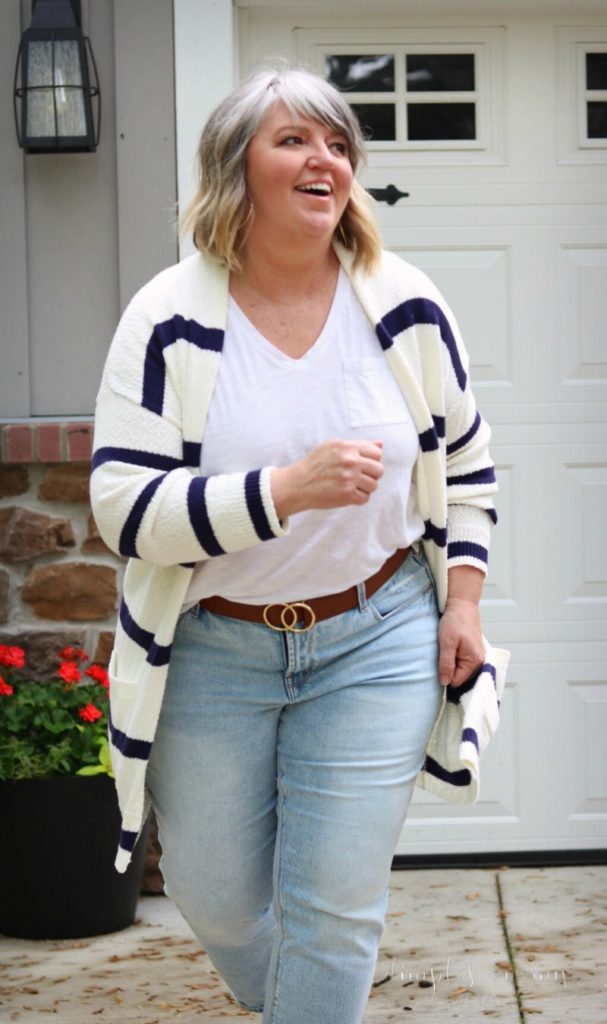 Best Belt Width for a Curvy Woman
Okay, here's where style advice is more opinion that fact…at least that's my opinion. I've read advice that says choose a wide belt if you're a bigger woman and then I've read the exact opposite. I think it has a little to do with the size of your torso too. My mom tells me "we're short-waisted Paula, we stand tall and sit short". I think it means that I don't have a lot of room above my pelvis so wide belts won't always work on me.
If you're like me and Mom, take the middle ground on belt size. I like a belt that's about an inch wide but I have worn wider belts in certain situations and depending on placement. A smaller width belt would work too but if you're unsure, snap a photo in your mirror with each belt to determine what looks best on your frame and with your outfit.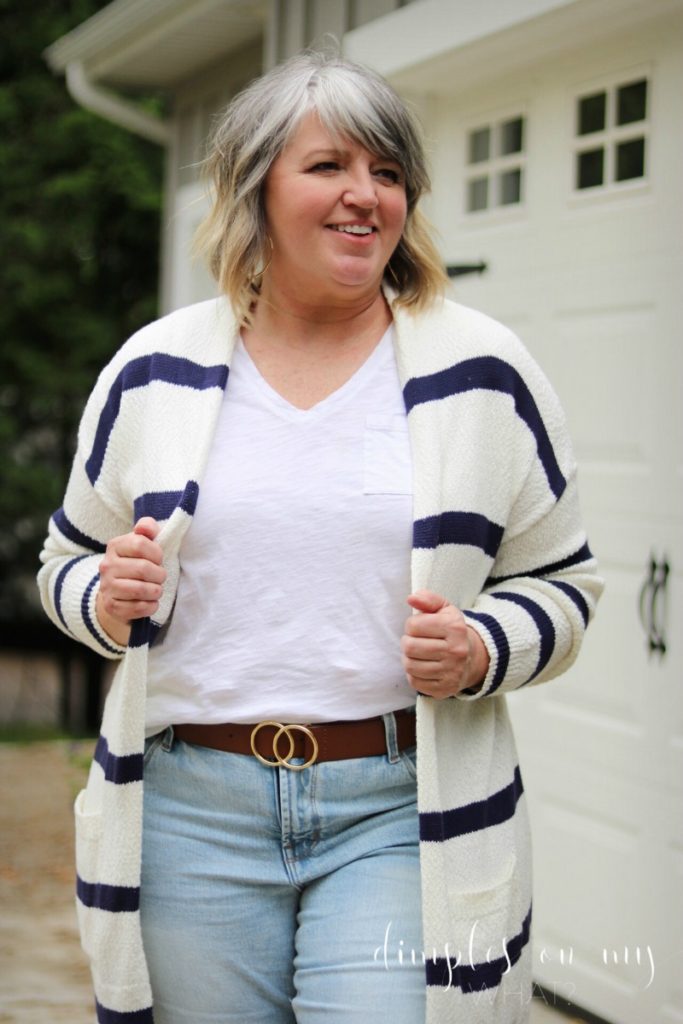 How to Belt Skirts and Tops – High or Low?
I belly is bigger now than it's ever been. If my boobs get low enough to meet my belly, belting the smallest part of my torso will mean I'm putting a belt around my neck. Chokers are still in, right?
Seriously though, if midlife is expanding your middle too, you'll need to wear your skirts higher on your waist. I've tried belting them around my natural waist and it's no bueno.
Seek Out Inspiration
My curvy style hero, Ms. Krisitne from Trendy Curvy, gets the curvy style right! Check out how she belted a poncho.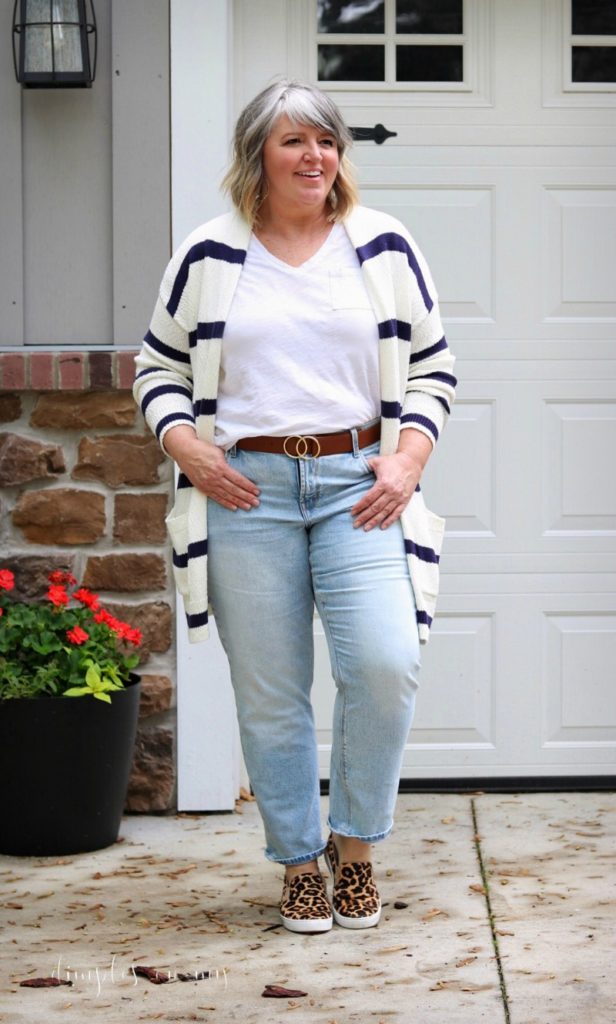 Don't Pull Your Belt Too Tight
A too tight belt can cause all our soft, wobbly bits to squish out above and below it. I prefer to have ultimate control of how snug my belt is fixed and that's the reason I stay away from stretch belts. I've seen full figure women like Tanesha Awhatsi, wear them successfully but it's not been my experience. Read her post about belting anything.
You're a Big Girl Now, Tuck Your Shirt In
There are blouses made to leave out, but bigger women can and should tuck their shirts in sometimes. There's also the cool and clever half or front tuck and a belt peeking out can complete a look. I'll link some pretty belts for this purpose.
But, do you want to know how to get more mileage out of your belt wardrobe?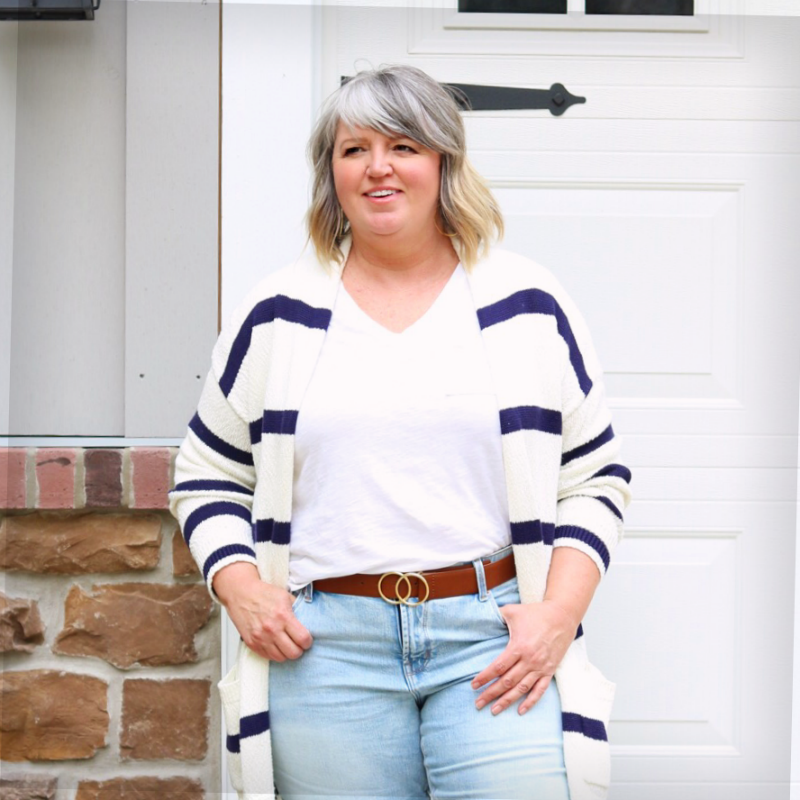 Customize Your Belts
Unless you're a straight or apple shape, larger women will almost always have much bigger hips than our waists, even our high hip measurement is larger. And most of us don't have the budget or storage space for tons of belts. What's a curvy girl to do?
Buy one of these nifty leather punch tools. Then buy the belt to fit the largest area you'll be using them, probably your jeans, and add holes to be able to cinch clothes in at the smaller part of your waist. Tah-dah!
If you don't already wear belts, I hope you'll get out of your mumu, er… comfort zone and try one. Get the basics of course, black and brown. Definitely add an animal print belt, they're neutral in my opinion. And then go for some special ones in metallics and bright colors.
If you're already rocking belts, do you have any style tips and tricks for making them work for your shape?
Be comfy, confident and cute!
Paula
---
Shop This Post
---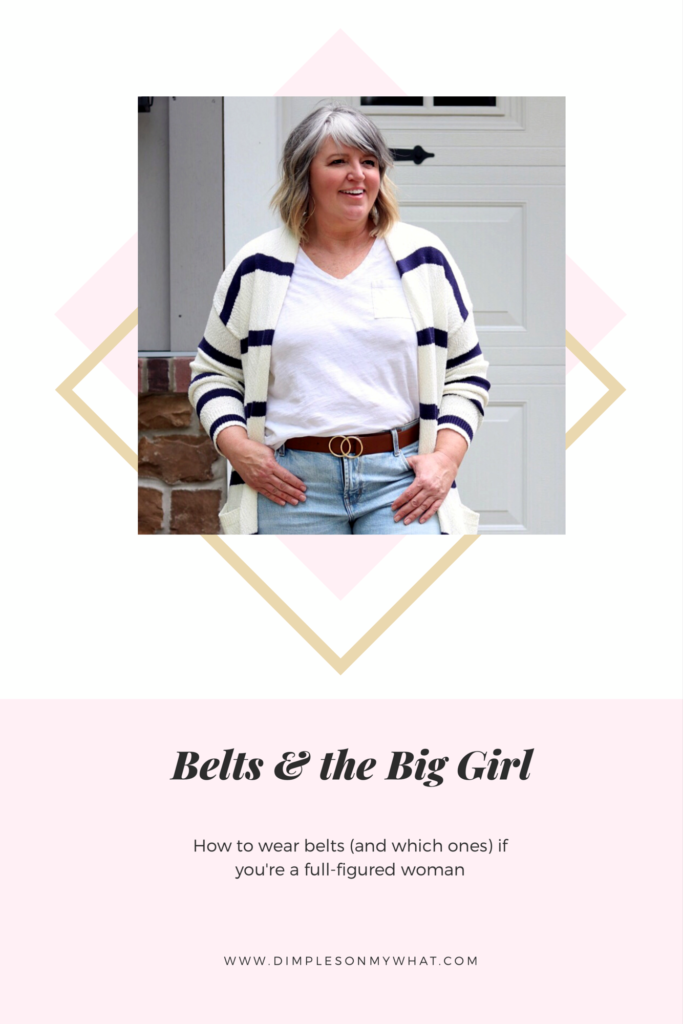 SUPER Important Questions for YOU!
As always thanks for your support of this blog. What other topics would you like to see covered?
I'm thinking of adding more unique, Paula-esque flavor to this corner of the internet by sharing some funny, real-life stories.
I've also never shared any of the remodel of My Cedar Palace. Would you like a peek inside? Besides my family, it's where my true passion lives.