Dressing for Your Dream Summer
It's almost summer and I'm inviting you to join me and Catherine's in welcoming long, lazy, sunny days in style. So come along and get ready for beach days, sun hats, sipping cool beverages and getting lost in a good book. Or maybe you'd rather roam around in the park or sprawl out on a blanket under the stars while taking in the tunes at a summer concert. No matter what your summer dreams are made of, a colorful Horizon Paisley maxi dress will take you there.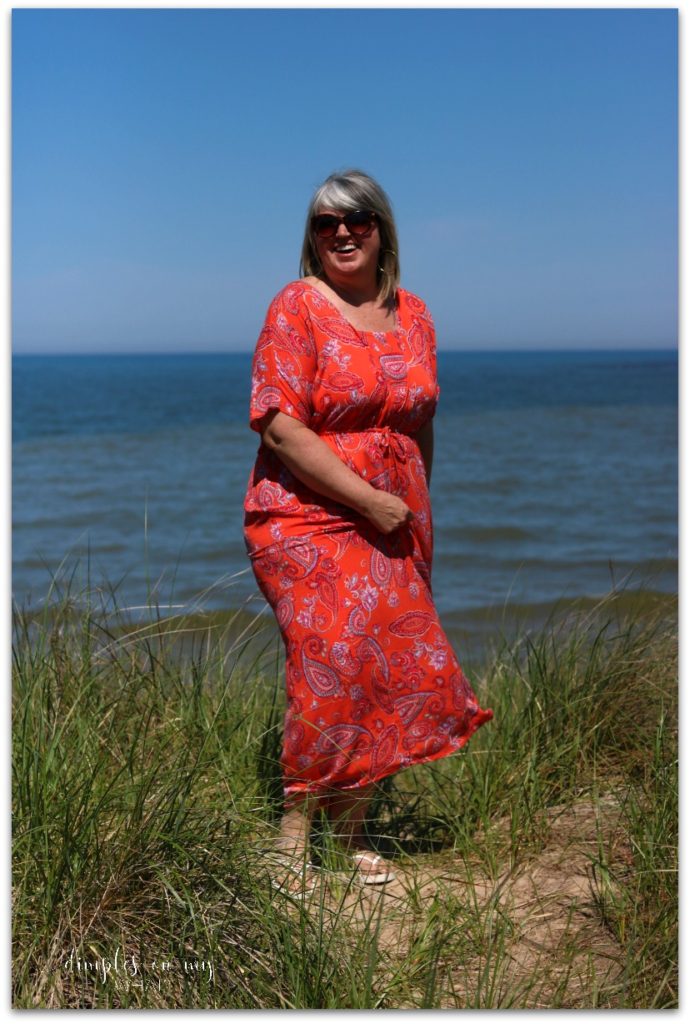 ---
Catherine's Plus Size sponsors this post. Catherines carries Style that Loves You! More gorgeous, curvalicious fashion can be found online and in their stores. My selected pieces were provided to me by Catherines, but all style and sizing tips are based on my personal style and opinions.
It's been unseasonably cold in Indiana this spring. We're also wondering if the rain will ever stop and the pool will finally heat up. Although I'm not sure if the weather will cooperate, the pool might get warmer once we flip the new solar blanket over so that the little bubbles are facing the water. Oops! I'm not mentioning names, but a certain husband pool-boy, might have done a great job trimming it to size and putting the new reel together, but he put it on upside down. Any-who…
A local mechanic shop's sign says, "Get your AC ready. Summer's coming… we promise." While I know that sign isn't gospel, I'm going to stand in faith with them and plan for heat
Beat the Heat in a Maxi Dress
For me, dressing for the heat means breezy, flowing fabrics and easy styling. And what's easier than a maxi dress? The fabric on this is lightweight and cool.
Accessorize for a Distinctive Look
The clearwater slide bracelet looks great with the maxi or with tons of other summery fashions.
Or, keep it simple and let this bright, patterned maxi dress do all the talking.
This dress makes a statement on its own and I'm honestly not a big fan of the cute butterfly pendant necklace with the dress. But, it is ADORABLE (almost a Summer must-have) with a white eyelet blouse and light boyfriend jeans. Just sayin', you might see it very soon in an upcoming look. 😉
Style Tip
Stay carefree and comfortable by keeping those thighs from screaming from a bad case of chafing. Wear long-line undershorts like these Simply Cooling Smoother Shorts under your dresses. (They had me at cooling.) You curvy girls will thank me.
Where To Wear
This Catherine's Horizon Paisley maxi dress could be worn anywhere summer takes you. Well, maybe not to the amusement park, but definitely to the beach as a swimsuit cover. And because this material dries fast it can be worn out to dinner or lunch with a friend afterward.
Or how about entertaining at home? You'll look like a movie star serving beverages to your guests. Okay, a movie star might hire servers but you're one of those approachable stars anyway. 😉
I'd also wear it around the house after I take my swimsuit off. With six little grandsons needing PBJ's and popsicles – pronto, I'm usually in a hurry and a maxi dress is a quick outfit… underclothes optional and you're still decent. 😉
What I'd Change
I've tied the dress up for additional styling and also because it's just a touch long. But, the knot detail would also look great with a cute pair of wedge espadrilles for a dressier outfit. Add a simple clutch and you've got date night covered.
"We get 18 delicious summers with our children. This is one of your 18. If that's not perspective, I don't know what is."
Summer Lovin'
Summer's not even officially here yet and I want to slow down time. I recently read a quote aimed at parents with young children but it got me thinking. It said, "We get 18 delicious summers with our children. This is one of your 18. If that's not perspective, I don't know what is." (Jessica Scott)
I don't know about you but the older I get, the faster time goes. Eighteen years is a blink of an eye, but even 50 years seems short now. Just think about it, the time we have left will go by just as quickly. So, get out there and have the summer of our dreams!
I'm dreaming of lazy days, comfy clothes, and someone to come wash my windows for me. 😉 How does your dream summer look?
Whatever you do, I hope you're cute, comfortable and confident!
Paula