I don't usually post about thee Anniversary sale. I think it's overhyped, and things sell out so quickly it's hard to stay ahead of it. But I want to share with you what few items piqued my interest, so here's what I bought at the Nordstrom Anniversary Sale 2023. Oh, and some of them are still available.
I have a confession, this year's No-Buy July has not been going well. Case in point, I bought some items from the "big" Nordstrom Anniversary sale. I've reined it in now and will attempt to take my fashion shopping fast through August.
My reasoning for breaking the no-shopping self-commitment was complicated, but at the most basic level, the Nordstrom Sale is a great time to pick up key wardrobe pieces at a reduced price. It's also an opportunity to buy luxury items you wouldn't usually be able to afford; it makes it a bit easier to pull the trigger.
**This post may contain affiliate links that may result in me making a commission from your purchase at no extra cost to you.
THE METHOD TO MY SHOPPING MADNESS
I don't usually look through every item in the sale; it's simply too much and too much temptation. Instead, I look at specific categories for particular items I'm looking for.
I always check out booties, outerwear, and cardigans because not only are they wardrobe staples, this is a good opportunity to save money on pricier items.
Last year I was in need of a replacement for my too-small cold-weather puffer coat, and I scored a gorgeous Bernardo quilted coat during the Anniversary Sale. I also bought this jacket for my mom's December birthday, so it's a good opportunity to buy gifts.
Keep in mind I won't keep everything. As you will see, some of the items I've purchased are still quite expensive (at least to me), so they will have to fit extremely well and be very versatile to be worth the ROI and space in my closet.
So let's get to it.
WHAT I BOUGHT AT THE NORDSTROM ANNIVERSARY SALE FOR 2023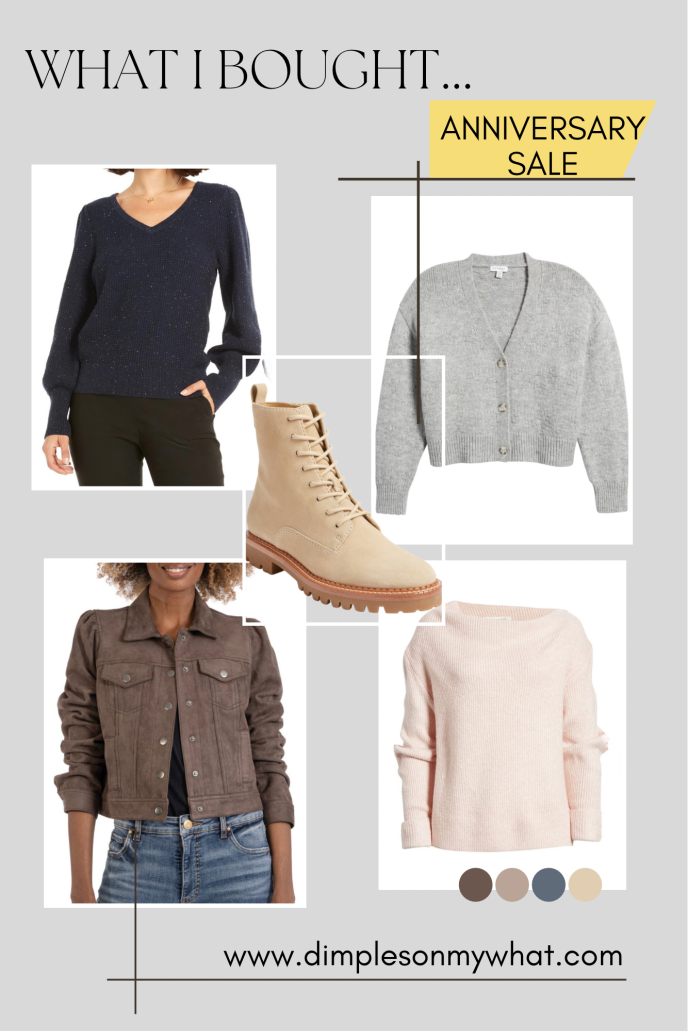 V-Neck Sweater 1X || V-Neck Cardigan L (sold out) || Pink Sweater XL; Plus-size || Faux Suede Jacket XXL || Lug Sole Booties
The navy v-neck cotton waffle-weave sweater is super soft and is an excellent staple. However, the 1X is a bit oversized on me, so I'm trying to decide if that's what fit I prefer or not. The Misses-sized version is currently only available up to a size large, so I can't even try the smaller size.
This gorgeous gray acrylic cardigan is a keeper. Unfortunately, it's already sold old…dang it! It only goes up to a size large, but it's oversized, and I love that it will be great with jeans, over dresses, and on a chilly evening over my pj's. So I'll keep my eyes open for it to return and let you know.
The pink acrylic sweater is the pink version of the brown one I bought last year. It's so cozy, and I love the color. But do I need two off-the-shoulder sweaters? Probably not.
This gorgeous Kut from the Kloth faux-suede puff sleeve jacket will be a fantastic addition to a fall/winter wardrobe. It only goes up to size XXL, but luckily it fits me, and I'm keeping it.
The lug-sole booties have arrived, but I haven't had a chance to try them on yet. However, even on sale, they are quite expensive, so they'll need to look, feel, and fit amazingly to earn a coveted parking spot with the rest of my shoes.
ALMOST MADE THE CUT
Clockwise from upper left – Tan Booties (also available in black) || Longline Cardigan || Mushroom Booties (three colors) || Hooded Cardi
There were one or two pieces that I looked at but didn't pull the trigger on because I couldn't find a good enough reason to add them to my closet if they panned out.
One of the most popular posts on Dimples on My What is The Best Booties for Curvy (and Petite) Women. Pop over and read it if you haven't already. The best booties for a curvy woman are very hard to find, but THESE and THESE meet the criteria, so if you love wearing booties with skinny jeans or dresses and have full calves, consider trying them during the Nordstrom Anniversary Sale.
If you don't own a Barefoot Dreams cardigan, you are missing out on the coziest piece you've ever put on. There are two cardigans in this year's sale, a basic longer cardi and a hooded version. I already own two, so I'll pass this year.
DO YOU SHOP THE NORDSTROM ANNIVERSARY SALE?
Admittedly, I need absolutely nothing. And in my opinion, the anniversary sale is overhyped and over-promoted by influencers who get paid to drive sales.
That being said, it's sometimes fun to find sought-after pieces to complete an outfit or to help you get excited about wearing fall clothes. And if you can get it on sale, it makes it better.
Now I've got to get back to my No-Buy July challenge. Maybe I'll do a 'Stop the Shop September'. 😉 No matter when I do it or what I call it, I'm putting my browsing blinders back on now.
Did you see anything in the Nordstrom Anniversary Sale 2023 edition that made you hit 'add to cart'?