Whether you need something to wear for New Year's Eve, a winter wedding or simply a up-styled night out with friends, a sequin pencil skirt can be a versatile addition to your wardrobe. Today, I'm styling one sequin skirt, three ways.
The Sequin Pencil Skirt
A pencil skirt is a great silhouette for a curvy figure. This Halogen sequin pencil skirt has a back zip and a good amount of stretch to make it very forgiving and comfortable. It also has just the right amount of "glitz" without being over the top.
I could have simply styled this skirt with a silky blouse, lace bodysuit or pretty camisole, but I don't necessarily have anywhere in my life to wear that. One of my goals here is to encourage you to wear what makes you feel (and look) your best. But, I also want to show you how to wear trends that fit your body and YOUR lifestyle. Let's face it, our social media is full of beautiful outfits that fit a fantasy life WE don't have.
Mama's Got a Brand New Template
In an effort to be different AND more helpful to you, I'm rolling out a new format for showcasing the outfits. I'll be telling you why I think a style works in a fashion sense or on a curvy body. You'll learn what I'd do differently in styling a particular outfit and I'll add ideas on where I would wear such an ensemble. So without further ado, check out how I styled a fancy sequin skirt for my not-so-fancy life.
---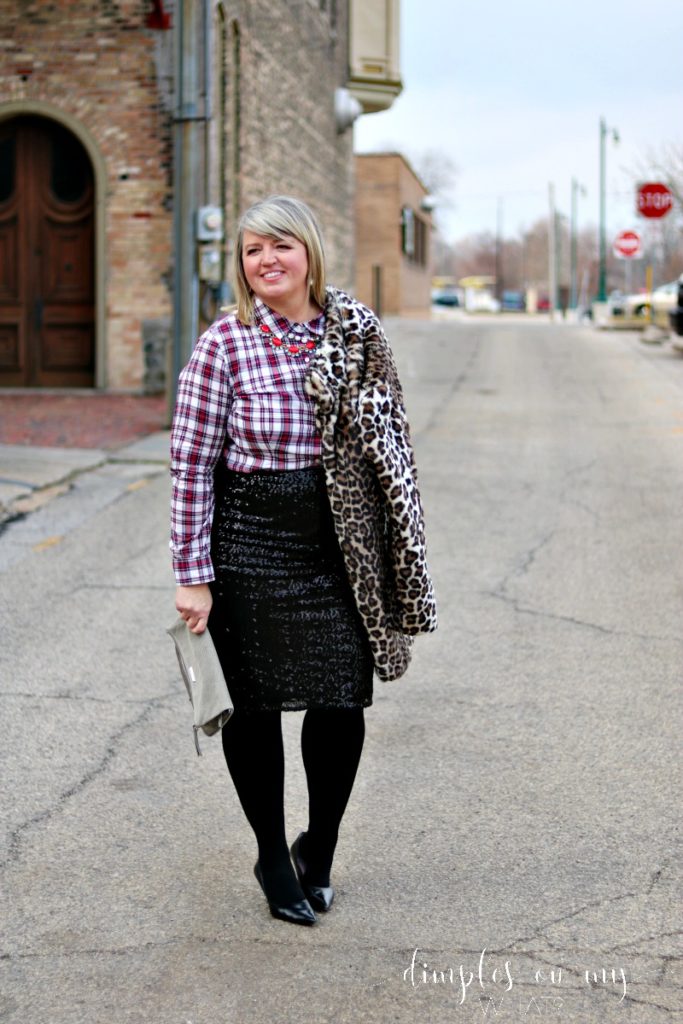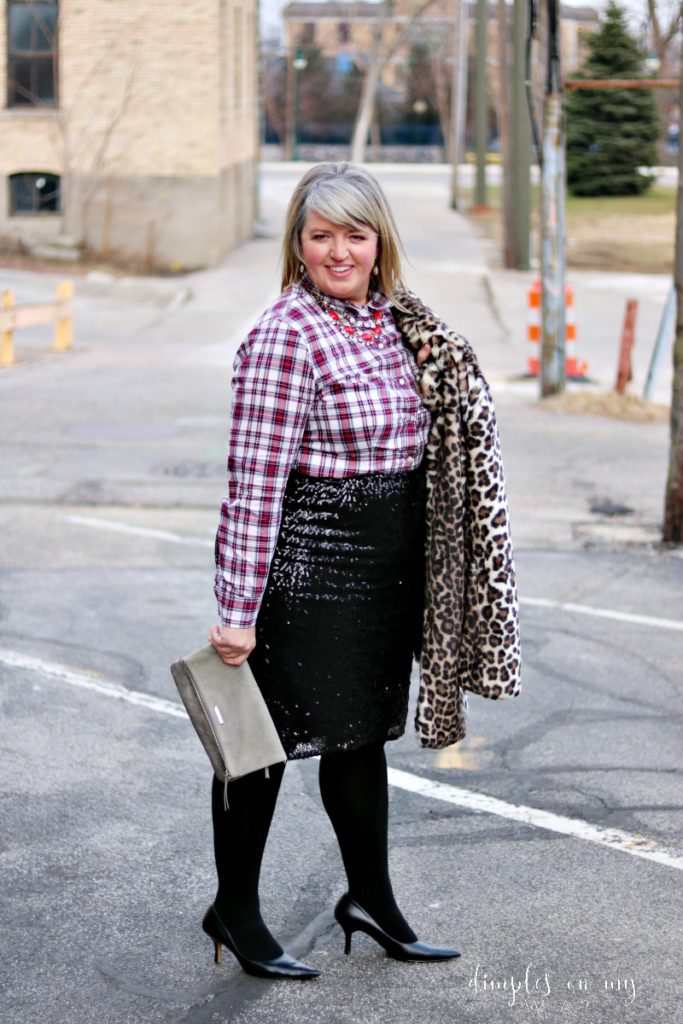 Sequin, Plaid and Leopard. Oh, my!
Why It Works
For this first look, I was inspired by Jill of The Good Life For Less Blog and her Holiday Capsule Wardrobe. I love a good print mix. And if it includes plaid and leopard, sign me up! There's also something about the juxtaposition of the sequin skirt with a plaid button down that makes me feel like I've pulled off a fashion coup.
Where to Wear
I would wear this plaid and sequin outfit to a Christmas or New Year's Eve Party. And because it's not too over the top, it would work for church. I'd also wear it to the office if I changed out the neck bling for a pretty pin at the top button or styled it even more casually by wearing a plaid, flannel shirt and leaving the top couple of buttons undone.
What I'd Change
I would wear sheer black stockings instead of opaque tights; I just didn't have any on hand. Also, I'd wear a block heel pump instead of the extreme pointed toe. Once again, I'm on the hunt for a comfortable black, block heel that will make my troubled feet happy and so far I've been skunked.
---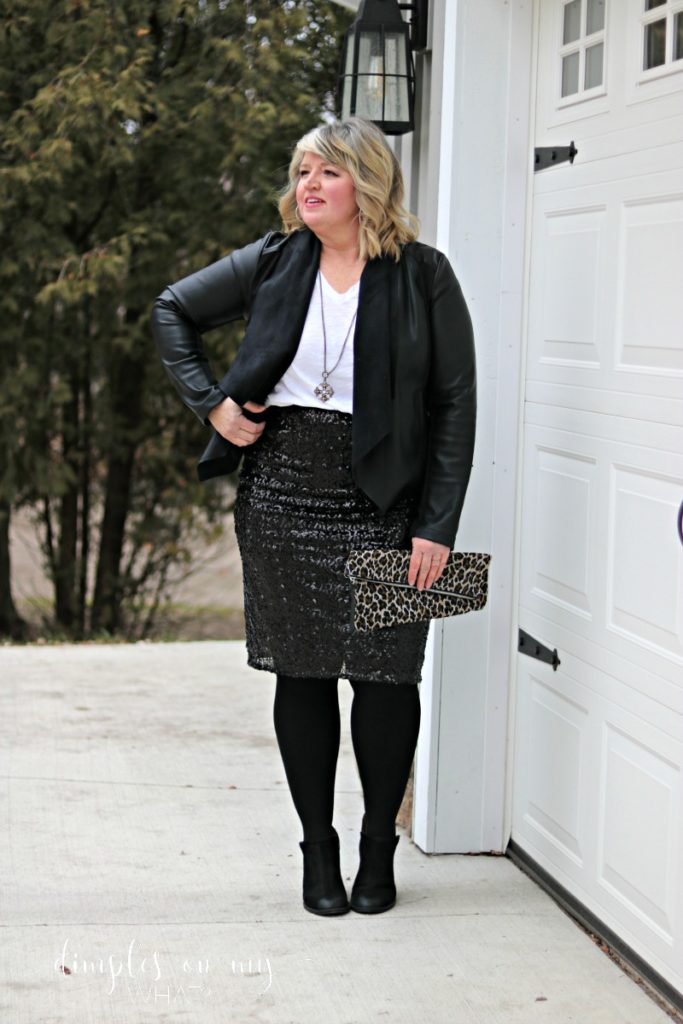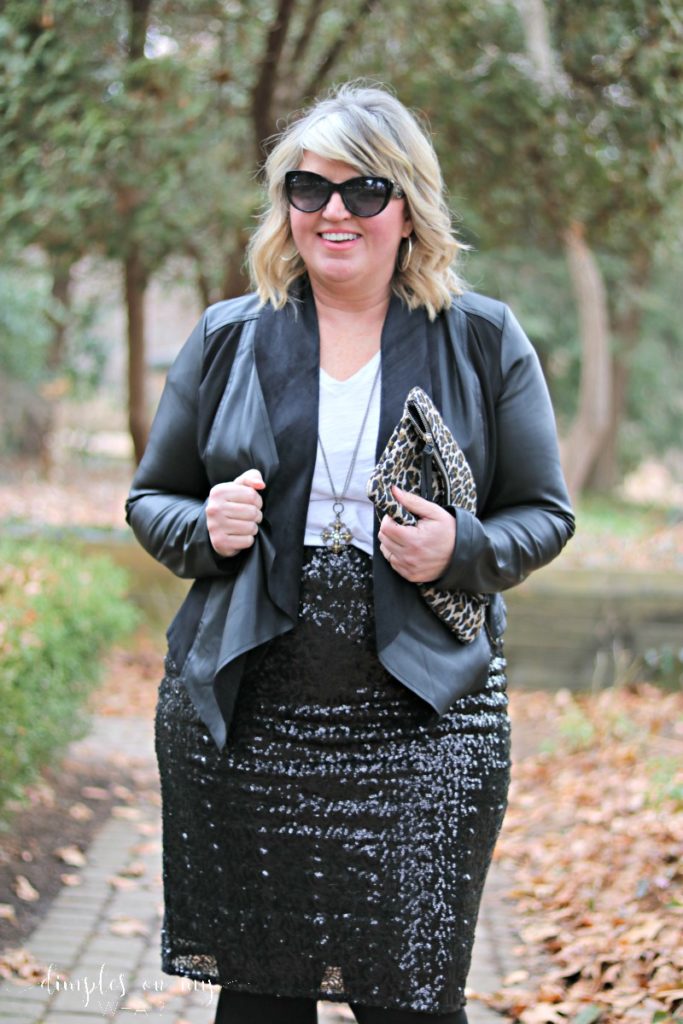 Sequin Pencil Skirt, Booties and Faux Leather Jacket
Why It Works
Juxtaposition should have been the name of this post. I love styling a fancy piece with something edgy. Nuff said!
Where to Wear
I'd wear this look to church, work, date night or out with friends.
What I'd Change
I look best in V-neck t-shirts, so I pulled out one of my favorite white ones. But, I think this would look great with the right graphic tee as it would give it a bit more edge. As a general rule I don't think sock booties look good on women with full calves or cankles. I talked about that here. But this outfit would be an exception because of the black tights and a leaner bootie would give this style a sleek line. However, combat booties would REALLY up the edger factor! 😉
---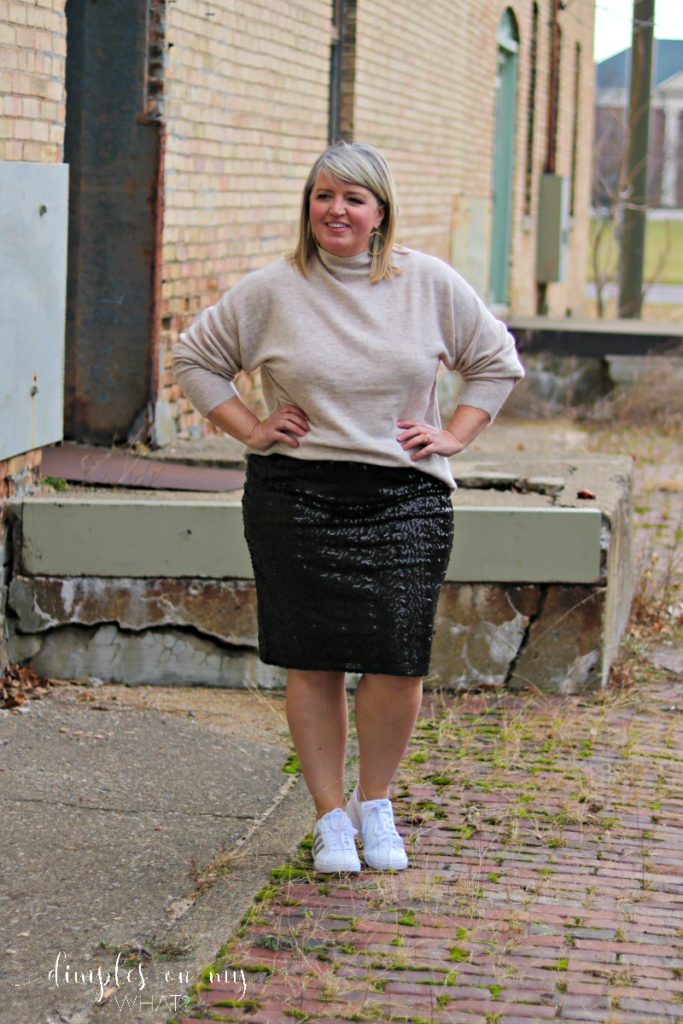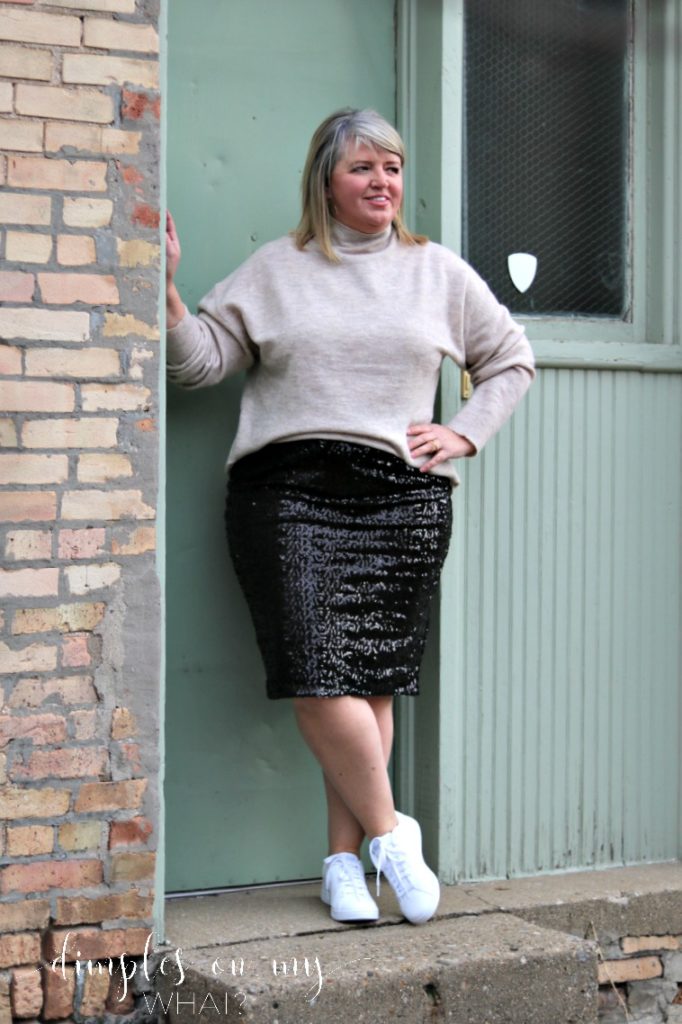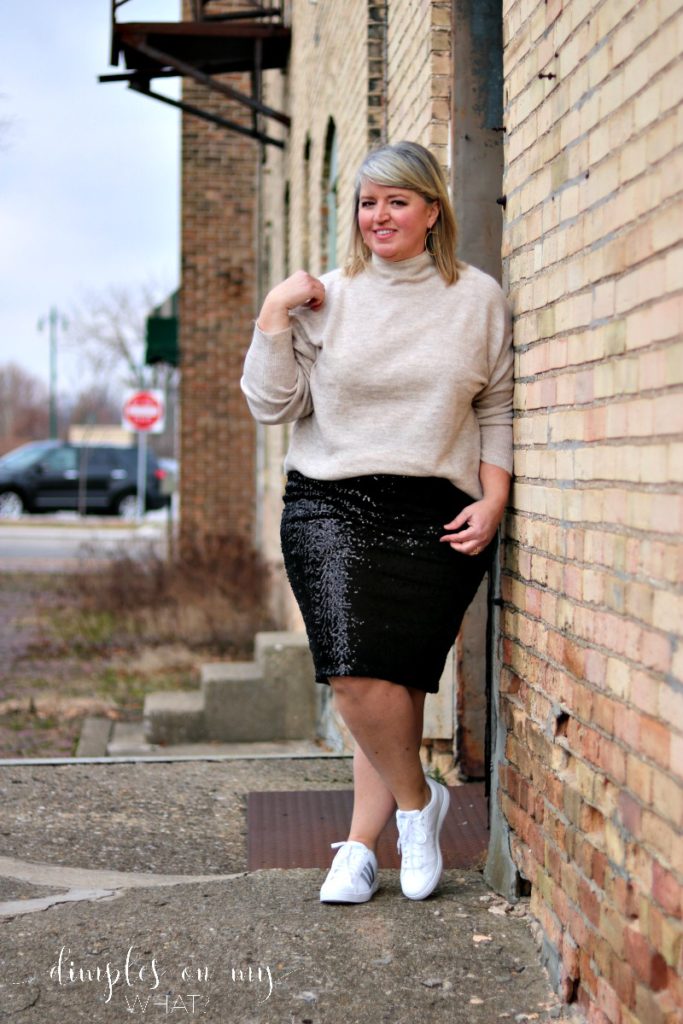 Sequins and Sneakers
Why This Works
Some of you might think this look is a stretch, but it's honestly one of my favorites with this skirt because it's so comfortable. It's most definitely the one that fits my lifestyle the most. If you're a smaller person, you could get away with a thicker sweater. If you're curvy keep the sweater thinner and front tuck it in the middle or over to the side so the sweater isn't hitting at your widest spot.
Where To Wear
I'd wear this almost anywhere. How cozy-chic would this look meeting a friend for lunch then popping into the grocery store afterward?
What I'd Change
I'd probably play with other sweater silhouettes since I'm a curvy girl. I wouldn't choose a tight sweater because the look is meant to be casual. However, I'd find one that was still loose but fits closer to my body. Also, making sure the tuck created an assymetrical line at the waist would help slim the look.
---
What do you think?
Whew, I'm all a "glitter" with excitement over the new format! Other posts won't be nearly as long because I won't always be styling something 3-ways.
So tell me what you think… About anything or everything. Do you have sequins in your closet? Would you wear them with sneakers? Do you like the new format? What kind of outfits would you like to see styled?
I'll see you next year. Until then…
Be cozy, cute and confident!
Paula
---