Ageless Style Linkup
The ladies of the Ageless Style Linkup are welcoming in 2019 a week later than usual. But we're ringing in the new year luxuriously wrapped in faux fur! All I can say is, "grrr Baby!"

The Ageless Style sisters are a group of 9 bloggers and one guest blogger, all over the age of 40. On the first Tuesday of each month we style an outfit based on a fashion theme, chosen by one of us. We're proving that style has no age limit and even though we style one theme, style is as unique as the woman wearing it.

This month, our stylish leader, Jennie (A Pocketful of Polka Dots) is taking us on a walk to the wild side with her faux fur theme. Leslie, from Once Upon a Time & Happily Ever After is taking on co-hosting duties. She is a retired librarian who's inviting us on her journey to figure out who she really is in her life after retirement.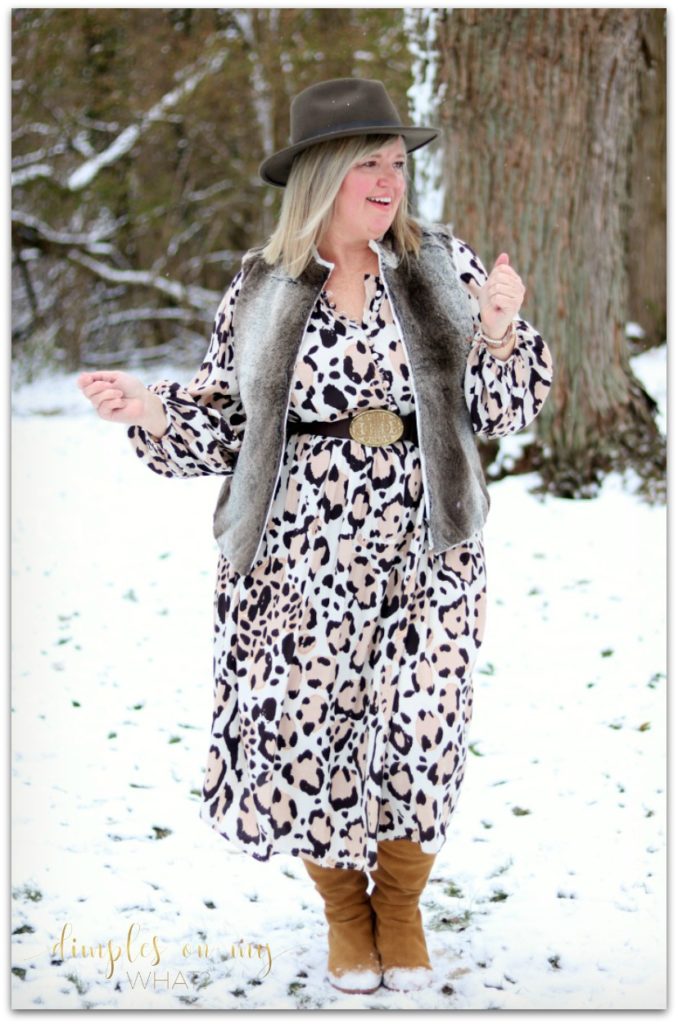 This post contains commissioned links. I will make a commission should you make a purchase through a link I have provided but you pay no more for the item. Read here for full disclaimer.
I don't have any real fur and I don't have a ton of faux fur either. But keep in mind that a little goes a long way with some fashion trends. I did get this Spencer reversible faux fur vest from Aventura Clothing earlier this season. It turned out to be the perfect piece to "winterize" this gorgeous Marks & Spencer leopard print dress. (The color I'm wearing in this post is sold out.) 🙁

Marks & Spencer is a European retailer but they have great shipping and return policies for those of us purchasing from The States. You can read this post for more tips on ordering from international retailers online.
---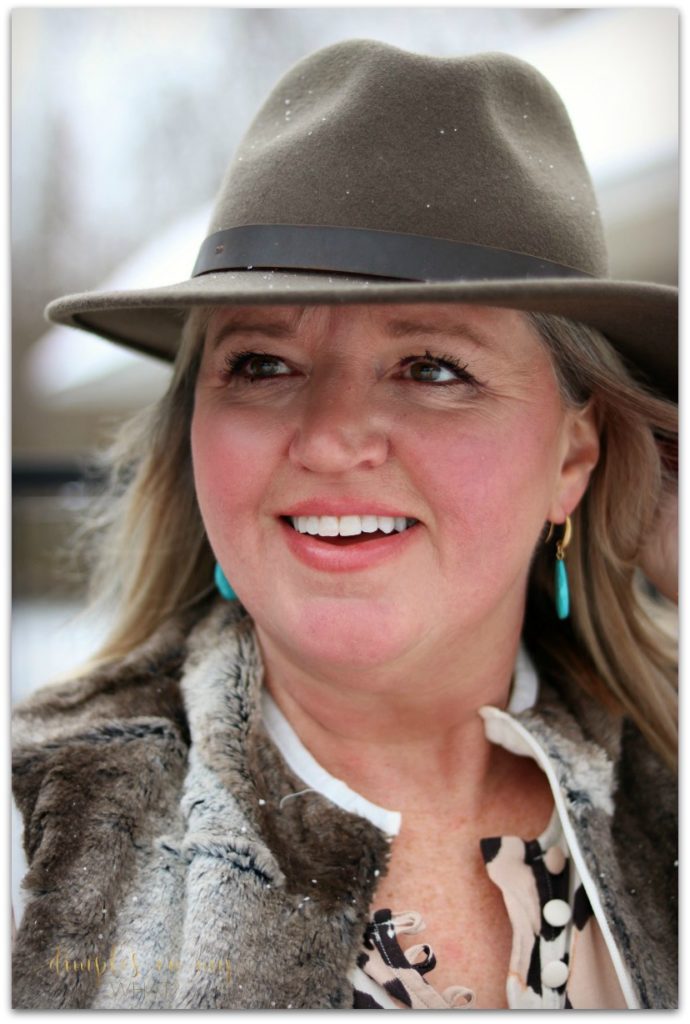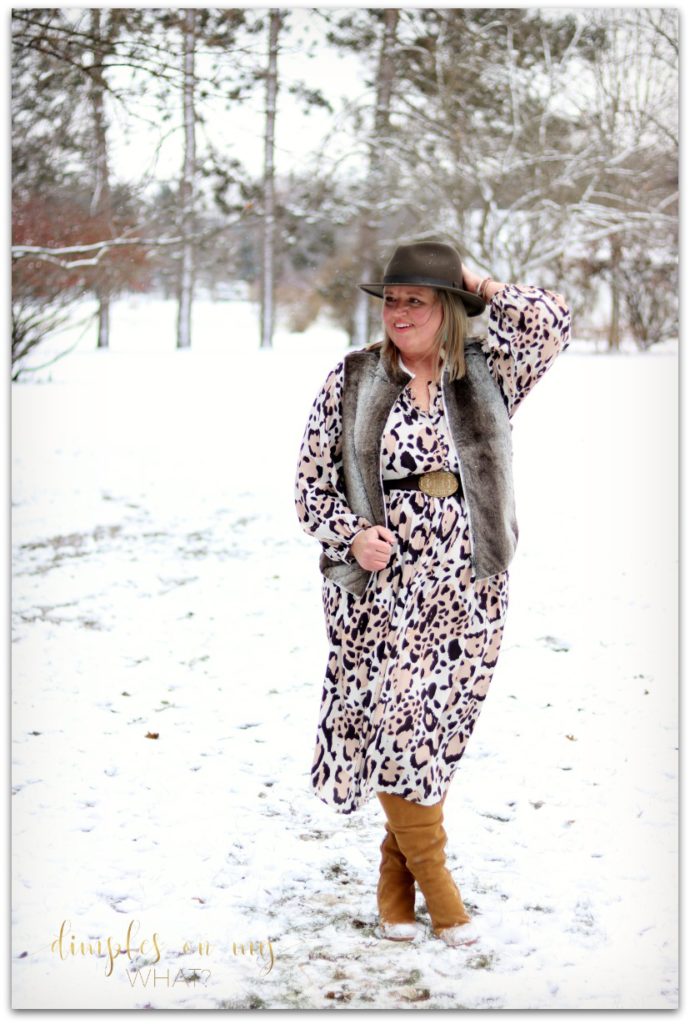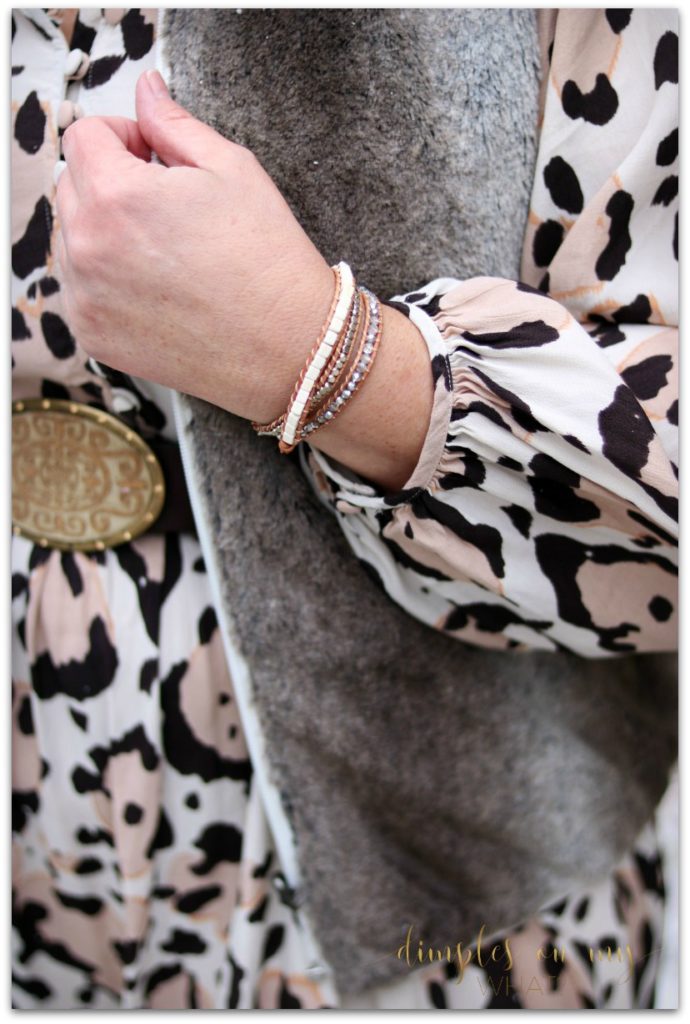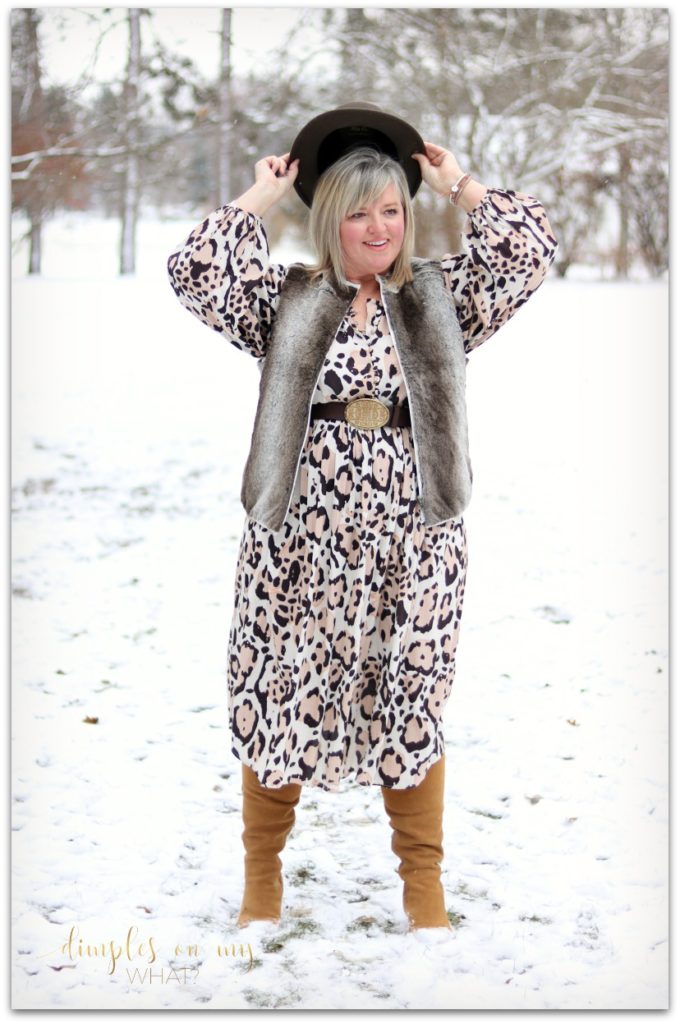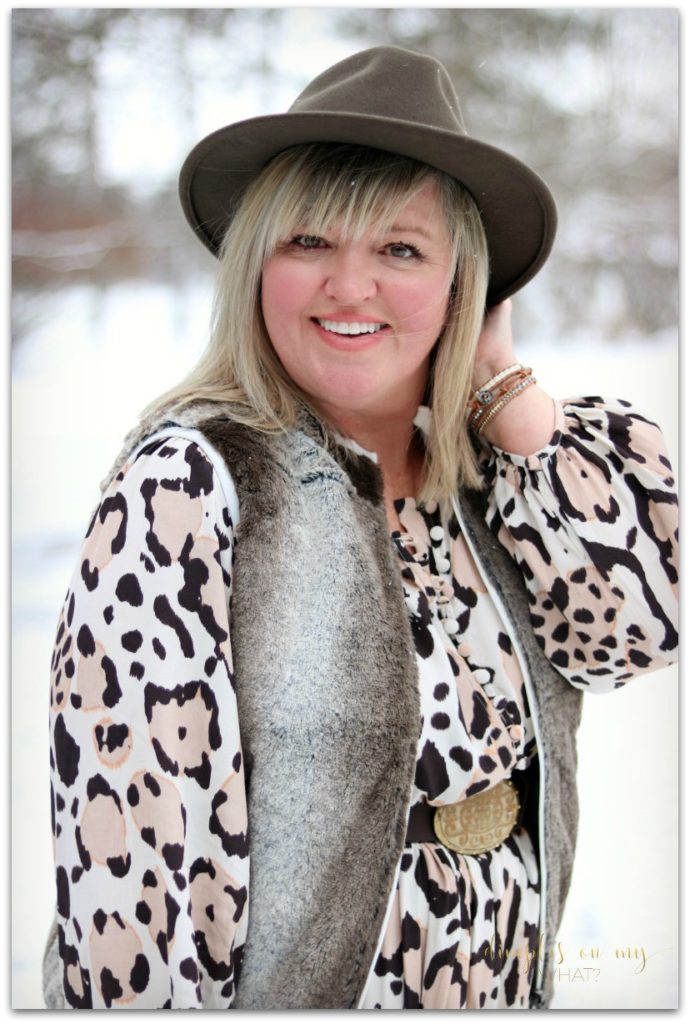 The Outfit – A Snow Leopard in Faux Fur

Why It Works

I'm calling this look, Snow Leopard. The blush, cream and brown leopard print dress paired with the natural looking faux fur is a winning combination on it's own. But, worn on a light snowy day, it's animal attraction!

I love the bold but muted leopard print, flowy (forgiving) silhouette, and billowy sleeves of the M & S dress.It definitely has more shape when it's belted which is a key styling "secret" for the curvalicious among us. Stick-Chicks can get away with flowing shapes without it looking like a mu-mu. We, however, must BELT-IT!

The dress's lightweight fabric can be worn in four seasons with a few layering tricks. For this photo shoot I wore over the knee boots, but I was absolutely frozen by the time I was finished even with the vest, hat, and boots. If I wear this again and plan to be somewhere cold, I would add some thin layers underneath. Long underwear made of silk or very thin silky fabric would have made this perfect for the day.

The vest is reversible and very thin. It doesn't add bulk to the loose shape of the dress. Again, this is important whether you are curvy all over or large chested.

What I'd Change

Besides making this outfit cold weather appropriate, I could opt for a shorter vest. One that hits above where my butt protrudes is more slimming from the side view. After these photos were taken I ordered this one from Amazon. It's great quality for the price point and hits just right. It also has a cool Telluride vibe to it.

I would also style this with sneakers or booties and a jean jacket. I'm also inspired by this look. So, you might see it styled with some sort of blazer and a pair of sneakers in the future.

Having multiple ways to style each piece in our closets gives us tons more value from our wardrobe dollars.

Where I'd Wear This

I can honestly say I'd wear this almost anywhere. It would look cozy-chic at church,work or a bridal/baby shower. I would go to lunch with a friend, out to dinner or on a date night in it. And, if I had a really cool belt-bag that would hold my cell phone, I would even wear it shopping.

---
Faux Fur Fun

I don't mind making bold fashion statements sometimes, but I mostly like to keep things simple. This look is a little bit of both in my book. It combines two trends, but each are subdued in either color, shape or size.

Do you have any faux fur in your closet? If you don't, consider starting with a faux fur vest. It's pretty easy to incorporate it into your wardrobe no matter what style you favor.
Be cute, cozy and confident,
Paula
---
AGELESS STYLE Linkup
Party Ettiquette:
Have fun and make some new friends! Please visit at least two other links.
Please link to your actual post and not your blog's homepage.
Please link back to the Ageless Style Link Up in your linked post.
Feel free to use #AgelessStyleBloggers in all of your social media posts
Please follow each of your hosts on at least one social media channel via the links below.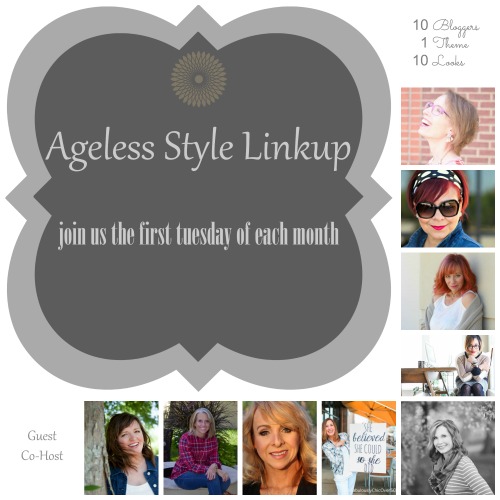 Debbie ~ Fashion Fairy Dust bloglovin, blog, Instagram, Pinterest, facebook, twitter
Jennie ~ A Pocketful of Polka Dots blog, Instagram, Facebook, Pinterest, Twitter, bloglovin
Jodie ~ Jodie's Touch of Style blog, Facebook, Instagram, Pinterest, bloglovin, twitter
Jonet ~ Fabulously Chic Over 50 blog, Facebook, Instagram, Pinterest, Twitter
Kellyann ~ This Blonde's Shopping Bag blog, Instagram, bloglovin, twitter
Lisa ~ Coast to Coast blog, Facebook, Instagram, Twitter, Pinterest
Paula ~ Dimples on my What blog, Facebook, Pinterest, Instagram, Twitter
Shelly ~ The Queen in Between blog, Instagram, bloglovin, Pinterest, Facebook
---
Meet Our Guest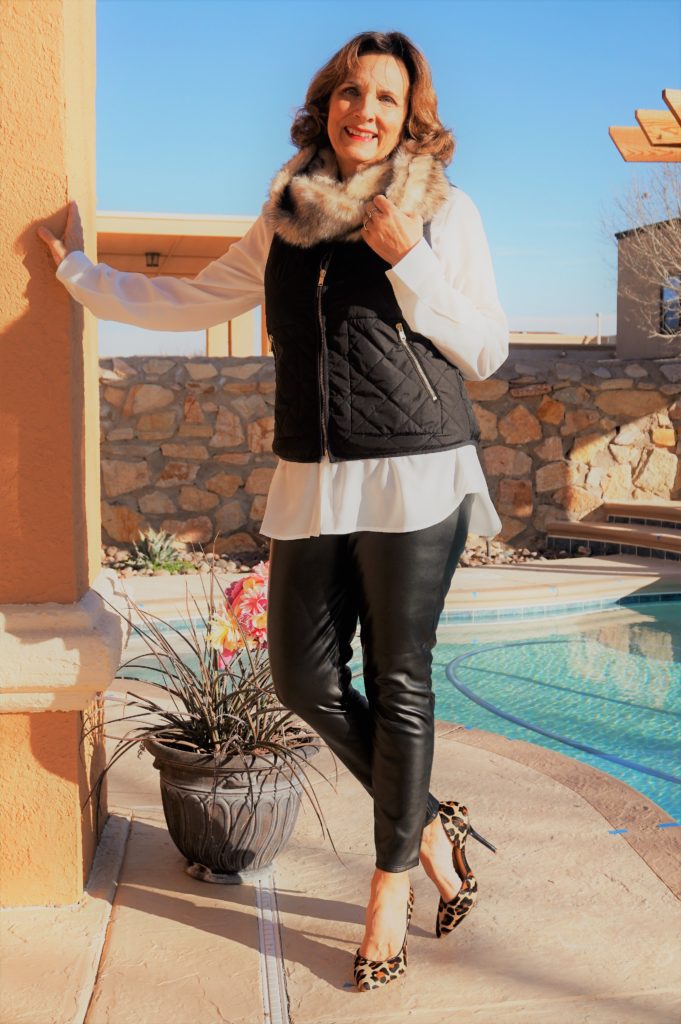 Leslie – Once Upon a Time & Happily Ever After blog, Instagram, Pinterest, Facebook
---