+ Ageless Style Link-up
Well, we survived the polar vortex, and even though Punxatawney Phil didn't see his shadow, which supposedly means an early spring, we won't be putting our puffy coats away anytime soon in Northern Indiana. So, while many other fashion bloggers are busting out spring style, the ladies of the Ageless Style Linkup are keepin' it real and we're sharing our puffer fashions with you for this month's fashion link-up.
The Ageless Style sisters are a group of 9 bloggers and one guest blogger, all over the age of 40. On the first Tuesday of each month we style an outfit based on a fashion theme, chosen by one of us. We're proving that style has no age limit and even though we style one theme, style is as unique as the woman wearing it.
A Dimpled Life Update
Life isn't perfect. Honestly, it's sometimes downright TOUGH!
If you follow me on social media, you already know that right after Thanksgiving my dad had a substantial brain bleed and blood clot. His surgery went well, but he ended up having complications including continuous brain seizure activity, leading to intubation and second brain surgery.
He spent weeks in ICU then moved onto an acute care hospital and has now been transfered to a nursing care and rehab facility. He's much better but still has a long way to go. We are seeing and hearing more of the dad we know. But he's now rehabing from not only the brain trauma but the mobility issues that come from being in bed for over two months.
Recovering from brain trauma is no joke! There is so much to deal with: agitation, sleeplessness, too much sleep, trach care, feeding tubes, insurance, long term care, and the list goes on.
His recovery has been long and ongoing. My mom, siblings, their spouses and I have been taking shifts staying with him 24/7. I've been spending a couple of weeks a month 600 miles from home as our family goes through this. But this is a season and we will do what it takes to get him home!
Thank YOU!
I haven't been consistent in posting here or on social media. It's not you, it's me. 😉 I want to thank you all for sticking with me during this difficult time for our family. Your support and prayers mean so much to me.
Also, know that this very post is being written on one hour of sleep as last night was my overnight with my Big Daddy. So please, forgive any typos or incomplete thoughts. And, definitely overlook the bags under my eyes! And please pray they can figure out his medications, pronto. He needs sleep and so do we!
This post contains commissioned links. I will make a commission should you make a purchase through a link I have provided but you pay no more for the item. Read here for full disclaimer.
---
A Puffy Coat for a Fluffy Girl
I've never been a fan of puffy coats on my full figure. But, my friend recently found this Eddie Bauer packable down coat at Costco for a steal. I had to run right out and get one too. (Note: The price on the one I've linked is the same as I paid at Costco.)
If you have a warehouse club membership, they are great places to find deals on fashion as well as vats of olive oil, ginormous bags of kettle corn and lifetime supplies of toilet paper.
Why It Works
This puffy coat works on a curvy body because it's actually pretty thin. If you're curvy, look for puffy coats that are compactable because they are softer and less bulky overall. You can also choose puffer coats that have flattering seams to create an illusion of shape.
Where to Wear
I'd wear this type of jacket casually. It's great for travel and is with me on this trip because I traveled from the Polar Vortex; it was -22 the morning before I left to head south, into near spring-like temperatures.
This is exactly what I wore to meet my friend and sometimes photographer for breakfast. But be careful when you choose the exact coat in the same color as your close friend. You may show up twinning for your date.
What I'd Change
This jacket is very versatile for everyday life. I wouldn't wear it with a dress but it's really great to throw on with an athleisure look or jeans and cozy sweater.
Think Spring!
If you live in cold climates, think spring but stay warm. If it's already warm where you are, don't rub it in! 😉
Be cute, confident and cozy!
Paula
Shop this Post
---
AGELESS STYLE Linkup
PARTY ETTIQUETTE:
Have fun and make some new friends! Please visit at least two other links.
Please link to your actual post and not your blog's homepage.
Please link back to the Ageless Style Link Up in your linked post.
Feel free to use #AgelessStyleBloggers in all of your social media posts
Please follow each of your hosts on at least one social media channel via the links below.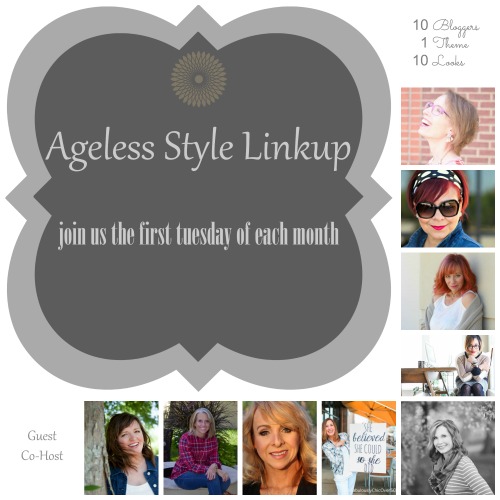 Debbie ~ Fashion Fairy Dust bloglovin, blog, Instagram, Pinterest, facebook, twitter
Jennie ~ A Pocketful of Polka Dots blog, Instagram, Facebook, Pinterest, Twitter, bloglovin
Jodie ~ Jodie's Touch of Style blog, Facebook, Instagram, Pinterest, bloglovin, twitter
Jonet ~ Fabulously Chic Over 50 blog, Facebook, Instagram, Pinterest, Twitter
Kellyann ~ This Blonde's Shopping Bag blog, Instagram, bloglovin, twitter
Lisa ~ Coast to Coast blog, Facebook, Instagram, Twitter, Pinterest
Paula ~ Dimples on my What blog, Facebook, Pinterest, Instagram, Twitter
Shelly ~ The Queen in Between blog, Instagram, bloglovin, Pinterest, Facebook
---
Meet Our Guest Co-host
Meet Lana, of My New Happy. Lana is another boy-mom which always resonates with me as we are a special breed. She loves to write inspirational and joyous stuff. She's right up my alley!
Link Your FASHION Post
!– start InLinkz script –>