and Life Lately
Oh, my word you guys, life has been HEAVY lately. So much so, I've been big-time failing at blogging and social media. But, today I'm checking in and sharing snippets of my life lately as well as some thoughts on having a tribe for support when life tries to beat the wind out of your sails.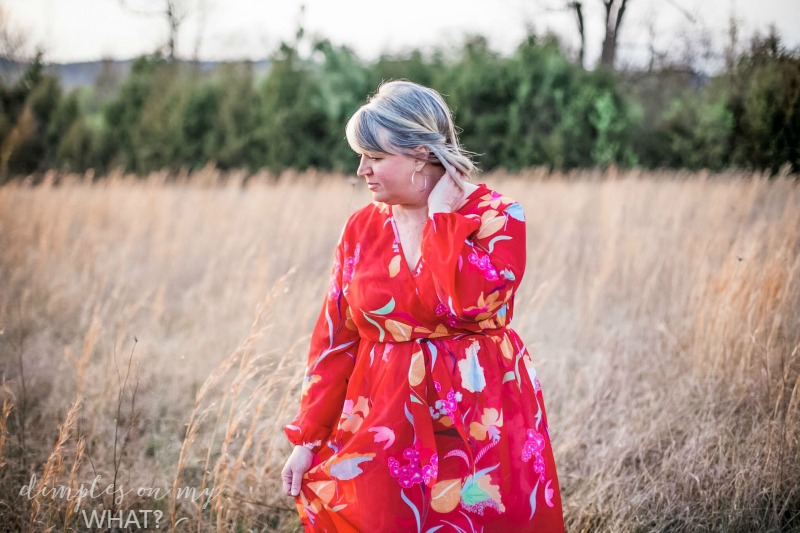 ---
Family Update
If you follow me on social media or you have read this post, you know my family has been completely overwhelmed with my Dad's health crisis since right after Thanksgiving. I live 600 miles away from my peeps and have been essentially living out of a suitcase since then. Ugh!
When I am at my own homestead, it's usually a quick turn around with time spent catching up on normal home activities and what feels like "cramming", trying to squeeze a bunch of time in loving on my Bigs and the Littles. It's a hard knock life for us at the moment but I still feel blessed to be able to have the opportunity to walk alongside my people during this season.
Dad is MUCH improved! He has continued physical rehabilitation since mid-February when he returned home. His story is a testimony of God's healing power even when the medical profession had written him off.
---

TMI
Never in a million years did I ever think I'd see SO MUCH of my dad. And I'm not talking about seeing him so often. 😉 He was always so modest. But besides helping him care for himself, when he was in the early stages of recovering from his brain injury, he wouldn't keep his hospital gown on. One nurse said it was like seeing an arm or leg to her, she just didn't think about it anymore.
I'm not sure about that. But having a husband, two sons and six grandsons, I feel like I God was preparing me to handle this. I also feel a mirror the thoughts of Elaine from Seinfeld; I don't know you guys walk around with those things. 😉
---
Just as Dad's situation was getting easier, my mom became ill. What we originally thought was a stomach bug, led to a multitude of tests and scans and even more doctors appointments. Her gallbladder was the culprit of much of her illness but my heart is heavy as I tell you, findings confirmed she also has stage 4 metastasized cancer from her breast cancer 11 years ago. She will begin cancer treatment once she recovers from having her gallbladder and a portion of her small intestine removed.
Read: My Mom, Breast Cancer Warrior
It Keeps Getting Better and Better
(Where's that sarcasm font when you need it?)
Two days ago Dad put a fright in us as my sister and I saw him fall and hit his head and could only watch it happen. We had him in the ER and Mom upstairs in the same hospital, recovering from her third surgery in 2 weeks. Are you getting the picture of what my life is like right now?
People often say that God won't give you any more than you can handle. There is some truth in that statement. But, I believe God doesn't give us tragedy; but it happens. But, I think He allows us into situations beyond our ability as a means of solidifying our dependence on Him.
If not for God, I would be in a crumpled heap on the floor at this point. But I walk forward trusting God for strength to face each day and walk beside me no matter what.
We are hard pressed on every side, but not crushed; perplexed, but not in despair; persecuted, but not abandoned; struck down, but not destroyed.
2 Corinthians 4: 8-9
---
The Value of Your Tribe
The importance of building a faith-filled tribe has never been more evident to me. We are fortunate enough to have been surrounded by each other and a wonderful church family as well as our individual support systems.
Even within the blogging community, I have been encouraged and virtually loved on by so many wonderful women of faith. They're not simply pretty faces with great taste. 😉 And while we don't have to surround ourselves with people who think exactly as we do, encouragers and positive thinkers are necessities when we're walking through a long, hard valley.
---
Build Your Tribe
You might like to know and follow a woman like Tania of 50 is Not Old. She's a fellow Jesus lover and funny chick with keeps it real. You know I love that. To top it off, her colorful style inspiration, skincare advice, and weekly spiritual encouragement will build you up. And isn't that what we all need in a friend?
---
Find Beauty Where You Are
In the midst of these many months of trials and missing the normalcy of home, I have enjoyed the beautiful mountains and hills of my family's Tennessee home.
It provided the perfect backdrop for my talented niece to snap some photos of this sweet maxi from Amazon. Yeah, Amazon!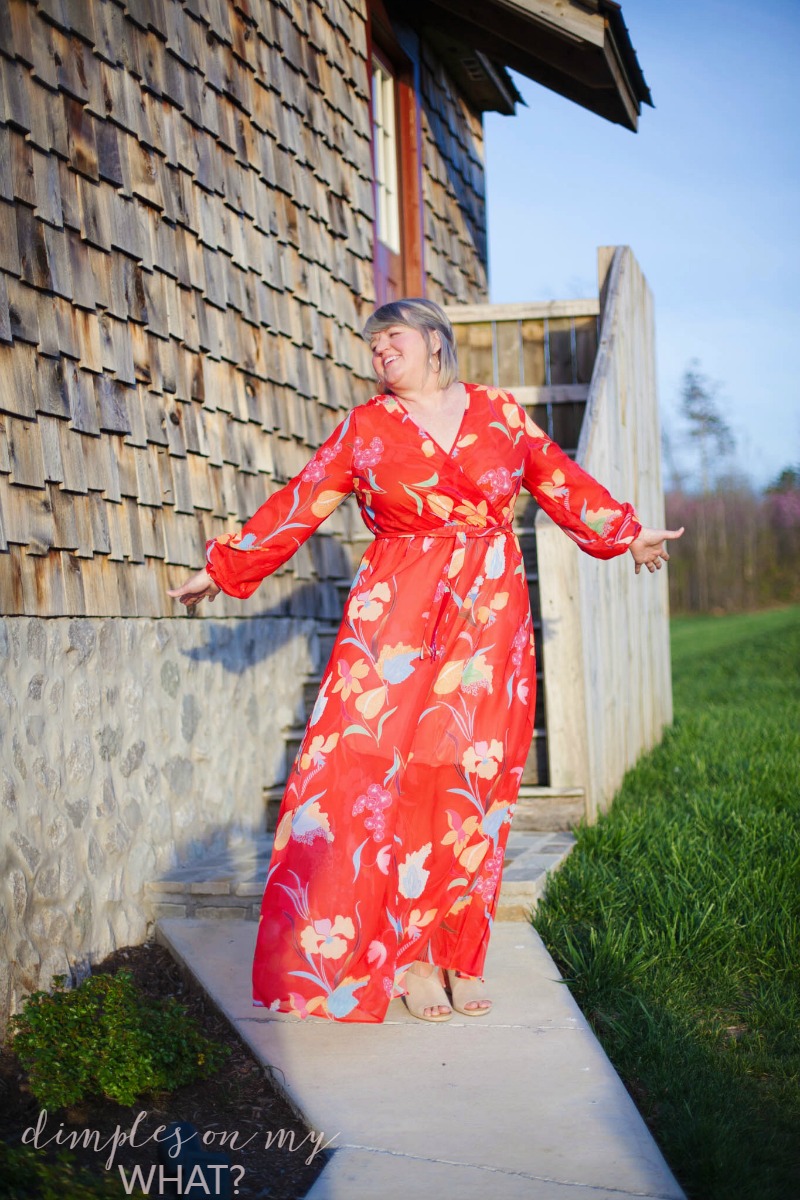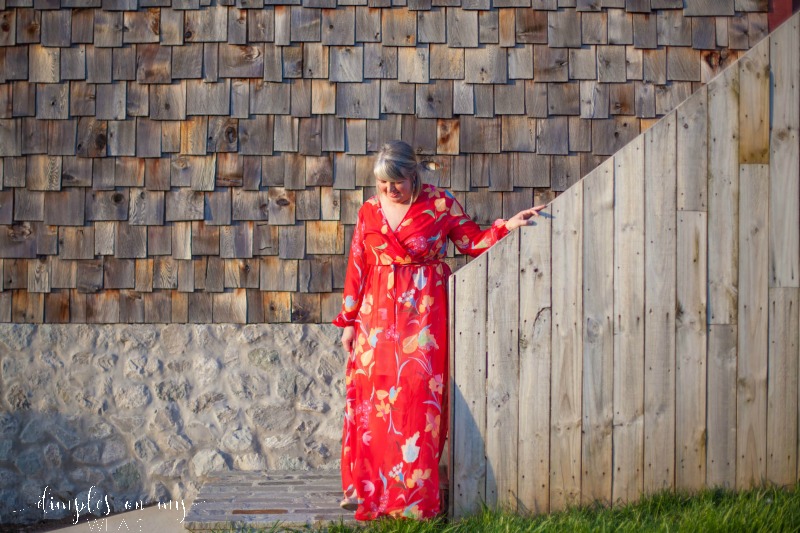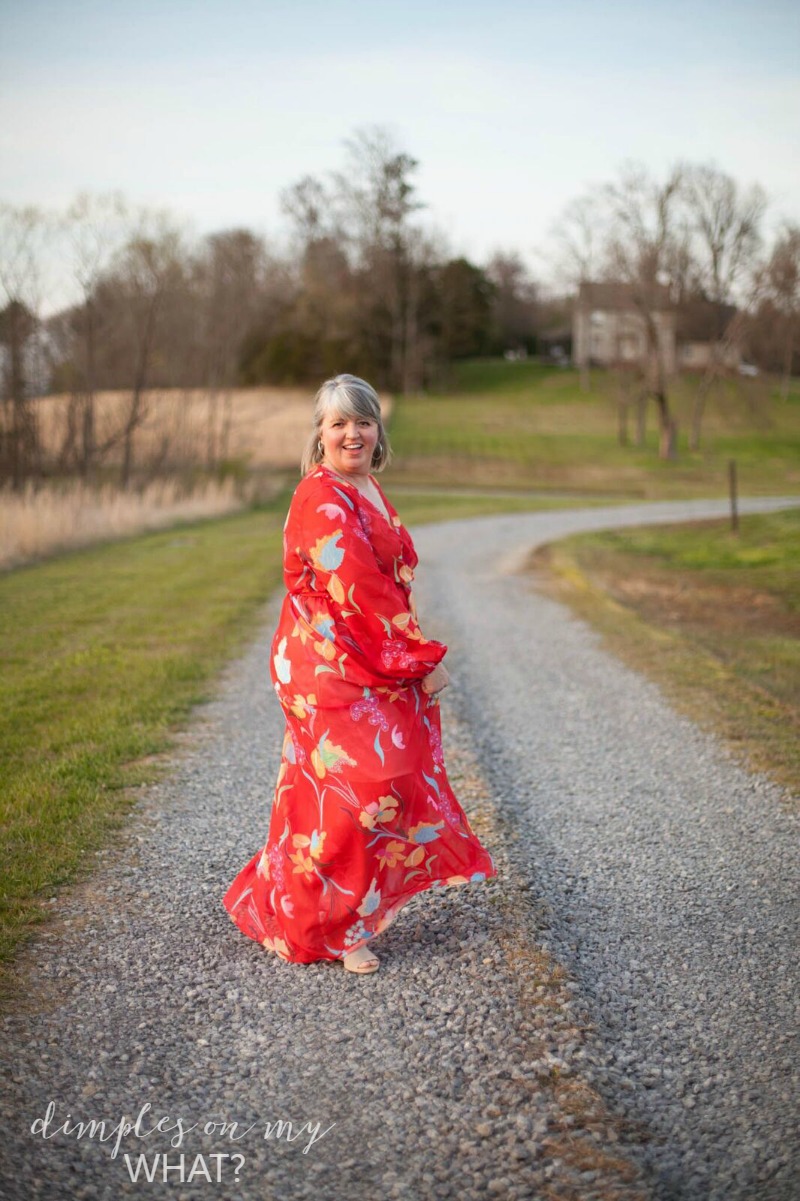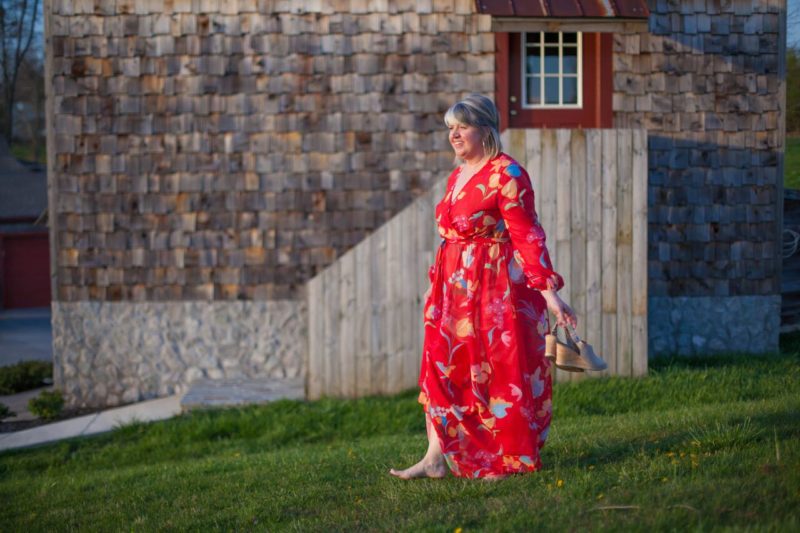 It would be a great dress to wear to a bridal shower, on vacation or to a summer wedding. The price is RIGHT at $23 and it comes in a bunch of fun prints! I'm wearing a XXL.
What I'd Change
I've mostly been living in clothes that sleep well in hospital chairs so I don't pack a ton of accessories. But, I would love to add an aqua blue necklace to this red dress. It would make it much more tropical to me. The addition of flip flops could create an easy vacation vibe.
What would you wear with it?
---
DON'T BE A STRANGER – SUBSCRIBE
---
Shop this Post
This post contains affiliate links. I'll make a commission should you choose to purchase from them but you pay no more for the convenience. See the full disclosure here.