Accessories can take an outfit from blah to tah-dah with only a few additions to a wardrobe. I'm definitely in the less-is-more camp when it comes to accessorizing, but make no mistake, it only takes a few special pieces to add spark to an outfit. Today, let's talk about summer accessories.
Ageless Style Linkup and Introducing…
The Ageless Style Chicks are a group of 9 bloggers and one guest blogger, all over the age of 40. On the first Tuesday of each month, we style an outfit based on a fashion theme, chosen by one of us. This month Lisa of Coast to Coast 2 chose our theme. And we are incredibly honored to welcome our guest host, blogger JoLynne Shane. We're proving that style has no age limit and even though we style one theme, style is as unique as the woman wearing it.
We're also welcoming a new permanent co-host to the AGELESS STYLE LINKUP. Meet the petite wife, mama and fashion lover, Shugunna of Nzuri N* Simplicity. Hop on over to her blog and find out exactly what the blog name means.
Today's my birthday and I'm spending my first day as a 54-year-old woman driving the 600 miles back home from my parents home in Tennesse. It was here on a crazy windy day that my sister snapped these photos. Wind, wide leg pants, sisters and a camera – we're lucky we got the shots we did and nobody peed her pants. 😉
This post contains affiliate links. Purchasing items from these links will result in dimples on my WHAT? earning a commission. The use of affiliate links does not influence the price you pay. I purchase all my own clothes and products that I write about unless otherwise noted. My biggest pet peeves are Liars, Cheats, Sneaks & Fakes! You can be assured that ALL opinions expressed herein are my own. 😉

Draw a Straw – Anything!
Woven grass handbags, beach totes, straw sun hats, and this season, I've seen a plethora of raffia earrings to help us "get our summer vibe on". The lightweight, earthy quality of raffia accessories perfectly complement a summer day and any outfit.
Shoes
Okay, although shoes are a necessity, any woman of style knows shoes can MAKE the outfit.
I love espadrilles!!! An espadrille wedge is absolutely timeless. If you've ever watched the PBS Masterpiece Mystery, Father Brown, set in the 1940s, one of the main characters, Bunty, often wears them. I'm still kicking myself for getting rid of a pair of turquoise espadrille wedges with ballet ties. They would be right on trend now.
Of course, it goes with saying that sandals are a must-have summer shoe. My sandal collection features lots of nude and neutral colored sandals. And for many years I've had a thing against white sandals. They seemed very "old lady" or "mother-in-law" to me. I don't know how I came to that perception, but these super comfy flat sandals have converted me and I can't wait to get a pedicure so I can wear them.
Sunglasses
Grab yourself a new pair of sunnies this season. Try a new shape or even a new colored lens to make a statement and get out of a style rut. I think I may have to take my own advice.
The BEAUTY of Summer Accessories
Rock a Safe Glow
A suntan makes everything look better and I think is one of the best ways to accessorize for summer. But if you're anything like me and are noticing your chest is resembling a piece of hard salami with it's white and dark spots because you've spent too much time in tanning beds or sunbathing, there's a safer way to glow.
I've linked my absolute favorite sunless tanners below. I'm also including my all-time favorite gradual tanning moisturizer to build a gradual bronze glow. It doesn't have a weird smell and it has the tiniest bit of gold shimmer in it for a gorgeous glow.
And let's not forget bronzer. But, be careful not to go overboard if you're a mature woman. Go light handed and chose a flattering color so not to look muddy.
Nude Lips
Bright lips aren't wrong for summer, but a nude lip is a very "beach babe" inspired look; think Farrah Fawcett. Pick a nude shade that is close to your natural lip color but better. Don't go to flesh color or you'll look dead and nobody wants to spend their summer looking like a zombie.
Mani's and Pedi's
I was an active manicurist for over 20 years. I still maintain my license but closed my studio shortly before we bought and remodeled The Cedar Palace. I favor short, well-manicured nails over artificial nails of any kind, but that's a personal choice.
I don't polish my fingernails often but when I do, I favor light sheer colors like Essie's Ballet Slippers, especially for summer. Sugar Daddy is another good one and it layers well with Ballet Slippers. I may branch out and try one of the opaque white colors that are popular now.
My toes are where I have fun with color, but for summer I always favor the colors in OPI's Designer Series. It's glitter polish for grownups. It is said diamond dust adds the sparkle to the color. But whatever it is, it's smooth, classy and shimmers like the summer sun. My favorite one is no longer available anywhere but the colors Reserve and Reflection are good.
Are you ready for summer? How are you gonna accessorize it?
---
The Linkup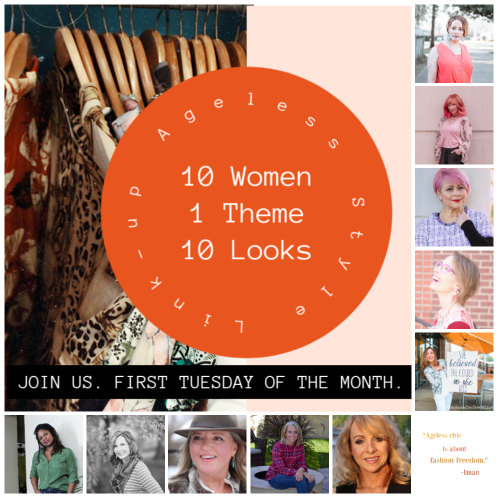 Debbie ~ Fashion Fairy Dust bloglovin, blog, Instagram, Pinterest, facebook, twitter
Jennie ~ A Pocketful of Polka Dots blog, Instagram, Facebook, Pinterest, Twitter, bloglovin
Jodie ~ Jodie's Touch of Style blog, Facebook, Instagram, Pinterest, bloglovin, twitter
Jonet ~ Fabulously Chic Over 50 blog, Facebook, Instagram, Pinterest, Twitter
Kellyann ~ This Blonde's Shopping Bag blog, Instagram, bloglovin, twitter
Lisa ~ Coast to Coast blog, Facebook, Instagram, Twitter, Pinterest
Paula ~ Dimples on my What blog, Facebook, Pinterest, Instagram, Twitter
Shelly ~ The Queen in Between blog, Instagram, bloglovin, Pinterest, Facebook
Shugunna – Nzuri N* Simplicity blog, Instagram
Meet Jo-Lynne
Have fun and make some new friends! Please visit at least two other links.
Please link to your actual post and not your blog's homepage.
Please link back to the Ageless Style Link Up in your linked post.
Feel free to use #AgelessStyleBloggers in all of your social media posts
Please follow each of your hosts on at least one social media channel via the links below.
---
Join the Fashion Linkup
You are invited to the Inlinkz link party!