With Only Three Magically Transformative Wardrobe Staples
+ Our Ageless Style Linkup
Beautiful fall floral prints are blooming everywhere this season. I've seen lots of pretty floral pieces on style bloggers and in stores but I haven't been able to find a print I like in the style that suits me. Waa, waa! So, I'm going to show you how to style a summer floral print for fall by using two other classic prints and a denim jacket.
Ageless Style Linkup
It's already time for another month of Ageless Style, a fashion blog linkup where nine of us over 40 bloggers and one guest co-host take one style theme, and each interprets it our own way. We're proving that style has no age limit.
We are joined this month by Julia of When The Girls Rule. She's a self-proclaimed petite, apple- shaped, blogger who has figured out how to dress her shape and love her body. You know how we LOVE a good body acceptance journey around here. So be sure to pop over and say "hey" to this sweet little Honey-crisp!
Our style sister Daenel of Living Outside the Stacks chose Fall Florals as our theme. We see lots of moody floral prints out there as we head into cooler temperatures. But I'm going to play this theme a bit differently and style a summer floral print for fall.
My Current Mindset
Last week was a bit crazy for me. Nothing major happened except:
I accidentally turned my hair purple trying a new temporary toning product. However, it's not washing out quick enough for me. And believe me, I'm trying!
On Halloween, I realized I had been walking around with my pants on inside out when I couldn't find my pocket to put my phone inside. It was 5 o'clock in the evening!
Do you ever go through times that you feel like your face looks like it hit the same wall your body has (figuratively)? Well, that's where I've been this week, and it's no fun.
The icing on the cake: Have you ever gone into a busy ladies restroom and just when you're about to sit down you smell old lady crotch – and realize it's coming from your own stall? It couldn't be me, right? Sigh! 😉 Let me just say, UGH! Girls, skinny jeans/leggings and fluctuating hormones are not our friends!
I have definitely had weeks when I've felt better about myself. But a fresh pair of cotton undies and a feminine floral print might be just the ticket to pull me out of this funk and get the funk off of me!
How To Wear Summer Florals as Fall Florals


Just add camo
I've wanted to style camo with a floral for a while now, and this was the perfect opportunity. If you try it, play with complementary colors. Also, make sure the size of the pattern, on both the camo and floral, are "right" for each other. If the camo is very muted, you have more leeway to mix sizes.
But if it's like my camo sweater, the larger, farther apart flowers look better than a tight all over floral print.
Gingham – Plays Nice With Everybody
Oh gingham, how I love thee. (Insert heart eyes here) You are everybody's perfect date, but you and floral are soulmates!
Just Add Denim
Denim adds visual weight to the summer print and is a great completer piece to many outfits. If you're curvy, choose a cropped denim jacket, especially if you're wearing a full skirt like mine. The length stops at the waist instead of a broader location on the hips. 😉
Booties, of Course
Need I say more? Booties ground the look and help make the summer floral print all the more fall ready.
Finding Floral Inspiration
I'm sure I'll see all my Ageless Style co-hosts in super great fall florals and be inspired to keep trying to find few cute pieces to try-on. That's the great thing about these challenges. We will either be encouraged to think outside the box and shop our closets, or we'll find some fun new pieces that will look great on us too.
Tell me, can you think of a floral in your closet to transition into fall?
Here's hoping for a better week. Because I probably can't get away with wearing this skirt every day. 😉
Your stinky hormonal friend ; -D
Paula
---
Shop this Look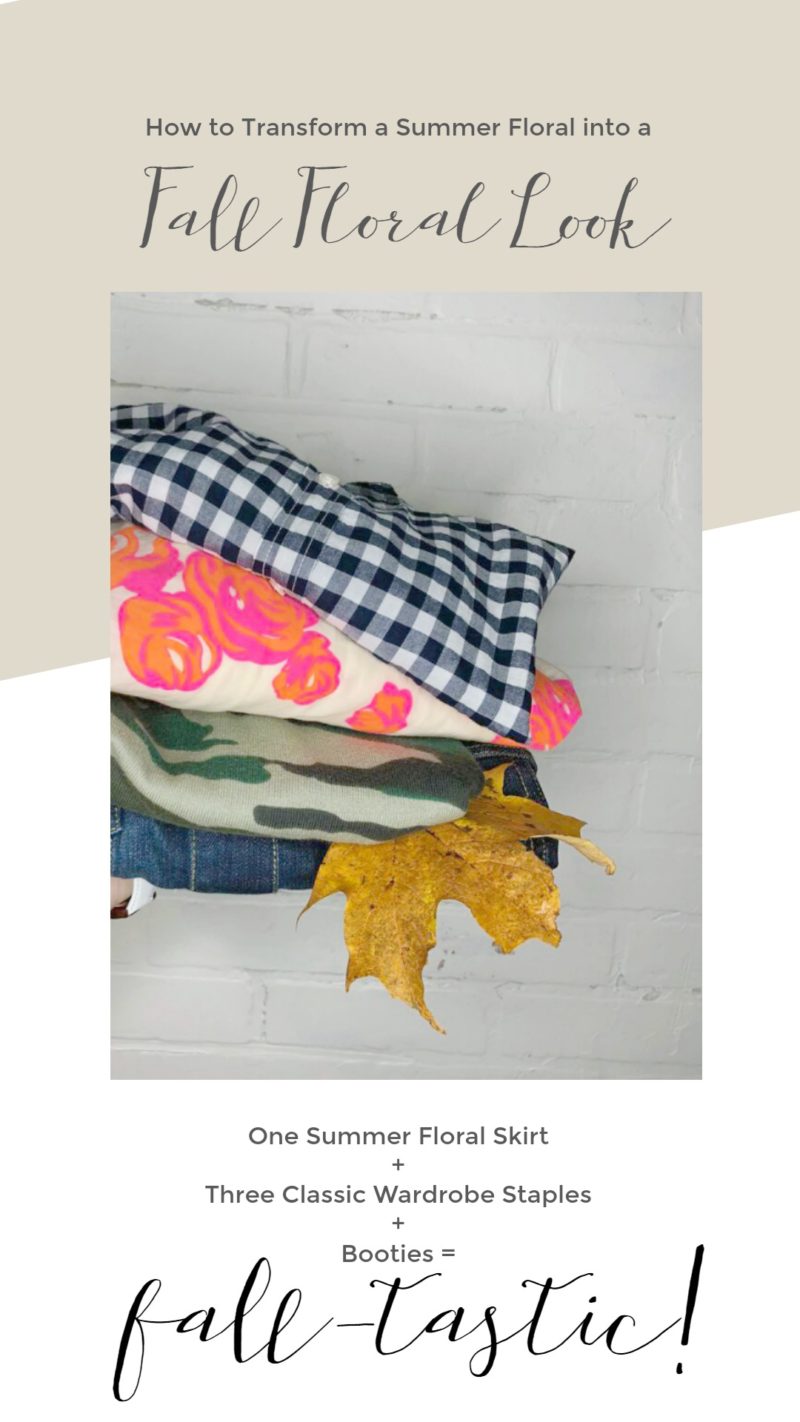 ---
It's a Linkup Party
This Party Has a Few Guidelines:
Have fun and make some new friends! Please visit at least two other links.
Please link to your actual post and not your blog's homepage.
Please link back to the Ageless Style Link Up in your linked post.
Feel free to use #AgelessStyleBloggers in all of your social media posts
Please follow each of your hosts on at least one social media channel via the links below.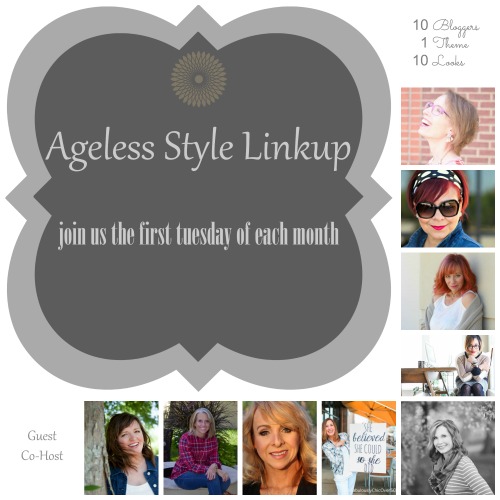 Debbie ~ Fashion Fairy Dust bloglovin, blog, Instagram, Pinterest, facebook, twitter
Jennie ~ A Pocketful of Polka Dots blog, Instagram, Facebook, Pinterest, Twitter, bloglovin
Jodie ~ Jodie's Touch of Style blog, Facebook, Instagram, Pinterest, bloglovin, twitter
Jonet ~ Fabulously Chic Over 50 blog, Facebook, Instagram, Pinterest, Twitter
Kellyann ~ This Blonde's Shopping Bag blog, Instagram, bloglovin, twitter
Lisa ~ Coast to Coast blog, Facebook, Instagram, Twitter, Pinterest
Paula ~ Dimples on my What blog, Facebook, Pinterest, Instagram, Twitter
Shelly ~ The Queen in Between blog, Instagram, bloglovin, Pinterest, Facebook
---
Meet Our Guest Co-host
Join The Party and Link Your Fashion Post:
---