& When Phobias Affect Your Fashion Choices
Paired with lace and leather, leopard print makes a beautiful fall statement outfit. When it comes to fashion inspired by nature, our choices are nearly limitless. But today for our Ageless Style Linkup, I'm feeling the call of the wild in a trendy leopard print midi skirt that can be dressed up or down and I'd say today's look falls somewhere in between.
The real scoop in this post is phobias and fashion. I'm sharing how phobias have affected my fashion choices and why not all trends are for everyone.
The Ageless Style Linkup
It's the first Tuesday of the month and that can only mean one thing, Ageless Style abounds!
The Ageless Style Linkup is a group of 10 fashion bloggers over the age of 40. We take one fashion theme on the first Tuesday of each month and style it in our unique way, proving that style has no age limited and is as unique as the woman wearing it!
This month my colorful friend Debbie from Fashion Fairy Dust chose our theme, Natural Beauty which she explained could be our interpretation of anything in nature.
The interesting thing about Debbie and me is that we often end up choosing a style or print very similar to each other for these fashion challenges. We don't ever discuss our ideas ahead of time but we think we must be related somewhere down the line. I'll be interested to see if this month proves to be the same. Go check her out and find out too.
---
Getting Close to Nature in Animal Prints
I immediately thought of animal prints since they are trending BIG TIME this fall. Leopard prints are a wardrobe staple in my opinion and I almost consider them neutral. But, snake print is EVERYWHERE right now and this was going to be a great opportunity to add some to my wardrobe.
This post contains affiliate links and I will make a commission should you purchase from one of them, but you won't pay more for the product. Thank you for your support through those purchases and with your words of encouragement. You keep this blog going.
The Snake Print Trend is Totally Lost on Me
But there was one problem, I have an extreme snake phobia. We're not talking, "yeah, snakes freak me out" or "I don't like snakes either" kind of fear. It's more like if I see one I "see the light", nearly pass out, start sweating, and can't close my eyes for months after the "siting" without seeing it over and over. I'm still not walking in one area of my yard because I saw one TWO YEARS AGO!
This isn't new. I grew up in Maryland and we lived in a pretty "snakey" area with very large black snakes and some copperheads. My mom still says, "If Paula saw a snake she didn't have to say anything, she had her snake face on."
Reptile exhibits at the zoo are completely off-limits for me. And, I'm not really sure how I got through 10th-grade biology because my teacher, Mr. Updegrove had a pet boa constrictor named Louie, who lounged around on the science sink counter during most classes. Are you getting the picture now? I realize this is completely irrational but that's the very nature of phobias.
Still, keeping this in mind, I thought I'd like to be one the cool kids rocking this trend. I might be able to add a blouse or a skirt in a snake print as long as it wasn't too realistic looking. But, I definitely would NOT wear snake print on my feet!!! Who wants to look down and see snakeskin at their feet? To each her own, but honestly, you girls be crazy!
Snake Print Therapy Fail
At this point, I'm not really interested in getting over this phobia unless it's simply miraculous. For years I've prayed about being healed of it, but really I just want to never see one in nature again.
So in an attempt at my own idea of snake print immersion therapy, I bought an inexpensive snake print blouse and put it on. It didn't help that it had long ties at the neckline but I didn't make it 10 minutes before the heebeegeebees were all over me.
I did buy a snake print top and skirt from Target and one from Loft that was light pink and gray and not very realistic looking. Had it not washed me out, I may have been okay wearing it.
I'm Probably Scared of Leopards too, But Not Leopard Print
So plan B, was a leopard print skirt. I'm certain that if I saw a leopard in nature I would totally freak out too. A leopard could rip me to shreds, but it's obviously a print I love with no phobias attached to it.
I've been wanting a silky leopard print skirt for months. If you've been waiting for the next post in my fall wardrobe planning series, this is a preview of one of the items that are on my Shopping List. And since I'm following my own plan and advice, I can think of at least four ways I could style this skirt for the coming months, so I see it getting quite a bit of wear time, making it a good return on investment. I only wish I had steamed it before I took these photos. Oops!
But today, I've styled it somewhere between dressy and casual with a beautiful lace blouse and booties. Adding to the fall vibe and texture I added a faux leather jacket, which is a steal of a deal at $25 if you have a Sams Club membership.
Where I'd Wear
I'd wear this outfit to church and or out to dinner and a movie.
What I'd Change
First, a shorter moto jacket would look better proportionally and I'm on the lookout for one.
Like I mentioned above, this skirt will be very versatile. But, this outfit would become completely dressy if I removed the jacket and added a pump or a heeled sandal.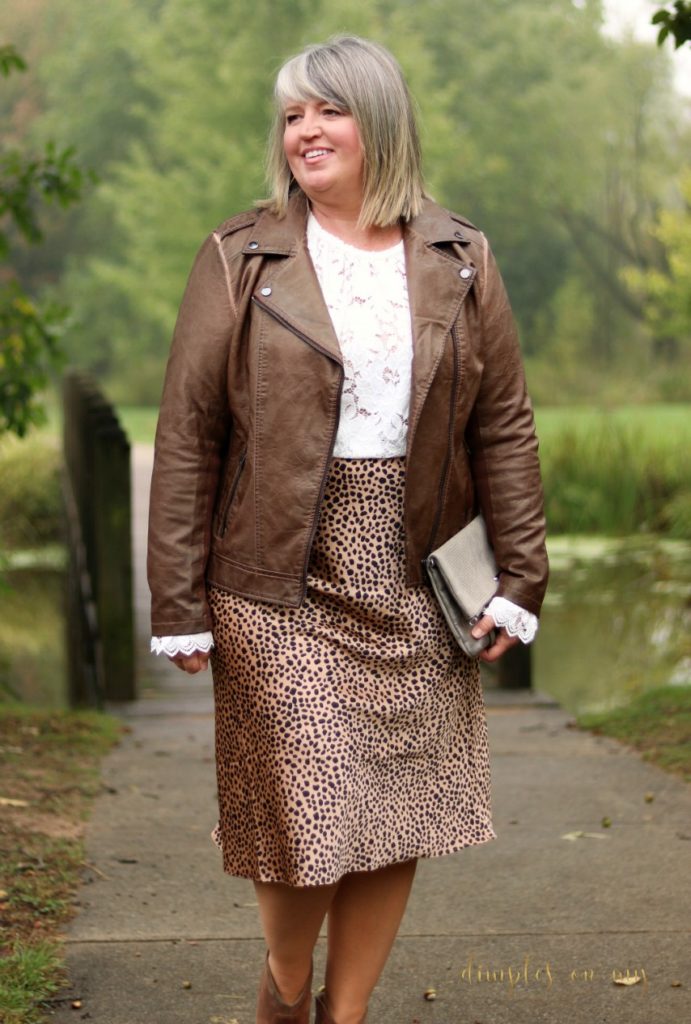 Other Ways to Wear It
Look for this leopard skirt in the coming months with sneakers and t-shirts as well as with tall boots and sweaters. It's just so versatile and I think I'm going to need more places to go so I can wear it! 😉
Now You Know
So, now you know I'm a giant scaredy-cat and it even affects my fashion choices. I always say I'm a country girl at heart but not because I'm a fan of all nature. Maybe I should live in the city and keep a garden on a terrace so there are fewer chances of seeing those slithering devils. But the thing is if this skirt and the setting of these photos prove anything, it's that country and nature look pretty cute on me. 😉
Where Do You Stand on Fashion and Phobias?
Do you have any phobias that affect what you will or won't wear? I'll wear a spider graphic tee all day long, but the "Don't tread on Me" emblem, FORGET IT!
---
Shop This Style

                
                


                    
                    
                


            
---
The Linkup
We would love to have you join our party as a blogger or a seeker of fashion inspiration. Visit at least two accounts and if you link your fashion post (not your home page), link back to this linkup on that post. Have fun and be inspired!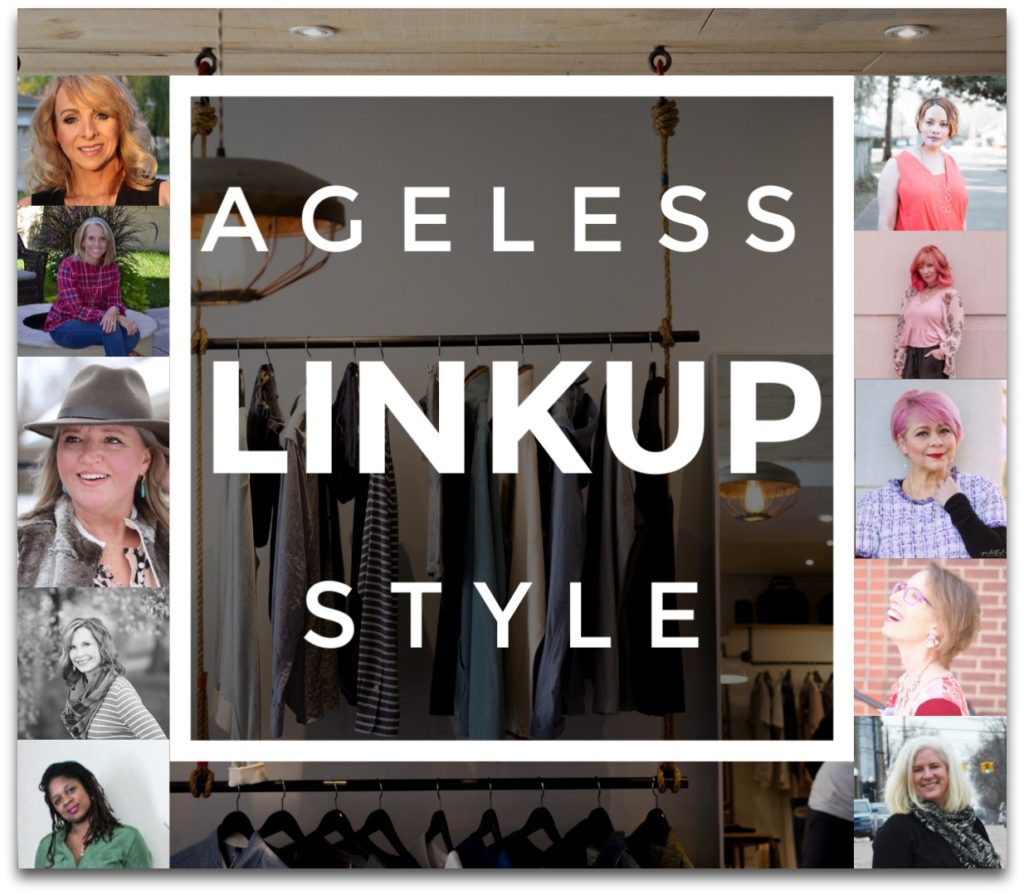 Daenel ~ Living outside the stacks blog, instagram, pinterest, twitter
Debbie ~ Fashion Fairy Dust bloglovin, blog, instagram, pinterest, facebook, twitter
Jennie ~ A Pocketful of Polka Dots blog, instagram, facebook, pinterest, twitter, bloglovin
Jodie ~ Jodie's Touch of Style blog, facebook, instagram, pinterest, bloglovin, twitter
Julia ~ When the Girls Rule blog, facebook, instagram, pinterest,
Kellyann ~ This Blonde's Shopping Bag blog, instagram, bloglovin, twitter
Lisa ~ Coast to Coast blog, facebook, instagram, twitter, pinterest
Paula ~ Dimples on my What blog, facebook, pinterest, instagram, twitter
Shelly ~ The Queen in Between blog, instagram, bloglovin, pinterest, facebook
Shugunna~ Nzuri N* Simplicity blog, instagram, pinterest

---
Link Your Post Here
You are invited to the Inlinkz link party!