Making a Stretch for Fashion and My Ageless Style Challenge
Have you wanted to try the snake print trend, but you're genuinely phobic of snakes? Me too! Today I'm going to tell you How to Wear Snake Print if You Have a Snake Phobia. And I'm not talking about being a little freaked out or "I don't like snakes either." about the disgusting belly-crawlers. I'm talking a true sweat-fest, bad dreams, can't sleep well for months following a siting and will only walk outside holding your neck (it's a fear thang) kind of skeerd!
Okay, I know in my last Ageless Style post, I said I would never wear snake print because of my snake phobia. You know what they say about never saying "never", right? Because Jennie of A Pocketful of Polka Dots gave us snake print as our theme for this month's style challenge.
"Jennie, Jennie, who can I turn to?" But I get it, most people don't get it. I seriously thought of bowing out of this month's challenge but decided to see if I could find some way to incorporate this trend into my wardrobe even with a phobia.
This post contains affiliate links. Purchasing items from these links will result in dimples on my WHAT? earning a commission. The use of affiliate links does not influence the price you pay. I purchase all my own clothes and products that I write about unless otherwise noted. My biggest pet peeves are Liars, Cheats, Sneaks, & Fakes! You can be assured that ALL opinions expressed herein are my own. 😉
What's The Ageless Style Linkup?
The Ageless Style Linkup is a group of 10 fashion bloggers over the age of 40. We take one fashion theme on the first Tuesday of each month and style it in our own unique way, proving that style has no age limit. Style is as unique as the woman wearing it! If you're a blogger, join the party and link your own fashion blog posts at the end of this post. And if you're looking for style inspiration, visit any or all of my co-hosts linked below.
Deciding to Come to the Party
If you read last month's post, you know I had purchased a snake print blouse but wasn't able to keep it on for more than 10 minutes before the panic started rising up in me. I do think I might be able to incorporate a subtle snake print on a pleated skirt or monochromatic snake textured booties. Still, I didn't want to spend a lot of time or money in my search because having something snake print obviously isn't important to me.
Then, I remember that I had found a unique snake print belt I already owned (with the price tag still on it) when I was cleaning out my closet. I was all set to style that with a simple black dress, but then a few things occurred.
Blog and Style Goals
One, my goal is to show you more outfits I would actually wear in my daily life. Not that I won't wear the belt, but as a part of my less is more fashion strategy, I want time to really think about how I will style it in a few different ways.
An affordable price point is always a bonus when you're adding trendy pieces to your outfits.
Two, I happened to see the cutest and very affordable little snake print cross-body bag! I knew if I was going to try to get over this fashion phobia, this was the piece to try it with! An affordable price point is always a bonus when you're adding trendy pieces to your outfits.
And three, I'm in love with this beautiful and inexpensive cardigan (I may have bought in the ivory color too, oops), and I knew the purse would be the perfect accessory with it.
5 Ways To Add Snake Print to Your Wardrobe if You Have a Snake Phobia
If you're like me and feel more than freaked-out about trying the snake print trend, here are a few ways you might add a little bit to your wardrobe.
Keep it subtle. Sheer or overlay snake prints, as well as those with monochromatic coloring, will have a less dramatic effect and still allow you to rock the trend.

Try wearing only the texture of snake print, kind of like you would with crocodile-embossed "leather."

Choose unrealistic snake prints, or at least not realistic to your area. 😉 I searched for snake textured booties (see the previous tip) and found some in shiny black. Those were an emphatic NO WAY for me since they looked identical to giant black snakes I would run upon in our yard when I was growing up. But they did come in white as well. 😉

Mind the shapes and lines. Avoid snake printed pieces that can cause you to see snake shapes, like long belts or cords. The strap of my cross-body bag is useful but still in question. Maybe I could find one of those cool guitar style straps that would look cool with it.

Wear something you can't see. If you really want to wear the snake print trend but can't find anything that doesn't make you die a little inside, try sunglasses. They are in front of your eyes but you can't see them. 😉
---
The Outfit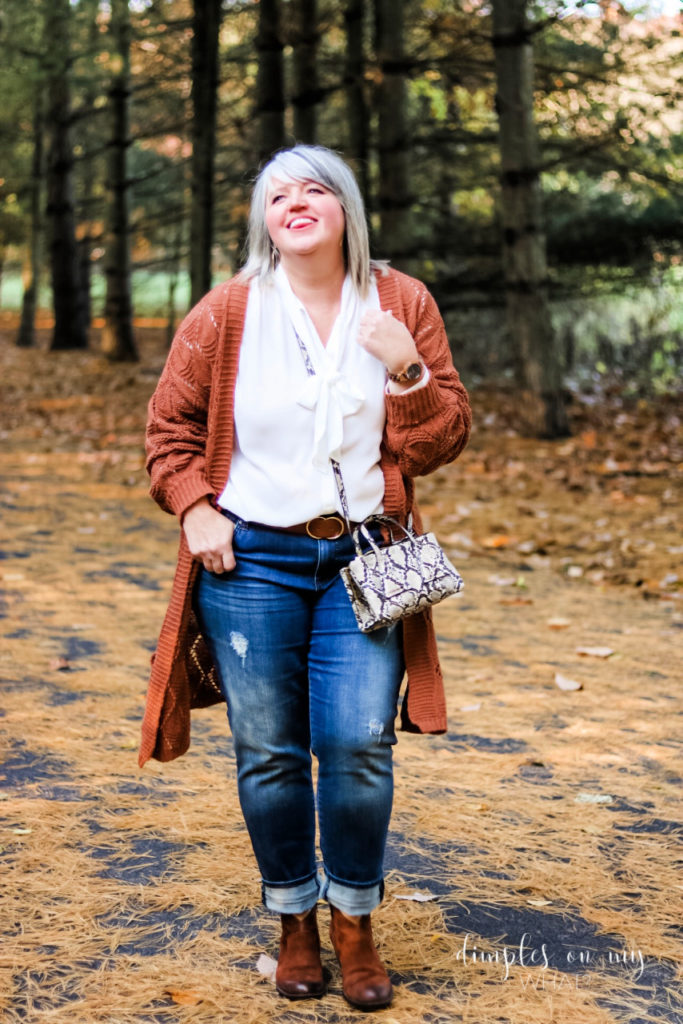 What's not to love about this cardigan? Great color. Unique texture. And wow, what a fantastic price! Even if you don't pair it with a cute bag, it's right on trend this fall. I'm wearing an XL, but it does run big, and I probably could have sized down. (See my measurements here for a more accurate size reference.)
Pairing the cardigan with a neutral and classic tie-neck blouse dresses up the boyfriend jeans. I still like my skinny jeans, but I've been on the hunt for denim with straight or flared cropped bottoms, but haven't yet found any that flatter me. So these Kut from the Kloth, Katherine boyfriend jeans (wearing a 16W) with a looser fit came in handy for this look.
I also chose to do a wide fold to the ankle instead of a small double roll to change things up a little.
Why This Outfit Works (for curves)
A long cardigan over almost anything creates a long, lean look. This one bridges the gap between chunky and thin, so it works with the looser top and bottoms. However, if your cardigan is any thicker than this one, I'd keep everything underneath close to the body.
The snake print cross-body bag has a small but structured shape that pairs perfectly with the softer silhouette of a curvy body. And the colors play well with the earthy fall tone of the cardigan.
What I'd Change
Oh boy, the skies the limit. I would and have definitely worn this with skinny jeans and a v-neck tee shirt. But it would look good with a graphic tee and joggers or leggings too; just remember to keep things less bulky underneath.
Where I'd Wear It
This outfit could be worn in a more casual church setting. I'd wear it to brunch, lunch, dinner – okay, I'd eat anything in this (but I'd definitely cover the pretty blouse with a napkin if I were eating spaghetti) 😉 . It's really a great casual look for nearly any activity you want for an elevated everyday outfit that looks put together.
A trend is the least important element to add to your wardrobe!
---
Talking Trends
What if I Try, but Still Can't Wear Snake Print?
If at first, you don't succeed, this is not a case of try, try again. A trend is the least important element to add to your wardrobe! I promise!
Some people say snake-print is a classic. That may be true if you frequent the rodeo (Ever been in a Western boot shop or a rodeo?) or if it is a subtle snake-print on a classic pump. But the vivid and graphic snake-prints popular today, lean more toward trends.
You can still build a current wardrobe and not add one trendy item if you don't want to. I think as long as you choose pieces that are flattering to your body shape, are classic, have proportions right for your size and height, and are colors that you look and feel good in, you will still look current.
There's a bundle of other things we might be doing to "date" ourselves, and I have some crazy photo proof of these, but I'll save those for another day. 😉
Will This Snake Print Bag Stay in my Closet?
Initially, I was pretty sure this would be a bag I'd keep in my wardrobe, but during this photo outing, I tossed it on the leaf-strewn grass to get some shots without it. When I saw it lying on the ground, especially the strap, that old familiar angst started to lite in me, and now I'm not so sure.
I suppose if I don't lay it down in the grass, it might work. 😉 The strap is also removable, and it would make a unique alternative to a clutch. It's just so darling I hate to give it up, so we'll see.
If you had or have a snake phobia, knowing that snake print shoes are out of the question, how would you incorporate this snake print trend into your wardrobe?
---
The Link-Up
This Party Has a Few Guidelines:
Have fun and make some new friends! Please visit at least 2 other links.
Please link to your actual post and not your blog's homepage.
Please link back to the Ageless Style Link Up in your linked post.
Feel free to use #AgelessStyleBloggers in all of your social media posts
Please follow each of your hosts on at least one social media channel via the links below.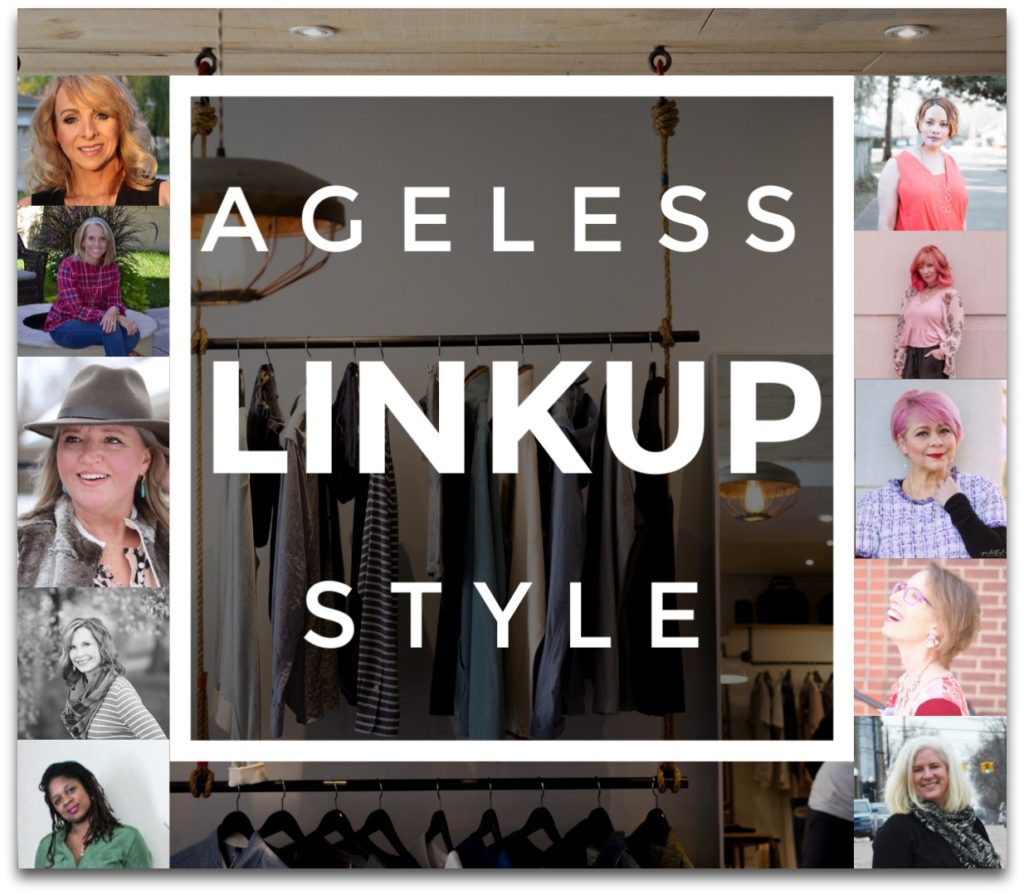 Check out my girls:
Daenel ~ Living outside the stacks blog, instagram, pinterest, twitter
Debbie ~ Fashion Fairy Dust bloglovin, blog, instagram, pinterest, facebook, twitter
Jennie ~ A Pocketful of Polka Dots blog, instagram, facebook, pinterest, twitter, bloglovin
Jodie ~ Jodie's Touch of Style blog, facebook, instagram, pinterest, bloglovin, twitter
Julia ~ When the Girls Rule blog, facebook, instagram, pinterest,
Kellyann ~ This Blonde's Shopping Bag blog, instagram, bloglovin, twitter
Lisa ~ Coast to Coast blog, facebook, instagram, twitter, pinterest
Paula ~ Dimples on my What blog, facebook, pinterest, instagram, twitter
Shelly ~ The Queen in Between blog, instagram, bloglovin, pinterest, facebook
Shugunna~ Nzuri N* Simplicity blog, instagram, pinterest
Link your post here:
You are invited to the Inlinkz link party!