A 6-month Hair Color Progress Report
Forgive me, Hair-Colorist. It's been six months since my last hair color. Well, it's been a while since I talked about my transition to gray hair. When I last wrote about it, I was still vacillating as to when I would actually stop using hair color on my naturally gray hair. If you follow me on social media (and please do) you already know, that I did it! I've started the slooowwwww process of letting my natural hair color grow out.
I didn't go cold turkey and just ditch the dye completely though. At least not at the first. I'm going to show you my progress, share my thoughts on the decision to lighten my hair in order to create a more subtle outgrowth line and show you where I am in my transition to gray hair today.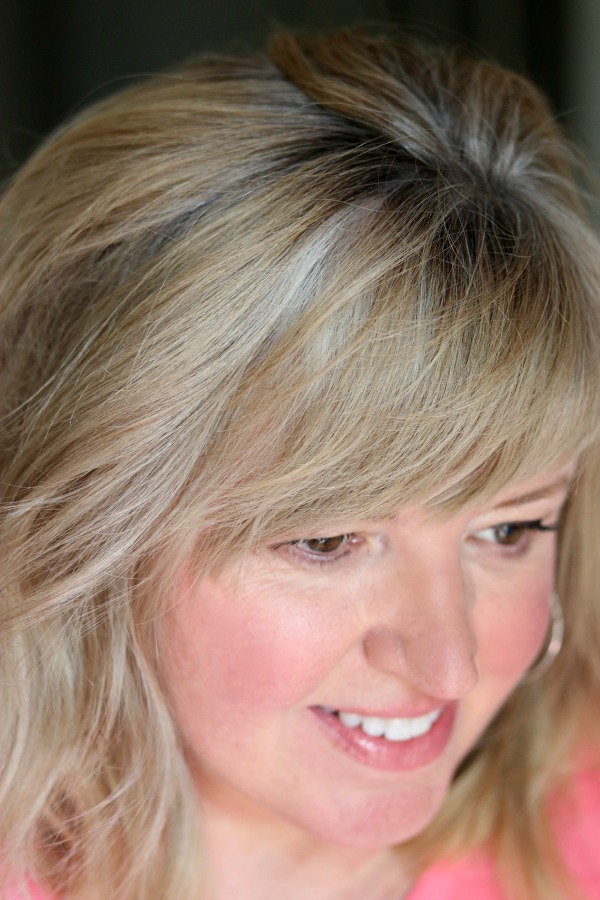 Would I do it the same way again? What would I do differently? Do I like what I'm seeing? Have I freaked my grandkids out with drastic hair color change? Do I feel older? Let's find out.
I Can See Clearly Now – I'm a Calico
My last official hair color to cover the gray was January 20, 2018. I didn't make another appointment with my colorist because she was busy and distracted on that particular day. Following some miscommunications with her, I never did get my next appointment booked. Since I had surgery a month after that appointment my hair wasn't my top priority anyway.
I was long past my usual 4 – 5-week hair color schedule when I finally had a new hair colorist lined up and I thought, why not just go with it now. I had in my mind though that I wanted to blend, and by blend I mean lighten, my colored ends in with my new growth.
As you'll see in the photos below, where my hair is "gray", it's really white and where it's dark it's really dark. And then there are other areas that are a mix of salt and pepper. I'm quite like a calico cat! Meow!
I had the notion that I would come away from these blending appointments with a silver, white, and dark balayage streaks that would make my own natural roots make sense. But a Pinterest worthy mane is hard to come by. Follow me and see the hairstyles that inspire me.
Operation Grow the Gray Progress Report
At this point, I have had two appointments to "blend" the ends with the new growth. During each appointment, my new growth has, supposedly, been left untouched. And lastly, I have had a toner put on the ends to cut the yellow undertones. I've also had about 4" of crunchy ends cut off.
Here's a photo timeline to date:
Would I do it the same way again?
In hindsight (the best sight), I don't think I would have lightened my hair so drastically. Although the lighter color will create a more blended line with the whiter hair, you can see that I'm very dark in the back. So that demarcation line will be markedly obvious. It might just border on that skanky, "I bleached my hair and now I can't afford to recolor it so I'll just grow it out" look.
Next, bleaching my hair so drastically (and it still wasn't enough to get me to the level where I could actually go silver) has FRIED my hair. I have always had soft, silky hair and although silky hair has its own style challenges, I LOVE the healthy hair! But now having hair that is breaking off to the point that I see tiny hair particles flying off when I brush it is a little soul crushing to me.
And last, even though there has been clear communication between my colorist and me to leave the new growth untouched, I feel like I've lost a little progress at each "blending session". You can see in the photo chart above that I haven't made a ton of progress. You can also see exactly where most of the outgrowth was lost.
It was certainly not intentional, but it's been close to 6 months since my last official hair color and I feel like I would be farther into an already long process had I left it alone.
So my final answer to that might be – no.
What would I do differently?
IF I could back all the way up, I might actually go cold turkey off of the hair color and simply opt to tone out the brassiness of the color treated ends for a few appointments. I say a few appointments because inevitably, any treatments you do to your hair get into new growth. That's fine when you don't have a lot of outgrowth and aren't trying to grow it out. But when the outgrowth is halfway down the hair shaft, this will result in a weird sort of ombre'.
Looking back I would have definitely NOT done the second blending session. The day before, I had actually thought about canceling the appointment because I thought that I could probably live with where my hair was at that point.
But I didn't cancel and at that appointment, my hair was full-on "highlighted" (bleached) and toned with a permanent color it to give an ashy tone. The ashy tone was beautiful but it didn't last for more than a week. 🙁 It was at that time that my hair sustained the most damage and I lost the most progress in transitioning to gray hair.
Do I like what I'm seeing?
The chemical color: Having been a lifelong brunette, I'm still getting used to myself with lighter hair. The color is supposed to be ashy/silver in color but whether it has been a demi-permanent toner or permanent color my hair has not held onto it for more than a few days and reverts back to a yellow, bleached blond tone that jacks dimension other than the new growth coming through.
The natural "calico" regrowth: Yes, I LOVE the white color in particular and am getting super impatient to have it entirely grown out. Last week at my haircut appointment my stylist and I started talking about a "Plan P" (a.k.a. pixie or short haircut). (Cue: Kevin McAllister hands to cheeks screaming face 🙀) That's far down the road, if ever. But the white streak in my bangs will be grown out first and I'm already imagining if I could train my bangs toward the opposite direction so that it's more visible.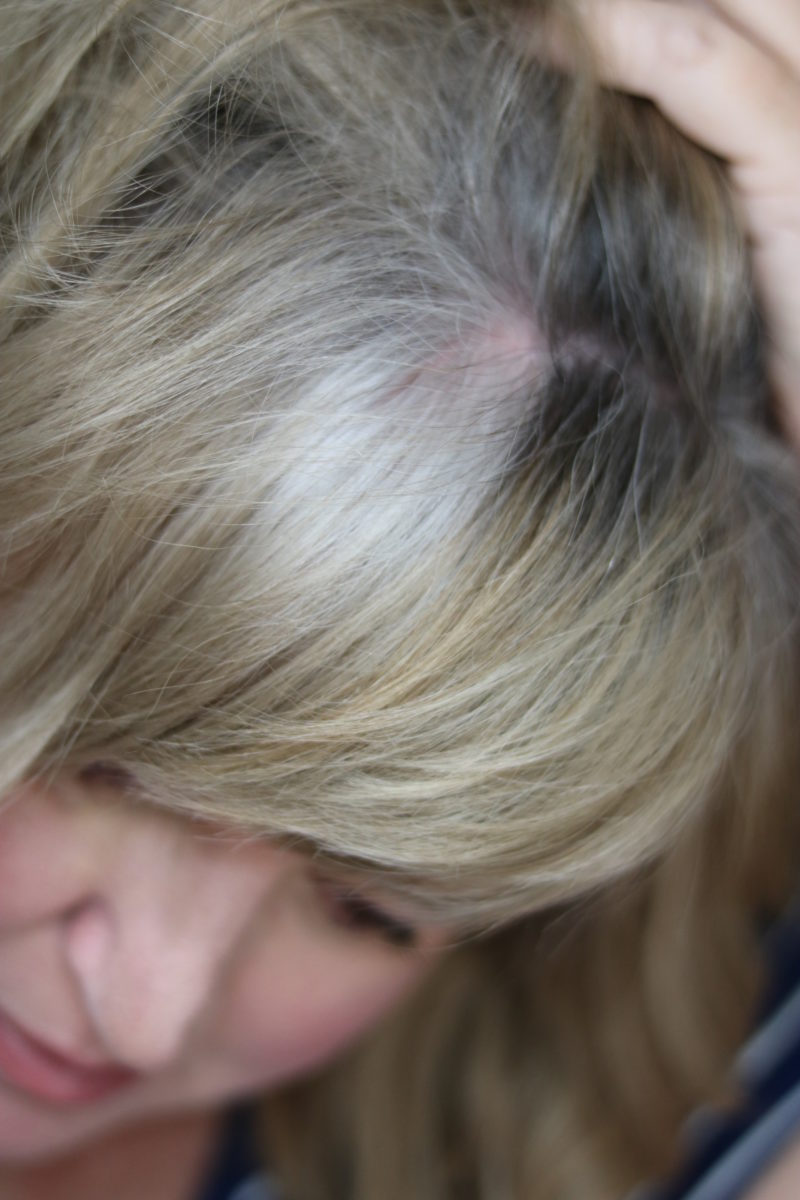 Have I freaked out the grandkids with my drastic hair color change?
Not really. Even though there a kid or so who is a bit OCD. A couple of them have noticed. But it's more like an "oh, your hair" in passing. What can I say? They are males and they don't really care. Plus, I'm the one with the most treats to give so they don't mess with me. 😉
Do I feel older?
At this point in the process I don't feel older nor do I feel like I look older. When my hair isn't colored or highlighted it has no natural body or lift and on one particularly hot day I was a sweaty mess with my hair flattened to my head. I wasn't feeling like the best version of myself. But that could happen whether my hair was colored or not.
What have I learned in the process?
I've learned that the process of growing out gray hair is a marathon and not a sprint. Other than shaving your head, there are no shortcuts. (no pun intended)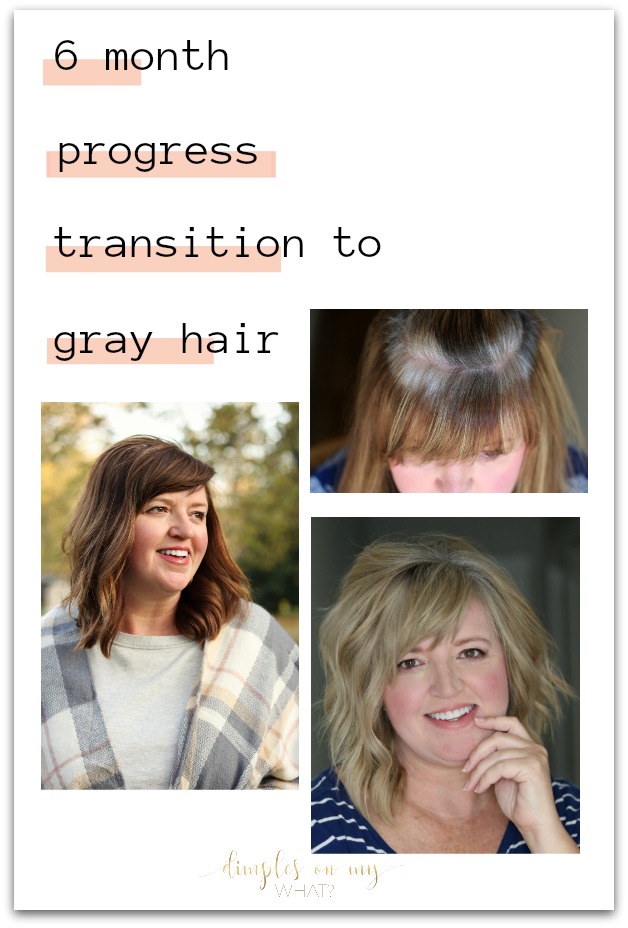 Final Thoughts on Transitioning to Gray Hair
Since I started growing my naturally gray hair out, I have noticed many more women doing the same. I've said it before and I'll say it again, everybody's journey is different. This is my choice and I'm not trying to influence you to do the same if it's not for you.
However, if you're on the fence or have already started transitioning to gray hair, I hope this progress report will be an encouragement to you. I'll do my best to update you on a more regular basis and not wait another 6 months.
I had thought about getting a few lowlights put in my hair in order to make the really dark hair blend a bit better and avoid the skank look back there, but at this point in my transition to gray hair, I'm not planning on any more chemical treatments. I want to get this process going.
I'm excited to see the full handiwork of how God painted me.
Be YOU!
Paula
Follow me on Instagram to see the progress in more real time.