Summer Wedding Attire
and the ageless style link up
Hi friends! Welcome to the July edition of the AGELESS STYLE LINKUP. We are a group of ten women over 40 (or 50 in my case) who are out to show you that style is indeed ageless. We welcome our guest co-host Cheryl Tucker of Northwest Mountain Living. Be sure to check her out along with the rest of my fabulous friends as we show you how we dress cool in the summer heat. I've chosen to show how to dress for a summer wedding.
I've been out of town for nearly 10 days and then hosted my parents at our house for a week following. That means lots of entertaining our kids and the Littles as well. And then like all good families do, we share. This isn't usually a problem until we share a stomach bug… STORY OF OUR LIVES! So not only was I late getting this post together, I'm doing it in a major hurry and through trips to the loo. UGH!
My parents and I were guests at my cousin's wedding last Friday evening and it took place at a zoo! Yes, a ZOO! Oh, and did I mention that we are also experiencing a heatwave here in the Midwest? Well, YES, we are. So what does a guest wear to a wedding in the midst of a heatwave when you're not sure if it's an indoor or outdoor venue? And you are already a blubbering, sweaty mess because your body isn't metabolizing the bio-identical hormone replacement therapy you're taking? This….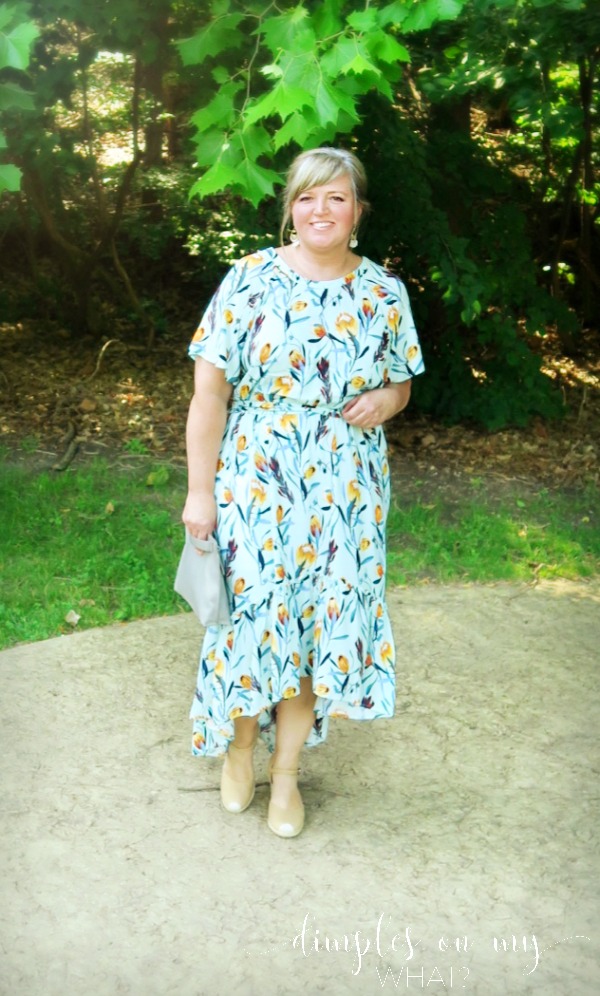 Summer Wedding Guest Dress
I wore as little as possible that covered as much as possible and was still flattering.
Target's Ava & Viv plus size line has some gorgeous dresses and most are below the $35 price point. I chose this floral high/low hemline with flutter sleeves because well, it's beautiful for starters. Secondly, the fabric feels cool and flowy and the sleeves keep my upper arms covered.
Sleeves and Belts and Jewelry Matter When Keeping Cool
I would have been overly conscious of my upper arms and wearing a style that makes you feel comfortable is key to keeping your cool in extreme conditions. When you're trying to stay cool, don't discount anything about a style that might "worry" you and make your blood pressure rise.
The high/low hem not only made the dress look fancy, it also kept it breezy. Remember I talked about that in last month's AGELESS STYLE post? Also, if you don't like your legs and don't want to wear pantyhose this gives you a decent amount of coverage. I don't like to wear them, but I know some people still do.
Minimal Everything Else
I limited jewelry to statement earrings, like these fringy ones from Stella & Dot, for two reasons. First, the floral dress needs no competition. Second, I don't like the feeling of anything around my neck, especially when it's hot. And if I'm being totally honest, I forgot to grab a bracelet and my wedding ring. Oops!
This time I opted to wear the self-tie belt until I can find something of medium width that I like with the dress and my shoes… which are really old.
Underwear TMI
If you're new around here, I'm pretty OCD about my underwear. I've written about it multiple times including sharing my love of cotton stretch fabric and my FAVORITE anti-chaffing long-legged underwear.
I was able to forgo the need for any constricting undergarments because the dress is flowing and forgiving. So I was rocking a no-wire, super soft bra, and my white long-line undies.
Hair
A quick and simple updo kept my hair off my neck. There wasn't any real sweating surrounding my hair until we got home and one of the bobby-pins was so deeply tangled in some knotted hair that The Hubs had to cut the wad of hair out! This was only after trying in vain to cut the hairpin with a wire cutter. Yikes!
I Didn't Melt
The venue was gorgeous and was up in the shade trees at The Treehouse at the John Ball Zoo in Grand Rapids, Michigan. After waiting outside for a brief period, we were taken to the Bissel Treehouse in slightly cooled hillside trolley cars. Luckily, the reception was in a very nice indoor space following a brief and beautiful outside ceremony.
My dress is now below $25 and I'm wearing an X. You can see my current measurements here. I've linked several other pretty, plus-sized dresses below. Anyone of them would keep you covered and cool when the temperatures have you wanting to jump sober and naked into the nearest punch bowl.
Be Cool. Be Comfortable. Be Confident.
Paula
---
Shop this post

The Link Up
This Party Has a Few Guidelines:
Have fun and make some new friends! Please visit at least 2 other links.
Please link to your actual post and not your blog's homepage.
Please link back to the Ageless Style Link Up in your linked post.
Feel free to use #AgelessStyleBloggers in all of your social media posts
Please follow each of your hosts on at least one social media channel via the links below.
Daenel ~ Living Outside the Stacks blog, instagram, pinterest, twitter
Debbie ~ Fashion Fairy Dust bloglovin, blog, instagram, pinterest, facebook, twitter
Jennie ~ A Pocketful of Polka Dots blog, instagram, facebook, pinterest, twitter, bloglovin
Jodie ~ Jodie's Touch of Style blog, facebook, instagram, pinterest, bloglovin, twitter
Jonet ~ Fabulously Chic Over 50 blog, facebook, , instagram, pinterest, twitter
Kellyann ~ This Blonde's Shopping Bag blog, instagram, bloglovin, twitter
Lisa ~ Coast to Coast blog, facebook, instagram, twitter, pinterest
Paula ~ Dimples on my What blog, facebook, pinterest, instagram, twitter
Shelly ~ The Queen in Between blog, instagram, bloglovin, pinterest, facebook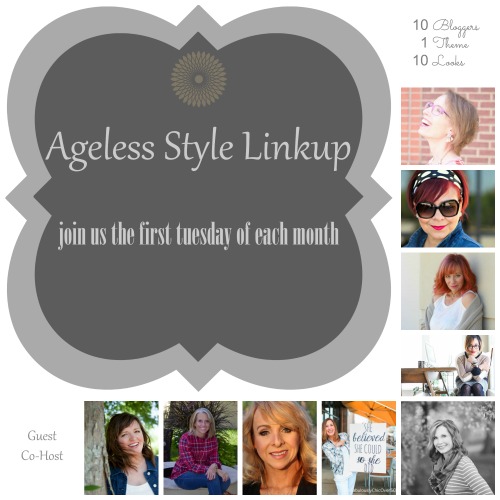 ---
Meet Cheryl and Link Your Own Fashion Posts
LINK YOUR POST and checkout a few others
!– start InLinkz script –>