Think of Your Swimsuit Like Any Other Outfit
Have you been hiding away from having fun on the beach or at the pool because you dare not put on a swimsuit? Do you strive for a bikini body but have grown weary of the effort? Well, you may not need a different body. Let me tell you why.
Confession: I have a tiny obsession with swimsuits – even before we had a pool (and we don't live near the ocean). I want to believe that one day I will put THE swimsuit that will make me look like a supermodel. I will instantly turn into Cindy Crawford or Christie Brinkley with long smooth legs and a non-protruding belly.
However, after trying on multitudes of swimsuits over the years, I've come to realize that swimsuits are like any other clothing you put on. A great outfit can change the way you feel about yourself even beyond how you look. When it's flattering and comfortable, you will have the confidence to stand a little taller and smile a bit more. The same concept applies to swimsuits.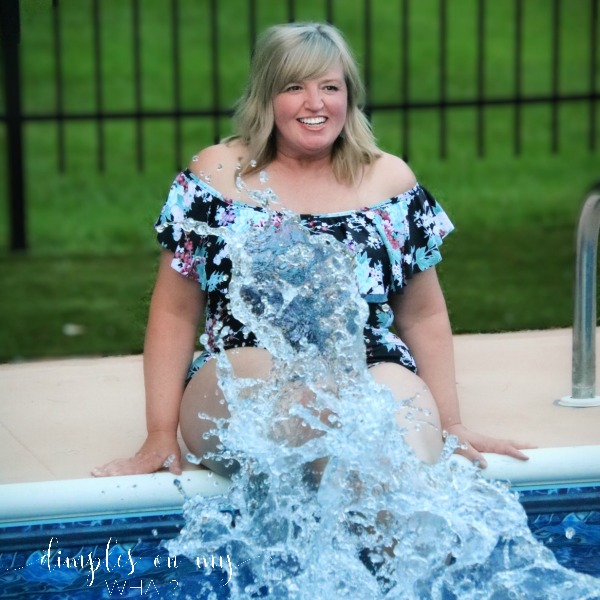 Bikini Body Bolognes
Have you heard or read a statement that goes something like this, "Steps to a bikini body: Buy a bikini. Put it on." I think they are meant to encourage women to have a love for and except their bodies as-is. And maybe some women can be empowered by a meme-worthy encouragement like that. I, however, find it can create another reason for women to feel less-than. And that's what I want to talk about today.
What's Meant for Good…
If you have followed any body-positive bloggers or Instagram accounts, you've likely seen your fair share of bikini-clad, "real sized" women who seemingly have no issue sharing rolls, cellulite, and stretch marks with the world. I'm not berating these brave humans. They certainly let us know that we're not alone with our love handles and what I like to call "gills" on our backs (a.k.a. Back Fat). I also understand that the more we see photos of women who aren't models, actresses or simply genetically blessed and who aren't tight, toned and tan, the more normal (we hope) it will become to our sons and daughters looking on. But a quick trip to the beach ought to accomplish the same thing.
Encouraging, REALLY?
What festers in me the most is the underlying insinuation that to embrace your natural body you should be okay exposing more of it in public. That, because I'm not comfortable letting my menopausal, stretch marked belly hang over my bikini bottoms I have a long way to go in body confidence journey.
Look, no matter what your size is, if you are REALLY comfortable with wearing a bikini, then suit up. But if there's something inside you that would rather be comfortable and wear a swimsuit that flatters your body the best, don't feel sorry about it. It's all about what feels right to you.
Wearing a modest swimsuit that covers the jiggles and bits doesn't make you a prude or mean that you're ashamed of your body. It says that you're still holding on to your primal sense of privacy. Adam and Eve before the apple if you will.
1 Corinthians 12:23 ESV "And on those parts of the body that we think less honorable we bestow the greater honor, and our unpresentable parts are treated with greater modesty,"
The Swimsuit
Body Confident In a One-Piece
Think of your swimsuit like any other outfit. I wouldn't walk out of the house in an outfit that squeezed my belly out over my waistband, whether my shirt covered it or not. It's not flattering or comfortable. So I'm not going to wear a trendy cutout swimsuit or a swim bottom so low that I always have to pull up to tuck my tummy back down in them.
I also choose clothes that I'm not adjusting constantly. And if you've been around here for any length of time, you know comfort is my love language.
I went through my swimsuits recently, after having my breast implants removed to see what I had that still might fit my smaller chest. Even though most of them still fit, several were too low under the armpits to corral my extra underarm fat (pushed up from the lift). And they also exposed the scars. I'm not ashamed of them; they are part of my story. But the fresh scars will darken with sun exposure.
So I've found a couple of new swimsuits that I love. Including this one, I'm featuring from Raisins Curve. It could easily be worn as a top with palazzo pants or with a skirt like I have styled it here. It's quite gorgeous, and it feels good too. It has some smoothing power, but not so much that you can't breathe.
Another suit I love is this sporty front zip Timothy Snell one-piece. It can look sexy but still modest with the zipper down a bit. Or zip it all the way up like a scuba suit when you think your chest has had enough sun because you looked down at all the brown and white spots on your décolletage and thought you dropped a piece of salami out of your sandwich. 😉
If you like the ease of a two-piece (because sometimes getting to the bathroom is ALL that matters), there are lots of modest options available. See one of my favorites from Torrid here. I have pieces of many brands that I can mix and match to my heart's content. I'll save those for another post.
TIP FOR BUYING SWIMWEAR ONLINE
The "size chart" is your friend. And the customer reviews can be your BEST FRIEND. Read the reviews. The best ones tell the size they bought and in a perfect world would give their measurements. I'll put my measurements at the bottom of this post. But the next best thing is if they include the sizes they normally wear in pants/dresses etc.
I hope you've found something to be encouraged by today. If you're killing yourself to get that bikini body and are going to feel bad or miss another year of summer fun because you haven't yet reached that confidence level, you may not need to change your exercise routine or your diet. You might only need to change your swimsuit!
Be confident. Be comfortable. Be cute.
Paula
---
Shop this Post

---
Paula's current measurements:
Bust: 44″ Waist: 39.5″ Fullest Hip: 50.5″