Hi! I'm Paula, I'm a curvy woman. I'm currently over 200 pounds. I'm learning to be okay with that fact and I just posted my weight and a photo of myself in a swimsuit for the world to see!!!!!! (Cue a woman screaming sound bite) Oh WAIT! That screaming woman, is ME! I'm doing it for a good cause though, because I want to talk about body shaming!
First, WHY a swimsuit and the weight revelation? This is my body positive journey. This is my body, right now. I'm not suggesting that every woman should splash a swimsuit photo up on the internet. I am learning to be confident in a body that is changing and is above a "recommended" number on a chart and there is no shame in that. There is actually beauty there! I also wanted to show you that honoring our curves and gaining confidence doesn't require us to have our wobbly bits hanging out everywhere for all to see. In this swim suit, I FEEL pretty and kind of old school glamorous and how you feel is more important than how you look. Secondly, WHAT the dickens am I doing this for?!?! For ME, for YOU and for every CURVY WOMAN, OVERWEIGHT WOMAN, SKINNY WOMAN or ANY WOMAN with body confidence issues or who has spent way too much time obsessing over her body!
I decided to take dimples on my WHAT? live earlier than I had planned – I don't even know what I'm doing yet! I may not have all the kinks worked out, but what I do have is a fire burning in my belly after reading a Facebook comment on a post in which I shared this article , by Joni Edelman; a woman who decided to be (stay) "fat" and happy. The commenter on that post, went into a epic, "here's what you need to do to be healthy and loose weight" jag . I will ask you to bear with me as this tirade, err …. article is kind of long without a lot of photos. 😉 But, just this one photo may be enough to bury me and kill this blog before it ever really begins, so let's take it one step at a time.
To those of us who have struggled our whole lives or just part of our lives with being a curvy, plump or overweight woman, the remarks that were made are sadly common place. When we "big girls" decide to be content and proclaim happiness in our imperfect, curvy selves, it creates angst in the "we are skinny, but it takes hard work to stay this way" crowd. They then take the exalted, "you need to be healthy", "here's what it takes", "we're concerned for your health", approach to "reprimand" our happiness. Did you get that? It's not really a insult to plumpness they've hurled at us. It's an assault on our happiness!!! Maybe it's even a, "How dare you be happy that way, when I'm not", attitude toward our acceptance and even joy in our current state.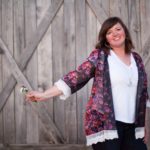 The insinuation and perception that fat = unhealthy is a judgement based solely on appearance! As far as I know only Superman has x-ray vision and he's not even real. You can no more know the health of someone by their outside, as you can know what my real hair color is, based on what it appears on the surface or whether it's healthy based on the shine created by the chemicals in the hair color itself. When we continue to judge the "fat girls" as somehow less in either appearance, energy, health or life expectancy, we only add to the barrage of negative attitudes and comments that lead to body shaming, disordered eating, and self-esteem issues that are plaguing (even skinny) women today.
We have become a society that talks about self-acceptance but have maintained a middle school, mean girl attitude when having to put our very own words into action!
EVERY major health issue I have, presented itself in my MUCH skinnier, younger self! At this point you might be saying, "but, studies show that there is a direct correlation to health and weight". Yep, there are those studies. I'll guarantee that there are tons of other studies that show the opposite. In fact, some of which you might read about in books like, Things No One Will Tell a Fat Girl , Health at Every Size or Intuitive Eating. (there's a post coming on my knowledge of ALL things DIET) We're basing our information on a professional group that gave us "diet advice" based on an research error that led to years of low fat dieting that was actually WRONG! A simple Google search for "Research error in/for low fat diet", will yield some interesting results.
The point of dimples on my WHAT?
is actually to break the bondage we've created by making too much of fat, thin, diet, exercise, dimples, or flaws. What if we just ate food without making anything of it? What if we lived a happy life, without feeling judged on our appearance and found activities we loved doing because they are fun and bring joy? What if we enjoyed going for ice cream or out to dinner with friends without any thought of calories or health, only the precious shared memories we're making? What if we, dare I say, embraced our dimples!
What if TODAY you are the very best you're ever going to be?
Body shaming goes all ways though, my Peeps. I was recently appalled at a fashion photo I saw over on Instagram of a sickly, thin woman. So skinny in fact, she could very well be anorexic. I momentarily gave thought to copying it and posting it with commentary about needing a cheeseburger, because it would have been funny (and you will find out I LOVE funny). However, I paused and thought, what IF this poor girl DID eat cheeseburgers and still couldn't gain weight? If her body type is the one predisposed to being thin? Then, I would BE the body shaming culprit that I'm preaching against! Fat is not the only place it's "at", just as thin is not always "in". I've been skinny, skinny-ish and not skinny and guess what? I'm the very same person no matter what size I'm packaged in. We should not be shamed or ashamed for the body we are in. We should not be made to feel like we need to fit into any size mold…. Tall, short, fat, thin, flat or thick.
I Have a Plan:
I'm going to get kind of pathetic and all beggar like: PLEASE, PLEASE, PLEASE join me in the movement to be body positive, to love your body as is, to be joyful and to encourage other women to come with us! Join me in the "un-shaming" movement. I not just going to go on rants like this one. In the coming weeks, I'm going to share with you how I've gotten to this place of peace with my body and stopped body shaming myself.
I promise I won't be splashing my bathing suit body around much, if ever again. I'm not suggesting that this is how to get over our self esteem issues. But, I do hope I "made ya look", long enough to want to get on board to work on being body positive about your own body.