I have invented a sandwich. Ta-Da! Specifically a delicious take on a fried meatloaf sandwich.
This Fried Barbeque Meatloaf Sandwich is like, REALLY good! It's SO good in fact, that I'm worried that I'll get super famous for it. Why should that worry me? Doesn't everybody want their 15 minutes of fame? Maybe. But would you want to be known as the queen of a meatloaf sandwich? It doesn't have the same girly flair as Auntie Anne's Pretzels. Or even the homemaker scientist monaker like Mrs. Meyers Clean Day…..But wait, I'm getting ahead of myself.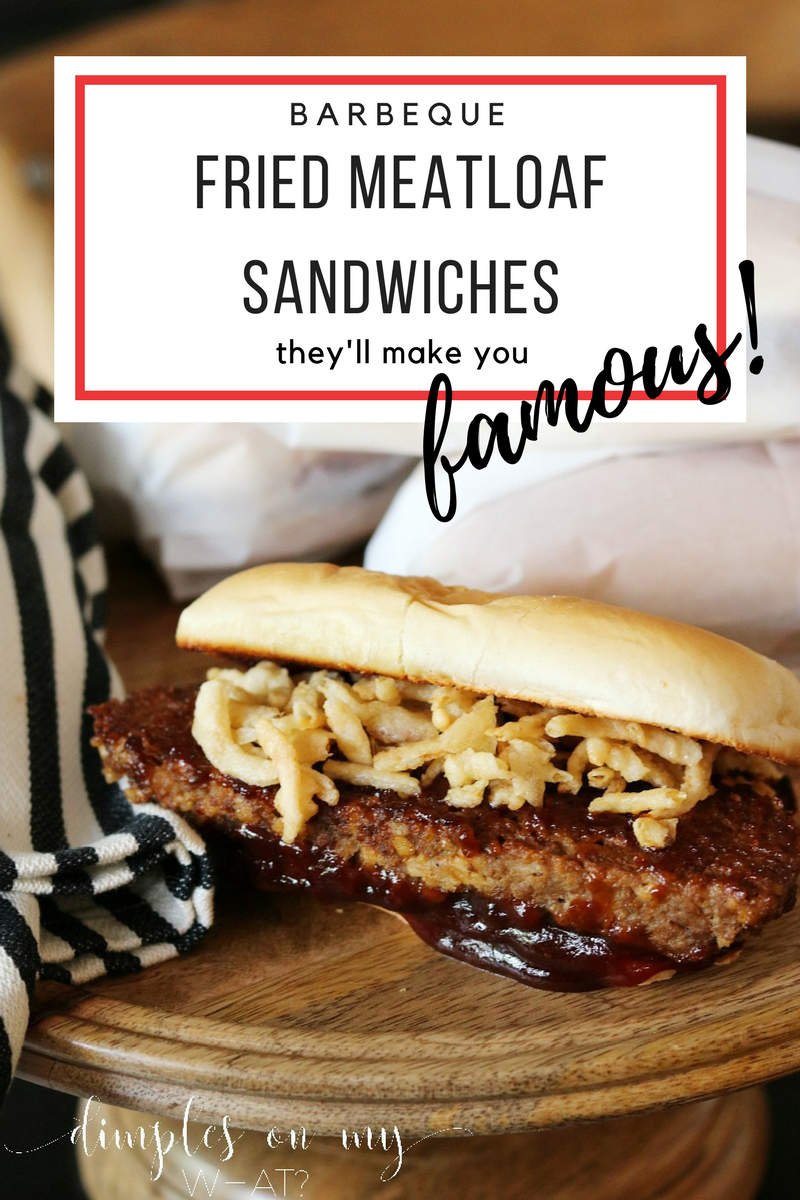 MY MEATLOAF'S BACKSTORY
Ever since I've known him, The Hub's favorite meal has been meatloaf, mashed potatoes, and corn. Like the man, it's not fancy but it's hearty and comforting. My early attempts at making meatloaf like his mama made, we're pretty terrible. Sometimes very terrible! Think underdone, overdone, too much onion…. You name it, it wasn't pretty…. or good.
What was a new, young wife to do but go to her new mother-in-law and get her tried and true secret recipe? Hey, there ain't no shame in asking your man's mom to help you out from time to time.
She gave me her recipe and the results couldn't be argued with because I've been making it her way for the last 33 years. This did NOT, however, work for her delicious, southern fried chicken. I gave up on that and left that yummy goodness to her.
Not So Secrets of Success
Her secret recipe? McCormick's Meatloaf Seasoning mix. NOT, the one with the bag, just the seasoning. We follow the directions on the back of the envelope except we usually substitute the breadcrumbs with oatmeal… as per Melba, my mother-in-law. Isn't that a southern name that screams, "Good cook!"? I usually top mine with barbeque sauce instead of ketchup because…..read on and you'll see.
INSPIRED LEFTOVERS
If you've looked around this website at all, you know that I've been on a ton of diets over the years. If you haven't, check these out: here here. The only real upside to all this "experience" is that I've come away from most of those diets with a good recipe or two added to my menu repertoire.
One of those programs had a recipe for a decent barbeque turkey meatloaf. The barbeque sauce helped keep the turkey from being overly dry. The main dish was good, but the real keeper creation was the author's suggestion for the meatloaf leftovers for the next day. It was what inspired this simple yet delicious meatloaf sandwich. Well that, and Red Robin's Whiskey River Chicken Sandwich. 😉
The recipe for the fried meatloaf from the diet cookbook instructed me to FRY the meatloaf IN the barbeque sauce. This was in the low-fat days of dieting so oil was a no-no. But let me tell you, although it makes a mess on the stovetop, it adds a special twist on this classic leftover.
FRY IT UP IN A PAN (AND BARBEQUE SAUCE)
You'll want to slice your leftover meatloaf into slices that are as thick as you like them. I'd guess mine is about ¾" –ish. Do you see what a precision cook I am? 😉
Note: If you have a meatloaf recipe that you love, by all means, use that one. Just make certain it's a solid loaf. Meaning, not a loose mound of ground meat that falls apart too easily.
I start out with a tiny bit of oil in the pan. I like this one. Or you could also use a cast iron skillet. Just remember that this is a bit messy (and sticky) because of the sugar in the sauce, so use a pan that has some non-stick properties. Place the sliced meatloaf in the oil and sauté'. Put barbeque sauce on the top side. Flip it over to the sauced side. Put sauce on the "new top", just fried side. Flip one more time to heat barbeque sauce through.
My instructions sound more complicated than it is… Simplified: make sure both sides are coated and fried in the barbeque sauce.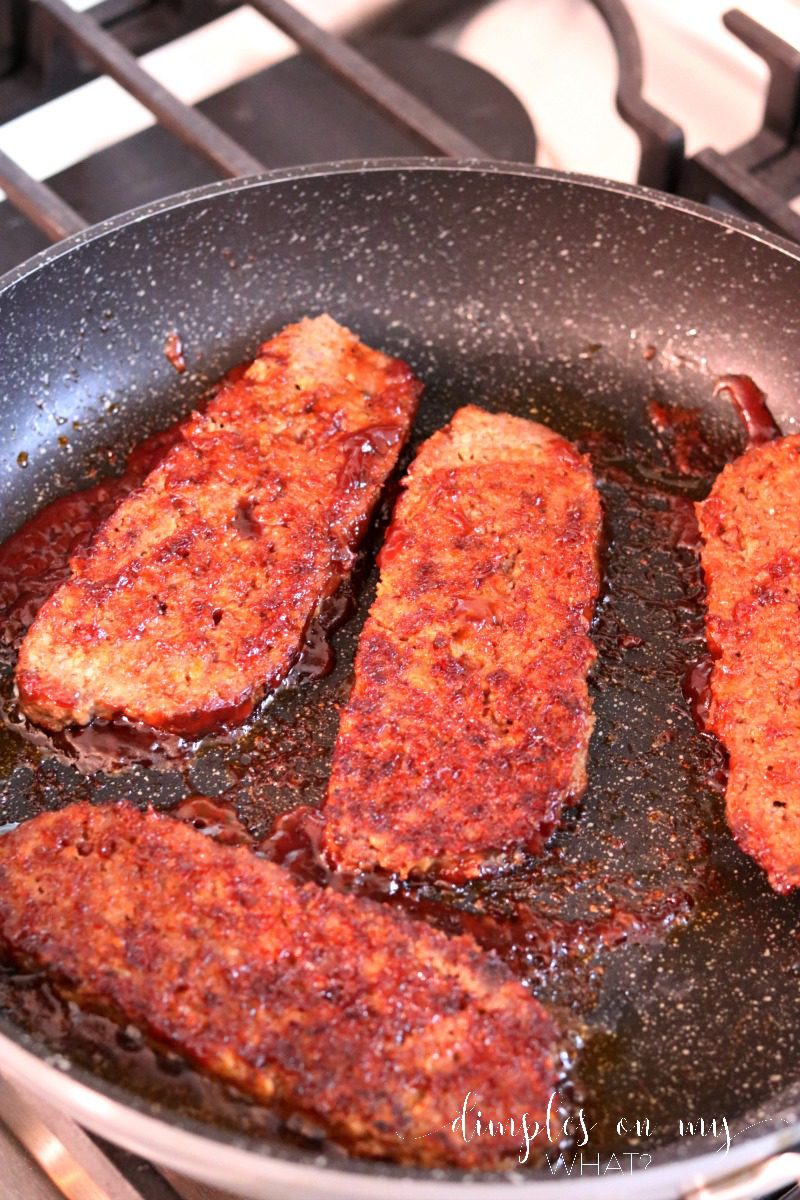 THE BREAD
The other key to making this sandwich extra special is to use Mini (Italian) Sub Rolls. They don't always say Italian, but they are always a good choice.
Butter (real butter is best) both sides of the roll and grill lightly on a grill in a separate pan. Some of my buns got a little dark for me this time… I'm a light toast kind of girl.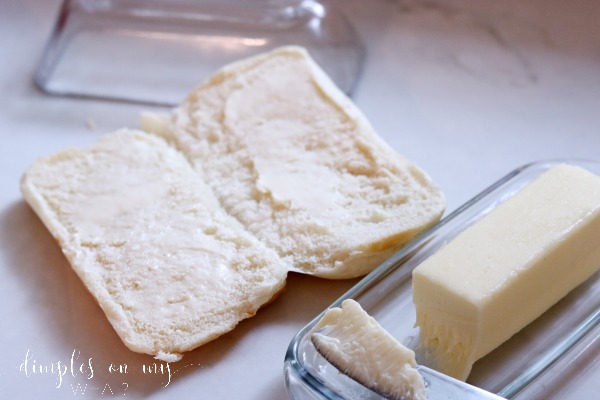 ASSEMBLE IT
The rest is simple assembly.
BBQ Sauce! MORE barbeque sauce on both sides of the bun, because…. YAY barbeque sauce!
Meatloaf…. Of course!
Cheese (optional) I usually don't
French's French Fried Onions …. They're NOT just for the top of your green bean casserole. (Or fried onion straws of your choice.)
And smoosh … it all together… SMOOSHING – another KEY to all the best sandwiches. 😉
Enjoy!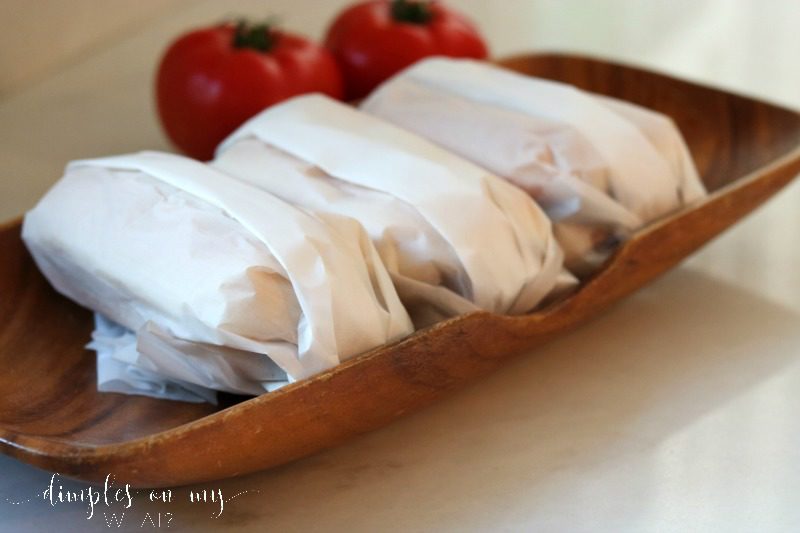 THIS GOODNESS LASTS
I always make extra and put them in sandwich bags or wrap them in parchment. I take them to my son's and daughter-in-law for their lunches the next day. Well, I ask first and they have yet to decline.
And of course, The Hubs get his own for dinner AND lunch the next day. Don't they say the way to a man's heart is through his stomach?
At this point, my marriage may literally be held together with meatloaf!
The Queen of Meatloaf,
Paula
Shop this post

This post contains affiliate links. If you purchase through one of these links I will receive a commission on your purchase. However, there is no additional cost to you if you do so. And it's always free to look.