Keto, Whole 30, Paleo, Vegan, and Yum Friendly
Believe me when I tell you that this asparagus soup tastes as good as it looks! It's creamy but dairy-free and will align with almost ANY diet protocol you might follow. Grab yourself some asparagus! Go on. It's cheap right now. And since asparagus is currently in season, it's the perfect time to make it.
NOTE: This post may contain affiliate links earning a commission for Dimples on My What? without affecting your cost.
Keep reading for the recipe. Or skip to the recipe card, print it out and watch the short video to see how quickly this soup comes together.
Spring Greens
Spring is springing up in lots of places. It's even starting to look hopeful here in the Midwest. With spring, come the best prices of the year on early spring vegetables like asparagus. Right now I can't think of any other early spring veggies, but maybe there are some. But today, asparagus is the one we need for this creamy, dairy-free Asparagus Soup that fits into most ANY diet protocol you follow.
I've told you before that I'm a recovering diet addict. I've either flirted with or have been on LOTS of diet programs. It may surprise you that a chubby girl actually eats healthy. We're not lazy either, but that's a rant for another day. The one good thing about trying so many diets is a recipe index brimming with tasty recipes like my Make You Famous Barbeque Fried Meatloaf Sandwich. And only the best ones stay in the rotation.
Simple Soup
This asparagus soup is adapted from Diana Keuilian of Real Healthy Recipes. If you follow a Paleo plan, her recipe website is da bomb! I've only changed a bit of her process as I didn't think the cooking time in the broth was long enough. And I don't use white pepper. I use the black stuff I have on hand. I don't mind the black specks.
It's as simple as chop, sauté, boil and blend. If you have an immersion blender like the one I use, it keeps clean up to a minimum – only two pots and a cutting board. That's my kind of recipe!
Immerse Yourself
You could probably make the soup without an immersion blender by transferring the cooked broth and veggie mixture to a regular blender in batches to blend it smooth. However, this immersion blender is a reasonably inexpensive kitchen tool, and it cleans up SO quickly. Just detach the metal end and rinse in most cases.
I've elected to keep this post simple and will let you read the self-explanatory recipe card. I've also included a short video of the cooking process. Easy peasy!
But first, chop those veggies.
Tip: To trim the woody ends from your asparagus, take a single stalk of asparagus, hold it at both ends and bend it until it breaks at its natural breaking point. Then lay the fresh end next to the rest of the asparagus bunch as a guide. Then cut the entire bunch to length all at once.
Is it just ME?
Is it funny that leeks that look like giant green onions and shallots look like mini red onions? And in the same recipe? Maybe it's just me.
This asparagus soup is not only healthy; it's delicious and easy to make. It's also gorgeous! It's warm and creamy without adding dairy. Garnishing with coconut cream (chilled coconut milk) and dill (I keep this freeze-dried dill on hand) makes it look and taste so decadent. I love it so much that I'll pour myself a mug of it and drink it with breakfast.
Make it Work for YOU
Go on! Try this recipe as written or substitute options that make it work for your particular diet. If you're vegan, use vegetable broth. Add cream or even parmesan cheese if you're a keto connoisseur. Don't like dill? Try celery seed or oregano. Add homemade bone broth if you're Paleo or on a healing journey. I keep it easy and straightforward with store-bought broth. Aldi has a free-range broth that is both good and reasonably priced.
Hey, I made it all the way through this post without making a single joke about your pee smelling funny if you eat this. Are you surprised? I am!!!
But seriously, this is delicious. If you like asparagus even a little, you must try it. If you do, let me know what you think.
---
Happy Souping!
---
MAKE IT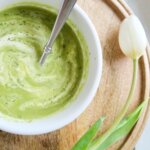 Print Recipe
Asparagus Soup -Creamy & HEALTHY
A delicious soup that's friendly to most diets including: Paleo, Keto, Vegan and Whole 30
Ingredients
8

cups

Vegetable or Chicken Broth

2

tbsp

extra virgin olive oil

4

shallots, chopped

about 1 cup

2

leeks, chopped

white part only

3

bunches

asparagus

½

tsp

salt

¼

tsp

pepper

canned full-fat coconut milk, refrigerated

garnish

chopped fresh or dried dill

for garnish
Instructions
In a medium soup pot, warm the broth over low heat, do not boil at this point

Heat the olive oil in a large skillet over medium-high heat. Add the shallots and leeks. Cook, stirring often, for about 5 minutes, until tender. Add the garlic and continue to cook while you prepare the asparagus

Wash and dry the asparagus, then trim off the woody end of the stalks. Chop the remainder of the asparagus into 2-inch pieces. Add the asparagus to the skillet along with the salt and pepper and mix well. Cook for 8 minutes without burning (you don't want brown soup), until tender.

Add the cooked asparagus mixture to the pot of heating broth. Bring to a boil and boil for approximately 5 minutes to soften asparagus.

Remove the pot from the heat and use an immersion blender to blend the mixture until smooth. Return the pot to the heat and simmer until you are ready to serve.

For garnish, add a spoonful of coconut cream and a sprinkle of fresh or freeze dried dill.
---
PIN IT
SHOP KITCHEN ESSENTIALS