A Summer Meal that Won't Heat Up the Kitchen
Looking for a summer meal that won't heat up the kitchen and makes great leftovers? This decadent, loaded smokey chicken salad recipe with a secret garnish fits the bill.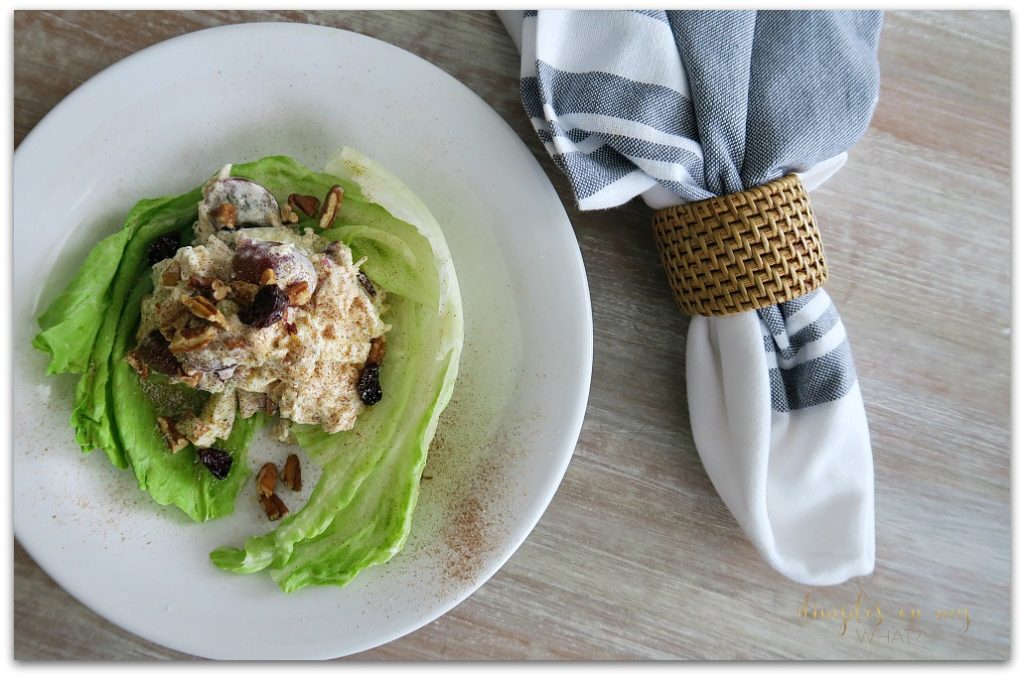 If you're like me, you can use all the meal inspiration you can get. Sometimes when I'm trying to put together a menu for the week, and by menu I mean, come up with something to have for that day's dinner, I can't even remember what I can actually cook.
So I thought I'd start sharing some of the dishes I'm making on repeat over here. Don't worry, I'm not a gourmet and I don't like a sink full of dirty dishes so these recipes are doable by just about anyone.
I'm striving to post more often and even have even gotten organized enough to plan out some posts. Here's hoping I can follow through. And, if you all like the series, I'll keep it going.
This post might contain affiliate links. If you purchase through one of these links I will earn a commission but you don't pay any more for the product.
My loaded chicken salad is a recipeTHEE Mr. Dimples requests over and over. Just last night he asked if I'd make some so that he could take it for his lunches this week.
I was inspired by a local chef friend of mine. Her chicken salad is so much better than this, probably because she's a chef but mostly because I didn't have to make it. 😉
There are no exact measurements, so the recipe card will be vague but here are a few "secrets" to making this loaded chicken salad a standout among all others.
---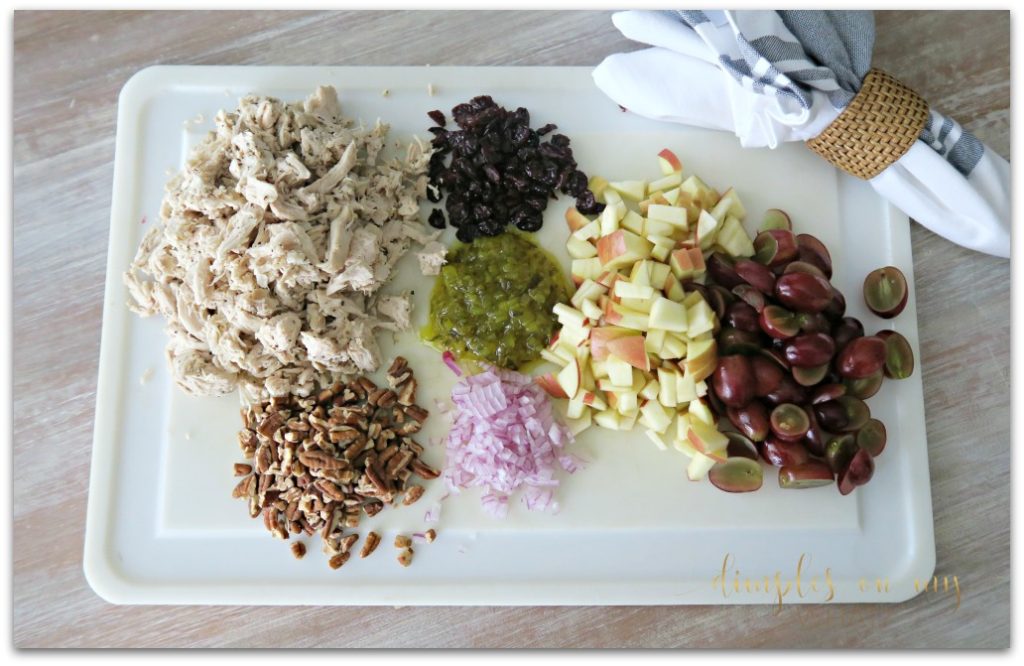 The Chicken Salad Players
Start with Chicken – Duh
I use Si's from A Bountiful Kitchen method of cooking my frozen chicken breast in the Instant Pot. It works like a charm! Once it's finished I drain most of the liquid and use my hand mixer to "shred" it right in the pot.
Fruit
I like to use red grapes and almost any kind of apple that has a bit of tartness. Cut the grapes in half or into quarters if they are large.
Chop up the unpeeled apple and soak in a small dish with water and either dash of salt or lemon juice to prevent browning. Drain off the water and dry the apple bits in a paper towel.
I've used both dried cranberries and cherries in this recipe. I personally like the cherries the best but they will need a rough chop before adding to the salad because they are bigger than cranberries.
Oh, Nuts
Pecans are my nut of choice for this recipe. I most often use plain chopped pecans. But you can use prepackaged glazed pecans. Today, I didn't have either on hand, but I had these cinnamon glazed pecans leftover from Christmas. Trust me and keep reading – cinnamon works in this recipe.
Red Onion
There's a lot of sweetness and texture going on in this chicken salad so chopped red onion adds a zesty layer of flavor and plays perfectly with all the fruitiness.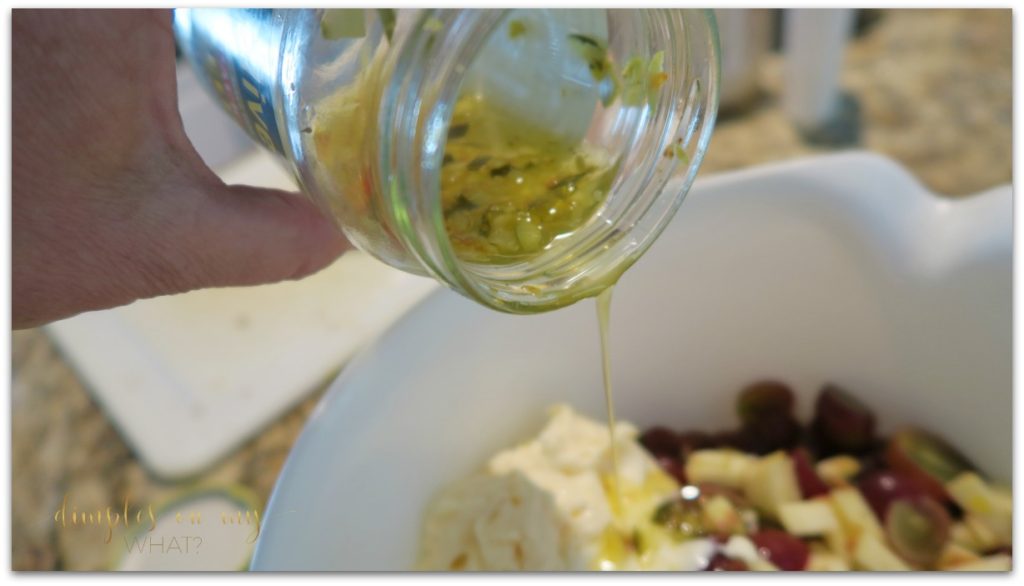 Pickles & Pickle Juice
Bread and butter or sweet pickles are a key ingredient in my opinion. Today I chopped up baby gherkins but I think I like chopped bread & butter pickles better. I can no longer find the Mt. Olive Simply Relish Bread & Butter Pickle Relish in my area which I had on hand when I took these photos ages ago. But if you can find them, they are delicious and save you time.
If pickles are a key ingredient then pickle juice is a secret superstar in this chicken salad. Pour a little of the juice into the mix and adjust to your taste. The sweetened brine takes the place of adding sugar in this deliciously sweet chicken salad.
Mayo
I've been making homemade mayonnaise with this recipe. Who in the world am I? Well, it's not that hard and it's mayo without soybean oil. Since I'm already estrogen dominant, I try to avoid soy products when I can.
But use whatever mayo you like. I'm also a super fan of Duke's. It's the southern girl in me. For this recipe, I used a full recipe of the homemade mayo and then about two heaping tablespoons of Duke's because I thought I needed it. Note to self: I should have waited until the end to add the extra, it was plenty mayonnaise-y.
Smokey chicken salad pair well with Asparagus Soup
Smoke & Cinnamon Secrets
Liquid Smoke
My friend the chef's secrets for this recipe are liquid smoke and cinnamon sugar. She mixes a little liquid smoke into the chicken salad. I didn't have any on hand and didn't want to run out for any so mine wasn't smokey this time. But, I'll grab some next time I'm at the store.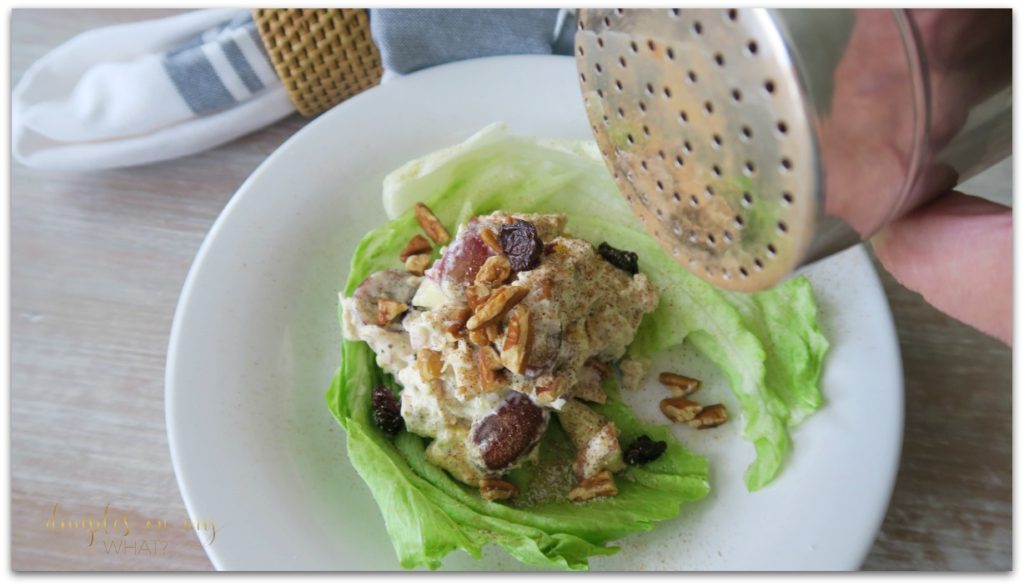 Cinnamon Sugar
And the topper quite literally is cinnamon sugar. Whether you're eating this on lettuce like I do or on bread or a roll like Mr. Dimples does, sprinkling a little cinnamon sugar on the top adds just the right amount of "special" to it and layers really well with the smokey chicken flavor.
---
Put it all together
Just mix it all together and refrigerate. You'll have a yummy meal without heating up your kitchen.
I've been feasting on this chicken salad for a couple of days. It may be a little weird but I like to eat it with a fork for breakfast, it's that good!
What are you eating this week? Whatever it is, STAY COOL.
Paula
Loaded Chicken Salad
2019-07-16 21:03:04
This smokey chicken salad has layers of sweet fruit, smooth smoke and an unexpected garnish.
Ingredients
2 - 3 Cups of Shredded Cooked Chicken
Approx. 1/2 Cup of each of these
Pecans
Grapes
Apple
Approx. 1/4 - 1/2 Cup of each of these
Dried Cherries or Cranberries
Diced Red Onion
Diced Bread & Butter Pickles or Relish
Pickle Juice to taste - start with 3 Tbsp. and increase to taste
Liquid Smoke - start with 1 tsp., increase to taste
1 1/2 Cups of Mayo - add more as needed
Salt & Pepper to taste
Instructions
Combine all ingredients well and refrigerate to chill. Serve on a bed of lettuce or bread of your choice. Sprinkle cinnamon sugar on top of the mound of chicken salad.
dimplesonmywhat https://dimplesonmywhat.com/
---
My Favorite Tools for Making This Recipe
---
---

---