It's a Dress! It's a Kimono! It's Both!
It's the first Tuesday of the month and that means it's time for another Ageless Style Linkup Party! This month, we're welcoming Cathy from cathyvstyles.com to the bash. Along with Cathy, my 8 other beautiful co-hosts and I are styling an item in our closet in a different way than they were "intended". I say intended, because some of these lovely ladies, along with other fashionistas, do this on the reg. It will be exciting to see how all these ladies blow us away making one single garment into multi-tasking wardrobe pieces. All of us are over 40 years old and are once again proving that style has no age limit.
Challenge Accepted….
I'm once again styling a kimono. I can't believe I only added kimonos to my wardrobe in the last couple of years. Well, I guess I may have had one in my closet, but I probably called it a ROBE! 😉
Honestly, this challenge has really got me thinking about all the possible multi-tasking wardrobe pieces that might be hanging in my closet right now. However, I've had the idea to style up this kimono (no longer available – sorry) since I bought it… "So let it be written. So let it be done." (Name that movie*)
It's a Kimono … Again!
Kimonos today, come in so many beautiful prints and fabrics. They can be worn in many different ways depending on the length, size and fabric. I LOVE a kimono, as you can see in this post and this one. And this post actually shows you TWO! But please, no intervention is necessary because you'll see that they can be a multi-tasking wardrobe pieces like no other.
I've seen short ones wrapped around, belted or worn as a top.
I've worn them as a swimsuit cover up.
They can be worn in place of a cardigan. At once, your outfit will be elevated to a boho, chic inspired ensemble.
They can be worn over jeans or shorts. With sneakers, flip-flops or heels. Booties. Over-the-knee boots.
Suffice it to say, they are a closet workhorse! See what I mean?… Multi-tasking wardrobe pieces!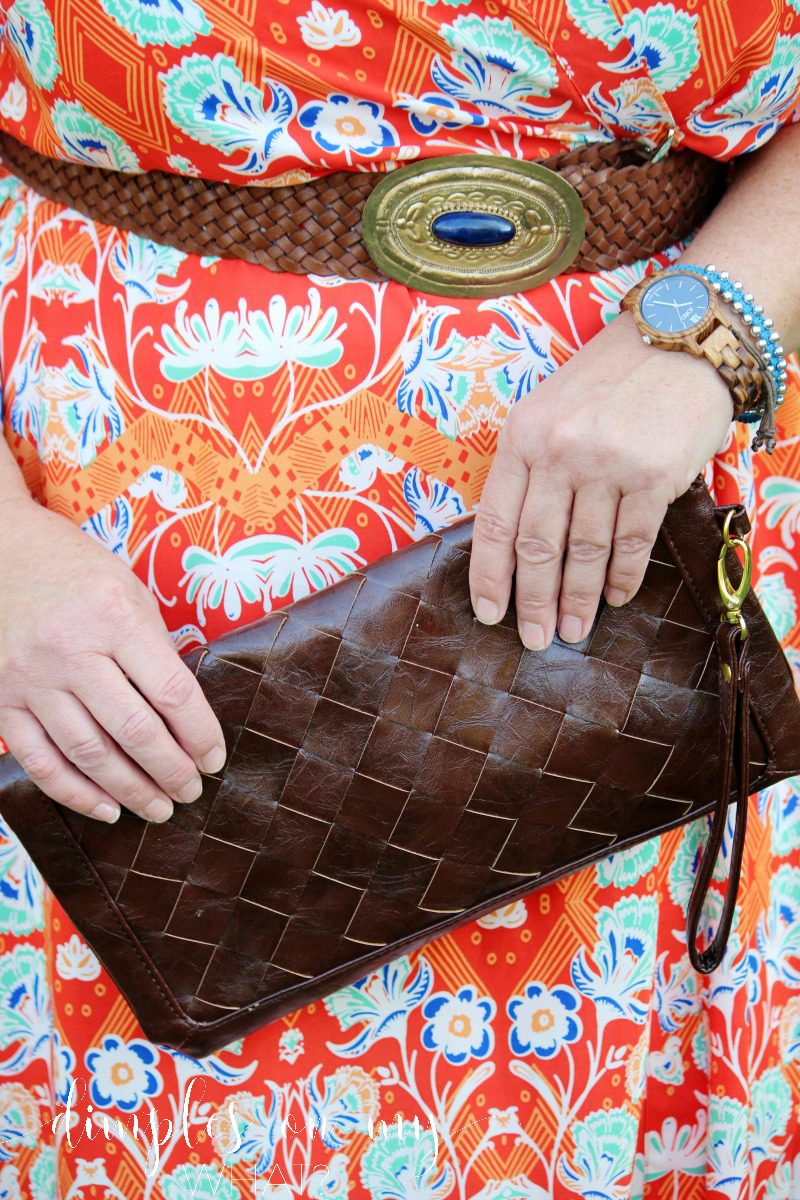 It's a Dress!
Today, I've chosen to use this colorful, long, simply BE kimono as a dress. (Similar items linked below photos.)
The long duster-length, opaque fabric and generous sizing make this kimono a perfect choice to convert into a wrap dress.
I simply used safety pins to secure the kimono closed on the inside and out. You could easily sew a couple of hook n eyes in if you'll wear it this way most often. But at this point, safety pins work just fine.
I've ditched the self-tie that matches the kimono and added a belt so that it doesn't look like I'm actually wearing my robe. 😉
I also added a lace bottom skirt extender slip. Because even though the wrap overlaps pretty well, I want a bit of extra coverage should the skirt blow open. Why is it always windy the day you wear a wrap skirt or dress? Murphy's Law most likely. Even if it's not windy, I can easily have little boys climbing all over me at any given moment. So, any extra security is nice.
It's as simple as that.
Encouragement
If you're a woman looking for style inspiration consider stepping outside of your comfort zone. If you would have told me a few years ago that I would be wearing a super bright kimono, much less styling it as a dress and especially at my current size, I would have said, "I don't think so." "I don't want to look like Mrs. Roper." (Three's Company… am I aging myself?)
When I started working on feeling comfortable about myself and being more confident in my own skin instead of lamenting my current state of mind and size, I started experimenting with an array of different styles of clothes. There a women who won't even try on something that they think "isn't them" or that is in a size bigger.
But I tell you, breaking free from the "bondage of size" and extending my style comfort zone a little has made a world of difference in how I feel about myself.
Going up a size, didn't make me bigger … it made me more comfortable and in turn caused me to feel and look better.
Trying on a few things that were outside of my typical style caused me to find out that while I may not look thinner in full skirts, I feel pretty and feminine in them. I discovered that high-waist jeans feel great, eliminate muffin top and hold my gut in.
And, I found out that kimonos are the awesome sauce that can add sauciness to your style and if it's the right one – It can be worn as a dress too!
Paula!
Oh and did you guess that movie? …… It's from the Ten Commandments
dimples on my What? uses affiliate links and by clicking on affiliate links DOMW will receive a small commission if you buy the product.
---
More Inspiration
I hope you've been inspired to look into your own closet and see how you might be able to multi-task a piece of clothing or two. If you're looking for more ideas, keep scrolling down and see what my Ageless Style friends are doing this month.
This Party Has a Few Guidelines:
Have fun and make some new friends! Please visit at least 2 other links.
Please link to your actual post and not your blog's homepage.
Please link back to the Ageless Style Link Up in your linked post.
Feel free to use #AgelessStyleBloggers in all of your social media posts
Please follow each of your hosts on at least one social media channel via the links below.
Ana ~ Mrs. American Made blog, bloglovin, instagram, pinterest, twitter, facebook
Cathy ~ Cathy V Style blog, instagram, facebook, pinterest, twitter
Daenel ~ Living outside the stacks blog, instagram, pinterest, twitter
Debbie ~ Fashion Fairy Dust bloglovin, blog, instagram, pinterest, facebook, twitter
Jennie ~ A Pocketful of Polka Dots blog, instagram, twitter, bloglovin
Jodie ~ Jodie's Touch of Style blog, facebook, instagram, pinterest, bloglovin, twitter
Nicole ~ High Latitude Style blog, pinterest, twitter,facebook, google, instagram
Paula ~ Dimples on my What blog, facebook, Pinterest, Instagram, twitter
Shelly ~ The Queen in Between blog, instagram, bloglovin, Pinterest, facebook
Yvonne ~ Funky Forty blog, twitter, facebook.com, bloglovin, instagram, pinterest
============================================================================================
Link Up Your Own Fashion Post