Kimono-ver and See My Summer Uniform
+ Ageless Style Link Up
This month's Ageless Style Link Up has us channeling our inner flower child and elevating our wardrobe with flower power. I can't think of an easier and more spring/summer friendly style than a floral kimono. In fact, looking back at photos from last summer, I would have to say that a kimono over a t-shirt and jeans is my warm weather uniform.
I'll be honest, most days I start out wearing some sort of athletic, stretchy pants whether I'm doing anything athletic or not. Confession: I usually end up just wearing it all day. I figure that I will either a.) Look the part or b.) Have the right attire on should I feel the urge to break into a killer workout. 😉
Since I'm eye-ball deep in moving boxes and drowning in remodel stress, I'm probably wearing some version of athleisure today too. And because I've been overwhelmed with the tasks involved in completing that project, cleaning out and packing 19 years of household accumulations; coupled with cruddy weather over the weekend – I'm pulling out some of shots from last summer. Proving that my wearing a kimono over pants is my tried and true comfort zone. 😉
Kimono Style
I had photos of many more variations of this same look, proving that throwing a kimono over any number of basics can be a uniform that's anything but boring. It's a simple style that looks fancy.
What could be easier than a favorite pair of jeans, a tank and a breezy kimono or topper? It's feminine and flattering. And it covers any number of wobbly bits including bat wings, butts and gills (that's what I call those back fat creases just under my bra band).
I'm eyeing up a couple of the kimonos linked below for my own kimono collection.
Tip: A tank or tee that skims but isn't too loose keeps the look polished while still concealing some "trouble" spots. Plus, I don't like ANYTHING to feel constricting – especially in the summer.
It's in the JEANS
I can't speak highly enough of NYDJ – standing for Not Your Daughters Jeans. But don't think they are for old ladies ladies! Even THE Ashley Graham wears them. They have plenty of stretch and a high enough waist to eliminate muffin top. Both key elements of comfort to me.
I like the Clarissa ankle jeans and the Ami skinny jean (jeggings). Yes, I know they are a bit pricey but when you find your fit you'll see why having a pair or two of great fitting jeans is better than having a multitude of denim that you're constantly picking around.

Here's to an easy breezy summer wearing kimono's over everything from dresses, swimsuits, shorts, jeans…. I'm only hoping I can find my kimonos after the move. Maybe I should buy a cute one and have it delivered to the new address – just in case. 😉
Have you noticed that you have a go to uniform for summer?
Kimono Cuties
BE SURE TO SCROLL DOWN AND LINK UP WITH MYSELF AND MY LOVELY CO-HOSTS FOR THIS MONTHS AGELESS STYLE LINK UP!!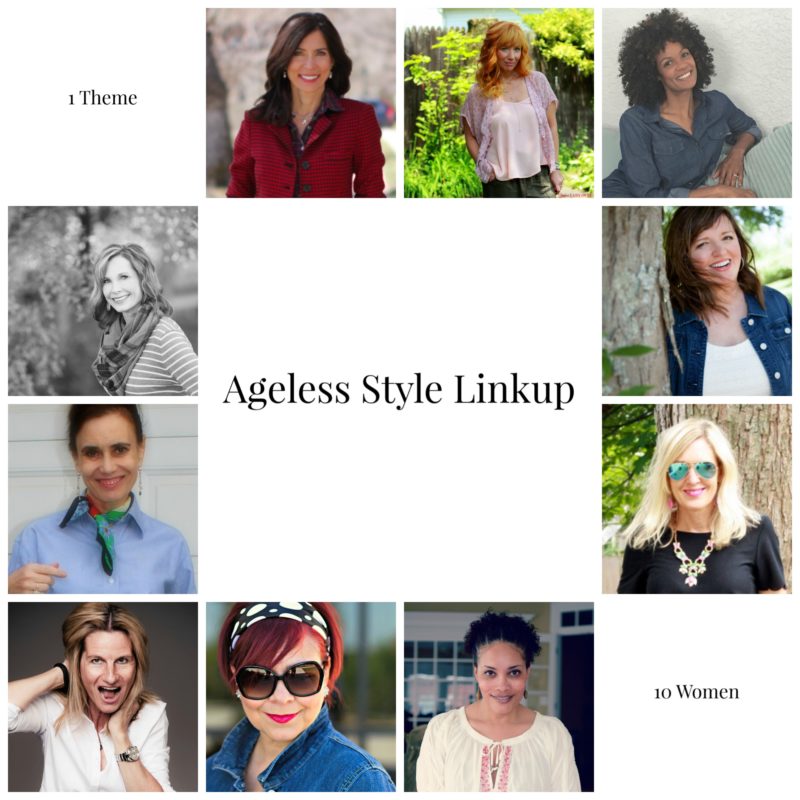 LINK UP GUIDELINES
Have fun and make some new friends! Please visit at least 2 other links.
Please link to your actual post and not your blog's homepage.
Please link back to the Ageless Style Link Up in your linked post.
Feel free to use #AgelessStyleBloggers in all of your social media posts
Please follow each of your hosts on at least one social media channel via the links below.
Ana ~ Mrs. American Made blog, bloglovin, instagram, pinterest, twitter, facebook
Daenel ~ Living outside the stacks blog, instagram, pinterest, twitter
Debbie ~ Fashion Fairy Dust bloglovin, instagram, pinterest, facebook, twitter
Diane ~ Fashion on the 4th floor blog, twitter, facebook, instagram, bloglovin
Jennie ~ A Pocketful of Polka Dots blog, instagram, twitter, bloglovin
Jill ~ Doused in Pink blog, pinterest, facebook, instagram, twitter, bloglovin
Nicole ~ High Latitude Style blog, pinterest, twitter,facebook, google, instagram
Paula ~ Dimples on my What blog, facebook, Pinterest, Instagram, twitter
Shelly ~ The Queen in Between blog, instagram, bloglovin, Pinterest, facebook
Yvonne ~ Funky Forty blog, twitter, facebook.com, bloglovin, instagram, pinterest
This post contains a few affiliate links. I'll get a couple of cents if you click through, but you pay no more for the product. And as always, it's free to look.