Whether you're spending this Labor Day having a all-out farewell to summer hullabaloo or you just want an easy throw it in the crock pot good meal to free up your days to do other fun things like laying on the couch shop with your gal pals, these crock pot brisket sandwiches are a sure WIN. Play on the lake all day or read a good book while your dinner slow simmers to perfection.
I've adapted this a bit from the original, found many moons ago in a Midwest Living Magazine, but only slightly. It's been on the menu for innumerable family gatherings including one of my son's rehearsal dinners. I may have gotten carpel tunnel (I'm not kidding) as I was sweating and nearly swearing trying to pull apart those multiple pounds of brisket. I also learned a valuable lesson about my crock pot at the same time. I was making brisket day in and day out so I'd have it in the freezer for the massive amount of people I was going to feed, but every batch I took out was like trying to tear shoe leather apart.
Thinking I had bad batches of meat, I was off to the market to get more briskets. (Yes, this was getting pricey!) The same results. Ugh! Even The Muscle (a.k.a. The Hubs) struggled! Long story short: My crock pot was getting too HOT, taking these sandwiches from slow cooked brisket to over-cooked brisket. Note to self (and you too): Crock pots are like ovens. Some cook hotter than others so while they are so simple, we need to pay a little attention if we're not getting the consistent good results we might like and make some adjustments in time.
Not all crock pots are created equal!
This crock pot brisket sandwich is so simple that there's no long explanation necessary. Simply assemble all of the players. Pour. Cook. Shred. Sauce.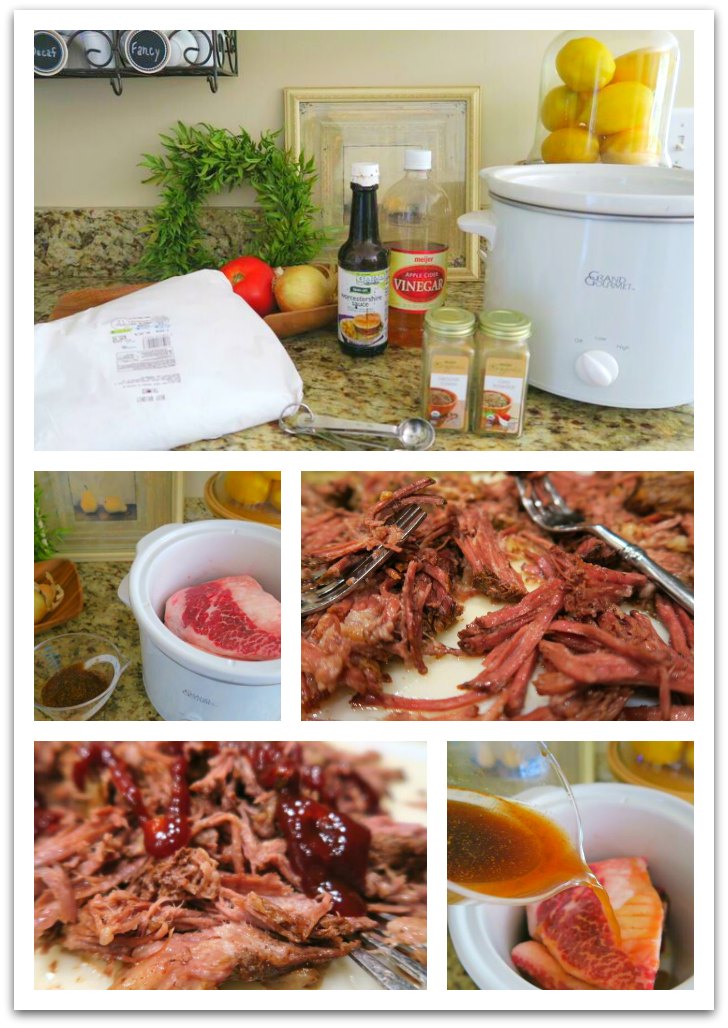 I do save a tiny bit of the cooking "juice" to add into shredded meat if it seems too dry before you add back to the crock pot and add your barbecue sauce.
It's so very good to do it up southern style with a favorite slaw and a good pickle. I like both of those slightly sweet, so I opt for a homemade, just throw it all together slaw. And give this girl a bowl of bread and butter pickles and call it done. It's really that simple and you will be the hero of any holiday because you've played all day AND put a rib stickin' meal on the picnic table.
Crock Pot Brisket Sandwiches
2016-08-31 18:45:54
Simple, easy brisket make with pantry ingredients and in the crock pot!
Ingredients
1 - 3 pound Brisket
1/2 C Water
3 Tbsp Vinegar
2 Tbsp Worcestershire Sauce
1 tsp Ground Cumin
1 tsp Chili Powder
3 Cups Barbecue Sauce (your choice)
12 - 16 Kaiser Rolls (or smaller rolls to serve more)
Instructions
Trim fat from brisket and place in crockpot.
Combine water, Worcestershire sauce, vinegar, cumin and chili powder in measuring cup.
Pour over brisket.
Cover and cook: High: 4-5 hours Low: 10-12 hours
About one hour before serving, remove meat from cooker and remove liquid.
Pull meat apart with forks or your preferred method.
Return to cooker.
Add sauce.
Cover and cook for 30-45 minutes to warm sauce.
Notes
Enjoy with slaw, pickles, onion.... Make it your own.
Adapted from Midwest Living Magazine
Adapted from Midwest Living Magazine
dimplesonmywhat https://dimplesonmywhat.com/
That's it. We're working on a little surprise for this weekend that is hush, hush. I'll be sharing that in the next couple of weeks. For now, I hope you all have a safe and happy holiday, ENJOY!
Paula