My 7 Favorite Comfortable and Supportive Bras for Full Figures
I have received a TON of requests for a post on bras for big busty ladies. That sounds a little like a sign you'd see along the interstate. "Big Busty Ladies." You know the ones? 😉 So for our purposes and so we don't feel so "seedy", I'll say, Full Figure Bras. I'm sharing my current favorite bras – period. I'm saying full figure bras because I am full figured. However, even the skinny among you will find a bra to LOVE!
I have procrastinated writing this post on full figure bras because frankly, I hate bras. Bras top the list of things I dread shopping for. They come in above (meaning worse than) shopping for swimsuits AND jeans! But they are a necessary garment for most of us.
There is little worse than having a stranger standing in a dressing room with you trying to help you wrangle your sausage rolls and honkin' hooters into a torture device and just praying that her hands don't get too close to your sweaty pits. And you're hoping more than that that you remembered your deodorant and that it's still working! And, WHY did you wear high rise underwear with mid rise pants TODAY? It's like you don't have a clue!
On top of that, I am overly sensitive to any type of "compression" garment. This applies especially to a tight band of elastic squeezing and cuts into all of my feminine flesh. Not only does it really hurt, it creates sausage rolls of back fat that aren't already there. I mean seriously, some bras couldn't feel any worse if they were made of a couple of bowls held together with rubber bands. 😉
You can be assured that bras I recommend are as comfortable as I have found for larger breasts and full flesh while still giving a decent level of support to the breasticles.
If you're not fluffy or busty most of these styles will still be great options for you!
Full figure bra is a better description than busty because not everybody who's full-figured has large breasts. Some of us just have wide backs, large tummies, back fat or lots of underarm boobs. In my case, I already have a wide back with back fat. However, since I ditched the breast implants and had a lift (almost a reduction), I have extra flesh under my armpits along with smaller boobs. Yes, the dreaded side-boob.
I wore a 38 G/H in most bras with the breast implants. A 40 in the band was more comfortable but if I was wearing the correct size it would have been a 38. Since my surgery, most bra stores or websites have measured and fit me in a 40 D.
I currently have one underwire bra that I will wear when I need a little more lift. My incisions are completely healed over, but as of right now I'm more comfortable in a wireless bra and have included the wireless bras I'm currently LOVING.
This post contains shoppable commissioned links. You pay no more for a product, I just might earn a little commission. 😉
Without further ado, here are the bras that make the cut in my lingerie drawer:
Wireless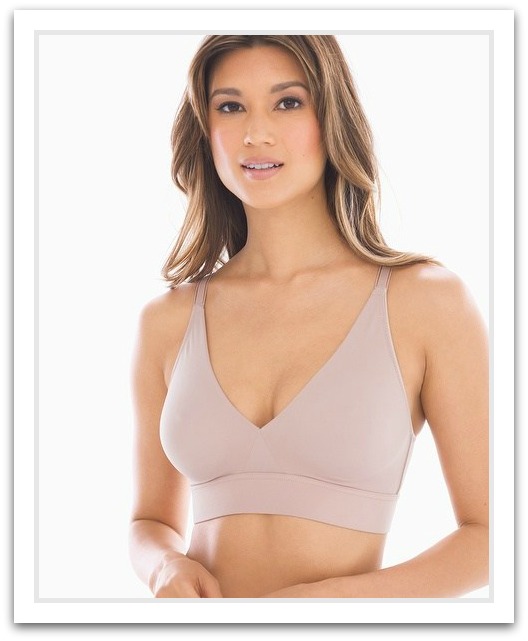 The Embraceable Wireless Unlined bra by Soma is my top bra at the moment. the XL fits fine in the cups, I wear it in the XXL so I don't feel squeezed. I have it in pink, black and this beautiful adobe rose color. While it looks kind of purple in the photo, it surprisingly matches my skin tone almost perfectly making it a "nude" for many women who have that blue/purple undertone in our skin.
The Embraceable Wireless Plunge Lace Trim braalso by Soma is my second favorite. It fits much the same as the one above but has the pretty lace trim and wider straps. Though neither bra gives a lot of separation and the lift is minimal to moderate depending on the size of your girls, they make up for it in COMFORT. I have this bra in the nude and black.
Soma has also just released the new Enbliss Wireless Bra and a bralette. They are my next on my try on list. Have you tried them on yet? If so, what are your thoughts?
I love an unlined bra but prefer to keep my nipples in check. Check out how I dim the headlights here.
Torrid's Longline Lace Bralette is amaze-balls. Actually, most of Torrid's lace bralettes are something to talk about. Lace is usually too itchy for me but theirs is super soft. The seaming on these bras will subtly show through a shirt but again, the comfort of these beautiful bralettes outweigh that drawback. They give a good amount of support too. I'm currently wearing my old size 2 (Torrid sizing) but could probably go down to a size 1.
Support The Girl
The bras in this "support" category come in extended sizes for those of us who may have actual melon size breast's. Prior to having my explant, one were the size of a human head!
I wish I were joking and I wish I could have found the photos of my sister and my grown niece with their heads in the cups of one of my bras fur proof. I also have a beach photo with that same sister laying in front of a group of us. Her head is pretty close to my bosom as she was the first to note that "Hey, my head is the size of one of your jugs!" Having large breast's isn't what you might imagine.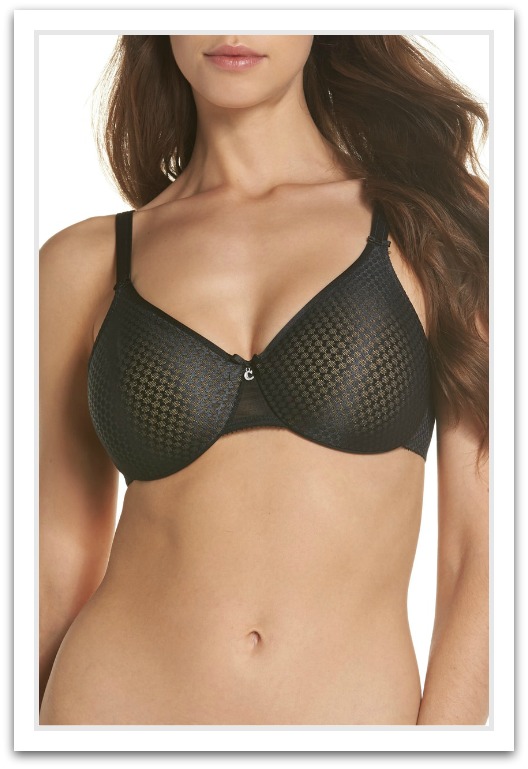 Chantelle Intimate C-Magnifique Minimizer bra was my minimizer of choice. It's currently included in the Nordstrom anniversary sale. I wore a 38 H in this bra. Once this bra is broken-in it is fairly comfortable for a very supportive full figure bra. The one downside to this bra was that I have narrow shoulders and these straps are wide-set so that caused some slippage. But again, there's a slight trade-off for comfort AND support.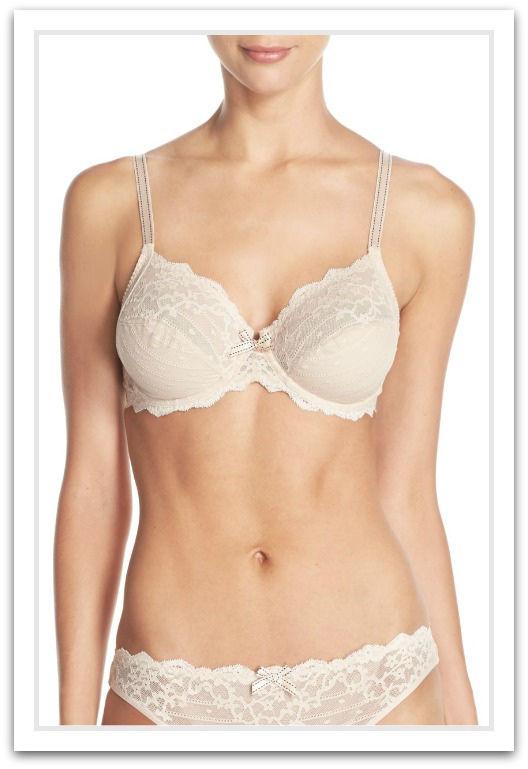 If you want a full figure bra that is supportive AND pretty (and at the time of this post is also included in the Nordstrom anniversary sale) the Chantelle Intimates 'Rive Gauche' Underwire Bra is it. One of the prettiest ever! It fit me to a "T" but because I'm a freak about how things "feel" I only wore it for short periods of time. I passed this bra to a friend after my downsize and she LOVES it! It was a 38 G.
If you have large melons, you might also look at Elomi bras like this one. They are also beautiful and fit well. If you are buying bras online, it's important to read customer reviews as well as look at the fit guide. You may know your actual bra size, but each brand or individual bra style may run a bit different.
Fit tip: Go to a reputable lingerie store or department store like Soma or Nordstrom and get professionally fitted for a bra. It's a good place to start.

However, stand your ground when it comes to how the bra feels and fits. If you're made uncomfortable in any way, there are other stores. Or simply come back another day and try another fit expert.
Sport
I have a couple of pull on sports bras fromTorridhowever, Natori wins as my choice for sports bras that have a back clasp system and are easier to put on.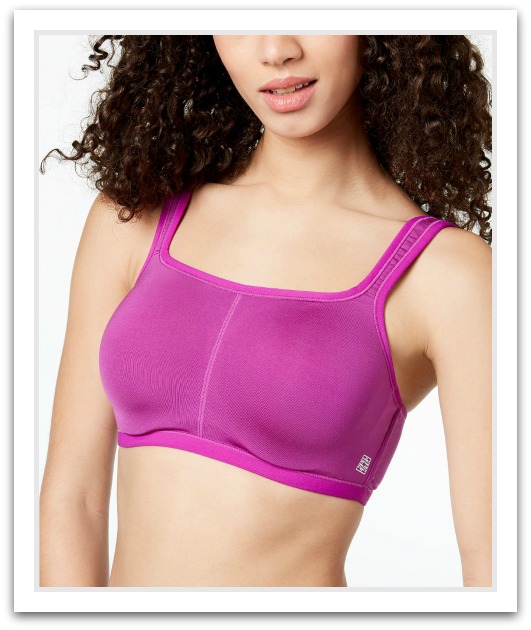 The Natori Yogi Underwire Sports Bra, with its soft comfortable fabric, comes in some fun colors like the pink shown above. Crossing the convertible straps make it perfect for wearing with tank tops and it offers extra support. Although the Yogi isn't offered in jumbo sizes like some of may need, the cups run slightly large as I have two of them in a 40 DD from when I was actually wearing a G cup.
Natori's Performance Bra is one bra I have bought over and over. I just ordered these in a new size so I'll update on size later. Review after review raves about the comfort and I will have to agree that the seamless construction and fabric make it a dream. This bra also has a convertible strap. I have worn it as an everyday bra in the past and the only complaints I have are that it doesn't come in nude and the 3 support "seams" in the bottom of the cup can show through clothes. But that's not bad if that's the only trade-off for comfort.
Have any of you curvy ladies tried Third Love bras? I'm just curious. Drop a reply in the comments. I see they have a strapless that might be worth a try on.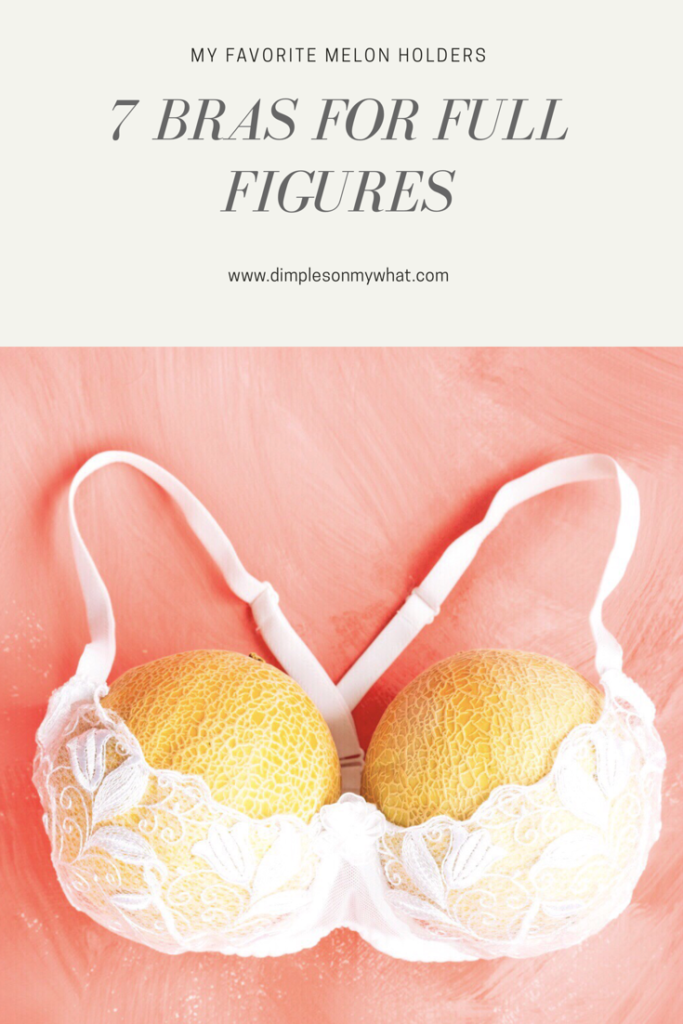 Strapless
I haven't found a strapless that I feel is worth adding to the list at this point. I'm open to any suggestions though.
If you've seen my video for how to comfortably keep OTS tops off your shoulder you know I have a secret for wearing a regular bra with my OTS looks.
The Top Shelf 😉
The fact is, I have more than these seven bras in my bra drawer. However, these are (or were) the bras I repeatedly reach for and buy in multiples.
I hope you find a least a bra or two in this list that will help take the sting out of bra shopping, especially if you're shopping for full figure bras.
Happy Bra Shopping (hopefully),
Paula
---
Shop this post

<