A 54-year old Fat Girl's FASTer Way to Fat-loss Review
Going Back on My Word but Getting My Groove Back
Friends, I have a confession to make; I'm on a "diet" – of sorts. Why is this a big deal? Because not long ago, I spoke out a little, shall I say, passionately against the diet industry and in particular about the program I have embarked upon. And I've proclaimed 892 times that I'll never go on a diet again. No one is more surprised than I am about this turn of events.
So today I want to share an honest review of the FASTer Way to Fat Loss and tell you if my preconceived ideas were accurate. And I'll let you know what changed my mind as well as share my results so far.
If you're at all intrigued about the program or my breakdown that led me to throw caution to the wind and jump back on the "diet" wagon after all these years, keep reading.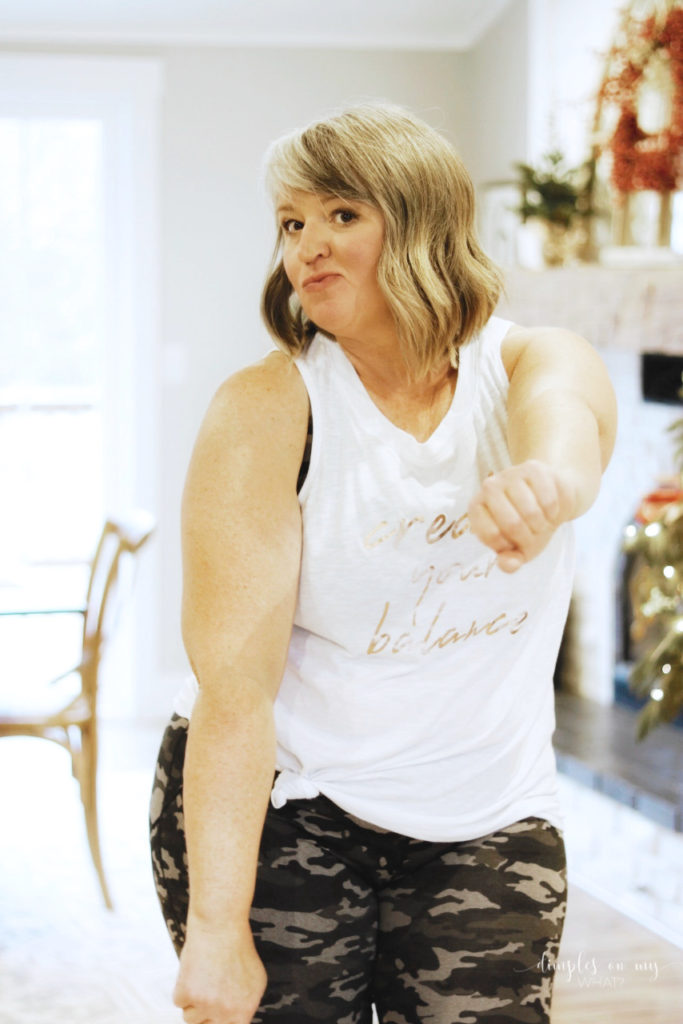 This post contains affiliate links. I'll make a commission if you purchase through those links but you don't pay more for the product. As always, thank you for your support through your purchases and comments. You keep this little blog going!
What Changed My Mind about Dieting
I started dimples on my WHAT? in part because I was making peace with my ever-changing body and increasing weight. Because happiness isn't about what size we wear and we can look great at any size!
But, I am at my all-time highest weight, over 230 pounds, and muscle tone was a thing of the past. My clothes fit but were getting uncomfortable. And honestly, for all the confidence I preach about, I felt terrible about myself.
Then I had a mini-breakdown. I was overwhelmed with my weight, "standing my so-called moral ground" about never going on a diet again, and major technical problems with my computer. If you follow me on Instagram you may have seen the post where I even cried on the phone with the computer tech. Ugh! It was the perfect storm that created such great angst in me that I signed up for the latest and greatest and diet.
So on a whim, I signed up for NOOM.
Wait. What? You're probably thinking, "Isn't this a review of the FASTer Way to Fat Loss? Yes! But this is the truth so hear me out. Just two weeks before joining FWTFL I started NOOM.
What does NOOM Have to Do with this Review?
NOOM ended up being EVERYTHING I HATE about dieting! You are supposed to weigh yourself EVERYDAY. The scale is not my friend, and while it shouldn't make or break my day – it does.
And then if that weren't enough, the calorie restriction was EPIC. My calorie budget on NOOM was 1200 calories. That might work on The Biggest Loser, but it doesn't work for me and it's not sustainable.
I was so stressed and angry at myself. I canceled the program before the two-week trial was even finished. But in the end, it served as the antithesis of the Faster Way to Fat Loss, and it made the comparison easy.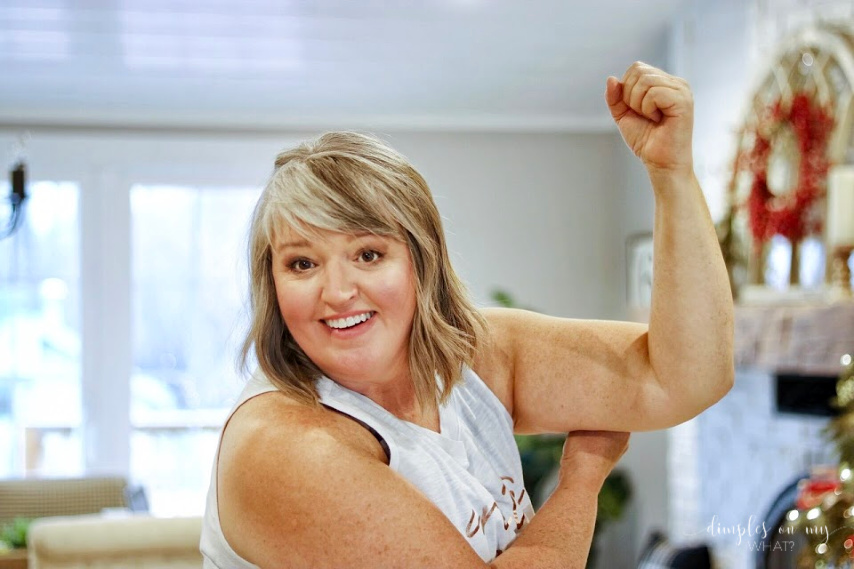 Why I Said Yes to the FASTer Way Instead of Others
During the second week of the NOOM trial, a Faster Way to Weight Loss coach, Lauren, reached out to me about trying their program. Oh, friends, after my first diatribe response to her email, I'm surprised Lauren kept talking to me.
But, you know what? The FASTer Way to Fat Loss really hones in on our mindsets about nutrition and fitness. I'm sure Lauren could hear the stress and confusion and probably a little anger surrounding my attitude toward "diets."
In fact, the FWTFL puts an emphasis on achieving optimal energy through the proper fueling of our body and pairing nutrition with exercise for optimal healing. Calorie deprivation can mess with our hormones BIG TIME! And I'm already a hormonal mess.
And it was Lauren's knowledge about the program, gentle nudging, and acknowledgment of my "diet anxieties" that led me to sign-up. What did I have to lose, right?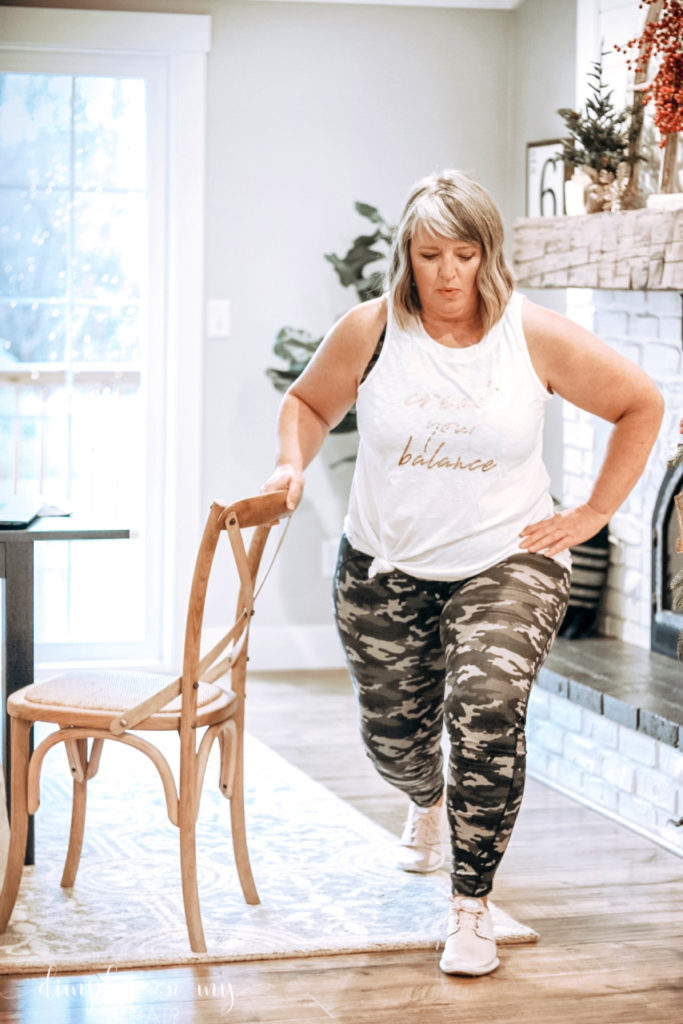 What I Like About this Program
Okay, let me keep this to the point and list the things I dig about the program.
No calorie deprivation – I don't even count calories
The focus on non-scale victories
I feel STRONGER already
No weighing – ever, if I don't want to
Most days are loaded with CARBS! There are two low carb days, but knowing I can have carbs the rest of the week – I'm a happy girl 🙂
The emphasis on eating to individual nutrition goals instead of focusing on what not to eat
I can do all my workouts in the comfort of my home – even in front of the Christmas tree 😉 AND, they are 30 minutes or less, 5 days a week!
The exercises can be tailored to my physical limitations – remember, I tore my meniscus a while back
Having a coach or coaches to encourage me and offer encouragement on the daily
The focus on whole food nutrition – no shakes, pills, specialty products, or weird food
I love the FWTFL mantra – Progress Over Perfection!
Speaking of exercise, you can find my FAVORITE SPORTS BRAS in this post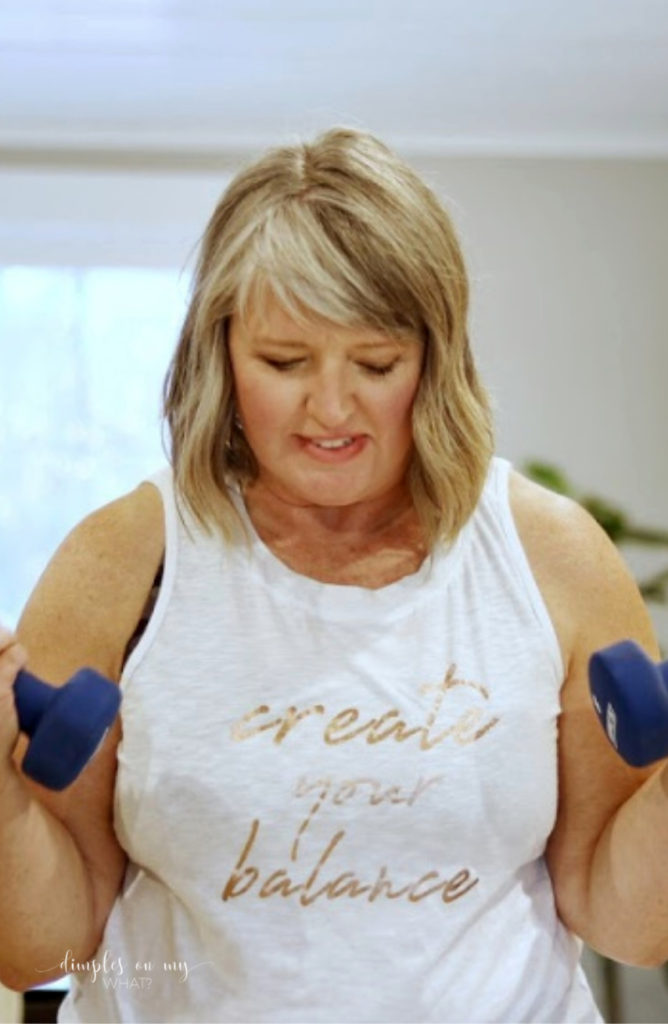 Have I Been Able to Stick to it?
Yes, I have stuck to the program. And no, every day has not been perfect. In fact, most days, I don't hit all my goals, and by goals, I mean, I struggle to eat enough. Yeah, you read that right!
I'm still struggling with a daily addiction to soda. But I'm working through it and set my own goals regarding limiting my intake, and I always include it when I track my nutrition.
I was even sick in the duration of this 6-week program and ate little to nothing except a few Goldfish crackers and ginger ale. And all the while I was being encouraged to rest and do what felt go for me to heal my body.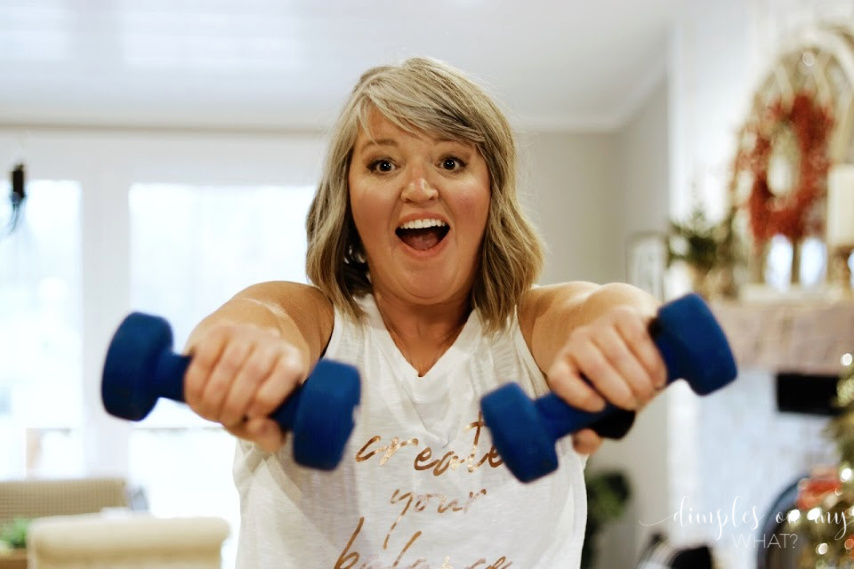 Is it a Diet or a Lifestyle?
Lots of programs claim to be a "lifestyle." But can a person really give up carbs or pizza forever? Not this person! That's not my lifestyle.
Sure, I've had to change a few things and am still striving to create better habits. But my old habits weren't getting me anywhere but into bigger pants.
However, the beauty of The FASTer Way to Fat Loss or any program that will become a lifestyle is that life has to fit into it. And the FWTFL fits into life without taking over. Well, except for giving you the energy, strength, and confidence to rock your life.
And the RESULTS are In!
+ I'm not entirely through my first 6-weeks, but besides the days I spent sick in bed, I've only needed one nap. That's big for me, a nap queen!
+ I feel stronger and can begin to see some muscle definition in my arms. Pretty soon, like yesterday, I need to buy a few more substantial weights.
When beginning FWTFL, we are told not to weigh ourselves after the first time. Because the scale is a liar and it doesn't give us an accurate measure of all the success we've had. Energy, body composition changes, being about to bend over to tie your shoes, or play with your littles are all examples of victories that have nothing to do with the scale.
+ But it's been ingrained in us to need to use that as a measure of success. I don't know exactly what I weigh today, but I do know I'm under that 230 mark.
+ However, I've lost inches! YES indeed, already!!! About four inches total in my hips, waist, and bust, an inch and a half off my hips alone. It may not seem like much, but it's a good start.
+ But the most significant change so far has been my mindset. I'm not angry or depressed but I feel empowered because I decided to INVEST in MYSELF.
---
A Word About the Scale
Scales don't tell us the whole story and in essence, don't mean anything. Take my sister and me as an example. She and I could both weight 150 pounds and we would look entirely different because our builds and height are so different from each other.
She's tall and lanky and has bird legs and no butt. I, on the other hand, got a triple portion of booty-pop and the calves of a football player. I like to say that after I came out (the oldest) there was none left for anyone else – and they'd really like a little junk in their trunks. Sorry, Guys!
You can see my sister and me together in A Walk-a-Day Fitness Challenge.
---
It's a Doable Program for You and Me
I hope you realize by now that I'm about as transparent as they come. The FASTer Way to Fat Loss has its challenges, but change doesn't happen without challenge. There's fasting involved, and while it's not excruciating, I'm still getting used to it and trying to tighten up my fasting window.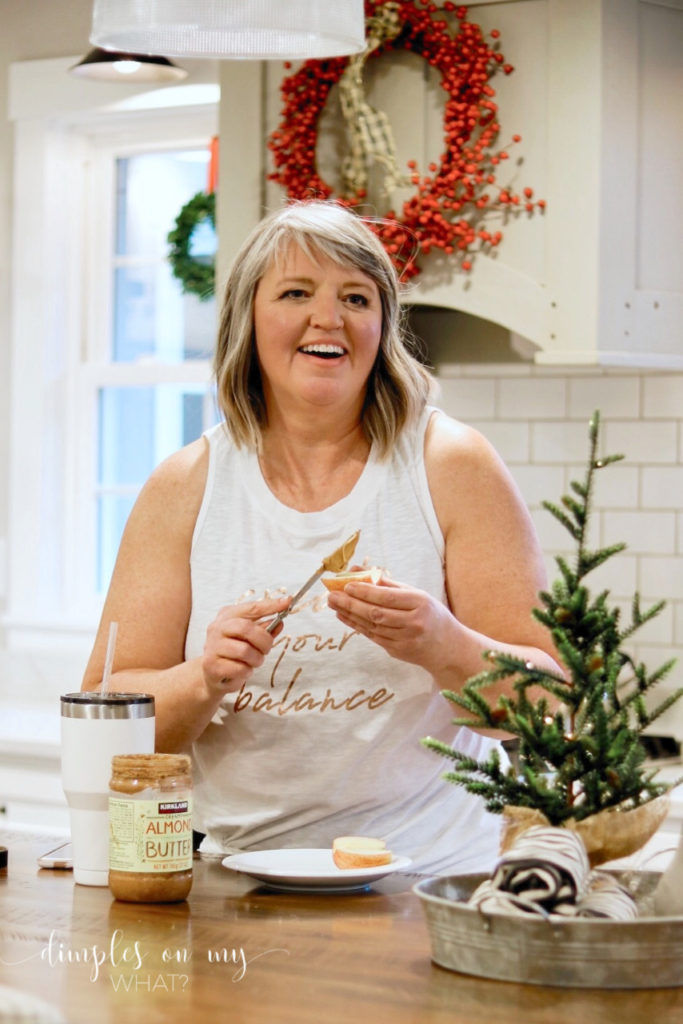 I don't always love tracking my food, but it has caused me to consider everything I put into my mouth and be more mindful of the value of quality nutrition I'm eating.
It's also shown me how much I just grabbed handfuls of chocolate chips or other snacks without realizing it. And while I'm not skinny, nor do I ever see myself getting "skinny" again, I plan to keep going.
I'll be checking in to let you know how it's going with me. But if you're feeling like I did or worse, I'd love for you to join me and let me know what you think.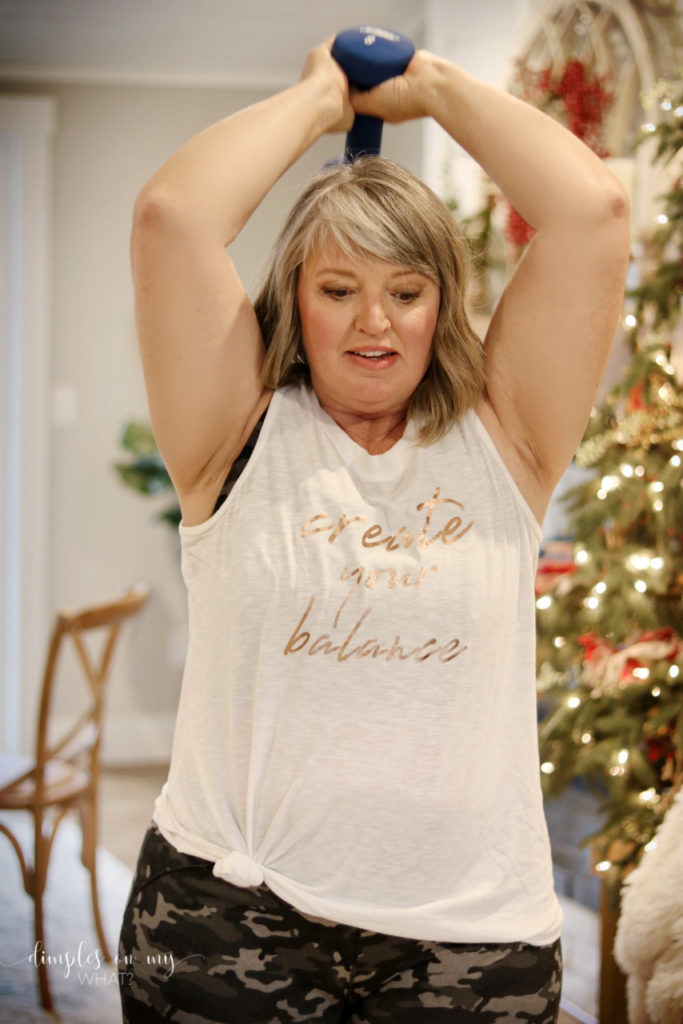 Want to Change Your Life?
If you're on the fence about starting, let me say I think the daily workout videos and personal coaching alone are worth it. But, there's also so much to be gained in knowing you're finally taking charge of your health.
The cost is a bit salty, but consider it an investment in your future. Being smaller won't make a sad person happy, but there's a positivity that comes from making choices that are good for you.
The cost is $199 for the 6-week program. Before you immediately say, "I'm out", hear me out. You've read this far so you're obviously intrigued or want to find something to make a change in your life. Let me tell you what you get for your investment.
A customized nutrition program for your exact nutritional needs. Remember no deprivation!
A 6-week meal plan (You can either follow to the letter or only use it to give you ideas of what to eat.)
Workout videos throughout the entire program can be done at home or in the gym and in 30 minutes or less. There are also low impact variations of each exercise. It's like having a personal trainer for 6 weeks.
Weekly coaching calls/videos to educate you on important aspects of nutrition, fitness, and mindset.
A personal FASTer Way to Fatloss Coach, yours will be Lauren, who will help you with anything you might be struggling with. And she's a great encourager! If she can handle me, she can handle you. 😉
Accountability. You will be part of a small private Facebook group with people who are doing the exact same as you.
---
If You'd Like to Join
Lauren's next session starts right after Thanksgiving, on December 2. At first, I thought, why would anyone want to start a program during the holidays? But then I realized, it's the perfect time to start taking control of your health and nutrition and put a stop to holiday weight gain.
Wouldn't it be nice to get to January first and not only not have gained weight, but have more muscle mass and a jump start on any resolutions you might have made?
And if not now or you want to ask for a session for Christmas, pin this post for later. Or mark your calendars because she has another session starting after Christmas. I'll pop back on and remind you too. 😉
To join, click FASTer Way Button below
Shop this style

---