You might think that plus size women and women with curves only option for dressing slim is neck to toe black. Do you shy away from a monochromatic white outfit that includes skinny jeans because you're too bootylicious for it Baby? Is anybody ready for that jelly? But I say, check for yellow pit stains and bust out the white! Yes, curvy girls CAN wear white clothes including white skinny jeans!
An Ageless Style Whiteout
It's already time for another month of ageless style with my girls from the Ageless Style Linkup. We are ten bloggers over the age of 40 taking one fashion theme and putting our own unique spin on it. We're proving that style doesn't have an age limit.
Each month we have a guest co-host and for the month of August, we are welcoming Dawn from Dawned on Me! Dawn is a former newscaster from right here in my neck of the woods and a kindred boy-mom. I think you'll find her style a step or seven above mom-style and one you'll be inspired by.
If you haven't already guessed it, this month's Ageless Style theme is a Summer Whiteout and was chosen by yours truly. I was so excited about this theme because I had hopes of finding a new white summer dress to talk about. Nothing says summer to me quite like a cute white dress but I'm down to one that fits but it's sleeveless and I was looking for sleeves. I am striving to be more discriminate about what I purchase. And since I haven't found a white dress that checks off the right boxes I decided to take this months post in a different direction than I had originally intended.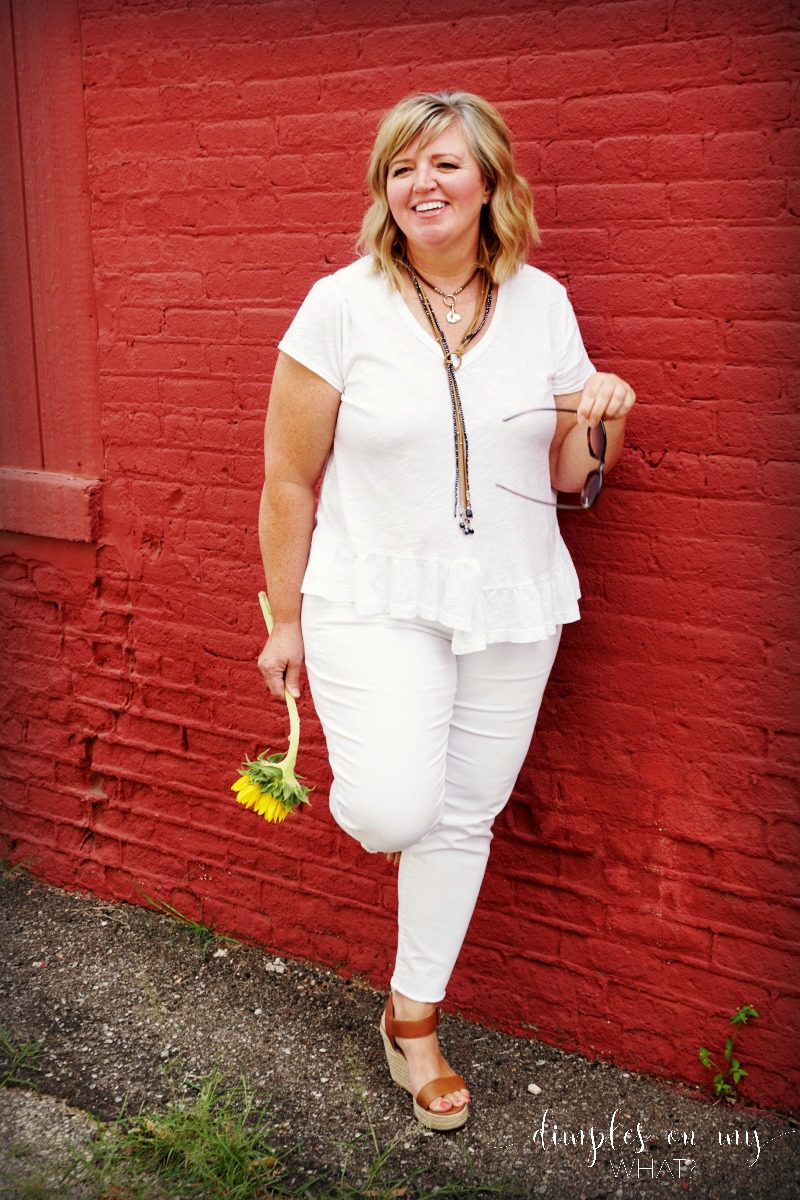 Caution: Curvy Girl Rocking White Skinny Jeans
I actually LOVE wearing white. There's something so fresh and clean about a white outfit unless you're eating tacos or spaghetti when wearing it. 😉
However, there are many full-figured women who don't think they can wear white, specifically white skinny jeans. You might just be one of them. But what I hope to show you with this outfit made up of pieces I shopped from my own closet, is that once again, if the pieces fit well you can wear almost anything and any color.
The Outfit
I chose to keep my whites simple. A white tee shirt with a little extra detailing and a straightforward pair of white skinny jeans.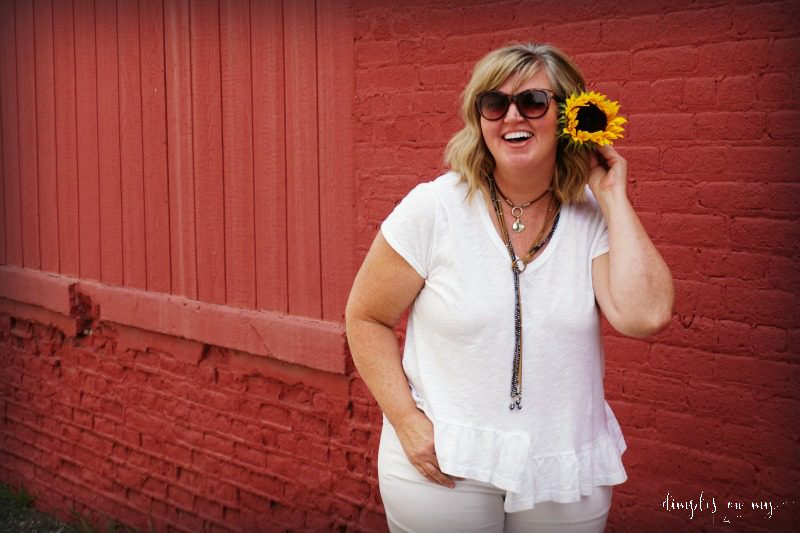 The Top
If you're choosing a white tee shirt consider one that has a flattering neckline and sleeve length and possibly some extra detail at the hem. This keeps it interesting. A white summer weight sweater or a feminine white blouse would also be fun as long as they fit well.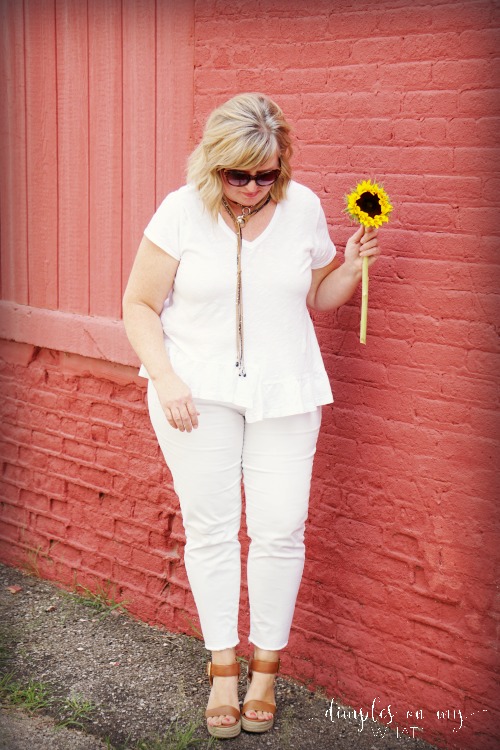 The Bottom
If your pants are white skinny jeans, look for some with a higher waistline – hello mom-jeans. I'm wearing Clarissa fit from NYDJ (discontinued). They have a high waist which I love for keeping the belly moguls from squishing out making me look like the Pillsbury Dough Boy. You know, because I'm wearing all white? 😉
Length matters when it comes to your pants! Yeah, I'm kind of screaming that.
I could spot a gaggle of old women (or who appear to be older) a mile away by simply looking at the length of their pants and usually, they're white. I'm serious! It's one of the style elements that I think can date a woman the most. (I have an entire post coming about this and a few more fashion don'ts if you want to look on trend.) Somewhere in the photo library of my phone, I have a picture of three older women standing together in their white capris of varying lengths from the knee to just below their calves. That's too short, too unflattering and too dated in opinion.
That being said, ankle length pants are very flattering on most women. When I first purchased these NYDJ white skinny jeans (discontinued) a few years ago, they were about a ½" shorter and hit me at a weird place on the leg. Yes, as little as a half inch can mess up the proportion of an outfit. I had the hems released and left the ends frayed. I did, however, have a seam sewed just above the raw edge to keep the fraying in check.
Get Grounded
An all-white outfit could easily look blah if not for some details. I happen to LOVE the combination of white with brown. Specifically, cognac! I think adding a pop of color, and in this case, an earthy color grounds the entire look.
The shoes are the only new item in this all-white outfit. I had been looking for a pair of cognac wedges for a couple of years (I told you I was being picky) that were just chunky enough without being too hoochie. Sorry, I don't know how else to describe what I mean. 😉 They also had to have a strap that was flattering to my muscular calves. When I saw these Steve Madden wedges in the Nordstrom Anniversary sale, I knew I must try them. Winners!
I layered some tried and true necklaces to emulate the cute layered chokers I've been seeing lately and I think it worked.
Why It Works
Something else to keep in mind is that you can layer varying shades of white and beiges to have a more curated style. When I went out to shoot these photos I totally forgot that I wanted to wear a long, short sleeved stone colored duster I have. It would have added another layer of depth to the ensemble. Or consider a beige sweater and a cute pair of tan booties like these to take your all-white outfit into fall.
We curvy girls need to remember that whether it's black or white or pink or any other color, a monochromatic look is flattering. Curvy women can wear white skinny jeans if we remember our fit rules. As long as we keep with styles and cuts that flatter us and make us feel good, we'll look good too.
Don't forget to check out the Linkup Ladies below and pop over and say hello to Dawn as well.
Have a great week!
Paula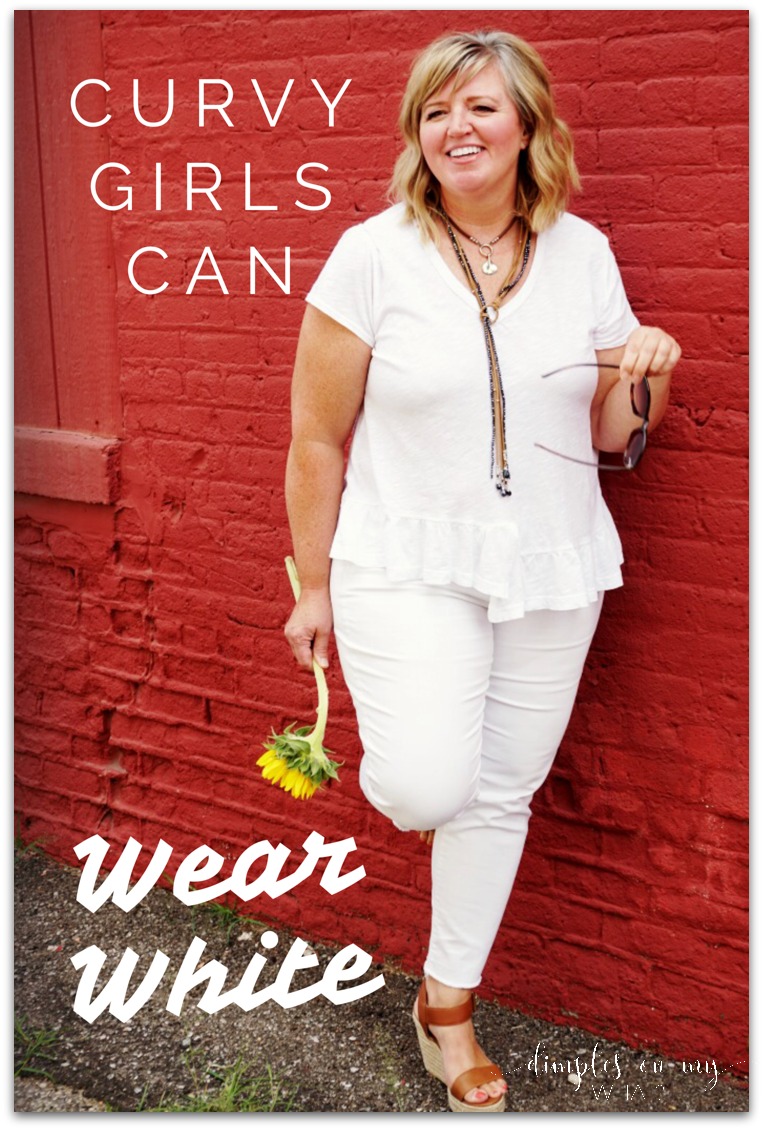 ---
Shop this look
Meet Dawn
If you didn't already think Dawn was cool for being a newscaster and local celebrity, you will when you see her gorgeous style and beautiful photos. And she's married to a pilot. Hello, flying perks! Be sure to check her out.
---
The Link Up
This Party Has a Few Guidelines:
Have fun and make some new friends! Please visit at least 2 other links.
Please link to your actual post and not your blog's homepage.
Please link back to the Ageless Style Link Up in your linked post.
Feel free to use #AgelessStyleBloggers in all of your social media posts
Please follow each of your hosts on at least one social media channel via the links below.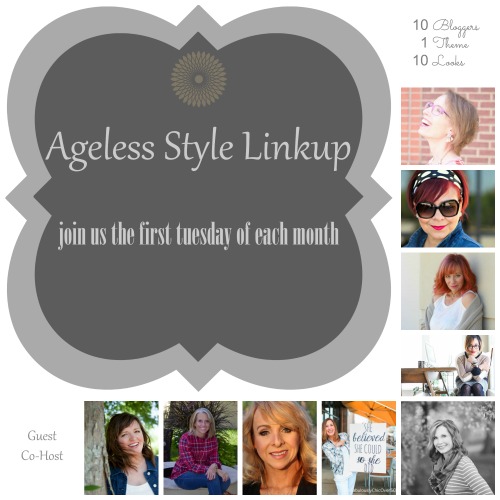 Daenel ~ Living Outside the Stacks blog, instagram, pinterest, twitter
Debbie ~ Fashion Fairy Dust bloglovin, blog, instagram, pinterest, facebook, twitter
Jennie ~ A Pocketful of Polka Dots blog, instagram, facebook, pinterest, twitter, bloglovin
Jodie ~ Jodie's Touch of Style blog, facebook, instagram, pinterest, bloglovin, twitter
Jonet ~ Fabulously Chic Over 50 blog, facebook, , instagram, pinterest, twitter
Kellyann ~ This Blonde's Shopping Bag blog, instagram, bloglovin, twitter
Lisa ~ Coast to Coast blog, facebook, instagram, twitter, pinterest
Paula ~ Dimples on my What blog, facebook, pinterest, instagram, twitter
Shelly ~ The Queen in Between blog, instagram, bloglovin, pinterest, facebook
Link your own fashion post here: