with Christmas Wishes
This is it, Friends! Only two more sleeps until Christmas, and I'm finally settling into a calm. All my kiddos gifts are under the tree, and we'll be celebrating with them on Christmas Eve. But not before we're having a sleepover with three of our Littles tonight, Christmas Eve Eve.
So, while all is still calm and bright, well not quite bright, there are large patches of lights out on my Christmas tree, I wanted to take a minute to wish you a Merry Christmas! I wish I could send you each something beautiful, but have you seen the price of shipping these days? 😉
So instead, accept this super simple and uber delish Cinnamon Glazed Pecan recipe and a bit of life inspiration. That's as good as a cozy sweater, right?!?!
---
*This post contains affiliate links. I'll make a commission if you purchase from a link but you pay no more for the product. Thanks for supporting me through your purchases and encouraging comments. You keep this blog running.
Cinnamon Glazed Pecans
First of all, DOUBLE THIS RECIPE! These cinnamony sweet nuts are so good, I can't stop eating them.
They make great gifts if you can keep your hands off of them. I told you to double it. And they are equally scrumptious to eat out of hand and on salads, and they also make a great addition to any charcuterie board. That's how I'll be using them on Christmas eve.
If you need some charcuterie board inspiration, check out these helpful ideas by the beautiful Sandra Morgan. Of course, Pinterest never disappoints for nosh inspiration and I've even seen charcuterie board workshops popping up locally.
Tools of the Charcuterie Trade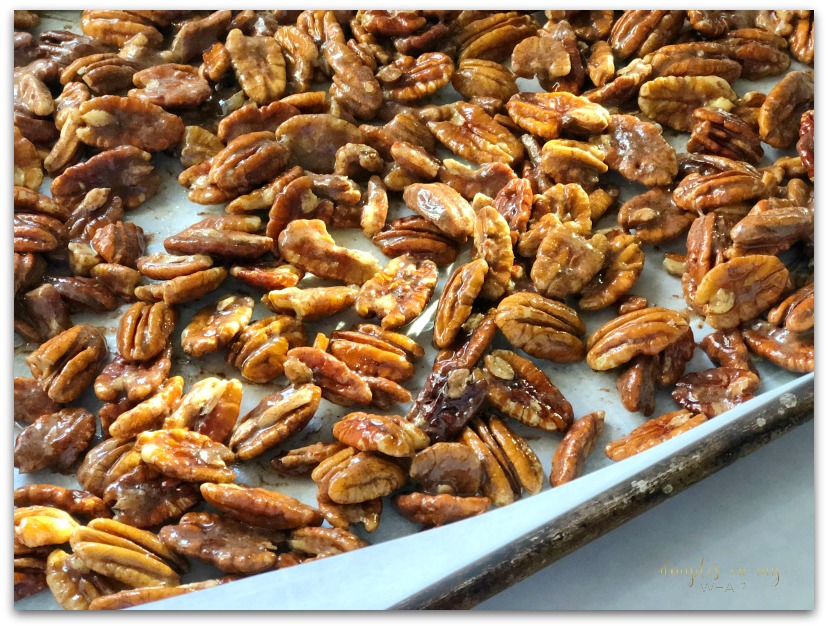 An Excuse to Entertain
Not too long ago, I read an Instagram post by someone who said they recently re-read Little Women. She was reminded of a time when celebrating the holiday meant sharing time and food with friends to celebrate the joy of the season.
Slow Down and Embrace Hospitality
It seems like in today's world, in the midst of the hustle and bustle of the holiday season we often fail to slow down and simply enjoy being together with our people.
Don't forget the joy of opening your home and sharing a meal with friends, it doesn't have to be complicated, we only need to be together. Oh and guess what? Our houses don't have to be immaculate or fancy either.
I get it though, I used to stress over everything being perfect before I had people in.
A Social Experiment – Literally
And while I think we should pick up the "big chunks" ;-), if you're not gathering in your home because of something like that, I challenge you to an experiment.
Invite someone over, and DON'T scour the house down and turn into the wicked witch and not let anyone touch anything until after your company leaves. You know who you are. I believe you'll find out you had fun, and no one was appalled by the dust bunnies laying in the corner.
You might be interested in this quick and easy cheesy chicken chili recipe for this holiday season.
Spread (out) the Love
That being said, we don't have to save all this entertaining, hospitality, and giving for this one-holiday timeframe. Spread it throughout the year. Like the song says, "Don't save it all for Christmas Day, find a way to give a little love every day."
My goal this year is to be more intentional about gathering with my friends and family. Yes indeed, life is busy and just because I've decided to carve out the time, won't make it easy. But good things often require a bit of effort and planning.
Merry Christmas
Have a very Merry Christmas, my sweet friends! My wishes for you are to have lots of friends and family time and to find a level of self-acceptance like you've never known before. And ultimately to know the Savior personally friends and that each of us may deepen the relationship with Him every single day.
And of course, don't forget the nuts!
---
Make it
Print Recipe
Cinnamon Glazed Pecan
Ingredients
6

tbsp

butter

2

large egg whites

1

cup

sugar

¼

tsp

salt

1¼

tsp

ground cinnamon

4

cups

whole raw pecans
Instructions
Line baking sheet with parchment paper.

Melt the butter in a large mixing bowl. Let cool slightly.

While butter is cooling a bit, in a separate bowl, add the egg whites and salt and whisk until slightly foamy. Add sugar and cinnamon and mix until well blended.

Add the egg mixture to the cooled, melted butter and mix.

Add the pecans and gently mix until the nuts are well coated. Make sure to get underneath to the bottom of the bowl as you mix.

Spread the pecan mixture in an even layer on the parchment-lined baking sheet. Bake for 10 minutes. Remove the pan from the oven and using a spatula, stir the pecans a respread in a single layer.

Bake for another 10 minutes and stir again before returning to the oven for a final 10 minutes (30 minutes total) watching closely until the pecans are sizzling and golden.

Remove the pecans from the oven and give them a final stir. Allow the pecans to sit on the counter to cool for 2 hours. Store in an airtight container for up to a week well-covered. (Not in the fridge.) Note: I've kept them in mason jars on the counter for longer.
PIN IT