Weird Things That Age You & How to Fix Them (Part One)

Are your accessories aging you? They might be. Well, it's not the accessories themselves that are dating you. It's the styling mistakes we make with them. So today, in the first installment of the Weird Things That Age You series find out what I think are the top Accessory Mistakes that Make You Look Old.

In my years of people watching and over-analysis, I've come up with a few ideas about why some people my age or even younger look older than their years. If I were a true comedian I'd be one of those who do observational humor. So maybe I'm an observational fashion blogger.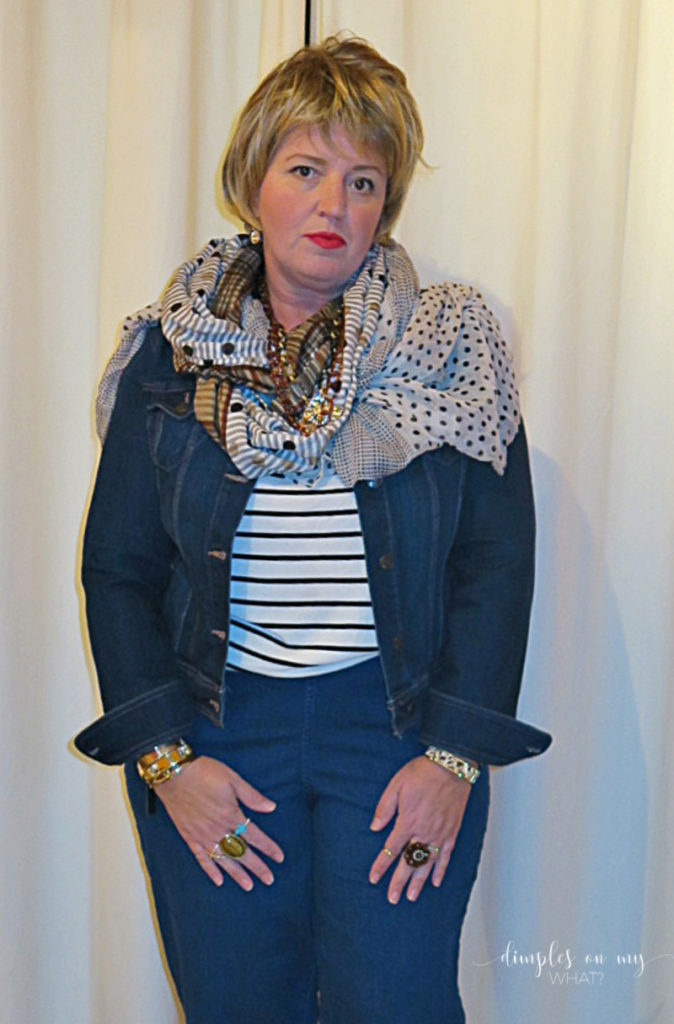 Disclaimer – This post contains affiliate links. I'll make a commission if you purchase through a link but you pay no more for a product.
---
Ageless Style Linkup

The Ageless Style Linkup is a group of 10 bloggers who once a month, take one style theme and style it in our unique way, proving style has no age limit. And this month, Julia of When the Girls Rule challenged us to show a style we think makes us look older. It was a perfect way to kick off this hilarious and possibly conversation-starting series.
---
Weird Things that Age Us and Weird Photos to Prove It
I have been wanting to write this series for a very long time. In fact, I took the "before" photos about three years ago but I've been sitting on these hilarious images because I wasn't sure how to use them the best. Think of them as fashion parody because it was the kindest way of getting my point across. I couldn't have put photos of the actual offenders on the internet without permission. And who would give consent to be a "what not to wear" "before" photo?
This is a funny girl's guide to looking younger, so feel free to laugh and learn.

If you're a blogger, you understand terms like click-bate and opt-in freebies and I thought these photos were too good (or embarrassing) to give away for nothing. I wasn't going to sell them but I considered an email or e-book in exchange for subscribing to the blog. But alas, that's more tech stuff to figure out and since it's just little ol' tech-less me running the show, you're getting this info out of the kindness of my heart, and possibly in exchange for a little of my pride. But, if you don't want to miss a post in this series, go ahead and subscribe to get new post alerts.

The two main accessories groups we're talking about today are jewelry and scarves. Pretty hard to mess up, right? Well, unless you've come down with a case of "chronic scarf-wearing syndrome".

Chronic Scarf Wearing
I'm serious, this is one of the very first "you might look old if…" observations I made. If you see someone who wears scarves ALL. THE. TIME. (you know who they are), especially those big blanket scarves, they are either already old or just look it.

Go on, start looking around and tell me I'm wrong. Are they trying to hide their necks, are they just artsy or are they really cold? We may never know.
Send them this post. 😉
Why Giant Scarves Make Us Look Old
As we get older we may want to cover up that sagging, sun-damaged neck. But our drooping jowls and double chins are already making our necks look shorter. And if we already have a short neck (my hand is raised over here) adding a scarf can make us look like a turtle with our head barely poking out of our shell. It's even worse if our back is starting to get that dowager hump. 😉 What's a girl to do?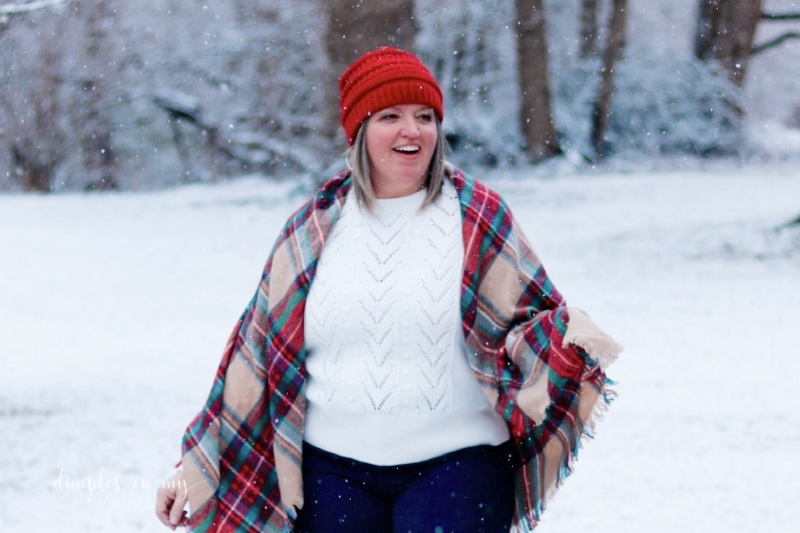 How to Cure Chronic Scarf-Wearing Syndrome
An open neckline looks much fresher. It's my opinion to save scarves for actual cold weather and even then, wear them in a way so they don't bunch up around your neck.
Here, I've chosen a crew neck sweater underneath. It's not my most flattering neckline but it keeps my chest warm and I'm able to wear my scarf a bit more open like a shawl. I could even wear it under a coat like this.

But, if you like to use scarves to add flair to your outfit, consider different ways to wear them that keep the bulk down and away from your neck.
Jewelry Mistakes

In my opinion, we have a few ways jewelry can age us or simply make us look tacky:

Matching Sets – Did your grandma have a matching necklace and earring set? Enough said!

Wearing too Many Rings – My husband once told me (yeah, he's my source) that he read an article that said people who wore lots of rings were narcissistic. I can't prove that, but it looks tacky.

Too Many Statement Pieces – This could mean wearing big earrings with big necklaces or wearing a statement necklace over a statement blouse or sweater.

Wearing the Entire Jewelry Box – You've heard the statement, "Get dressed and then take one thing off before you head out the door." If you can take off one piece of jewelry and it doesn't make a dent, you might be wearing too much. 😉

How to Get Jewelry Just Right
Admittedly, accessorizing isn't my strong suit. In fact, I under accessorize most of the time. But less is more and less usually equates to looking younger; unless we're talking about going out with fewer clothes. 😉
Balance and simplicity. If you apply both of these principles to your jewelry, you're less likely to go wrong.

---
Balance big with small. If you wear a big statement earring, either skip the necklace or wear something dainty around your neck.

To look classy and lighter, limit rings to one per hand especially if our hands are showing our age. Keep it simple.

If you're top has a print or pattern, keep necklaces simple or wear none at all. Wear one bold piece at a time.

---
Remember this look? If you wear statement earrings you can still wear a necklace, just give them each their space. Long, pendant necklace + statement earrings = COOL!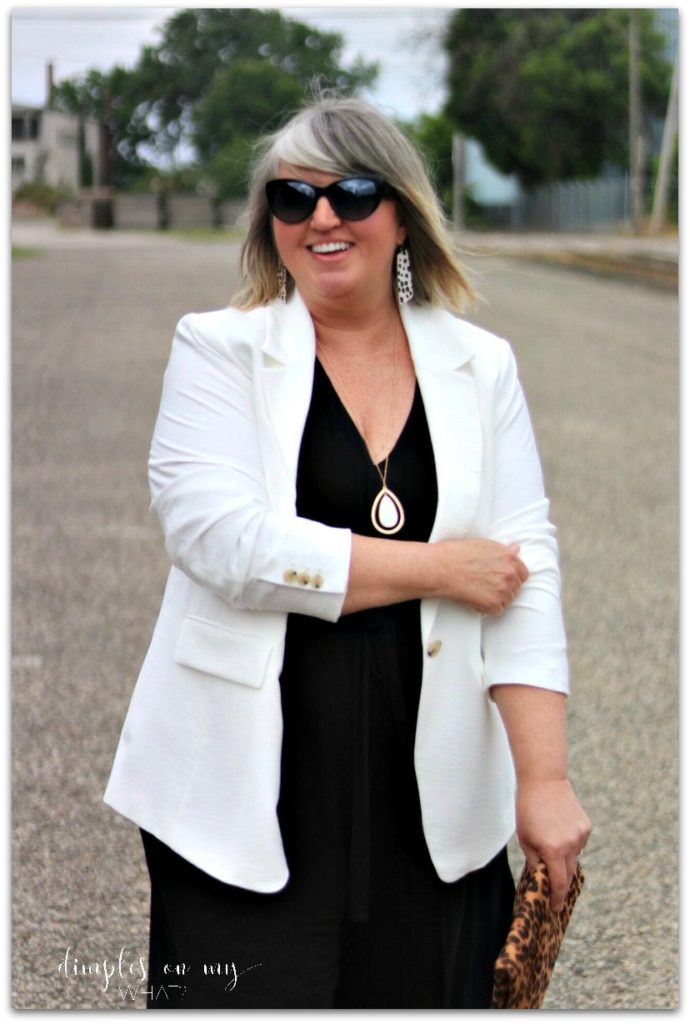 Be Inspired By Youth
If you want to know how to look younger, take cues from the young and beautiful ones. I follow several popular young fashion influencers. Their natural youthfulness would allow them to get away with more and still look young, a luxury that has already passed by those of us in midlife.

But if you'll take a look, most of them keep the accessories simple. Think about it, the women who are piling on the accessories are usually older to start with.

I'm not sure why this is. Maybe we feel we have to cover up or deflect from what we feel is a deteriorating appearance, when in fact, the opposite is true. The lighter and simpler we keep our style, the fresher and younger we'll look.

I chose to skip a necklace with the chevron-patterned sweater. The pattern adds detail and neckline covers my decollete' so no necklace is necessary.
These are Opinions Not Judgements
Again, I remind you that these are my own opinions and observations and they are not meant to call anyone out. I always say that style is unique to the individual, so if you're all about the bling, continue to do your thing. But if you wonder why you aren't looking as young as your more simplistic friend or favorite influencers, try removing one (or ten) of your accessories and see how you feel.

Don't forget to subscribe so you don't miss a post. There are so many more weird things that age us in this "before" photos to discuss and there are lots more "before" photos to see. 😉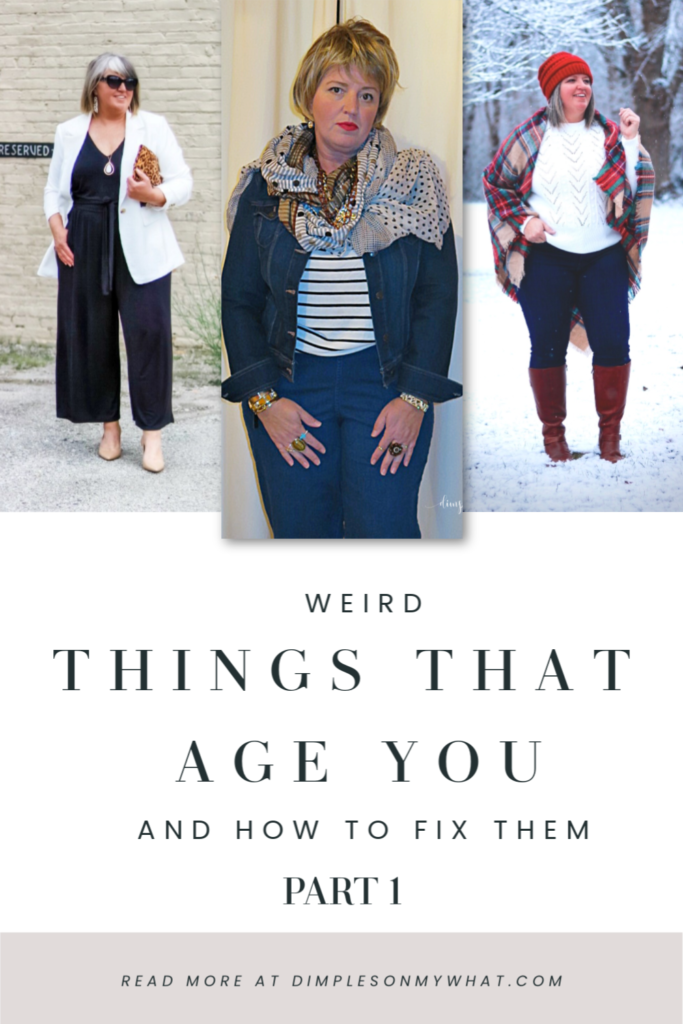 ---
The Linkup
Make some friends and get inspired.
Visit at least two of the linkup co-hosts accounts.
Link directly to your fashion post not your homepage.
Link back to this linkup in your post.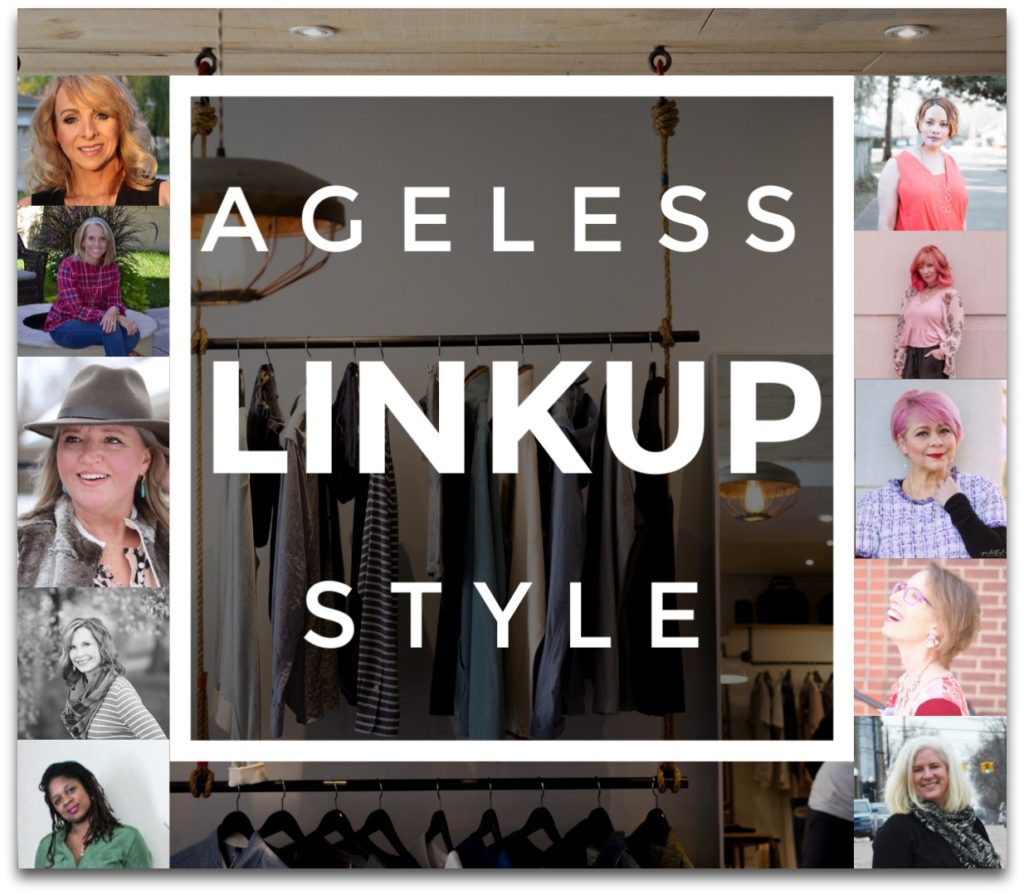 Daenel ~ Living outside the stacks blog, instagram, pinterest, twitter
Debbie ~ Fashion Fairy Dust bloglovin, blog, instagram, pinterest, facebook, twitter
Jennie ~ A Pocketful of Polka Dots blog, instagram, facebook, pinterest, twitter, bloglovin
Jodie ~ Jodie's Touch of Style blog, facebook, instagram, pinterest, bloglovin, twitter
Julia ~ When the Girls Rule blog, facebook, instagram, pinterest,
Kellyann ~ This Blonde's Shopping Bag blog, instagram, bloglovin, twitter
Lisa ~ Coast to Coast blog, facebook, instagram, twitter, pinterest
Paula ~ Dimples on my What blog, facebook, pinterest, instagram, twitter
Shelly ~ The Queen in Between blog, instagram, bloglovin, pinterest, facebook